Australians will soon be able ride nationwide with a European-standard helmet after Western Australia yesterday became the final state to approve UNECE 22.05 helmets.
South Australia announced Euro helmet approval last month, effective from May. The pressure is now on SA to recognise the approval of helmets UNECE helmets worn by interstate riders particularly given the state has previously demanded other states recognise variations in their road traffic regulations.

Longtime helmet campaigner Wayne Caruthers says WA has now updated their rider information page with information that may confuse some riders.
He says the regulation only refers to "comply with UNECE 22.05" which is correct but their information page states:
The label may appear as a sticker on the outside of the helmet or a label sewn into the retention system of the helmet.
"The sticker on the exterior is not required in UNECE 22.05 or the approval in WA, it is only "advertising" compliance used by some manufacturers," Wayne says.
"I believe the WA web info page will be amended next week to emphasise the label on the chin strap/retention system as stickers degrade over time and are too easily forged," he says.
Under new Euro helmet approvals, the label is required to be sewn into the chin strap and must have:
The Circle and E with the number of the country which approved the helmet;
The approval No;
A Dash followed by J or P or JP to indicate chin guard type; and
A dash followed by the helmet Serial No.
In December, the Australian Competition and Consumer Commission changed the rules to allow their retail sale, even though Queensland, Victoria, the ACT and Northern Territory had already approved their use.
As soon as the ACCC approval came through, NSW approved them.
Since then, Tasmania, South Australia and now WA have approved their use.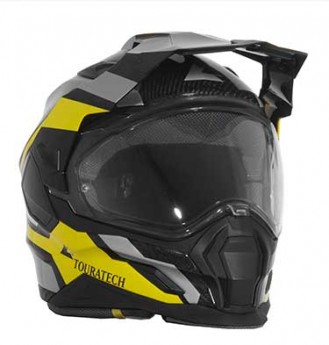 Meanwhile, several major importers are now beginning to import European helmets without seeking Australian standards testing and introducing new models to the market including Touratech's Schubert flip-up adventure helmet.
We expect other importers will also no longer seek the expensive and protracted Australian approval process, which should make helmets cheaper.
The new laws should also open the way for innovative helmets such as the Skully with integrated head-up display and the Sena smart helmet with built-in noise-cancelling technology.