Innovative motorcycle engineer Erik Buell has unveiled his first electric machines, the Fuell Fluid e-bike and Flow electric motorcycle.
Erik has had a rags-to-riches-to-rags story in motorcycling that keeps on surprising.
The former Harley-Davidson engineer developed the Buell brand in 1983, sold 49% to Harley in 1993 and Harley took over in 2003.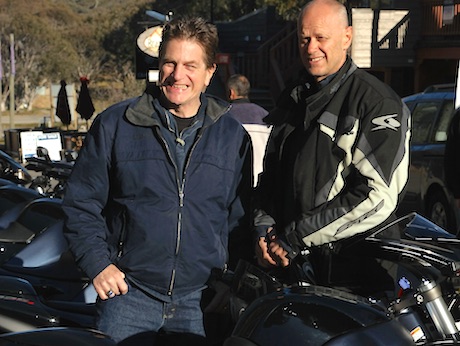 Harley axed the brand in October 2009 when the GFC hit, but Erik relaunched as Erik Buell Racing (EBR) just a month later.
EBR ceased production in April 2015 and was bought by Michigan company Liquid Asset Partners in February 2016.
It returned to small-scale production in March 2017 and went into liquidation in June 2017.
New beginnings
In April last year, Erik joined new electric motorcycle company, Vanguard Spark.
Vanguard Spark was formed by Alfa Romeo F1 principal Francois-Xavier Terny of Vanguard Motorcycles and Frédéric Vasseur, founder of electric Formula E race car company Spark Racing Technology.
Now they have changed their name to Fuell, which is a clever reference to Buell, even though their machines have no fuel!
We could have expected the founders' racing genes to flow through to their products.
However, they have unveiled the Flow "urban mobility" electric motorcycle and the Fluid pedal-assisted e-bike.
The bikes are not available for test ride until they are fully revealed on April 23, but will be on show in New York for a month to investors, journalists and "influencers".
Prices start at $US3295 (about $A4650) for the Fluid e-bike and $US10,995 ($A15,500) for the Flow electric motorcycles.
They say they will also have credit, leasing and battery leasing options.
Francois-Xavier told us Flow and Fluid "will be made available in all Western countries, eg North America, Europe, and Aus/NZ/Japan and key cities in Asia like Singapore".
We asked about exporting to Australia: "Well let's say that our official announcement was yesterday, so let's wait and see a little longer."
Flow
Flow is an electric motorcycle available in 11kW (125cc equivalent) or 35kW versions.
There is no pricing information or technical details available yet such as range, but they keep referring to it as a "city" bike.
As expected from Erik whose Buell motorcycles had innovative features such as oil in the swingarm, fuel in the frame and peripheral brake discs, the Flow does have technical innovations.
Fuell say it has a proprietary wheel-motor1, connected dashboard and a low centre of gravity.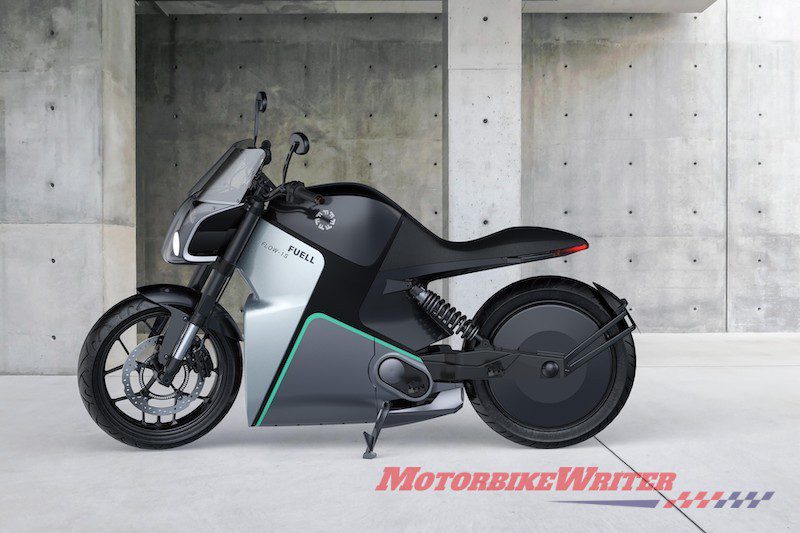 It has conventional upside-down forks, a mono shock rear and no clutch lever.
That means it will be twist-and-go like a scooter or the coming Harley-Davidson LiveWire electric motorcycle.
Fluid
In a smart move, the company is also producing an e-bike called Fluid.
E-bikes are rapidly growing in popularity, particularly in Europe.
This pedal-assisted e-bike can be ridden a total of 200km without paddling thanks to its two removable batteries with a total of 1000Wh.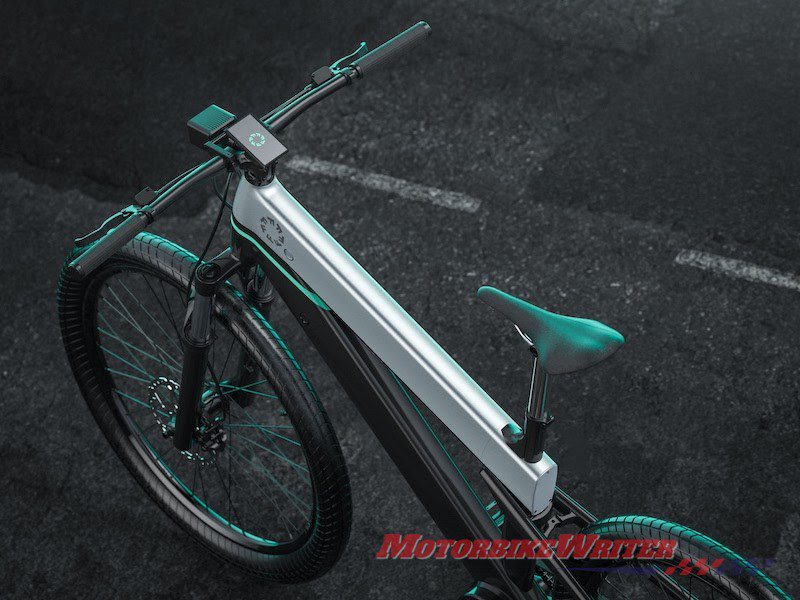 It has 100Nm of torque and is virtually maintenance-free with its carbon belt and internal hub gears.
Fluid will be offered as a Pedelec with a maximum speed of 32km/h (20mph) or S-Pedelec (45km/h-28mph).