Electric motorcycles are accelerating into our future with innovative motorcycle designer Erik Buell joining a new electric motorcycle company and Monday Motorbikes increasing production in a new partnership.
Erik last year finally sold off all EBR assets last year, but the innovative former Harley-Davidson engineer has now joined forces with F-X Terny of Vanguard Motorcycles and Frédéric Vasseur, founder of electric Formula E race car company Spark Racing Technology.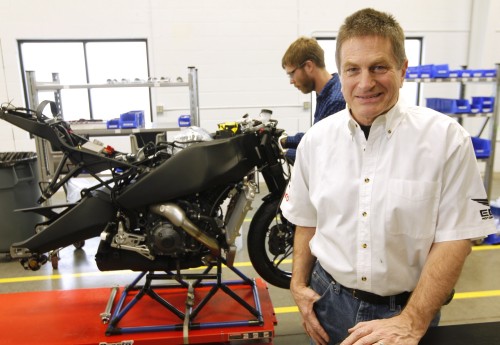 Together they have formed VanguardSpark to initially make two electric motorcycle models with four patents pending.
While we could have expected them to make a race bike, they have opted for a pedal-assisted e-bike called SpeedBike and another called Commuter (photo at the top of this page) with more than 150km of range.
No other information is available.
However, their officially released drawing shows a carbon-fibre monocoque shell with batteries inside and a hub-mounted electric motor on the rear wheel.
Monday Motorbikes accelerating
Meanwhile, urban electric motorcycle company Monday Motorbikes is accelerating its production after being acquired by Texas-based Sustainability Initiatives. 
Co-Founder and CEO Josh Rasmussen says the acquisition is "exciting as it sets us up to begin producing millions of dollars of product every month".
"This partnership allows us to increase manufacturing output and fulfil our growing sales around the United States and abroad," he says.
"With Harley Davidson investing $25M in Alta Motors a few weeks ago, we are beginning to see a focus on electric motorbikes by some of the largest players in the motorcycle space."
More than urban bikes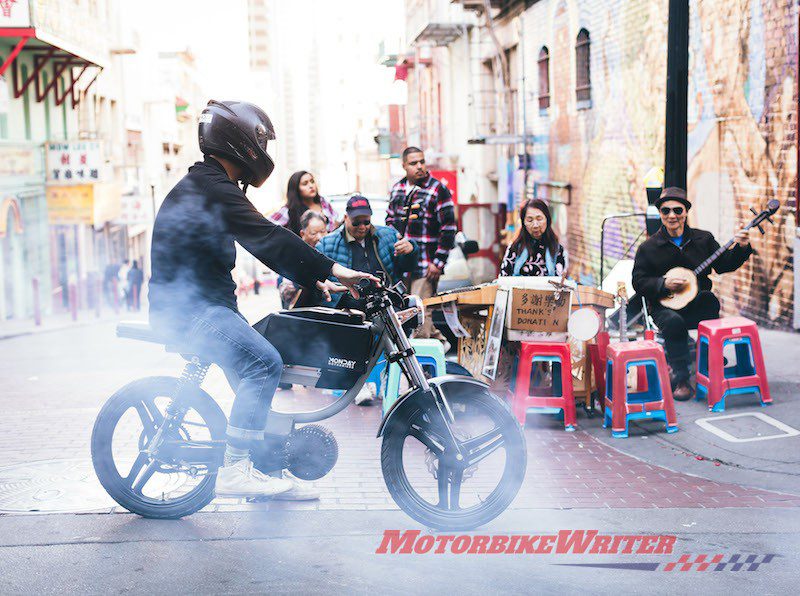 Monday Motorbikes are also expected to move beyond just urban motorcycles when they reveal their next generation motorbike to the public in May along with announcements of new technology and embedded systems. 
"The technology we are developing extends well beyond urban motorbikes," says Monday Motorbikes Founder, Dr. Nathan Jauvtis. 
Renewable technology company Sustainability Initiatives will assist in the production, distribution and supply chain management of Monday Motorbikes. 
Sustainability Initiatives co-founder Mark Adams points out that while fewer millennials are obtaining driver's licenses, the number of electric bikes is anticipated to rise by 200% over the next seven years. 
"As younger generations search for lower cost, lightweight electric mobility, Monday Motorbikes plans to be at the forefront of innovative technology for urban transportation," he says.