Easy Wheeler II Motorcycle Wheel Roller Review Summary
We reviewed the original "Easy Wheeler" a little over one year ago, back in December of 2006.
We found it to be one of the most scrumptiously outrageous and over-engineered motorcycle accessories we'd ever encountered.
After all, a completely CNC-machined rear wheel roller, of all things, carved completely from billet aluminum?
I mean, you're kidding me, right? Fantastic!  Where do I sign up?
The target audience for the Easy Wheeler is any motorcycle owner with a yen for the good ol' days or someone who just appreciates the way stuff used to be made.
Or, come to think of it, anyone who thinks they'll have a need for a motorcycle wheel roller that will last long enough to see the Apocalypse.
But forget the Apocalypse — how about 6 months?
I'll confess that I secretly wished the Easy Wheeler guys good luck, but I didn't expect to see them around very long.
In today's disposable society, who's going to pay for something that lasts very long.
"Nice try fellas", I thought, "But somebody in the Third World will be pumping these things out of pot metal in no time for, like, $19.95…and with free shipping, no doubt".
WRONG!
I'm happy to report that Easy Wheeler is not only still with us, they just came out with a new model!
"Right", you're thinking, "they went off-shore, had something whipped up and brought in a container load". Nope.
The Easy Wheeler II is just as much of a work of art (in its own way) as the original, but it's still entirely made in the good 'ol U.S. of A. Can you imagine that?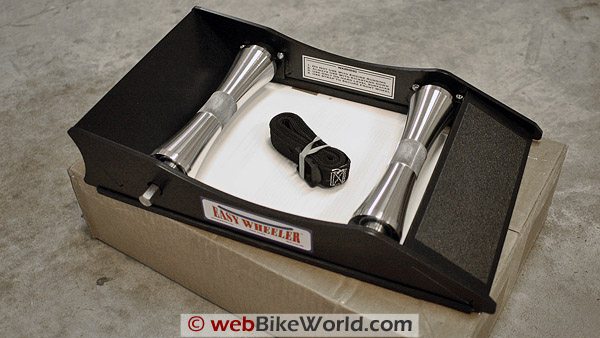 The Easy Wheeler II
OK, so it may not be the 6061 T6 aluminum museum piece that the Easy Wheeler was, but it's just as solid. This baby is 14 lbs. of perfectly welded, powder-coated steel plate.
It has four double-sealed bearings that use stainless steel hex screws to hold down removable bearing housing caps, and they look just like miniature versions of the same that we used on monster pulp and paper machines back when I worked in the machine shop.
The 6061 aluminum is still used for the rollers, just like the original Easy Wheeler, and they're curved so the wheel naturally rolls towards the center, on to the knurling.
The ramp and the back plate of the Easy Wheeler II aren't just welded on; they fit in a tongue-and-groove machined into the chassis side plates!  Dinosaurs will be roaming the planet again before this thing comes apart.
And they'll probably trip over one….
It also has full-length rubber strips on the base of each side plate, to keep it firm as you're wheeling the motorcycle up and over.
To top it all off, the ramp is covered in a sandpaper-like piece of traction-grip.
The Easy Wheeler II includes stainless steel, 1/2″ hex drive nuts on either side, reverse threaded to ensure that the rear tire is turned in the right direction for lubing the chain, just like its Billet Brother.
Also, pulling the wheel towards the front of the bike ensures that the roller is pushing the wheel forward under the weight of the bike, rather than pulling it backward. This gives the roller better traction.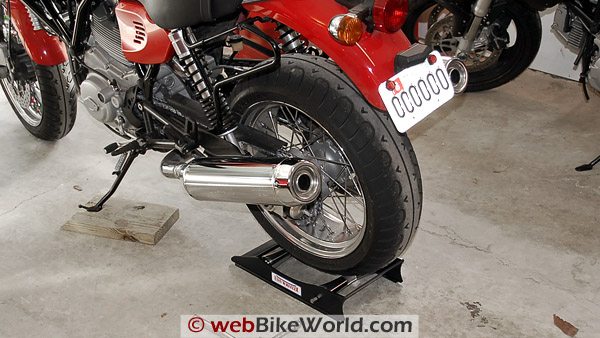 The rollers turn nice and easy, with either a 1/2″ drive ratchet or in a drill chuck.
We don't have a 1/2″ battery-powered drill in the garage, but here's a tip: take a 1/4″ drive, 1/2″ (or 13 mm) socket and mount it on a short 1/4″ drive extension. You can chuck the 1/4″ extension in a 3/8″ drill and it works!
That's what we're using in the video (below).
Easy Wheeler recommends using a piece of wood under the side stand, if necessary, to keep the bike from leaning too far over.
I always have a hunk of 2×8 laying around in the garage anyway for this purpose and you can see it in the photos below and in the video.
w
BW
 Video: Easy Wheeler II Motorcycle Wheel Roller
Conclusion
The Easy Wheeler II is ideal for owners who don't have a front and rear wheel stand, or for big cruisers or touring bikes that can't be easily lifted on a stand anyway.
It makes it easy to do wheel cleaning, maintenance and chain lubrication.
The product carries a limited lifetime warranty, and it really is built to last, just like the old days!
See Also: Rollastand Wheel Roller
w

BW

 Review: Easy Wheeler II Motorcycle Wheel Roller
Manufacturer: Easy Wheeler (Midwest Innovative Products, Inc.) (NOTE: No longer in business as of September 2010)
List Price: N/A
Colors: Black powder-coated steel plate with billet aluminum rollers.
Made In: U.S.A.
Review Date: March 2008
Note: Item provided by a retailer, distributor or manufacturer with these Terms and Conditions.
Note:
 For informational use only. All material and photographs are Copyright © webWorld International, LLC since 2000. All rights reserved. See the webBikeWorld® 
Site Info page
. Product specifications, features and details may change or differ from our descriptions. Always check before purchasing. Read the
Terms and Conditions
!
Owner Comments and Feedback
---
From "R.B." (3/10): "Based on your review, I bought an Easy Wheeler II. It's expensive but, in my opinion, worth every penny.
I didn't have to muscle the bike on/ off the stand and I never remotely felt that I might drop my bike. I did need a piece of wood to avoid the bike leaning too far over on the kickstand but I expected that.
The rollers turn smoothly with a near effortless crank of a ratchet wrench and there is no side-to-side movement of the bike's wheels as the rollers turn. This is beautifully engineered machine art and I highly recommend it."
Other WebBikeWorld Wheel Roller Posts