You're In Motorcycle Storage & Transport Heaven With Our Motorcycle Lifts, Stands ,Wheel Chock & Ramp Reviews
Welcome to the webBikeWorld motorcycle stands, motorcycle lifts and motorcycle wheel chock reviews index! Don't forget to check out our popular Motorcycle Maintenance and Repair articles.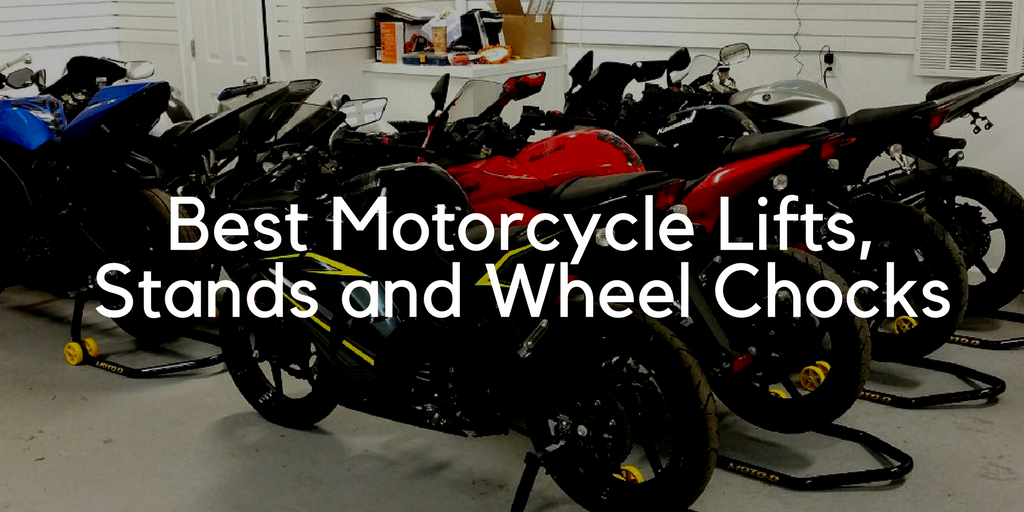 Best Motorcycle Lifts, Stands and Wheel Chocks
Best Motorcycle Lifts
Best Motorcycle Stands
Best Motorcycle Wheel Chocks
Best Motorcycle Wheel Roller
Best Motorcycle Trailer Tie-Down
Best Motorcycle Ramps
Shopping Now? We Recommend:
webBikeWorld has worked closely with RevZilla over the years to provide our testers with products to review. In addition to being a great site to shop from, they're also a great partner. Both Amazon and Revzilla have a big selection of storage and transport items.
RevZilla

Free shipping on orders over $40
30-day no-nonsense return policy
Excellent selection of all major brands
Awesome pricing
Amazon

Free shipping (with Amazon Prime)
30-day return policy
Excellent selection
Competitive pricing

Recent Reviews
Read Motorcycle Lifts, Stands and Wheel Chocks reviews and Motorcycle Lift Reviews.
Motorcycle Lifts, Stands and Wheel Chocks reviews Motorcycle Lift Reviews
Front Wheel Chock Reviews
Motorcycle Wheel Roller Reviews
Motorcycle Trailer Tie-Down Reviews
Motorcycle Lifts
Purchase plans from AFAB for $20 to build a motorcycle lift or a motorcycle table lift; also plans for a hydraulic press  |  Derek Weaver Co. has been selling Pro Cycle and other motorcycle lifts since 1984  |  Handy Industries makes a heavy-duty lift; nice looking stuff here and made in the U.S.A.  |  Kendon has a new motorcycle lift that looks different than others  |  Titan Lifts makes several heavy-duty motorcycle lifts that appear to be well made; they also have an interested motorcycle jack to lift a bike for a wheel change.
Motorcycle Ramps
ATV Ramps  |  Try Discount Ramps for motorcycle ramps – "Your loading ramp superstore"  |  EZ Loadmotorcycle ramps are lightweight and they fold  |  EZN Ramps  | Highland ramps are made of composite plastic, so they won't rust; they're also known as the Ramp Champ brand ramps  |  Kettner Truck Ramps in Canada  |  KW Marketing has tons o' ramps  | MultiCar heavy duty ramps  |  OnOffRoad.com has steel motorcycle ramps and ramps from AC and Oxlite  |  Ramp Champ loading ramps by Highland – are available at a reasonable price at the Automotive Accessories Connection  |  Ramp Master motorcycle ramps for pickup trucks and all sorts of other types of ramps  |  The Ready Ramp holds 600-1000 lbs. and also acts as a pickup truck bed extender  | Highland ramps for sale at Sparkle Auto  |  Toy Box Trailers carries the Load Pro pickup truck ramp and loading system for motorcycles
Motorcycle Loading Ramps:  Rampage Power Lift is an easy way to load a motorcycle on to the bed of a pickup truck; available atOpen Road Outfitters  |  Oxlite Manufacturing home site  |  The Pak-Rak "makes loading a motorcycle a simple one person operation"  | My Truck Store also has Highland loading ramps  |  USA Ramps makes the "Safe-T-Ramp"; full width, easy to install, can be locked to the pickup truck and stows itself
Tailgate Extension:  Rider Tailgate extension reduces the angle of the tailgate on a pickup truck to make loading easier
Motorcycle Ramps U.K.:  Rampsdirect has a variety of aluminium motorcycle ramps  |  See the wBW Motorcycle Trailers page for more ramps
Motorcycle Tie Downs & Straps
Motorcycle Roll-Around Stands Move Motorcycles in the Garage
Motorcycle Stands Australia
Anderson Motorcycle Stands are "the most popular stands in Australia"; they make rear stands, front stands, swingarm pivot stands, single-sided swingarm stands and more.
Motorcycle Shelters and Garages