Back in late 2022, Ducati revealed their 2023 World Premiere obscenely early. Thanks to their front-of-the-market mentality, however, the eye candy made the dreary fall months all the more chipper. 
We'd include Episode 3's new Multistrada V4 Rally into that admission, for sure. 
According to a recent press release, the Bologna-based rally bike has just begun production for a spring debut (and subsequent squeeze into dealerships worldwide).
The V4 Rally marks a very nice 20 years between Ducati's first motorcycle of the same name and 2023's iteration – all the more reason to celebrate with more range, more comfort, and better handling of those anthills you've been eyeing in your downtime. 
For those needing a refresher, the 2023 Multistrada V4 Rally will carry Ducati's new 1,158cc, V4 Granturismo heart, capable of rendering less maintenance for the punch (maintenance every 37,000 miles and Oil Service every 9,000 mi/24 months). 
7.9" increased travel rides on semi-active suspension, lightened spoked rims, reinforced engine guards, and wider footpegs; ride modes now have a nifty Enduro Riding Mode "with brand new Power Mode dedicated to off-road use," and a cutting-edge Skyhook DSS EVO control strategy for better suspension balance (making the V4 Rally the first bike available worldwide to feature the latter innovation). 
A taller windscreen, longer tail, and baggage potential have been put more to the back for the bike in the event of a passenger riding pillion – and, of course, we can't forget the new DVT variable valve timing. 
Considering the Multistrada V4 Rally is also "the first to market both front and rear radar to support Adaptive Cruise Control, Blind Spot Detection systems, and extended engine deactivation," we're expecting more medals won, awards proffered, etc., etc.
Goodness knows that's been Ducati's world for pretty much all of 2022, with their MotoGP Triple Crown and record-breaking bike sales. 
But we digress.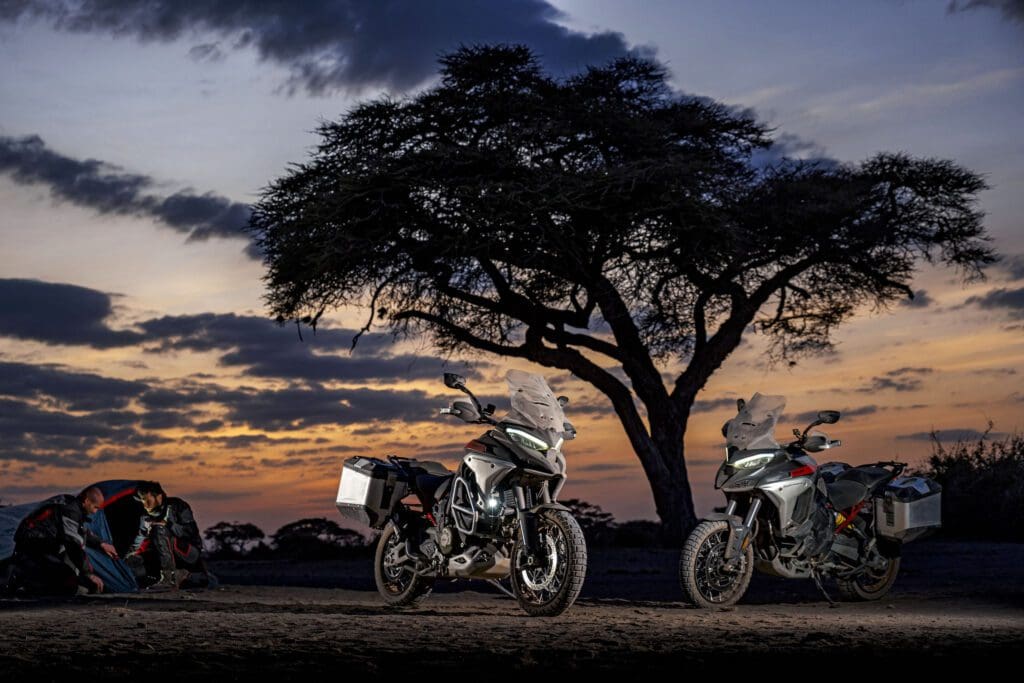 Is Ducati's Multistrada V4 Rally the kind of bike you can get behind?
Let us know in the comments below, smack that button at the top of our page for the best ad-free reading this side of the net, and as ever – stay safe on the twisties. 
*Media sourced from Ducati's press release*