Ducati has unveiled its 2015 1299 Panigale, Diavel Titanium and Mulistrada with Desmodomic Variable Timing engine in its first live streaming presentation.
The new 1299 Panigale will deliver more than 200 horsepower for the first time with a peak of 205hp and 10% more torque.
CEO Claudio Domenicali told the audience in the Elfo Puccini theatre in Milan that the 1299 Panigale will be available in February or March, depending on the market.
Claudio says it not only has a "big heart", light weight and speed, but also "connectivity" with a range of electronics to make the bike manageable and "not a problem to ride".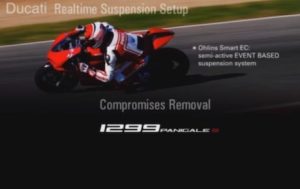 They will include "real time suspension setup" that changes the damping characteristics according to the lean angle.
It will also include variable and controllable wheelie control, an up and down quick shifter and lighter cornering ABS.
Claudio says they changed every component on the motorcycle.
The 1299 Panigale looks substantially different with a wider front to improve rider protection at high speed, more rounded lines and narrower headlights.
The chassis has also been changed with a new swingers pivot position, steeper rake and more comfortable seat.
The 1299 Panigale is estimated to arrive in Australia in late March, early April.
Claudio says the S version will come with a titanium Akrvpovic racing exhaust that saves 3kg on the 178kg Panigale. It will also be fitted with Ohlins Smart EC, an 'event-based control system for the suspension'.
He also announced a super lightweight R version to compete in World Superbikes with 205hp at 11,5000, 136.2Nm at 15,250 and weighing only 172kg.

Claudio says their limited edition Superleggera Panigale sold out in three weeks at €65,000 ($93,000), so they decided to do something similar in a different bike.
He then introduced the Diavel Titanium which will be limited to 500 units and include plenty of lightweight carbon fibre and titanium.
The bike will be fitted with a titanium headlight cover and titanium tank covers, along with a carbon seat cowl with a titanium insert.
The Diavel Titanium's air intakes, radiator covers, screen, front and rear fender, front sprocket cover and tank filler surround will all be made from carbon fibre.
A new Alcantara and leather seat has also been fitted, whilst the exhaust pipes get a ceramic coating.
The 2015 Multistrada with Desmodromic Variable (DVT) timing engine was also unveiled.
Claudio says it will be available in the northern spring and in Australia in April.
Claudio says the 2015 Multistrada is not a departure from the current model, but an updated model with more sophisticated engine and technology, including smart cornering LED headlights and wheelie control.
Claudio says online unveiling will become an annual event to cater for its growing worldwide audience.
He says Ducati is now building or assembling motorcycles in Italy, Thailand and Brazil and will this year sell a record of more than 45,000 motorcycles.
The live streaming event seems to have been so popular that YouTube had to suspend its live comment loading. More than 3000 people were watching at any one stage, causing some buffering with stuttered viewing.
Claudio also suggested new models to come from Ducati. He says the Ducati brand has been about three main values – style, sophistication and performance – but says the introduction of the 2015 Ducati Scrambler, unveiled at the Cologne Intermot last month, is about "free spirit, fun and self-expression". He says there will be more product like the Scrambler to come.
It was also revealed that the Scrambler project began in 2007, stalled and then the first sketches were produced in 2009, so it's been a long time coming.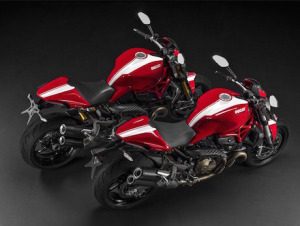 Ducati also unveiled the 2015 Monster 821 and 1200 S with a striped paint scheme of red bodywork with a white stripe running along the front fender, tank and seat cowl.
The Monster 821 Stripe edition will get adjustable forks, while the Monster 1200 S Stripe will be fitted with a Ducati Performance undertail plate holder and carbon belt covers.