If it's old-school fun you want, the Ducati Scrambler delivers.
But just don't think of it in the old-school terms of a scrambler.
It's more of a lightweight bike that is at home in commuter traffic, mountain roads, even on the highway, but has limited scope on dirt roads.
There are four models in the Scrambler range – Icon, Full Throttle, Classic and Urban Enduro – with prices ranging from $12,990 to $14,990.
The only differences are minor cosmetic changes to the seat, fenders and either wire or alloy wheels.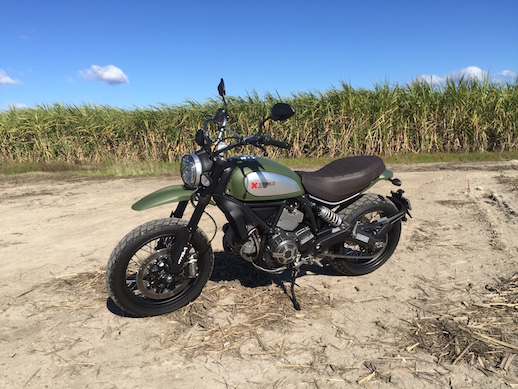 Ducati made 450cc scramblers in the early 1970s mainly for the American market, but they dropped them in 1974.
Now they have returned with the current nostalgia craze for retro-style bikes.
As a styling exercise, the Ducati Scrambler is a winner with its perfect combination of modern and retro features.
It's powered by the Monster 800 air-cooled desmodromic engine but with new cam timing that gives it more bottom-end torque and less high-end power. It also feels smoother and more refined than in the Monster.
That all combines to make it a very rideable bike in everyday conditions.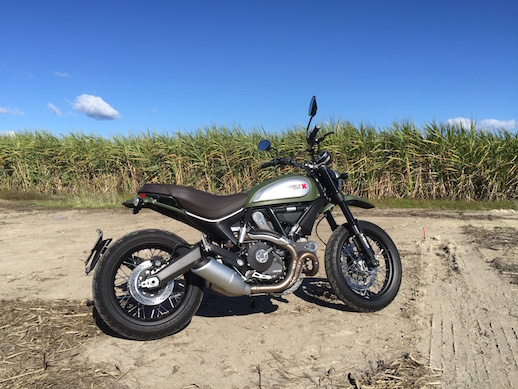 Together with a lively 50mm throttle body, 55 kilowatts of power, 68Nm of torque and 189kg fully fuelled, it's a very responsive and manoeuvrable bike.
In fact, it would make a great stunt bike as wheelies and stoppies are easy. However, it also feels so controllable you won't be doing either by accident.
There are no frills on this bike. It comes with a single front disc brake, simple single instrument pod, basic suspension and minimal controls.
But don't think all that translates to a basic bike.
With only 189kg of weight, the single disc has more than enough stopping power. The ABS works well on wet roads and even pulls up surprisingly well on gravel.
The single digital instrument pod has plenty of information including an easy to read digital speedo, an odometer, two trip meters, a clock, rev counter around the rim, ambient temperature display and, although it has no fuel gauge, it starts counting kilometres lapsed since the warning light comes on.
I saw that light at about 210km and there was still three litres left in the 13.5-litre tank for a good 60km stretch to the next fuel stop.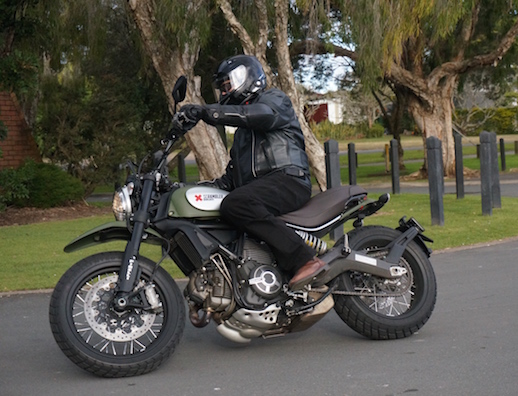 You can toggle through the various digital functions via a button on the left switch block. It's similar to other new Ducatis where you can control the complex screen display via that button, the cancel switch on the indicators and another button above that.
It's actually too many buttons and it becomes quite confusing. In fact, turning off the switchable ABS for riding on dirt roads takes about four pushes on the three buttons.
Owners would get used to the process, but it just seems an overly complex arrangement.
The Ducati Scrambler may seem spartan and retro, but there are modern LED taillights and a circular LED daytime running light, plus a USB under the seat for charging your smartphone or Bluetooth intercom.
The only basic ingredient in the bike is the Kayaba suspension. It's quite stiff, doesn't handle hard hits very well and trips up over high-frequency bumps such as corrugations.
The only adjustment is the pre-load on the rear and even on its softest setting, it jittered over the bumps, making it unsuitable for rough dirt or bumpy tar roads.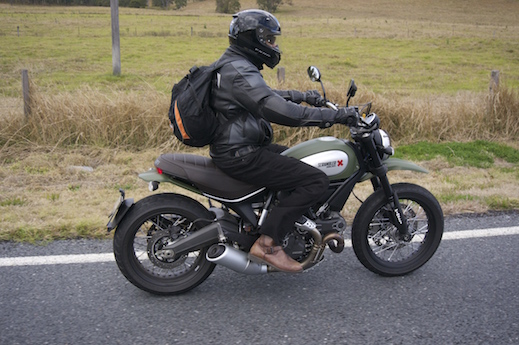 Throw a leg over the bike and you instantly notice how tiny it feels.
The vintage-style seat is 790mm high, but it's narrow and the suspension instantly squishes down under your weight, making it suitable for most riders.
In fact, I found I could even mount the bike by just walking up behind it and straddling it.
There are also 20mm lower and 20mm higher seat options to suit most rider heights.
I found the standard seat quite hard, yet comfortable for the duration of a tank of juice, so long as you weren't just sitting in the one position such as on a straight stretch of highway.
The higher seat with thicker padding feels more comfortable.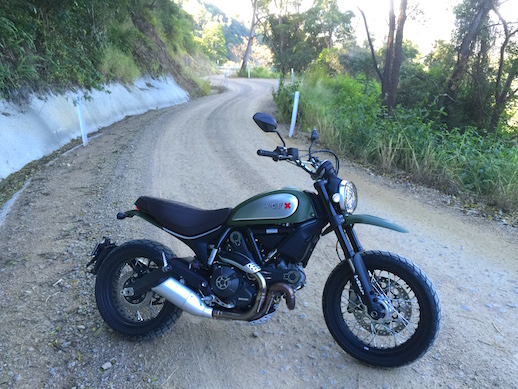 Reach to the pegs is relaxed and would be even longer with the touring seat.
The bars are MX style and very high and wide with narrow handgrips and minimal switchgear.
Riding position feels very motocross, inviting you to shuffle forward toward the tank, move your head over the triple clamp and push your elbows out wide.
It's an aggressive stance, but you can also shuffle back a little and settle in for a reasonably comfortable longer ride.
The high and upright riding position gives you good vision when commuting and it will easily filter through the traffic, although those high and wide bars may clash with dual-cab ute mirrors.
But if the position feels motocross, the bike certainly isn't.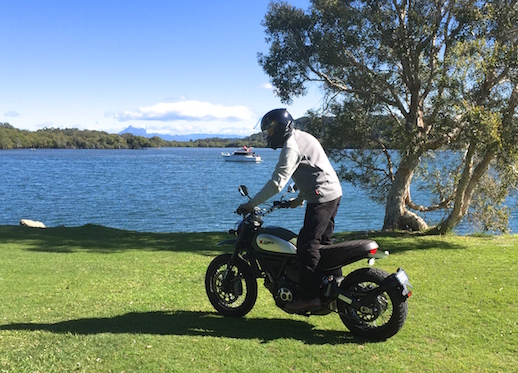 The basic suspension limits its abilities to take the bigger hits on bumpy dirt roads and the tyres are Pirelli MT 60 RS off-road tyres, but specially made for Ducati with a lower knob that is closer together for more road-oriented riding.
On the tar, they have great grip, but on dirt they slide around a bit. With that lively throttle and heaps of low engine grunt, it's difficult to not break traction on the dirt.
That's great for sideways speedway-style action, but not if you want to keep a steady course.
Even three-time Superbike champ Troy Bayliss called for the engine to be detuned for better traction in his short stint in American flat track championships.
With a bit of suspension work, it could easily be turned into an adventure bike and with its small dimensions and light weight it can also tackle some tricky terrain.
I put it up a few grass banks and over some rocks and it almost felt like a trials bike with plenty of control and manoeuvrability.
It also feels like a trials bike when you stand up on the pegs as your knees are almost above the tank and there is nothing to grip.
When standing, the looping accelerator cable also covers the speedo, but the high bars feel just right and the bike is easy to control by shifting your weight on the metal footpegs.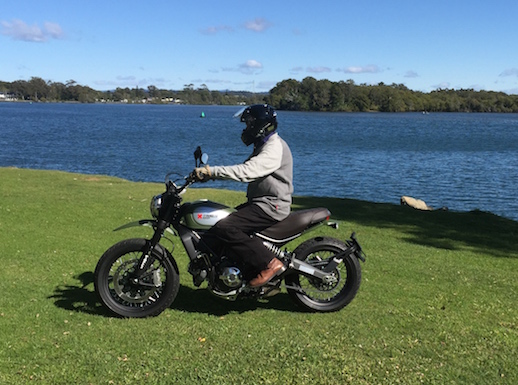 But it's on the smooth and twisting tar that the Scrambler is the most fun.
The Pirellis have great grip, the suspension works best on the tar and the braking and engine combine well for rapid pace through the twisties.
Here you rip through the gears with the bike responding well to matching revs with road speed. Get it wrong and you can actually grab some false neutrals.
The straight-cut gearbox is like most Ducatis: It's precise, deliberate and crunchy. Neutral can sometimes be a little problematic to find.
Despite the 18-inch front wheel, it turns super-quick into corners and maintains high cornering speeds, good lean angles and plenty of stability.
You can easily adjust your line through the corners with those wide bars, the grippy tyres and the low bike mass.
Cornering clearance seems low as you often scrape the toes of your boots in corners, but it's more an illusion that you haven't leaned it over that far because it is such a diminutive and light bike.
Pillions get a small but fairly wide bench and a short reach to the pegs with a recess under the seat to hang on. It's not conducive for long spells, but ok for around town.
Ducati has an enormous range of accessories that include quite a few cosmetic modifications. You can even swap the aluminium side panels on the tank to radically change the look of the bike.
They also include some luggage options, but they are quite small so lengthy touring is out of the question.
It may be called a Scrambler, but it actually suits many different applications, just not scrambling.
And all of those applications are fun, fun, fun.
Ducati Scrambler
Prices: Icon (Ducati Red) $12,990; Icon ('62 Yellow) $13,140; Urban Enduro $14,990; Classic $14,990; Full Throttle $14,990

Warranty: 2 years unlimited mileage

Service: 4000km

Engine: 803c Desmodromic, 2 valves per cylinder, air-cooled L-Twin

Bore x Stroke: 88 x 66mm

Compression: 11:1

Power: 55kW (75hp) @ 8250rpm

Torque: 68Nm (50lb-ft) @ 5750rpm

Transmission: 6 speed, chain drive, wet multiplate clutch

Chassis: Tubular steel trellis frame

Wheelbase: 1445mm (56.9 in)

Rake: 24°

Trail: 112 mm (4.4 in)

Suspension: USD Kayaba 41mm fork, 150mm travel; Kayaba rear shock, pre-load adjustable, 150mm travel

Tyres 110/80 R18; 180/55 R17 Pirelli MT 60 RS

Brakes: 330mm front disc, radial 4-piston calliper; 245mm rear disc, 1-piston floating calliper, ABS

Fuel: 13.5-litre tank

Economy: 5L/100km tested

Dry weight: 170kg (375 lb)

Wet weight: 186kg (410 lb)

Seat: 790mm (31.1 in)

Height: 1150mm (45.3 in)

Width: 845mm (33.3 in)

Length: 2100 – 2165mm (82.7 – 85.2 in)

Likes: Style, light weight, responsiveness

Dislikes: Fiddly controls, no fuel gauge, basic suspension
Ducati Scrambler models
Icon: 10-spoke alloy wheels, black seat, short and low front guard, short rear guard, wide handlebars.

Urban Enduro: Spoked aluminium wheels, aluminium engine sump guard, high front mudguard, headlight grill, aluminium handlebar crossbrace, front stem protectors, seat with dedicated design, dedicated logo.

Full Throttle: Termignoni slip-on silencer, low aluminium handlebars, flat-track style seat, sport tail piece with dedicated turn indicator support, sport style front mudguard, black fuel tank side covers, dedicated logo.

Classic: Spoked aluminium wheels, front and rear aluminium mudguards, seat with dedicated design, fuel tank with black stripe, dedicated logo, high plate support.