New riders are spoilt for choice these days, including the special made-for-Australia Ducati Monster 659 ABS.
Since the special learner-approved model launched in June 2011, 750 new riders have bought the Monster, making it the third-highest-selling naked model in Australia.
Now Ducati Australia has dropped $1000 off the recommended retail price to make it accessible to even more riders.
It now costs $12,990 plus on-road costs and comes with a two-year, unlimited kilometre warranty and 24 hour Riders Assist to give learners even more confidence.
Ducati created the Monster 659 as a learner approved motorcycle just to suit Australian LAMS Laws says Ducati Australia boss Warren Lee.
"The 659 is based on the 696, already a very popular model with younger, female and less experienced riders, so it was the ideal basis for our LAMs (Learner-Approved Motorcycle Scheme) model," he says.
But for a learner approved bike, there are still plenty of technical and sporty styling cues that will make this bike still appealing long after the rider graduates from their restricted licence.
For a start, it's a Ducati, so it has all that aggressive Monster style.
There is also a raspy exhaust note – especially on back-off – that hints at more engine capacity than you get.
And the info display even includes a lap timer and there is the option of adding a Ducati Data Analyzer to critique your track session – strange additions on a learner bike.
As the rider grows in confidence track sessions will not be out of the question as the engine will respond if the rider is talented enough to squeeze the revs out of the engine and carefully match the gears.
It's basically a 696 with a restrictor plate on the throttle and there will no doubt be owners who remove the throttle stop with a hacksaw – preferably after they have an unrestricted licence.
Power is down to 38kW from 58kW, but you feel most of it throw the throttle when you accelerate from go. After that, it just accelerates just fine.
But it's not all about show and go. The safety aspect comes in with the switchable ABS.
The front lever has good initial bite and plenty of progressive feel and stopping power.
Riding position is comfortable with a slight lean to the wide bars which gives riders confidence for feet-up u-turns and easy maneuvering around roundabouts and urban hazards.
The seat is a bit like a horse saddle with a dished-out feel. It's quite comfortable and it sits the pilot low so even short riders can confidently get their feet on the ground.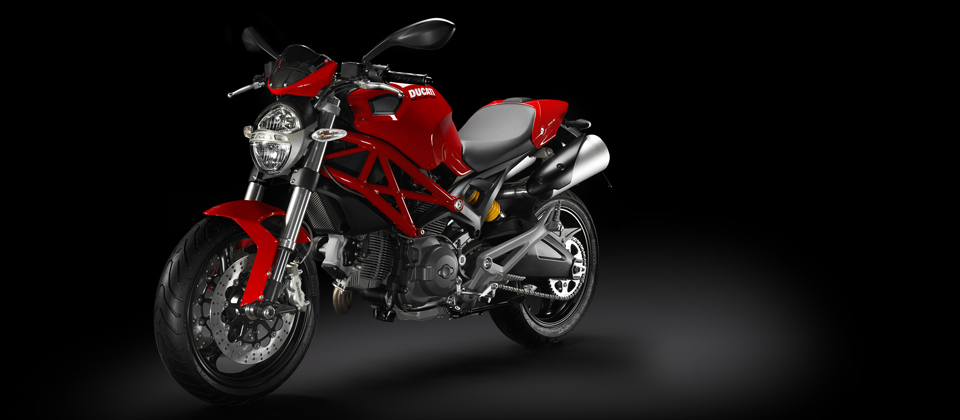 Riders have plenty of information at their disposal such as odo, trip, clock, temp, battery, rpm, backlight settings, lap timer etc, all accessible via a toggle switch on the left handlebar.
And the instruments are very easy to read, even in bright sunshine.
Mirrors are also wide and afford a clear and steady view of the traffic behind.
Once learners graduate to unrestricted licences, they will be able to take a pillion in comfort and style with optional grab rails available. The pillion's seat is comfortable enough for short trips.
Riders will find the handling responsive and sharp as you would expect from a Ducati, even one with no adjustment up front and only spring preload adjustment on the on back to compensate for a pillion.
The front end feels a little flighty and could do with a stabiliser, but if you weight it, the front wheel will tuck nicely into a corner.
There is not a lot of grunt in the engine and carrying a pillion will sap even more of its strength, but if you feed it plenty of revs – anything above 4000rpm – the engine sings quite happily.
On the highway, it will sit at 100km/h in sixth at 4000rpm revs with enough oomph for adequate roll-on overtaking maneuvres without the need for downshifts. Once it hits 6000revs, it gets another little surge.
Learners will get some peace of mind from the two-year unlimited kilometre warranty and 24-hour roadside and emergency assist.
It is available in red, stone white or dark stealth (dark grey) but Ducati also has a Monster Art Kit range from $1350 to customize the bike to your own tastes.
The kits come in a range of art and racing (Rossi) styles and can be applied within 15 minutes.
Ducati Monster 659
Price: $12,990 (+ORC)
Engine: L-twin 659cc, 38kW
Transmission: 6-speed, chain
Dry weight: 176 kg
Dimensions: 2100mm (L), 780mm (W), 1060mm (H), 1450mm (WB), 770mm (seat), 166mm (clearance)
Fuel tank: 15L
Tyres: 120/60-ZR17"; 160/60-ZR17"
Suspension: upside-down 43mm fork; monoshock with adjustable spring preload