July 12, 2006 – Ducati has announced the availability of a limited edition, fine art print of Paul Smart on a Ducati at Imola in 1972.
Why Imola in 1972?  This setting and date are engraved Ducati's racing heritage.
When Paul Smart and Bruno Spaggiari came first and second in the inaugural 200-mile race, the Superbike era had officially arrived.
Engineer Fabio Taglioni's unproven desmo 750 twin was catapulted to stardom, and in 1973 the production SuperSport model was unveiled.  The benchmark victory is now honored in this one-time limited-edition print, showing Smart in action at Imola and a pictorial lineage of the sporting twins from 1972 to the current Ducati Sport Classics.
Only 100 of the prints will be made and will be signed by Paul Smart, who will also be on the Ducati Island at the Laguna Seca MotoGP to sign copies of this very special commemorative print.
Limited Edition prints are available online atArteHouse.
The Ducati prints are made using a high quality process called Giclee printing.  Archival inks and archival paper or museum quality canvas is used as a basis for each print.
Prints, murals and custom sizes are available for use in a living room, office, garage or showroom.  ArteHouse says that they will carefully number each print and pack it for worldwide shipping, framed or unframed.
The ArteHouse factory is blocks from the ocean in Santa Barbara, California, where Richard Weedn and his team work each day surrounded by two of Weedn's prized Ducati motorcycles – an ex Milano-Taranto Mach I and a 1961 twin spark, rigid framed 250 Flat Tracker.
The Paul Smart 1000 Announced at the 2005 Motogiro D'Italia
At the opening of the classic motorcycle road race, the Motogiro d'Italia, Ducati gave a surprise preview of two of its three new SportClassic motorcycles.
This unique 70's-inspired range of Ducati motorcycles reflects the beauty, timeless style and sporting roots of the Borgo Panigale manufacturer.
Ducati has borrowed the best style features of the past and combined them with the latest technology and engineering.
There could be no better backdrop than the Motogiro d'Italia for this first public appearance.  The honor of riding the first two examples was reserved for Federico Minoli, Ducati President and CEO, and Gianluigi Mengoli, President of the Fondazione Ducati. Minoli and Mengoli are not only key figures in corporate Ducati, they also are motorcycle enthusiasts riding in this tough historic and legendary competition.
The Paul Smart 1000 Limited Edition pays homage to the legendary Ducati 750 Imola Racer and its rider, Paul Smart, that together won the now famous 1972 Imola 200 mile race.
Fans will be pleasantly surprised to discover that production will begin in September, well before the publicized schedule.  The appearance at the MotoGiro is also the first time the public will see the production sea green frame and silver bodywork as inspired by the 1974 Ducati 750SS.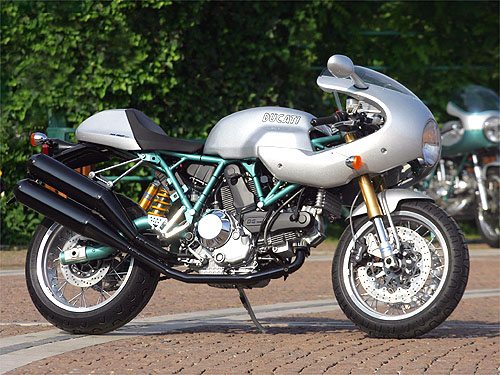 Note:  For informational use only.  All material and photographs are Copyright © webWorld International, LLC – 2000-2011.  All rights reserved.  See the webBikeWorld® Site Info page.  NOTE:  Product specifications, features and details may change or differ from our descriptions.  Always check before purchasing.  Read the Terms and Conditions!
Other WebBikeWorld Articles Posts