A week after Ducati unveiled their second electric bicycle, the e-Scrambler, they have added three folding e-bikes showing they are now serious about electric power.
There is still no word on an electric motorcycle.
However, their move in this direction will give them vital technical expertise that they can apply to a full-size electric motorcycle.
There is no word yet on how much the SCR-E, SCR-E Sport and Urban-E folding bicycles will cost.
The e-Scrambler will cost €3699 ($A6065) while their first e-mountain bike, the MIG-RR launched in October 2018 costs €6255 ($A10,255).
Last week, Ducati Australia confirmed they would begin importing those two bikes next year, so we presume the folding bikes will also be coming.
Folding bikes
SCR-E
Like the e-Scrambler, this bike trades on the popular Scrambler brand and features fat 20" x 4" wheels.
It has a 374.4Wh battery integrated into the aluminium frame with range of 70km if you don't pedal. More if you!
Of course, the most interesting aspect of all these bikes is that they easily fold uop s you can ack them in your car or take them up the lift and into your office.
SCR-E SPORT
This model has full suspension with a front fork and rear spring shock integrated in the frame.  The 468Wh battery has range of up to 80 km.
Urban-E
The Urban-E comes in black or grey and was created by the designers of the Centro Stile Ducati in collaboration with Italdesign's Industrial Design division.
The handlebar has a fully integrated LCD display in the stem that allows the rider to control all the assistance functions, to check the remaining battery charge and to switch the LED lights integrated in the frame on and off.
The 378Wh battery is integrated into the frame.
It features a suspension fork,  fat 20″ x 4″ tyres with Kevlar anti-puncture technology mounted on double-wall aluminium rims.
e-Scrambler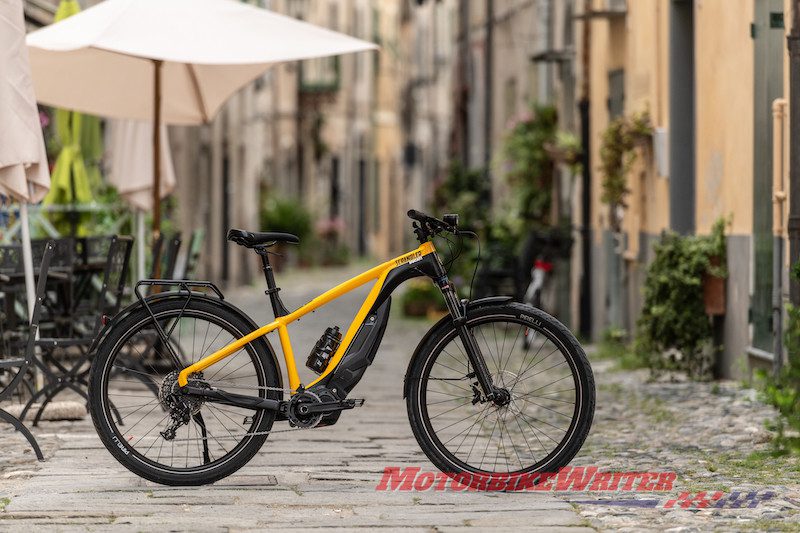 This model doesn't fold.
It features a 250-Watt Shimano Steps E7000 motor with 504Wh battery, Pirelli Cycl-e GT tyres, Sram NX 11-speed gearbox and Sram 4-piston brakes.
There is also a set of accessories including luggage racks, mudguards, stand and signal lights.
Booming sector
Ducati's move into e-bikes is designed to plug into the booming market in Europe where sales have boomed from about 500,000 to almost 3m in the past decade.
BMW, Harley-Davidson and other motorcycle and car manufacturers now have e-bikes available in Europe and the USA.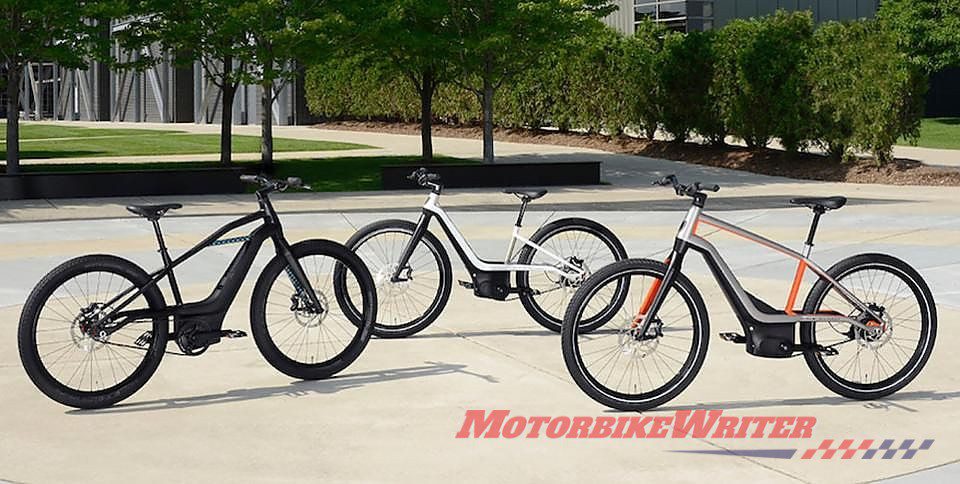 More importantly, how long do we have to wait for an electric Ducati motorcycle?
In 2017, VW Group Chairman Matthias Mueller and Ducati Western Europe manager Edouard Lotthe said the company would have an electric motorcycle and scooter by 2020.
Well, that didn't happen!
In 2017, Ducati licensed the Milano Scuola Politecnica di Design (Design Polytechnic School) to produce the Ducati Zero futuristic design concept.
And in 2015, an electric pedal-assisted moped was made under licence and painted in the Ducati Scrambler Urban Enduro colours. 
Neither were real Ducatis.
Nor is the embarrassing Chinese-made, Ducati-branded, Aussie-imported electric Super Soco scooter!
Meanwhile Ducati has filed documents with the US Environmental Protection Agency that show upcoming models:Ducati Diavel Lamborghini, together with the Ducati Multistrada Enduro Grand Tour and the Ducati Scrambler 1100 PRO Dark.
Ducati is owned by the VW Group which includes Lambo, so the Lambo model will likely be a limited edition with special paintwork, graphics and some extra standard features. The Multi will probably have a lot of extra features and maybe standard luggage. And the Dark will simply be matte black.