A Ducati-branded Chinese-made electric scooter will be imported by Perth-based company Vmoto through Urban Moto Imports, arriving in July for under $5000.
Electric scooters have slowly risen in popularity in the past years. What seems to be children's toys are now made with powerful motors and advance features. ScooterAdviser is a good place to know more about the few brands than make them today.
When we announced the Italian manufacturer had signed the unusual deal to allow Chinese Super Soco electric scooters to carry their brand, Ducati Australia said they would not be sold here.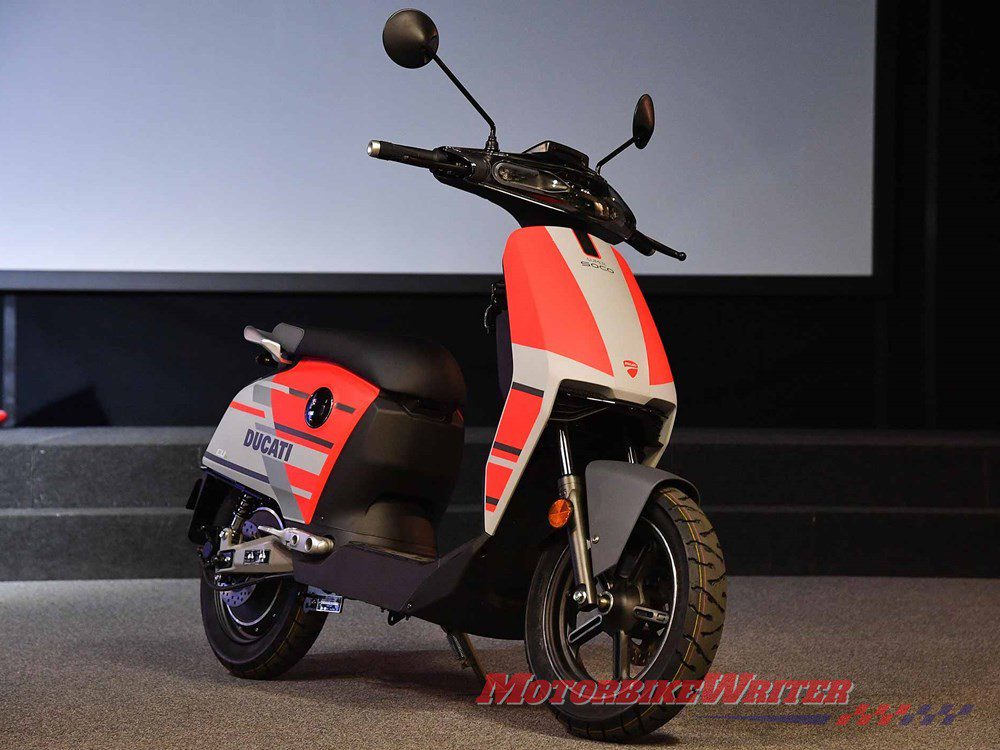 They also emphasised that the scooters were not a Ducati product, but "an electric scooter that wears Ducati's colours, no more than that under a licensing agreement".
However, it now appears that they will be sold here in a partnership between Urban Moto Imports and Vmoto.
The fully electric moped is based on the Super SOCO CUx model with special edition sporting Ducati livery.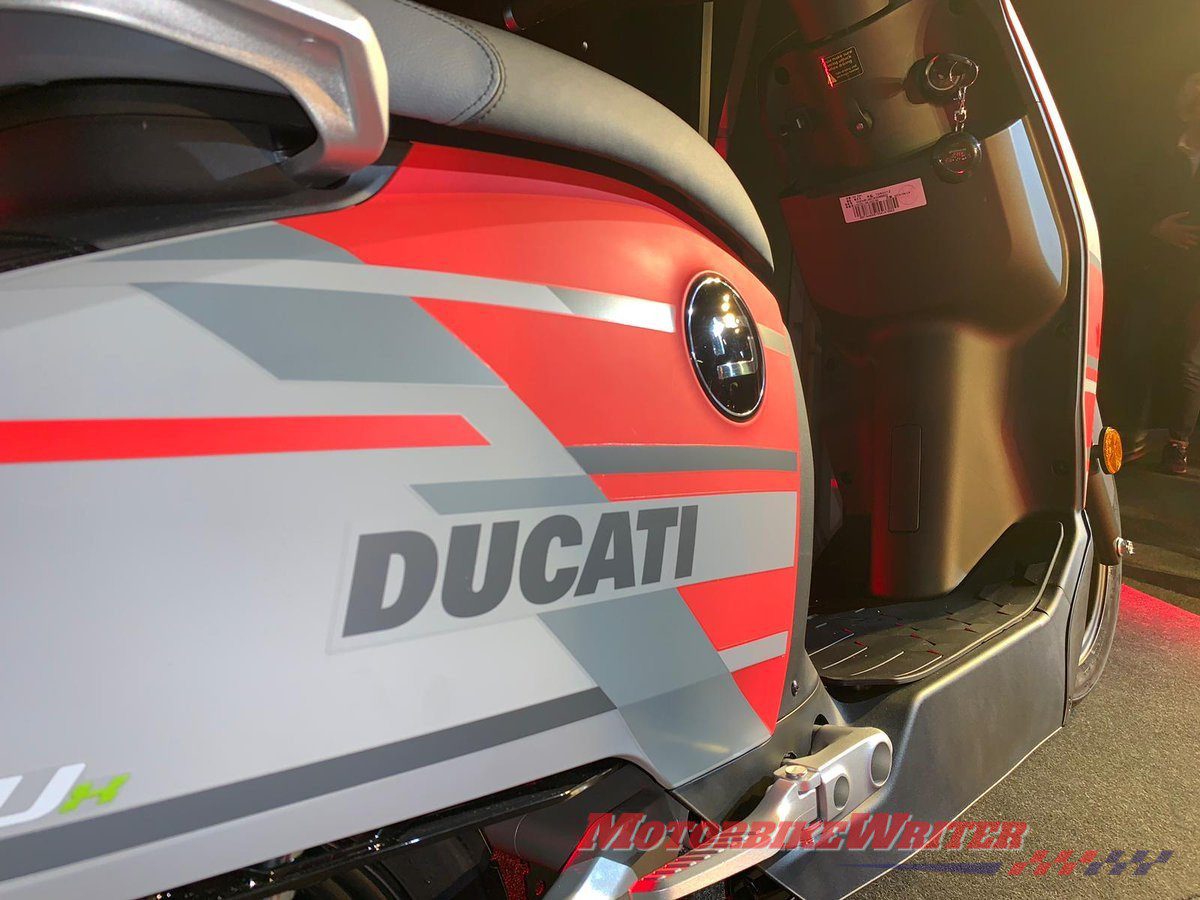 Sub-$5000 'Ducati'
Ducati Racing will also use the Super SOCO full electric range of motorcycles and scooters as their preferred "paddock transport" throughout the 2019 MotoGP series.
Super SOCO Spokesman Andy Fenwick says the special Ducati version of the CUx moped would help "add even more credibility to the SOCO range". 
Urban Moto Imports CEO Joseph Elasmar confirms the Special Edition CUx Ducati will be available through the Super SOCO dealer network with pre-orders soon.
"We are expect pricing to be set around $5000," Joe says.
UPDATE: Retail price is $4990 and ride-away price is $5490 which is $500 more than the regular CUx price.
Super Soco CUx
The "regular" CUx scooter is available with four removable battery options for range of 60km to 120km from the 2700 watt maximum Bosch electric motor.
It also features a HD front camera with night vision and a G-force sensor that automatically activates the camera and sends video to a mobile phone in the event of a crash.
Other features include a high resolution dashboard, LED headlight, USB dock and smartphone connectivity that allows the rider to check the battery status.
Specifications
| | |
| --- | --- |
| Brand | Super Soco |
| Model | CU |
| Speed | 25 and 45km/h |
| Power | 2.7kW (3.6 hp) |
| Weight | 70 kg |
The Ducati edition may vary in specification and features.
Electric noise
The deal shows that Ducati is not shrinking away from the coming electric two-wheel revolution.
Ducati has been making noises about scooters and electrics over the past few years and has licensed two electric projects to other companies.
In 2015, there was the e-Scrambler painted in Scrambler Urban Enduro colours. It was made under licence to Ducati by Italwin, an Italian company specialising in pedal-assisted electric bicycles.
In 2017, Ducati Western Europe managing director Edouard Lotthe said they were looking at both scooters and electrics, while VW Group Chairman Matthias Mueller said Ducati would have an electric motorcycle by 2020.
In the same year the Ducati Zero futuristic design concept was produced by the Milano Scuola Politecnica di Design (Design Polytechnic School).
In 2018, Ducati unveiled its first electric mountain bike, the MIG-RR.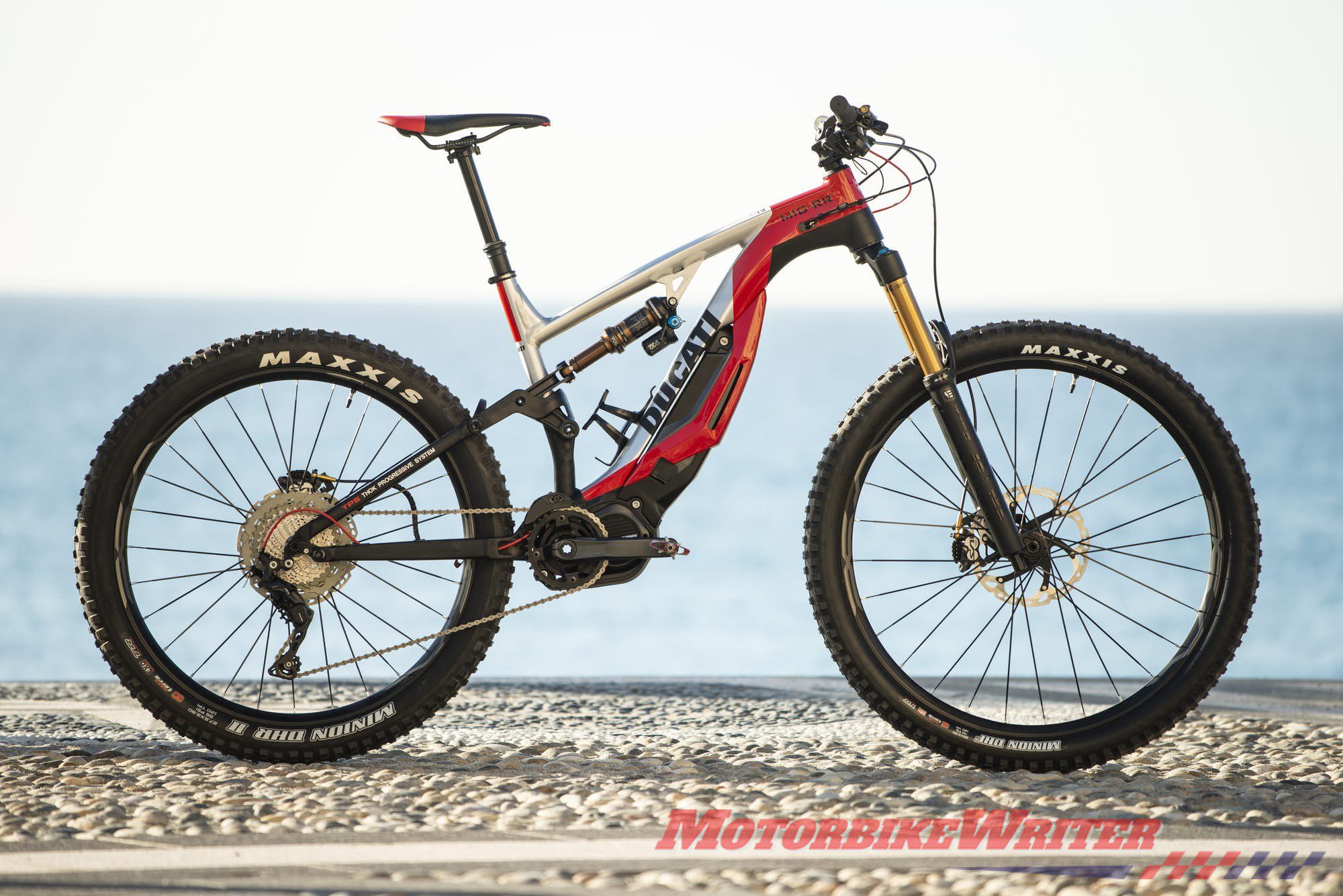 "The future is electric, we're not far from starting series production," he said.
So there could be more electrics from Ducati soon, rather than just a licensing agreement for luxury scooters.