There is nothing cruisy about the Ducati Diavel.
Despite some thinking that this would be the Italian bike manufacturer's first foray into cruiser motorcycles, the result is more of a naked muscle bike than a cruiser.
It's closer to a Suzuki B KIng or Yamaha V-Max than even a Harley-Davidson V-Rod, although these are among the more likely competitors. We'll call it a power-cruiser for the purposes of pigeon-holing.
The Diavel range starts at $23,490 for the Dark, the Carbon model costs $28,990 and the limited-edition AMG model which was a result of the short partnership with Mercedes cost $36,990. There are still a few around and they will become a collector's item now that Ducati has been bought out by Audi.
This year, Ducati adds the Strada and Stripes models to the Diavel range.
The Strada is more touring orientated with greater comfort and better ergonomics. It features a larger screen, improved seat designs, passenger backrest, heated grips and detachable luggage for $26,990.
The new Diavel Stripes also costs $26,990 and features a roadster fairing screen, side covers and lower radiator cover. It also has white wheels, carbonfibre components and a fat white stripe down the centre of the bike with a small pinstripe on either side. It comes in red or blue only.
Basically riding a Diavel is like strapping yourself to a motor and riding that.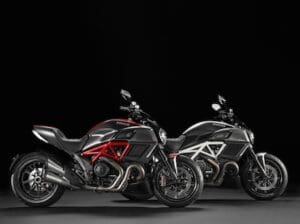 Throw the leg over and it disappears underneath you, despite being a rather big bike.
The seat scoops out underneath you, dropping you into the sadldle shape. It's low and feels like striding a hammock. It's the only Ducati and one of the few bikes we know where a higher seat is an option.
At 770mm off the ground, most people will have no trouble getting their feet comfortably and assuredly on the ground. That's high for a cruiser, but low for a normal street bike.
It's also a comfortable perch where you can imagine spending long hours. It's wide and well contoured but the cushion may be a bit firm for some.
But enough about the seat. This bike is all about the engine and this one is a beaut.
The bike is powered by a liquid-cooled Testastretta L-twin with 119kW which is not much less power than some superbikes.
More importantly for a power-cruiser is the peak torque figure of 127.5Nm which comes on song at a relatively high 8000rpm.
Let the clutch out slowly because this bike lurches. It champs at the bit like a stallion heading for home.
It's raw power that you can feel and hear through the 2-1-2 exhaust system with double muffler out the right side. It emits a gentle raw under power, but an amusing and fruity bark when backing off. I found myself winding the throttle on and off just to hear it.
To maintain control over all this brute power, Ducati has added some of its vast array of electronic wizardry from its MotoGP bikes.
This is evident in the two LCD screens that sit in front of the rider. There is a "slave" screen on the handlebars with basic info you need such as revs and speedo and lap counter – yeah, very basic!
The master screen sits on the fuel tank and when you have a tank bag fitted, you can't see it.
It features the odo, trip meter, average/instant fuel consumption, clock, gear, ambient temp etc and you can toggles through the information via a switch on the handlebar.
Among the many functions is access to the dynamic traction control which has eight settings, plus the three engine maps – Touring, Urban and Sports.
The Touring map unleashes full power but remapped for low-down grunt. It also sets the DTC at level 3.
Urban restricts power to 75kW and DTC setting of five.
Sport unleashes full power with the peak up high and only level one on the DTC.
You can also switch ABS on or off, but it defaults to on when you start up.
The bike is started with a fob key which you can keep in a water-tight pocket of your jacket. If you happen to lose the key, you can still start the bike with your own pin code. A key flips out from the fob so you can unlock the seat.
There is also a handy electric steering lock. Just put the wheel in full lock and press the ignition-off button a second time. If you're worried about such technology, then go and buy a standard cruiser.
But the Diavel is not just all brute power and hi-tech wizardry.
It's also about Italian style and flair.
There is no doubting the impact of the bike in the streets. It looks like an angry alien from a sci-fi flick.
It has many quirky and smart little styling features such as the neat pillion pegs that fold away discretely and the grab rail that tucks away at the back.
Pillions will be no more comfortable than sitting on the back of a sportbike. Riders can easily adjust the rear shock for the extra weight of a pillion with a quick turn of the hand-adjustable pre-load knob.
Riding this bike is an exercise in look-at-me. It begs attention.
And the rider gets to sit up in an erect position so everyone can see them.
Surprisingly, there is not a lot of windsock effect at speed thanks to some clever aero on the small fairing and the slight reach to the bars.
Tall riders may feel a bit cramped with the pegs a little high and mid-mounted.
Let the clutch out and you instantly forget about comfort.
Instead, you revel in the gigantic thrust this bike as. The effect is reminiscent of riding the Triumph Rocket III which is a 2.3-litre behemoth.
It's a task to stop your hands sliding off the ends of the handlebars under hard acceleration.
This bike will simply blow into the weeds any poseur in a supercar.
Revs feel high for a cruiser with 3500rpm at 100km/h in sixth.
Yet there is only a slight tingle coming through the bars and the mirrors are good and wide with minimal vibration.
After some straight-line drags, it's time to tip it into corners and you anticipate with a hefty wrench o the handlebars.
But it's not needed, despite that wide 240mm rear tyre. Unlike the Rocket III, this turns rather quickly and holds its line in corners, not wanting to stand back up again.
The Pirelli Diablo Rosso II tyres are grippy and allow plenty of lean angle – something with which most cruiser riders will be unfamiliar.
The gearbox is slick, clicking up through the six gears with no false neutrals and quickly downshifting with the safety of slipper clutch on the over-run preventing nasty rear wheel lock-ups.
Brembo callipers ensure strong initial bite from the brakes, but they are not braided lines, so the feel is not quite as good as you would expect. However, smooth ABS actuation ensures you avoid embarrassing and dangerous lock-ups.
The Carbon comes with a special Ducati Zumo satnav which fits in very neatly and, of course, is red. We've found this is perhaps the best motorcycle satnav on the market.
When  you want to get somewhere in a hurry with plenty of attitude and presence, this is the bike for the job.
Ducati Diavel
Prices: Dark $23,990, Carbon $28,990, AMG $36,990, Strada and Stripes $26,990
Engine: 1198cc Testastretta L-Twin
Power: 119kW @ 9500rpm
Torque: 127.5Nm @ 8000rpm
Transmission: 6 speed
Suspension: Marzocchi 50mm fully adjustable USD forks, Sachs rear monoshock
Tyres: 120/70 ZR17; 240/45 ZR17, Pirelli Diablo Rosso II
Brakes: 320/265mm semi-floating discs, Brembo callipers, ABS
Wet weight: 239kg
Seat: 770mm
Fuel: 17 litres