An American study of customer satisfaction has found that dealers are offering more demo rides. The Pied Piper Prospect Satisfaction Index shows that US dealerships mention either immediate or future demo rides 52% of the time, compared with only 36% of the time three years ago. However, there is much variation from brand to brand.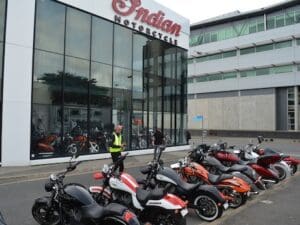 Dealers selling Ducati, Can-Am, Harley-Davidson and BMW mentioned demo rides to more than 60% of their customers, while dealers selling Moto Guzzi, KTM, Yamaha, Suzuki and Honda mentioned demo rides to less than 30% of their customers. Consequently, American riders have returned Ducati dealerships to the top of the industry rankings for customer satisfaction. Maybe they should call them desmo rides! The last time the iconic Italian brand led the Pied Piper Prospect Satisfaction Index was 2009.
Ducati dealers beat last year's leader, Harley-Davidson, and Bombardier's Can-Am which ranked third on its debut inclusion in the American motorcycle industry benchmarking survey. The index uses "mystery shopping" measurements to rate the treatment of motorcycle shoppers and showed industry-wide performance improved substantially from 2013 to 2014, with 12 of 17 motorcycle brands achieving higher scores.
While the study is based on the US customer experience, most manufacturers enforce global standards and procedures for their dealers, giving a fairly similar customer experience around the world.
In Australia it is heartening to see that many brands are offering more demo rides to customers. Most brands had demo bikes at the recent Brisbane Moto Expo, Harley also offered up its entire fleet – including their expensive Touring range – at the recent HOG Rally in Cairns, many are expected to have demo bikes at the coming Ulysses AGM in Alice Springs and BMW is again offering its GS fleet for very practical demo rides that even include off-road riding! Find out more on the BMW demos here.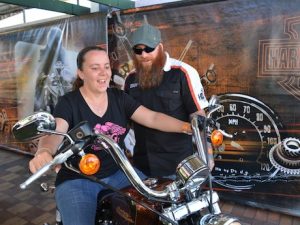 Harley also offers static demo rides for people who don't yet have licences, so they can get the feel of riding a Harley.
But perhaps the most innovative demo ride program in Australia is from Victory who offer selected customers a weekend test ride, along with a free tank of fuel and an accommodation voucher. It sure beats the old ride-around-the-block demo!
The motorcycle industry grapples with this basic sales technique. Some dealers just see the cost of bike depreciation, fuel and salespeople's time, rather than looking at long-term customer goodwill.
Riders see buying a bike as a lottery unless they can actually throw a leg over and feel the bike, evaluate the ergonomics for their body size, hear the noises, test the power and handling, and even feel the heat from the engine.
What have been your experiences with dealers offering demo rides? Please leave your comments below.