Cycle Shell Motorcycle Garage Review
The Cycle Shell is an alternative motorcycle garage.
It is semi-portable and it comes in three sizes to fit most motorcycles.
It has mildew-proof and waterproof fabric that is also resistant to ultraviolet light.
The garage is vented to prevent moisture buildup.
It can be permanently located and cover can be locked to base.
Not everyone is fortunate enough to have a garage to store their motorcycle.
I happen to live in a house without a garage. But I was reluctant to just keep my motorcycle under a traditional motorcycle cover.
One of my neighbors who has a garage was kind enough to let me store my motorcycle in his garage when we first moved into our house.
But I knew I couldn't impose on my neighbors forever and needed to come up with a better, long-term solution that didn't involve spending thousands (or tens of thousands) of dollars to build a garage.
I thought about a shed, but didn't really have room for a big enough one given the landscaping and aesthetics of our backyard. The answer: the Cycle Shell motorcycle enclosure.
The Cycle Shell Motorcycle Garage
At $325 to $425 (depending on size) plus shipping, it's certainly more expensive than your average motorcycle cover but a lot cheaper than buying a shed or building a garage.
Cycle Shell is sold customer direct from Omnitrend in Boulder, Colorado. They don't have a web ordering system, but they do have a toll-free phone number and they accept Visa or MasterCard. It should take two weeks or less for your fully-assembled Cycle Shell to arrive at the door.
All you need is a firm, flat space at least 10 feet long and 4 feet wide and you have an instant motorcycle garage! I had a concrete slab on the side of my house that's just right, but a friend of mine actually built his own brick patio just for a Cycle Shell!
The best description of the Cycle Shell that I can think of it it's a collapsible clam shell that fits over the motorcycle. It comes in three different sizes to fit everything from a sportbike (like mine) to a big touring bike. Cycle Shell calls them the Sport, Cruiser and Tourer.
Details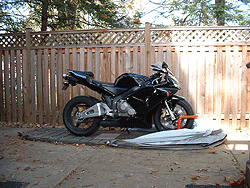 All three sizes share the same 10-foot long base, but vary in height from 60 inches to 67 inches. The difference between the Cycle Shell Cruiser and the Tourer is that the Tourer has two additional frame spars to create greater volume at the far ends of the enclosure.
The Cycle Shell base is made from a hard plastic. The weight of the motorcycle should be more than enough to keep the Cycle Shell in place, but the base can be anchored to the ground if a more permanent installation is desired, or if it just makes you sleep better at night knowing your Cycle Shell isn't going anywhere on its own.
My Cycle Shell is not anchored to the ground and it survived 70-90 mph winds during Hurricane Isabel in 2003 without a problem.
There is a large metal plate attached to the base to allow a motorcycle to be raised up on its center stand. A smaller metal plate is also provided for the motorcycle's side stand. Once properly positioned, the smaller metal plate can be easily screwed into the Cycle Shell's plastic base.
As you can see from these photos, I don't use the center stand or the side stand plates for my motorcycle. Instead, I use theBikeGrab (claimed to be the "world's safest wheel grab") to hold my motorcycle upright.
This is a pretty nifty device that really works. In lieu of a BikeGrab or another type of wheel chock, the Cycle Shell comes with a little wheel wedge that can be positioned so that the motorcycle is in just the right place every time it's rolled into place.
The base also has tie-down strap points that can be used to hold the motorcycle in place if desired. I actually use straps attached to the swingarm sliders (spools) for some added peace of mind, but I have complete confidence in the BikeGrab's ability to keep my motorcycle upright even without straps.
The articulated clam shell is made of a waterproof and mildew- and UV-resistant polyester material. I've had my Cycle Shell now for more than a year and can attest that the cover material can hold up to heavy rain and snow.
I have never cleaned the cover and it hasn't faded.
The cover is vented, which helps to prevent moisture from building up on the inside.
Velcro at the bottom of the cover seals the enclosure, and two pins are located on either side of the base to hold down the cover.
For added security, a padlock can be inserted instead of the pin. If that isn't enough, there are also two D-ring straps that also hold the cover down.
---
Where to Buy Cycle Shell Accessory
Check Reviews & Prices on Amazon
Check Reviews & Prices on RevZilla
See More: Motorcycle Accessories, Motorcycle Tire, Motorcycle Helmets
---
Using the Cycle Shell Motorcycle Garage
The Cycle Shell is pretty easy to use and everything can be easily figured out without the benefit of instructions. The whole thing weighs about 70 pounds. It arrives folded in half, and the only setup necessary is to unfold it.
Opening and closing the clam shell takes only a matter of seconds. Once the Cycle Shell is located where you want it, just open up the clam shell, roll in the motorcycle and put it on its center stand or side stand (or in my case, in the BikeGrab), and then close up the clam shell. It's really that simple.
Assuming you're not trying to stuff a fully decked out Gold Wing into a "sport" sized Cycle Shell, the cover shouldn't touch or rub against the motorcycle, including the exhaust – which means you don't have to wait for it to cool off to close it up.
The cover might rub against or touch the rearview mirrors though, so you might have to fold them back. But otherwise, it's really a no fuss affair.
Conclusion
I've had my Cycle Shell for about 18 months and have no complaints or problems to report. It keeps my motorcycle safe from the elements year-round,  providing a level of protection comparable to a shed or garage.
During the winter, I attach my Battery Tender and keep it inside the Cycle Shell so I won't have a dead battery in the spring. It's not a heated garage, but it sure beats a motorcycle cover.
w

BW

 Review: Cycle Shell Motorcycle Garage
Manufacturer: Cycle Shell
List Price (2004): $325.00 – 425.00 + S/H
Colors: Silver.
Made In: U.S.A.
Review Date: November 2004
Note:
 For informational use only. All material and photographs are Copyright © webWorld International, LLC since 2000. All rights reserved. See the webBikeWorld® 
Site Info page
. Product specifications, features and details may change or differ from our descriptions. Always check before purchasing. Read the
Terms and Conditions
!
---
Where to Buy Cycle Shell Accessory
Check Reviews & Prices on Amazon
Check Reviews & Prices on RevZilla
See More: Motorcycle Accessories, Motorcycle Tire, Motorcycle Helmets
---
Owner Comments and Feedback
---
From "B.H." (January 2015): "I wanted to follow up on (comments) that I submitted (below) from August 2014. After submitting my original review to webBikeWorld, I reached out to Mark at Cycle Shell and complained again about the quality of the product and the lack of customer service. He was able to track down part of the conversation about me requesting a warranty repair and agreed to replace the unit at the cost of shipping. I received the replacement unit and I couldn't be happier.
Just some thoughts: I have now owned three Cycle Shells. As per my (original) review, the first Cycle Shell was fantastic and due to an unfortunate situation had to be replaced.
The second Cycle Shell had nothing but problems. The cold weather caused a failure of the shell spars and the tearing of the cover in multiple spots. My initial complaint — and one that I still hold true — was that the second shell was constructed of materials that were not as high of quality as the first shell. This is something that the manufacturer denies adamantly and stands by the fact that the materials and craftsmanship are the same as the first shell. I still think this is untrue but that is not the purpose of this secondary review.
I received my third shell because Mark did the right thing by providing the right customer service. He apologized for the missed communication and the lack of follow through regarding the replacement of the shell while it was under warranty.
To make things better he replaced the second shell (the top including the support mechanism but not the floor) for the cost of shipping. This was a great response to the customer service failure I felt I received.
Since receiving the shell, I have to say that I compared the quality of the top and spars and there is a difference. I remember my wife saying "Wow, what a difference in quality" when we opened and replaced the top including the spars. It was like using two different grades of the marine covering material. A thinner version in shell #2 and a much thicker and more substantial material in #3. This is a difference that Mark at Cycle Shell still adamantly denies.
So how is the shell holding up? It is doing great. I have had no issues, including the blizzard that hit yesterday dropping 26″ inches of snow at my house. The spars held up great to the weight of snow between the times I came out and brushed it off and the cold winter has done nothing to degrade the covering material.
In short, I have experienced heavy winds, heavy rains, and snow and have not had a single concern or worry about the shell. It has been fantastic and I am very happy with the quality. If I had to order another motorcycle enclosure I would still order a Cycle Shell from Mark because there is no comparison.
So in my final review I have to say that as a consumer I expect three things:
I expect a high quality product.
I expect a fair price.
I expect excellent customer service.
In dealing with Mark at Cycle Shell I have received all three. I blame the 2nd shell problems on a manufacturers glitch. The 1st and 3rd shell I have owned has been fantastic and nothing short of the best motorcycle product I have ever purchased.
Did I have some issues with shell #2? Yes. Was it resolved to my liking? Yes, in fact so much so that when I buy my next motorcycle it will be housed in a cycle shell #4. Why? Because Mark did the right thing, and sells the right product. Do I wish it were a bit cheaper? Yes! But you get what you pay for and the Cycle Shell is the best motorcycle enclosure I have ever used. I would appreciate if this review was attached to my first review as a follow up."
---
From "B.H." (August 2014): "I just wanted to pass along a review of my Cycle Shell. For the record, I have had two. One was stolen when I was out on my bike. That particular shell was of a much higher build quality than my second shell. In fact, that original shell had no issues handling extreme cold, snow, rain and high winds. I never had a problem with this unit and it was an incredible investment.
The second Cycle Shell is a different story. I purchased my second Shell and instantly I noticed a different level of quality. The cover was not as thick, the floor was not as thick, and the quality of the beams not as sturdy. I questioned this and was told that to combat the high cost of shipping that the shell was modified to lower the out the door weight.
A second response when I questioned the durability was that the materials had not changed. I found that to be very interesting.
The second Shell did not last a full year. It was the coldest winter in New York in a long while with the most snow. I made it a steadfast rule that I would never allow more than 2 inches of snow to accumulate before brushing it off to ensure that the frame which did not feel as sturdy would survive.
On one particular bitter day, I had two cover frames snap in the cold. This was on a day that there was no snow, just simply cold. The metal simply failed. The snapping of the rods cause the cover to rip. I sent pictures and a complaint to Cycle Shell and I was promised a replacement cover. It was never sent.
Repetitive emails to the company always responded with a different story. In the end, I simply wanted to replace the cover including the support beams. I was told that the cost of replacing that would be the same cost as ordering a new unit. The warranty was never covered and to date I only use the base because the cover has been completely destroyed.
Cost: The cost of the unit is high, but the quality of the first unit was shockingly good. For $425 and close to $100 in shipping it protected my motorcycle perfectly. I loved the first unit, and I would actually buy another instantly if I could get that quality again.
Weather: The first unit survived the cold, even the bitter cold and a blizzard that dumped 18 inches of snow. Never had a single problem, it could take 4-6 inches without being brushed off and sustained winds that were in upwards of 30 mph (mine was anchored) to the ground. The second shell would have bending braces after an inch of snow and would bend over minor winds.
The base: Both bases were fantastic. The first one seemed to be a rubberized material  and the second more of a plastic material. Both were adequate for the job. The first one was higher quality and the locking mechanism and fitment was better but I blame that on the shell not being as sturdy.
Vents: The vents were the same, but the second shell allowed more moisture than the first. I am blaming that on the thickness of the material. I think the first shell was more efficient.
Sun and Fading: both shells seem to not be affected by the sun, but I treated both mine as per the manufacturers suggestion.
Overall I think the world of the Cycle Shell. I just wish they would go back to the original materials. Since I am not saving a boat load of money on shipping it makes no sense to lower the weight  and go cheaper. It might raise profit margins but the quality took a dive.
The sad part is I need to order another bike cover that works like the first Cycle Shell. I can't order a third Cycle Shell because it is not worth the investment with the crap materials. I want something with a thick base that can withstand a New York winter. If you have any suggestions, I look forward to hearing a reply."
Other WebBikeWorld Accessory Posts
---
From "B.B." (September 2012): "Thanks for the review about the motorcycle garage. I will likely by one, partly based on your review."