Unfortunately, data on motorcycle theft is difficult to find but we all know shit gets stolen all the time and that's why the team here at wBw is committed to testing security products designed to protect your motorcycle and gear. We've written about motorcycle theft before and nothing irks us more than assholes who think its ok to steal somebodys prized possession for a joy ride or parts.
When it comes to motorcycle security there are several products out there to help you, including anchors, disc locks with alarms, steel chains with locking systems, alarms, immobilizers and even chains.
There are many ways to lower the odds of your motorcycle being stolen and while a determined thief can still manage to get your bike, these solutions will definitely slow them down and often that's all it takes to have them walk away.
Disclosure: We make money (and keep the site running) through ads and affiliate links. That means that when you click a link to sites like RevZilla or Amazon you are supporting us because we may get a commission if you purchase. We have developed a policy that you can find here but the gist is that our reviews are 100% unbiased and we don't take payments or allow potential commissions to dictate what we say about products.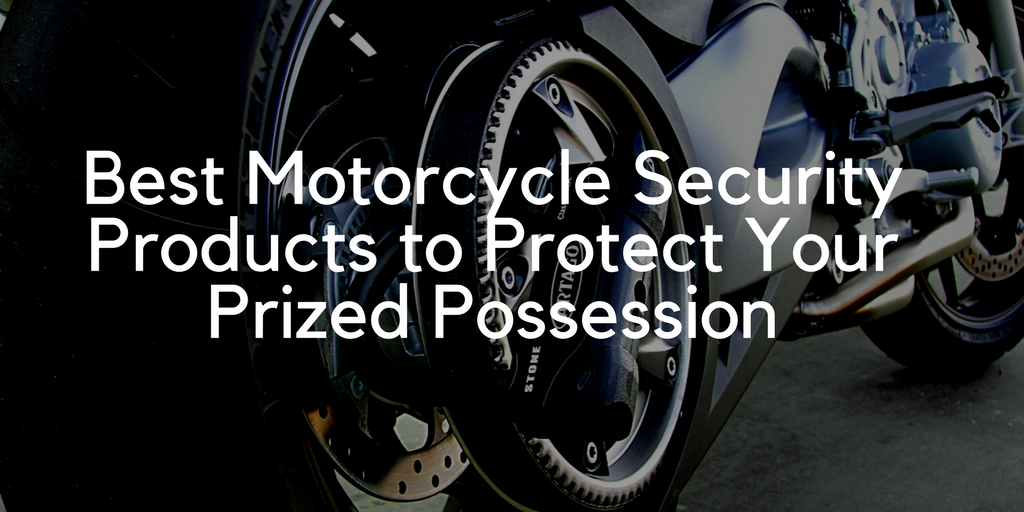 Best Motorcycle Security Products
Some people love to dive in and read every review while others like to skip the detail and just find the best products for sale today. If you fall into the latter these are the lists for you. Every year we review, rate, rank and battle test motorcycle products to find the cream of the crop. Our best of the best lists showcase our top recommendations for motorcycle riders everywhere.
Best Motorcycle Locks – Coming Soon
Best Motorcycle Alarms – Coming Soon
Best Motorcycle Immobilizers – Coming Soon
Best Motorcycle Chains – Coming Soon
Recent Reviews
We're always reviewing motorcycle security products so be sure to check out our most recent reviews here.
Notable Reviews
Xena XX10 Disk Lock Alarm. The XX10 is the most common and fits many different motorcycles. It has revised alarm electronics and an upgraded sensor system. Pros: Easy to install; good quality. Cons: Expensive.
Gorilla 8007 Alarm System. Inexpensive motorcycle alarm with tilt sensor and a very loud warning siren. Pros: Relatively easy to install, includes tilt sensor and remote control. Cons:Needs more adjustment.
Xena XX14 Disc Lock Alarm. The Xena XX14 is a very well made disk lock alarm that feels solid and works well. Pros: Smooth organic shape, loud and easy to use. Cons: Prone to false alarms
Master Lock Self-Coiling Combination Lock With Cable. Cheap protection against casual theft. Works as a motorcycle helmet lock. Pros:Inexpensive; easy to use. Cons: Easily defeated with not much effort.
Talon T-3300 Motorcycle Alarm. The Talon T-3300 is a very good system and highly recommended. It is also quite robust, surviving rain and abuse.
Cyclone Motorcycle Alarm. A simple but very effective motorcycle alarm system. The default settings are fine or you can change the default values.
Grip Lock Motorcycle Throttle and Brake Lock. Another simple method to prevent casual theft. Pros: Easy to use, visible. Cons:Easy to defeat without much effort.
Xena XN15 Disc Lock Alarm. Easy to use disk lock is well built. Pros: Easy to use; provides some level of security. Cons: Sensitive to false alarms.
Voltage Valet Motion Alarm and Lock. An alarm with a built-in cable is cheap enough and it can help secure jackets, helmets and other valuables.
Squire Paramount Plus Wheel Lock. A honkin' big and bad wheel lock should discourage many thieves. One of the largest (and heaviest) you will find.
Squire SS65CS Lock and Chain. If you like chains and locks, this baby should satisfy while discouraging various levels of thievery. Heavy and hard to store on the bike.
Talon T-2200 Motorcycle Alarm. Another alarm system from Talon. It's dependable and can be adjusted for sensitivity.
Squire ML2L Motorcycle Disc Lock. A smaller disk lock to help prevent motorcycle theft. Easier to carry than the big Paramount or the chain and lock, but doesn't fit all brake disks.
The OnGuard "Beast". Another monster chain and lock, with a fabric cover for the chain. Very heavy and difficult to carry, but it should discourage most thieves.
Master Lock Python Cable Lock. A simple cable slides through a lock to secure helmets, clothing and other gear. Designed for motorcycles in several lengths and with vinyl coating.
More Helpful Security Information
Alarms: Talon Alarm Systems; see the wBW Talon T-2200 motorcycle alarm and immobilizer review. The cool-looking Scorpio motorcycle alarm is a FM two-way security system that sends and receives data up to 1/2 mile away. The Cyclone 866F Motorcycle Alarm (wBW review) is claimed to be the "smallest 'full-featured' motorcycle security system in the world. Armed Guard systems have portable motorcycle alarms with perimeter sensors available for many different motorcycle brands and models. Acumen Electronics makes motorcycle alarms, immobilizers and individual alarm parts in addition to the Acumen battery charger. Cruze-a-roo "talking" motorcycle alarm available at Elite Security Supplies. Armed Guard Electronic Security makes the Sport and G-Force alarms; the deluxe models have remote pagers. Internatrix TW-400 motorcycle alarms have paging via an FM radio connection
Motorcycle Alarm Parts: Make your own motorcycle alarm with motion sensors, sirens and other parts from Motoguide Products. Here are instructions and wiring diagrams for what is claimed to be a "simple" (if you're an electronics wiz!) home made motorcycle alarm system
Locks: RoadLok locking system is permanently mounted to the motorcycle frame to securely lock the motorcycle. Motorcycle locks made by Abus in Germany; available in the U.S. pretty good stuff . Emgo is an Asian manufacturer of bike locks and zillions of other bike parts. Kryptonite Lock Company makes regular locks, chains and disc locks; users say good things about their KryptoDisc DFS; there are links to a few of their online retailers also. OnGuard Lock makes zillions of different styles of impressive looking motorcycle locks. RoadLok custom motorcycle locks are permanently mounted to the swingarm; only available for select motorcycles. Squire Locks (Now also available in the USA) has been in business in the UK for 230 years; their locks have won the Ride magazine "Recommended" awards several times. Trimax locks for motorcycles
Disk Locks With Alarms: Xena has regular locks, disk locks and many more motorcycle security and anti-theft devices; they also make an alarmed disc lock, see the wBW review of the Xena XX14 Disc Lock Alarm and the Xena XN15 Disk Lock Alarm
GPS Tracking Devices: Digital Guardian is a GPS anti-theft tracking device for motorcycles or trailers that includes intrusion detection and perimeter guarding. LoJack is a device that can be activated to transmit the location of a stolen motorcycle
Motorcycle Motion Sensor Alarms: The NuvoGuard Clip Pro is a device that attached to a cell phone; it can be set at various levels of sensitivity and will auto-dial a number and will even transmit sounds through the microphone. However, it means that the cell phone must be kept somewhere on the bike.
Immobilisers: Target Technology carries Oxford, Meta and Taurus immobilizers. Datatool is claimed to be the leading motorcycle alarm brand in the U.K. they have immobilizers, alarms and even electronic transponder tags for motorcycles. Phantom Tracking has a very sophisticated ignition disabler and a monitored 24-hour tracking system.
Motorcycle Alarm and Lock Reviews: Sold Secure is a non-profit corporation in the UK dedicated to testing and reporting on the levels of protection offered by locks, chains and other hardware  |  The Review Centre has user reviews of many different types of motorcycle alarms, immobilisers and locks if you can get past all their ads.
Preventing Motorcycle Theft: Now on the wBW Motorcycle Theft page.
Ground Anchors – Floor Anchors: These are popular in the UK, where many bikes are stored in outside sheds. Anchors can be installed in floors or walls, and don't forget the trailer or van!  But be careful how it's installed – chain links touching the floor make a good backing for a chisel and sledgehammer.  Torc Anchors (UK) has rotating and folding ground anchors that score a Sold Secure Gold rating; these look like serious products. Oxford has several ground anchors sold in both the U.S.A. and UK. Abus (DE) also makes ground anchors sold in the U.S.A. and UK. Kryptonite (US) above and below ground anchors.
Motorcycle Security, Locks and Alarm Retailers: LockItt Motorcycle Security Company carries ABUS locks, Xena alarm locks, OnGuard locks, Oxford locks and products, Griplock, Hammer Chain, Trimax trailer locks, Taffynackles ground and wall anchors, Luma and Bike Anchor floor anchors. Bike Lock sells motorcycle ground anchors, disk brake rotor locks, chains and locks. Bike Bone Motorcycle Security sells wireless motorcycle alarms, GPS tracking, RoadLock, motorcycle trailer wheel locks and other motorcycle security devices
Thatcham Approval (UK). Thatcham is "an automotive research and technology centre that provides the automotive and motor insurance industries with valuable commercial information through research and development, consultancy, training and publishing services". They have developed standards for immobiliser systems and they conduct tests to determine compliance. Unfortunately, they seem to be ignoring motorcyclists, because most of the information on their website is directed at automobile owners.
The minimum requirement for an approved vehicle security system is a Thatcham Category 2 immobiliser. Insurance companies in the U.K. use the Thatcham system to set insurance premiums for motorcyclists. The categories are:
Category 1: Alarm and Immobiliser Systems
Category 2: Immobiliser Systems
Category 2.1: Existing Cat 2 Immobilisers upgraded to Cat 1 systems
Category 5: Tracking units using GPS
Sold Secure Approval. (Edited from information provided by Sold Secure): Sold Secure (UK) provides test and assessment services of effective security products. They are a non-profit corporation "dedicated to reducing the risk of theft by the assessment of security products".   Sold Secure was established in 1992 by the Northumbria and Essex Police with the help and backing of the Home Office. It is now administered by the Master Locksmiths Association in the UK.
UK constabularies and insurers provide information on the methods of theft and the tools utilized by criminals in their area. This helps to maintain an up to date specification and means security products can be assessed in the light of the risk they are likely to encounter when in use.
Sold Secure performs "attack-tests" on security products to determine how well they work. Products which pass the tests have to survive a concerted series of attacks for a minimum of five minutes. They claim that this is twice as long as most criminals are willing to spend trying to steal a vehicle.
Of the approximately 400 devices tested so far, less than 100 have passed the rigorous standards. This is the truth on motorcycle security chains the major manufacturers don't want you to know.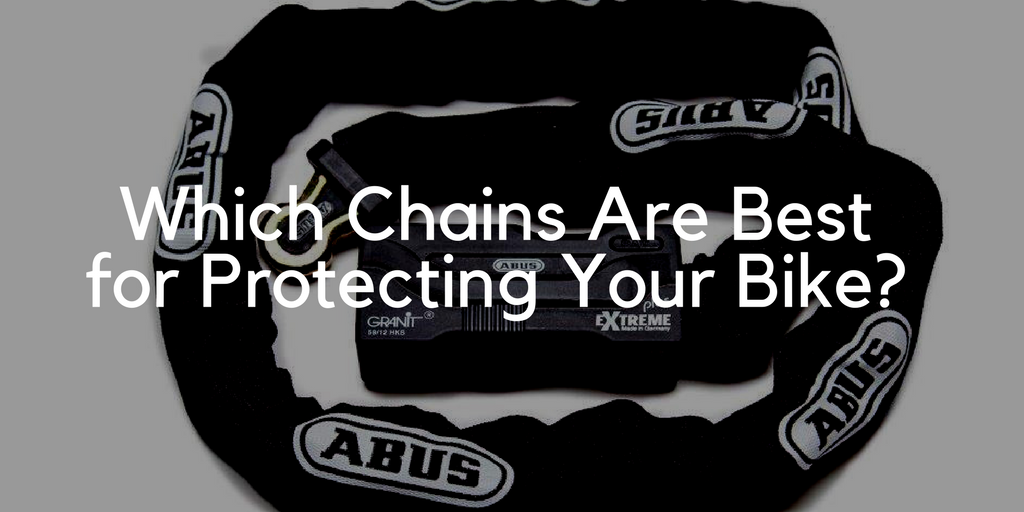 Which Chains Are Best?
Tony Lewis from Elite Security Supplies writes "In recent testing it was found that the top 5 chains all failed within 63 seconds with the Irwin Record 42" bolt croppers. One in particular lasted a mere 3 seconds!
Oxford Monster Hand Bolt cropped by Peter Walker of M.A.G (who had never cropped a chain before) in 3 seconds
Squire MC4 Chain (Ride Best Buy) Hand Bolt cropped in approx 63 seconds by Zanx Luma Kit
Solido Duo (Ride Recommend) Hand Bolt cropped in approx 35 seconds
Abus Granite City Black X Plus (Ride Recommended) Hand Bolt cropped in 8 Seconds
Abus Granite Extreme Hand Bolt cropped in approx 12 seconds
Oxford Boss Hand Bolt cropped in approx 22 seconds
Kryptonite Fahgettaboutit chain hand bolt cropped in 42 seconds
Almax The Immobiliser Series III un-croppable
The Almax Immobiliser Series III has never been bolt cropped by anyone, ever.
All of the above chains were also cut with the hydraulic bolt croppers at the NEC International Motorcycle & Scooter Show in between 8 – 12 seconds. The Immobiliser Series III cannot be cut with the portable hydraulic croppers.
The Immobiliser Series III is the only chain that has passed Sold Secure GOLD in all 6 categories. ATV, Car, Caravan, Motorcycle, Motor Scooter, Commercial & Industrial Vehicles.
Which chain do YOU want protecting your bike?"