BMW has unveiled a Vision Next 100 balancing "crashproof" bike with an electric boxer motor, textile fairing, no suspension and a flexible frame that helps steer the bike.
And the rider won't even need a helmet or protective clothing!
No, it's not April 1.
The futuristic Vision concept bike has been unveiled in LA at the launch of the K 1600 B bagger.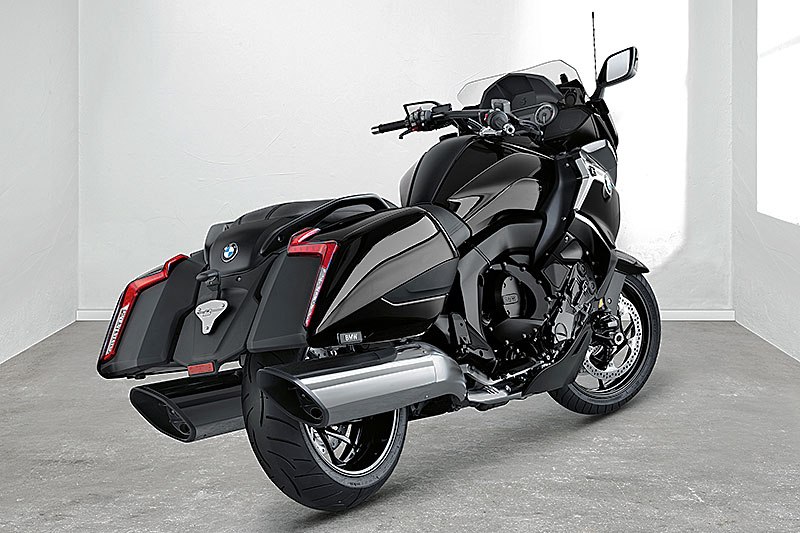 In the short term, BMW has announced a G 310 GS (as this leaked photo shows) and a fifth variant of the popular R nineT. Both may be unveiled at the EICMA show in Milan next month.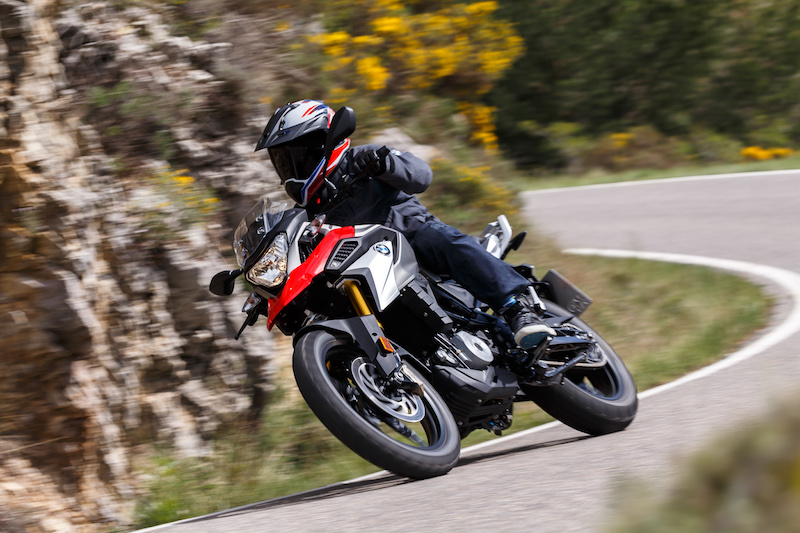 However, the long-term future for the Bavarian manufacturer is a lot less conventional. There will be no helmets and self-balancing bikes that are virtually crashproof.
BMW is celebrating its centenary with the Vision Next 100 concept bike, referring to the next 100 years.
Their official press release contains some rather tantalising, confounding, startling and even frightening statements about the future of BMW and the future of motorcycling in general.
Take this for example:
The BMW Motorrad Vision Next 100 stands for the ultimate riding experience. Liberated from the need to wear a helmet and protective clothing, the rider is able to enjoy the forces.
That would seem to support the long-held rumours they will revive the roofed C1 scooter with an electric vehicle motor like this C1 concept. After all, you only wear a seat belt and are legally "liberated from the "need to wear a helmet and protective clothing".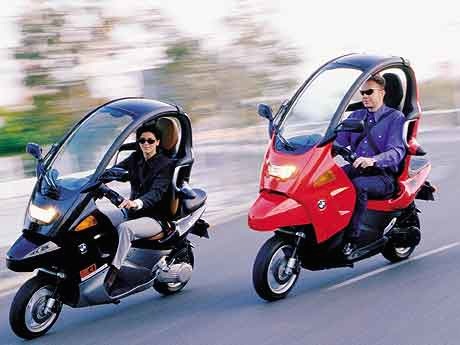 However, there is no roof on the Vision Next 100 and it won't be as ugly as the C1 concept.
BMW says their "zero-emissions solution" will be "immediately recognisable as a 'genuine BMW' and include the black frame triangle, white lines and classic, boxer engine forms".
SEGUE TO SEGWAY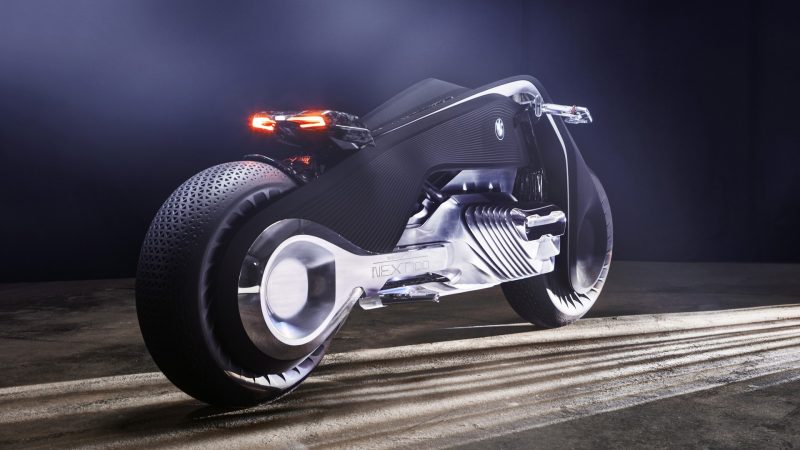 A startling highlight is that the Vision Next 100 will be self balancing. That may mean it has some sort of gyroscopic mechanism like a Segway:
In certain situations, the active assistance systems of the future will also enhance stability and safety by automatically balancing the motorcycle, both out on the road and when stationary. Novice riders will benefit from additional guidance in all riding situations and from a bike that will never tip over.
They say it will remain balancing when standing still, so there is no need for a side stand or to put your foot down when stopped at the lights.
With such balancing assistance, the Vision Next 100 may even negate the need for separate motorcycle licences!
Seasoned riders may be alarmed, but BMW says the balancing Vision bike will be "particularly agile and dynamic" with lighter handling.
TRADITIONAL FUTURE
While looking to the future, BMW will also pay its respects to the past with a black triangular frame like the first BMW motorcycle, the R32, made in 1923.
However, they say the balancing Vision bike will have no visible bearings or joints.
It will be covered by a silky black textile "flexframe" rather than plastic or carbon fairings. They say it will protect the rider from "wind and weather as effectively as a full fairing".
The flex frame also does away with conventional steering as the whole frame moves when you turn the handlebars. We're not sure whether this means the end of counter-steering, or not!
However, they say the steering weight adjusts to speed like an automatically adjusting steering damper. It's light at standstill and becomes firmer with speed.
BOXER ELECTRIC
BMW says the Vision bike will be powered by a "zero-emissions" drive unit, so we assume they mean electric.
But rather than the ugly shapeless electric motors we see on electric bikes, it will be the traditional boxer shape.
But wait, there's more.
At standstill, it will be compact. But the polished "heads" will extend into the boxer shape at speed to "enhance aerodynamics and protect the rider from the elements".
The "vision" will have a carbon seat, upper frame cover and "wings". Not sure what they mean by wings, but we don't think she'll fly!
BMW also plans to do away with the suspension, relying instead on tyres with variable tread and inflation to suit conditions.
Don't laugh. There are already projects to create just such tyres for the Dakar Rally!
LOOK MA, NO HELMET!
BMW is vague about the instruments on their "vision" bike: "Overall, displays, cables and buttons are a rare sight on the BMW Motorrad Vision Next 100".
Instead, the bike will be voice controlled with information displayed directly in the rider's field of vision.
BMW have already announced they are working on a helmet with head-up display and voice control.
However, their vision of the future throws away the conventional helmet and replaces it with glasses!
Information exchanges between rider and bike take place largely via the visor. This essentially consists of a pair of data glasses that extends across the wearer's entire field of vision. As well as providing wind protection, it shows relevant data in one of four designated display areas. These are controlled by the rider's eye movements: looking up or down changes the content that appears, and looking straight ahead switches the information off completely, leaving the rider to focus even more fully on biking experience. Information is only projected on to the visor on request, or to alert the rider to the fact that action is needed.
The system will not only alert of hazards ahead, but even suggest lines and banking angles through corners!
And if the rider doesn't correct their line and angle in time … the bike will do it for them!
THE EMPEROR'S CLOTHES
Forget about leather jackets, gloves and boots, BMW will replace that with a black-and-white Airy suit!
No need for liners or waterproof gear either. The weatherproof suit will warm or cool the rider as needed.
Forget about a neck brace, too. At high speeds, the neck section inflates for support.
The suit will also deliver navigation instructions via vibrating elements in the arms and legs, and alert the rider with a shake if they lean the bike too far.
But the suit will offer no safety features, instead relying on the bike's "intelligent assistance systems".
LOOK MA, NO HANDS!
Head of Design Edgar Heinrich says they designed the Vision bike for "decades in advance".
In tomorrow's world, connectivity and digitalisation will be all-encompassing. Most vehicles will be driverless, and life will be organised largely by digital services. More and more of the world's population will be living in urban areas.
While the Vision will have a number of interventionist "safety" devices, there is no mention of it being totally riderless.
In fact, he says the "digital interface" will be subtle so "the rider can enjoy an entirely natural biking experience, trusting the bike completely and enjoying complete freedom and ease".
However, Yamaha and Kawasaki are already developing riderless bikes.
BMW is at the forefront of driverless cars, so we suspect they won't be left out of the race for riderless bikes!
Why would we want riderless bikes, you ask? How about as commuter vehicles, taxis, courier vehicles or even for long-distance rides so you can have a nap!
Sound like a motorcycling future full of excitement? No, didn't think so!