CLUBMANS ALL-BRITISH WEEKEND 2017 MAKES 30 YEARS
Every year for the last 30 years, the BSA Owners Club of Northern California (BSAOCNC) has put on an all-British motorcycle show and ride that has been billed as the biggest in the West. This year's Clubman's All-British Weekend-2017, the 30th Annual, was on Saturday, March 25 this year, followed as always by "The Morning After Ride" on Sunday morning, March 26. And as always, this indoor show took place at the Santa Clara County Fairgrounds in San Jose CA. The ride, made up of scores of old Brit bikes, some ancient, met in downtown Los Gatos, on Sunday morning, then left for a leisurely cruise through the Santa Cruise Mountains, all the way out to the Pacific Ocean. What a ride! I've done it several times. Not this year, unfortunately.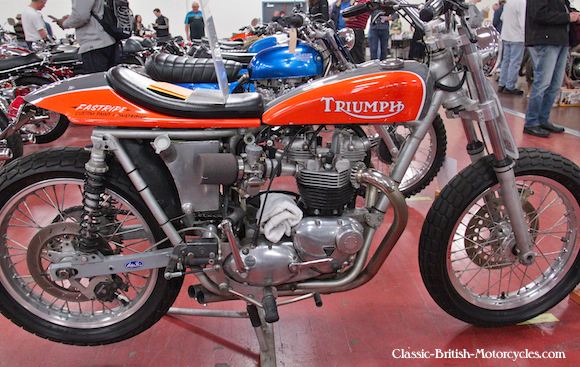 ABOVE: One of flat trackers that Eddie Mulder and friends brought. He actually built this bike for a customer, and it has completed the Pikes Peak Race to the Stars in 2007, 2008 & 2009.
EDDIE MULDER AT CLUBMANS ALL-BRITISH WEEKEND-2017
This year had a lighter-than-usual attendance, and also fewer bikes than I've been used to seeing, around 85 this year. Fantastic bikes as usual.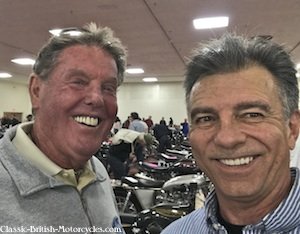 Motorcycle racing legend Eddie Mulder showed up to with a bunch of his buddies and all their flat track racers, including some of Eddie's own bikes. He's a regular at the Clubmans Shows, always managing to show up just in time to present the trophies, ever-present toothpick hanging from his lips. Totally nice guy, by the way. Willing to stop and talk with you and really listen to what you're saying. He's the genuine article. Five-time AMA Grand National winner Eddie ruled TT and desert racing in the 60s, retired in the 70s and became one of Hollywood's top motorcycle stuntmen. What a guy! The flat trackers they brought were actual race bikes, not street trackers. Two were Eddie's own personal race bikes from his illustrious past. Very nice stuff.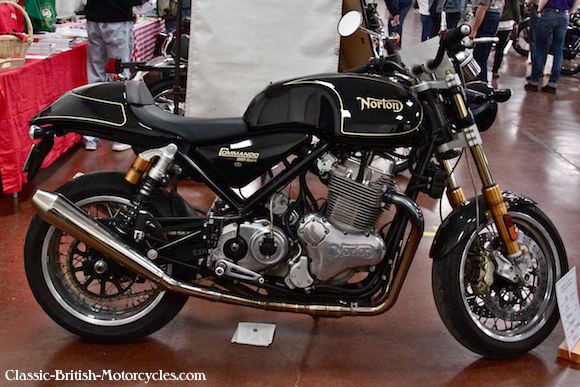 ABOVE: Norton is back! This 2014 961 Commando Sport was on display at the Norton Owners Club booth.
LOTSA BIKES AT THE CLUBMANS ALL-BRITISH WEEKEND 2017
What is a Clubmans Show without bikes, right? This year they had around 85, a little light compared to prior years. Some blamed the threat of bad weather, and the actual weather that closed the passes through the Sierras, cutting off Northern California from all parts East. Of course they were all British bikes, of every type, age and condition. There were lots of street bikes of course, from all eras dating back to the dawn of the motoring age to the present day. In case you're wondering which 'present day' British bike I was referring to, it was a 2014 Norton 961 Commando Sport. There were also race bikes of every type and from every era, off road bikes, side car rigs, military bikes, choppers, bobbers, cafe racers, and yes…a bunch of street trackers. While most were lovely to look at, one nice thing about a Clubmans Show is that they attract not just 100-point trailer queens, but also everyday riders, project bikes, beaters, and unrestored survivors. All British, of course.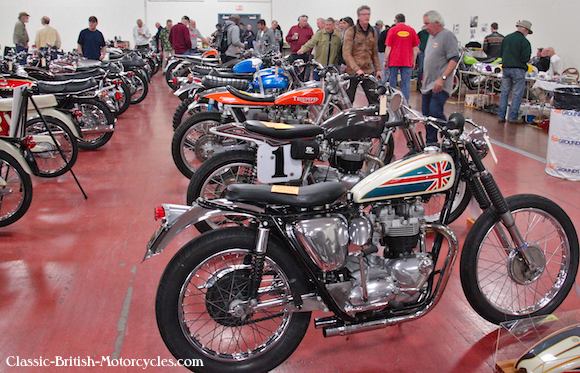 CLUBMANS ALL-BRITISH WEEKEND 2017 RAFFLE BIKE
As usual, the BSAOC did a brilliant job of organizing and orchestrating the show and it went off without a hitch. And as usual, one of the stars of the show each year is the Clubmans Raffle Bike. Somehow every year, the BSAOCNC magically produces a gorgeous classic British motorcycle to give away to some lucky winner. Then they sell tickets all year long for…are you ready for this? …a dollar. That's right one dollar. While many, perhaps most who enter buy multiple tickets (I buy 10 every year), and some buy big numbers of tickets, this is of course no guarantee of success. Over these past 30 years and all those raffle bikes, more than once a winner has admitted to only having bought one ticket. Who knows how many tickets this year's winner bought, because he wasn't there when his name was drawn. But don't worry, he still gets the drop-dead gorgeous 1970 Triumph 650 TR6.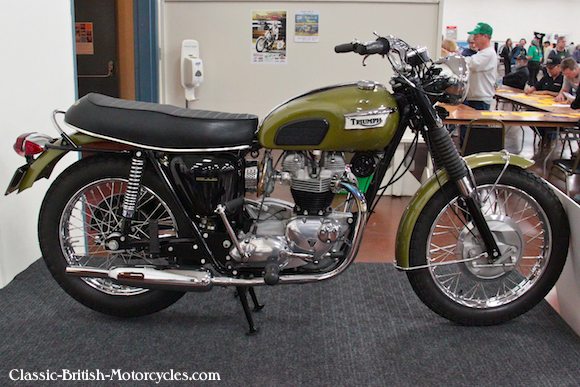 ABOVE: This lovely 1970 Triumph TR6 was given away in the raffle this year.
OWNERS CLUBS AT CLUBMANS ALL-BRITISH WEEKEND 2017
As always, many of the classic British motorcycle owners clubs were in attendance, with their booths set up, offering various materials about their favorite marque. Many had bikes on display. The Owners Clubs (OCs), or rather those marques represented at this year's Clubmans Show were Norton, Scott, Velocette, Matchless, even Rudge. There was also a booth set up for the American Historic Racing Motorcycle Association, which is apparently more about classic racing in American, than American racing bikes, because all the race bikes they were displaying were of course British. Owners Clubs are a great way to meet other people who are into the same kinds of bikes as you are. Help with parts and service, and great advice are invaluable. These clubs are a resource, often with members who have deep knowledge of their chosen marque. Then there's the riding. The BSAOCNC for instance, the Clubmans All-British Weekend 2017 host and sponsor, puts on a ride every month of the year, rain or shine. Members show up on their old British bikes (you don't have to own a BSA) and do great one-day rides through places like the Napa Valley Wine Country, the Gold Country, the Sacramento River Delta, and multi-day rides to places farther out, often in the Sierra Nevadas. Cool stuff. Wonderful old bikes being ridden as God intended. And fantastic people who love what they do. I've been on many a ride with the BSAOCNC and it's always a blast. And when someone breaks down on the side of the road, ten people pull over and help him get going again. It's not a chore, it's a pleasure, and a welcomed part of the experience, believe it or not. It's one of the things we talk about, or rather laugh about, later over lunch. The BSAOCNC takes anyone who loves Brit bikes. You don't even have to own one, although just about every member I've met owns several.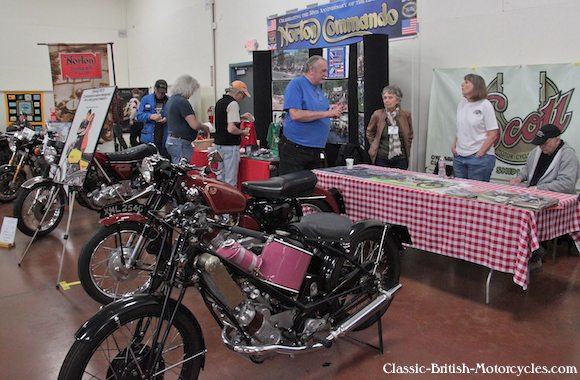 ABOVE: The Scott Owners Club booth. Never heard of a Scott before? They're the ones that look like they used a paint can for the gas tank. Water-cooled twins.
CLUBMANS ALL-BRITISH WEEKEND 2017 TO BE THE LAST
At the end of a fantastic day and an other excellent Clubmans Show, the key members of the BSAOCNC went up on stage and made an announcement that many in the audience knew was coming. This would be the last Clubmans Show, as we know it. The long-running venue for the show, the Santa Clara County Fairgrounds in San Jose CA is closing down so they'd need a new venue. Not an easy thing to do, especially when you're only charging $5.00 for tickets and $20.00 to show your bike. And, these stalwarts of the Club have been putting on Clubmans Shows for 30 years now and they were getting tired. But is this really the end? Certainly the BSAOCNC is still alive and well and will continue to do their great rides every month. But what of this landmark all-British motorcycle show? There are already rumblings within and outside the club to reboot the Clubmans Show at a new venue and with a new format. Nothing has been decided yet. But some hope that in its new form it will reach and attract a much larger audience than the traditional Clubmans Shows attendance of a couple hundred or so. It is hoped that more exposure for classic British motorcycles will usher in the next generation of Brit bike enthusiasts, the ones who will keep it going into the future. That is certainly my hope. More on this as details develop.
Some of the bikes from the Clubmans All-British Weekend 2017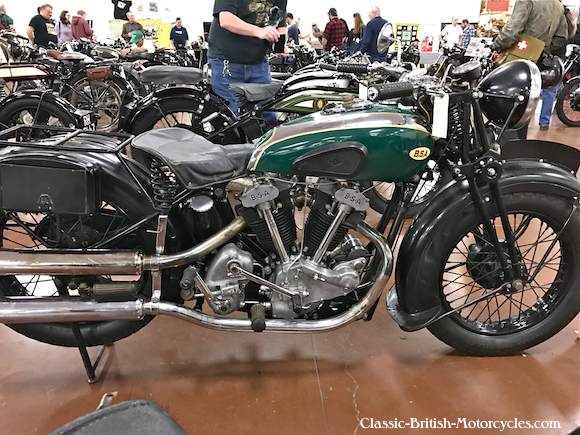 ABOVE: This 1936 BSA Y13 was part of BSA's V-twin lineup, designed for sidecar use.
BELOW: This 1937 Norton Manx International is a good example of a pre-war Manx, wth girder front forks and a rigid frame. It's rare to see just Brit bikes at a show, but the Clubmans All-British Weekend 2017 did it, and it gives you the opportunity to look at numerous examples of a given bike, like the Manx showing their evolution over the years.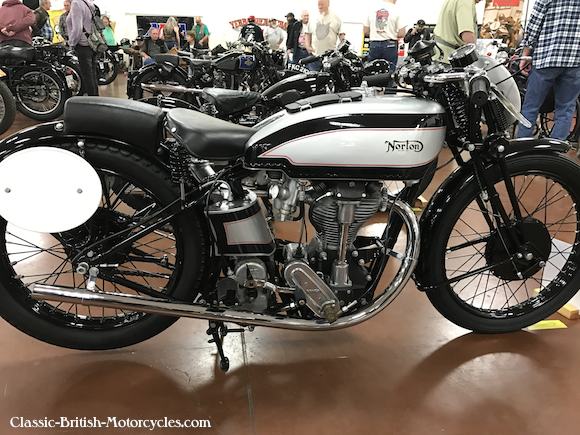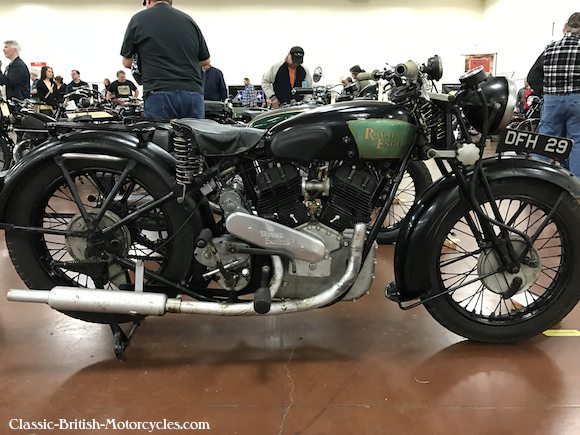 ABOVE: Another 1930's-era V-twin designed to pull a sidecar. This one's a 1939 Royal Enfield KX1140.
BELOW: Look closely at the 1946 Indian Chief below. Is that a Vincent V-twin in there? Yep. A fairly uncommon swap in the day, but not unheard-of. It is also rumored that struggling Vincent actually built a prototype as part of a proposal to supply modern engines to struggling Indian in the early 1950s. It never materialized of course, and both companies closed down by 1955.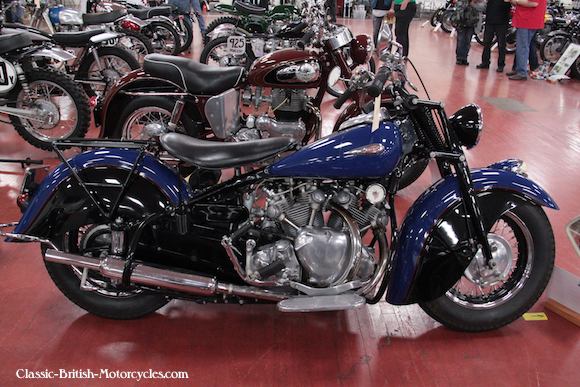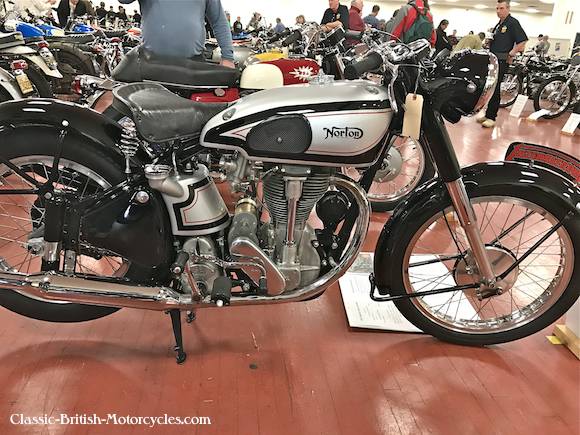 ABOVE: This 1951 Norton International Model 30 shows the next evolution of Norton's road racers and streetbikes. Post WW2 bikes got telescopic front forks and the antiquated plunger rear suspension, known as a "Garden Gate" frame. The legendary "Featherbed Frame" was already in use on the Manx racer, and would migrate to regular street models by 1953.
BELOW: This 1952 Triumph 6T Thunderbird is what is meant by an 'unmolested survivor'. Not every bike at the Clubmans All-British Weekend 2017 were fully-restored 'trailer queens'. Many are unrestored, many are regularly ridden. All the better.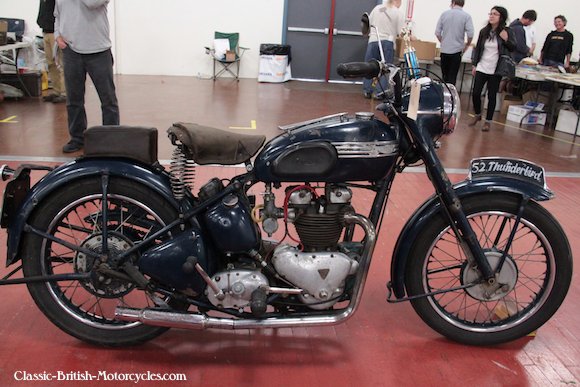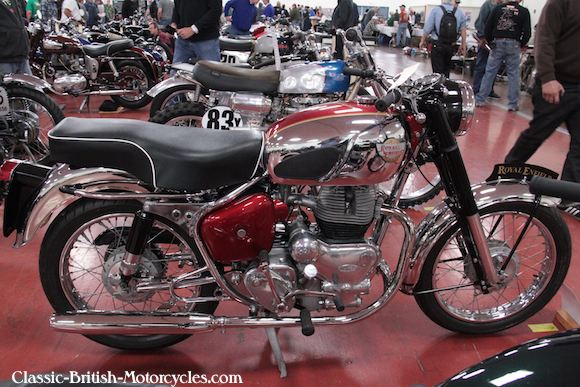 ABOVE: A 1959 Royal Enfield Constellation with a chromed frame.
BELOW: Yet another example of an Indian Motorcycle motivated by a British motorcycle engine. This one's a 1960 Enfleid Indian Chief, built by Royal Enfield from 1955 through 1960.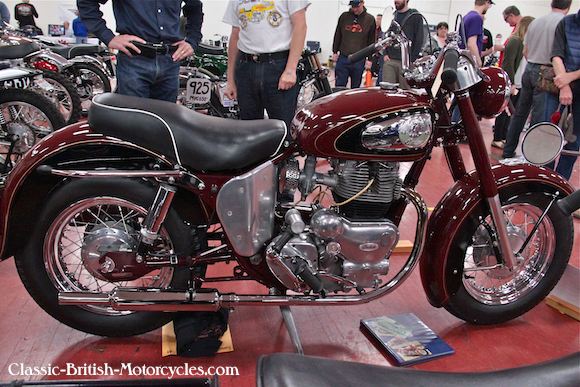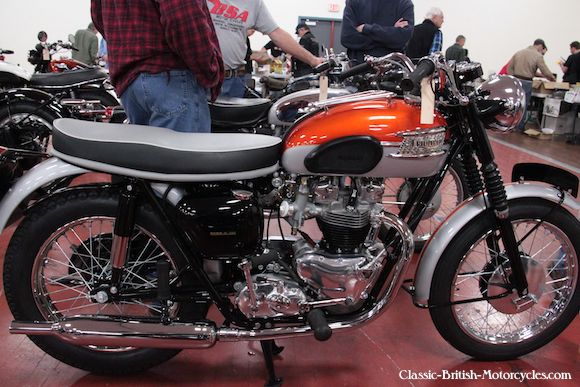 ABOVE: This drop-dead gorgeous 1962 Triumph Bonneville was literally better-than-new.
BELOW: This was Triumph in her prime. 1967 Triumph TR6.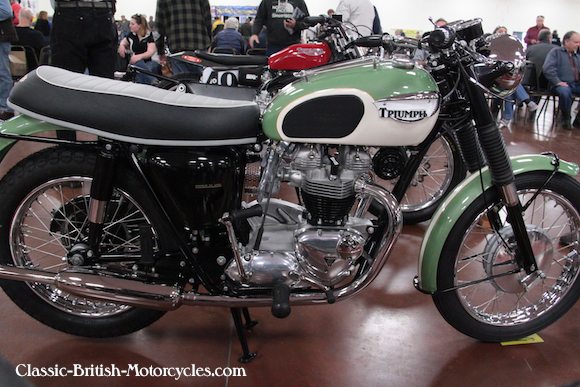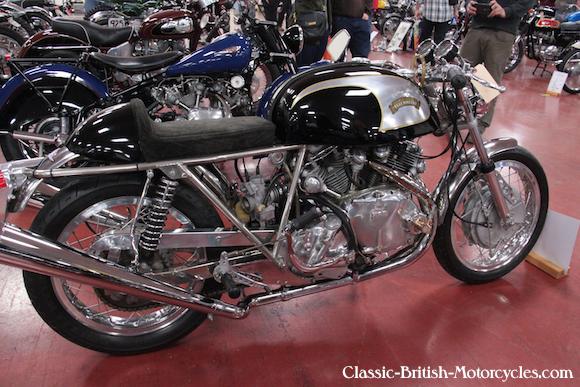 ABOVE: 1970 Egli-Vincent. Each was hand-built and totally custom to the customers specs. This one of course has a 998cc Vincent V-twin engine.
BELOW: This 1972 Triumph T120R Bonneville is another example of a restoration to "better-than-new" condition. Beautiful bike! The Clubmans All-British Weekend 2017 was loaded with 'em!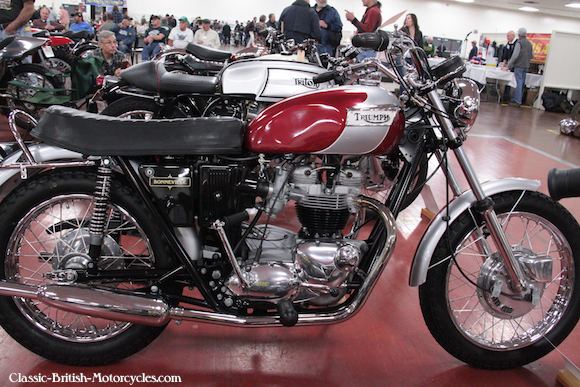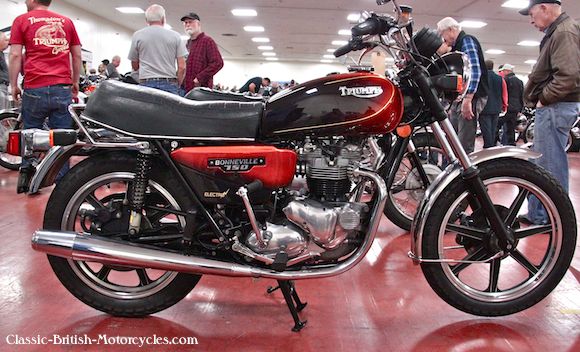 ABOVE: One of the last classic Triumphs built, this 1982 Triumph Bonneville Electro was the final form the classic Bonneville would take. Mag wheels, electric start, Italian bodywork…wait did I say Electric Start? Yep. Finally. And just a year before they went out of business. What timing. This bike quite literally marks the end of the Classic British Motorcycle Industry. It would be resurrected a few years later as the modern (Hinkley) Triumph that we know today. There was an awful lot of history at the Clubmans All-British Weekend 2017. Including its own. As it now appears, the Clubmans All-British Weekend 2017 was the last and final, and there will be no more.