The Clubmans All-British Weekend-2014
27th ANNUAL CLUBMANS ALL-BRITISH WEEKEND-2014
This year's Clubmans Show was a little smaller than last year, but just a impressive as ever, with a stunning array of Classic British Motorcycles, customs, choppers, bobbers, cafe racers, track racers, street trackers, and on and on. Sponsored by the BSAOCNC (BSA Owners Club of Northern California, there are always an abundance of fine BSAs, like this A65 above.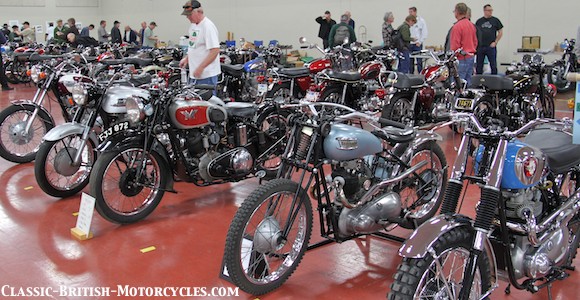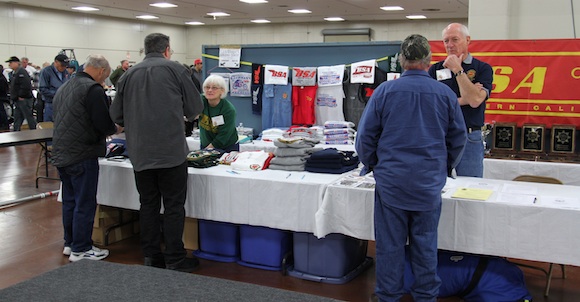 ABOVE: BSAOCNC BOOTH The BSAOCNC is a fine Owners Club, of which I am a member. They do a fantastic job each year of putting on this amazing show, in this case, the Clubman's All-British Weekend-2014. They also do about one major ride per month throughout the year, all on classic Brit bikes (although you don't have to have a British bike to join in the fun).
BELOW: RAFFLE BIKE Each year the BSAOCNC raffles on a classic British bike, selling tickets for just $1.00 each. A few years back, a guy won a gorgeous bike after buying only one ticket, just minutes before the drawing! This year, this lovely 1971 BSA A65 was given away to some lucky person.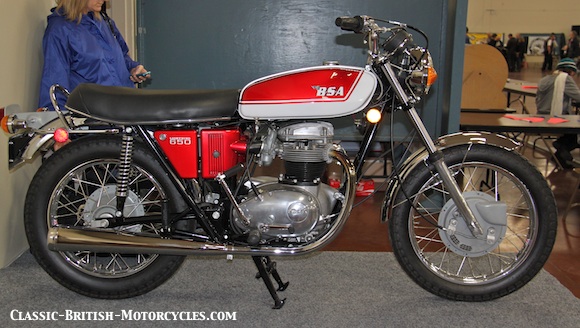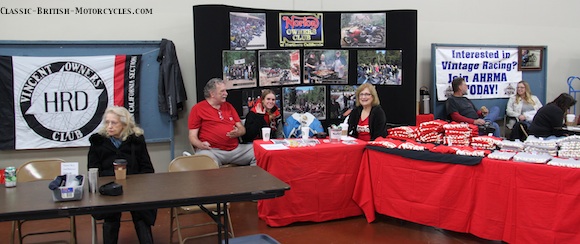 ABOVE: OWNERS CLUBS BOOTHS As always, this years Clubmans All-British Weekend-2014 hosted several of the Owners Clubs from the classic British marques. The Norton OC had a nice booth (above), as did the OCs for Vincent, Velocette, Matchless, Ariel and even Rudge.
BELOW: VENDORS GALORE There were lots of great vendors at the Clubmans Show this year, as always, some selling new products & services, others selling used NOS and OEM items, some very hard-to-find.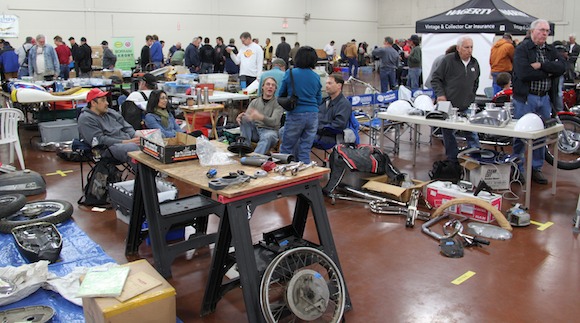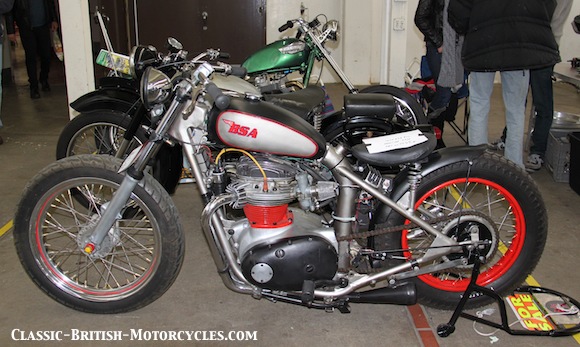 ABOVE: BIKES FOR SALE IN CORRAL
This year's Bike Corral had some very interesting machines for sale, including this neat BSA A65 bobber. This one should have been in the show.
BELOW: A JUDGED SHOW As always over the last 27 years, the Clubmans All-British Weekend 2014 was a judged show, with concourse judging on a variety of narrow classes. Each bike starts out with 100 points, divided into 10 categories, each worth 10 points. The points are deducted for each item that isn't perfect, or original, or correct.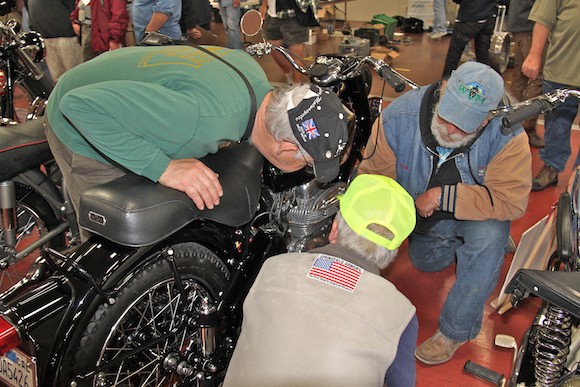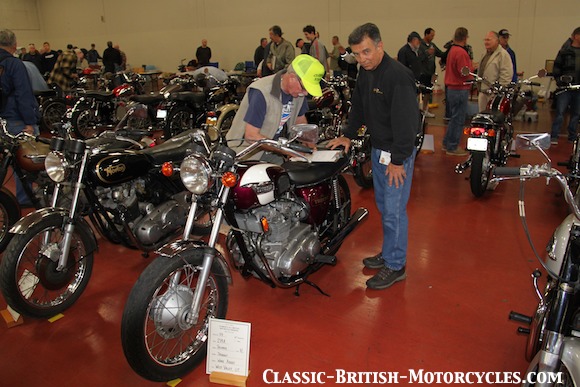 ABOVE: THAT'S ME, JUDGING The Judges were broken up into teams, each specializing in one class of bike. For my 3rd straight year, I was asked to help with the judging, and this year my team was assigned to Heavyweight Street Bikes 1971 to 1983, which basically means Norton Commando, a couple of BSAs, Triumph Trident and Bonneville, mostly Bonneville.
BELOW: CHECK OUT THIS STREAMLINER Powered by twin pre-unit Bonneville engines.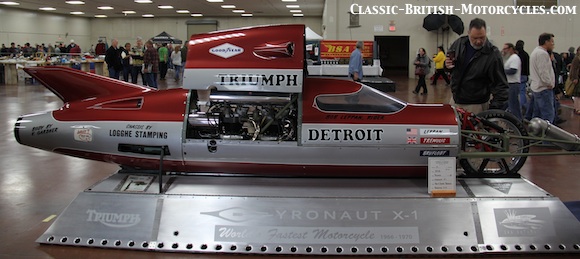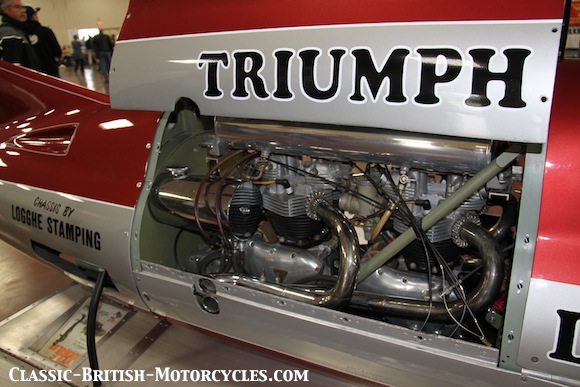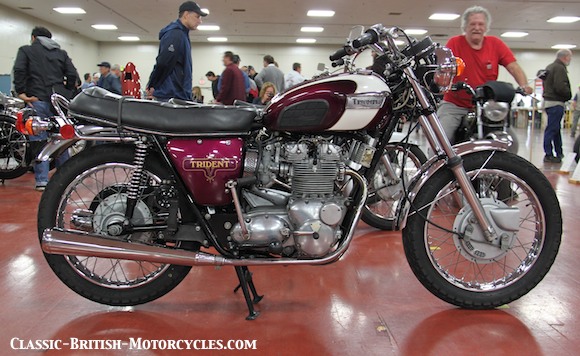 ABOVE: LOTS OF NICE ORIGINAL CLASSIC BRIT BIKES This lovely '72 Trident is just a sample of the incredible eye-candy you see at a Clubmans Show.
BELOW: SOME COOL CUSTOMS TOOOver the past few years, the number of custom Choppers and Bobbers has been growing at the Clubmans. Like it or not, custom bikes attract a younger audience, which is exactly what the Classic British Motorcycle genre needs right now. This novel Triumph chopper really turned some heads. The owner built it himself, and did a fine job.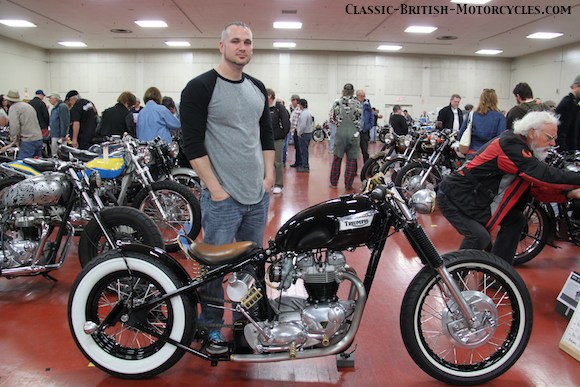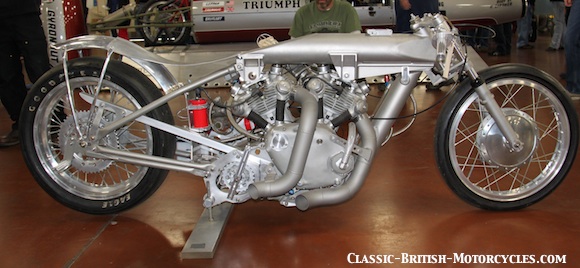 ABOVE & BELOW: CRAZY DRAG BIKES Just more proof that you can see almost anything at a Clubmans Show. Above is an unbelievable Vincent V-twin drag bike, and Below is a tribute to Sonny Routt's twin-engine Triumph drag bike.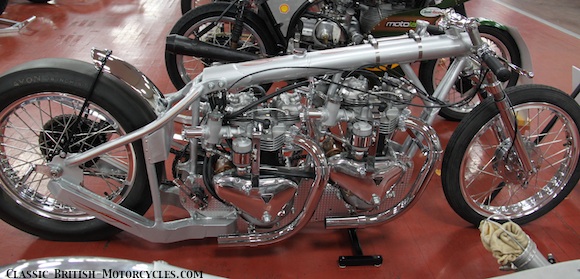 CLUBMANS ALL-BRITISH WEEKEND 2014 – MORNING AFTER RIDE
Each year, almost as a reward to themselves for their Herculean effort in putting on the Clubmans Show, the BSAOCNC goes on a ride the next morning on Sunday. It's called, appropriately enough, the "Morning After Ride", and it begins Sunday morning in Los Gatos CA, and winds through the gorgeous Santa Cruz Mountains all the way to the Pacific Coast and back again. What a day, what a ride!
DON'T MISS THE NEXT CLUBMANS SHOW
The BSAOCNC sponsors the Clubmans Show each year, for the past 27 years, on the last Saturday of March. Don't miss the next one. Go to their website at BSAOCNC.org for a complete schedule of all their upcoming events and rides.

---
CLASSIC EUROPEAN & JAPANESE BIKE SHOWS
---
ABOVE & BELOW: Although not directly connected to the BSAOCNC or the Clubmans Show, both the Classic European Motorcycle Club, and the Classic Japanese Motorcycle Club cooperate on their own motorcycle show, sharing a building right next to the one the Clubmans uses for their event. It's all at the Santa Clara County Fairgrounds in San Jose CA. It's always nice having an indoor motorcycle show, especially in March. And this year it rained.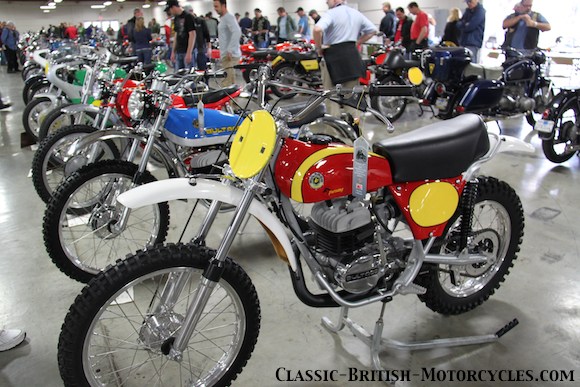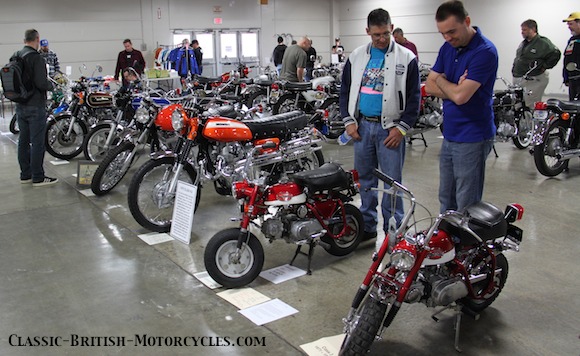 ---