Early Fox Raceway in Pala, California, is still as ice, prepped, and a breathing ground for the need to ride. It's balmy but has a beautiful open sky and surrounding green mountains. A welcoming reprise from a seven-day stretch of rain that hit right before Over and Out rolled in.
Over and Out is a women's off-road and track event made by women for women ready to ride. Their flag is pirate black, bold yellow, and clear with their motto, "See you in the dirt."
It's an institution that teaches women who want to learn skills with the best and remember what riding dirt is about. Where we fall, look around, and remember there's more of us down on the  ground than we realize. But it's the scream of a two-stroke in the air that grips you to remember it.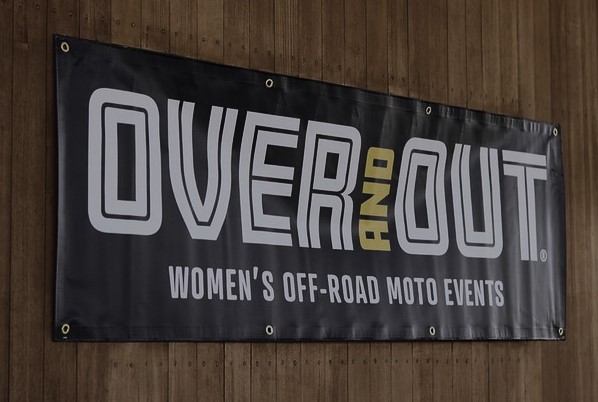 To see an army of females on bikes, a black flag, and an inevitable rock symbol above and realize that punk is just another word for freedom, but so are motorcycles.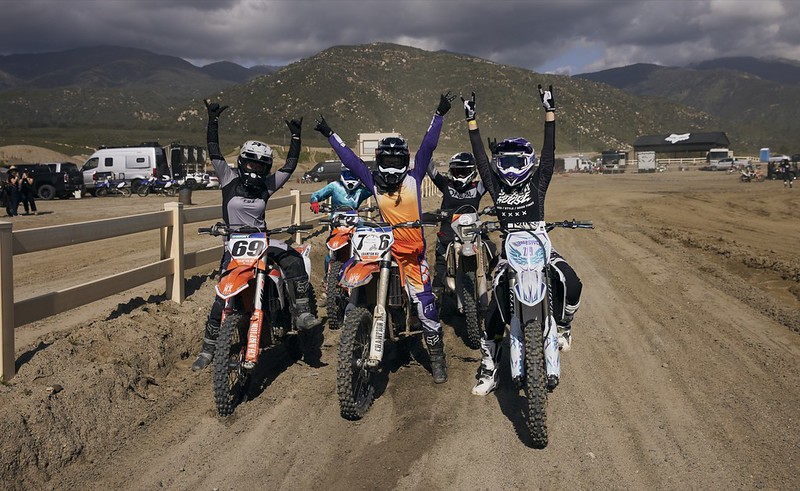 This three-day convention of chicks on bikes is an east coast original with the idea that has grown into a collective of locations and collaborations. Kelly McCaughey, its leading founder, describes wanting to create a weekend occasion for women who had consistently reached out to join her and learn to ride. As the group grew, so did the foundations of Over and Out. Starting with small loops for adventure biking and alternative loops for dirtbikes, we fast forward five years later, when Kelly and her crew have created an event to build women's off-road skills the right way.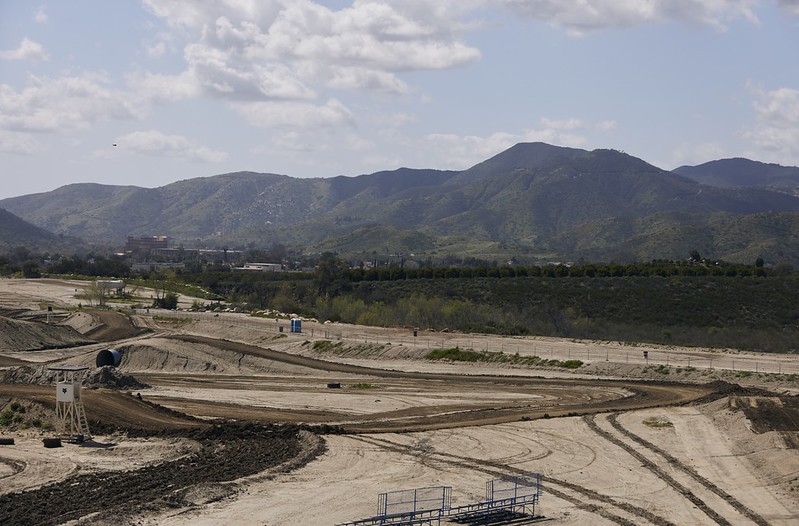 The venue splits its tracks into a beginner kids course, a development vet track with alternating skills times, and an extended open offroad trail loop. They also included a diverse schedule of ride times to cater to the comfort of being a beginner or shred with the best. Yours truly getting the opportunity to get on the track and the trail.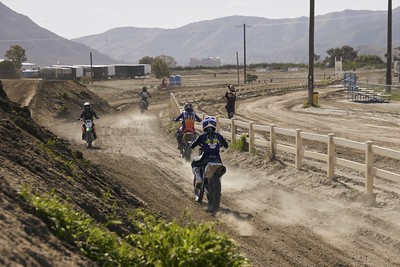 All areas had provided trail support from Kickstandsup, a platform that connects moto-meetups and riding events such as this. This weekend they were there with additional track volunteers to help guide riders and assist with maintenance and bike mechanics.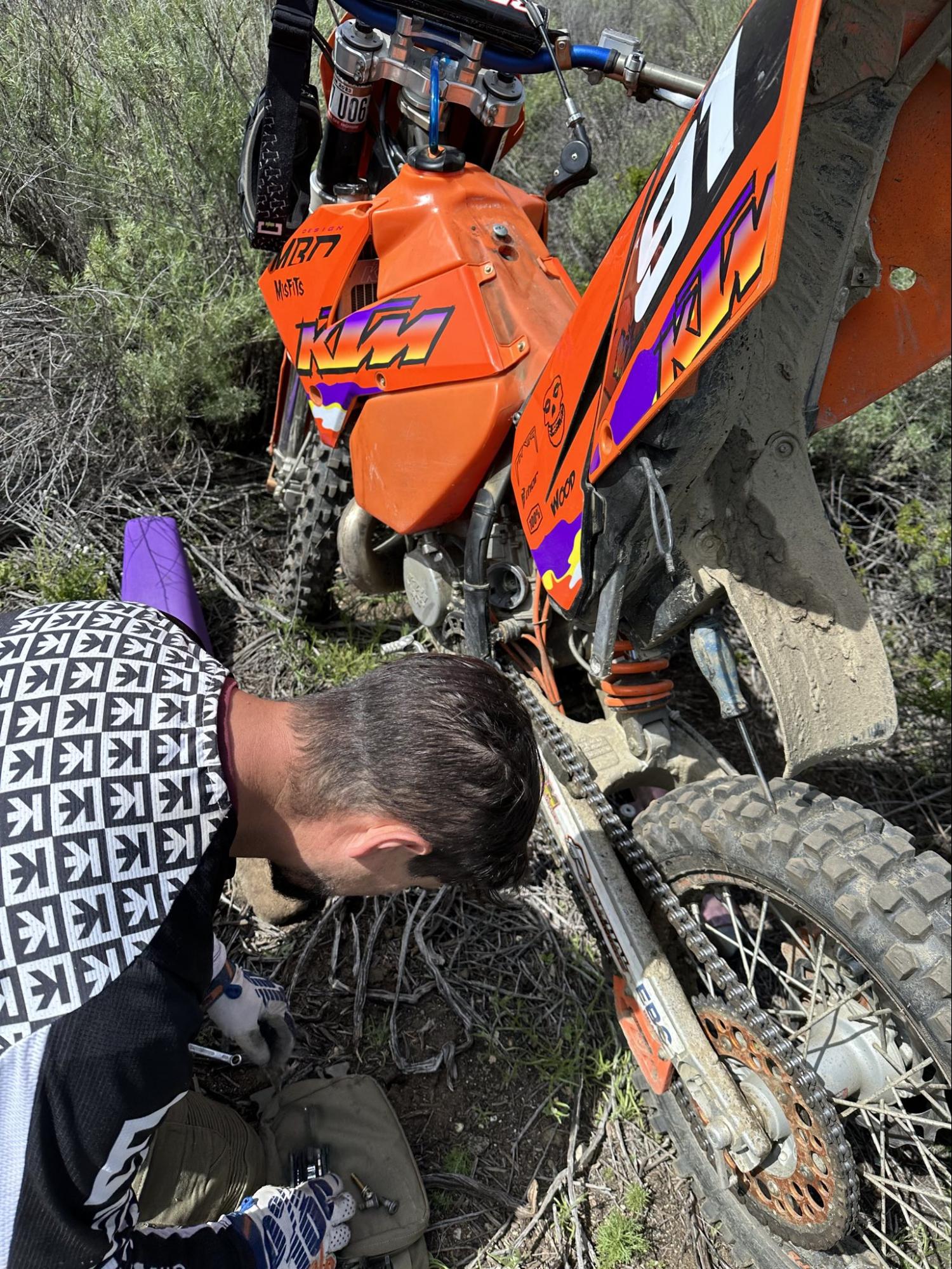 There was a collage of off-road companies to give you a taste of Enduro bikes and opportunities to rent or demo bikes. These separate guided courses had different levels of riding in the desert versus the track. It was great to see track riders try their hand off the road and vice versa. I liked the change up from being able to tackle the speed of the track to the precision of going over obstacles and using throttle control in rocky areas.  There was just enough in each class to give any rider a taste for a different disciple of riding.
A main attraction to why many came was to sign up for pre-booked block sessions with  X-Games and Supercross pro rider Vicki Golden. Each lesson contained specific cornering or jump skills with a small class on a blocked-off track. Here girls could learn and practice with the watchful eye of their idol.
Vicki Golden at Over and Out 2023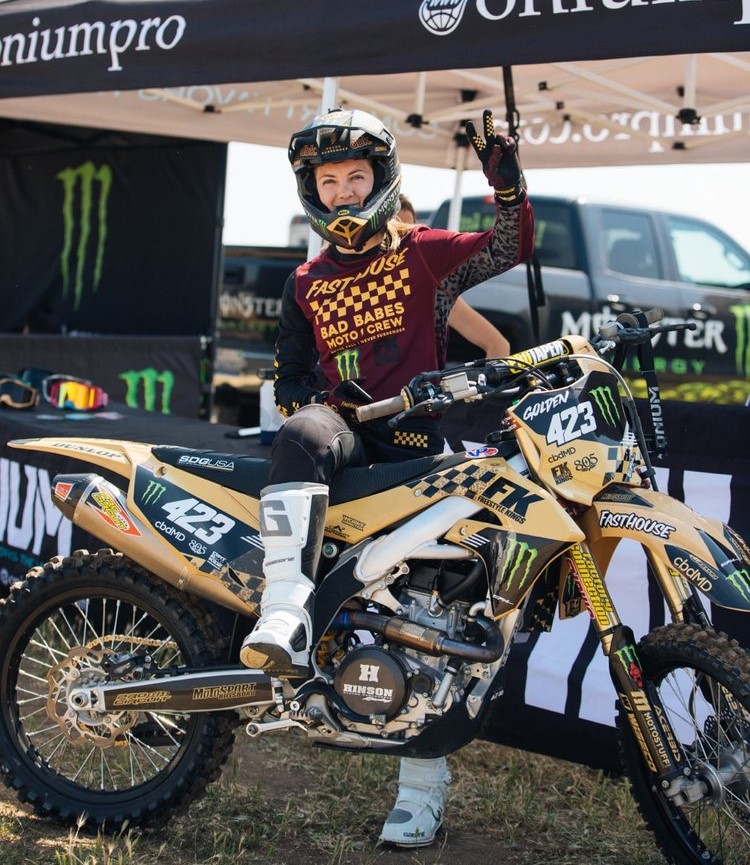 Vicki Golden is a pro freestyler, X-games gold medalist, and AMA elite that doesn't just rock a 805 can. She whips with the best, and her skills were unmistakable while flying over us doing a kick midair. Insert slow-mo, please.
But she's not at Over and Out to win anything. She's here to make you feel like you did.
Sometimes the thought of having a Supercross star watch you ride is the nightmare where you're at school naked and now on a bike, but somehow, with Vicki Golden, it's not. Over and Out seems to have found the sweet spot where group size and great instructors come to make magic.
As calming as her demeanor, is her instruction on the track. Vicki chose an event that focuses on giving women opportunities to ride in areas where they might need help to get access or instruction all in one place. Growing up in Socal's competitive MX world, Vicki learned to ride with the boys and ride to win. She was not aware that there were so many women who wanted opportunities but lacked the environment.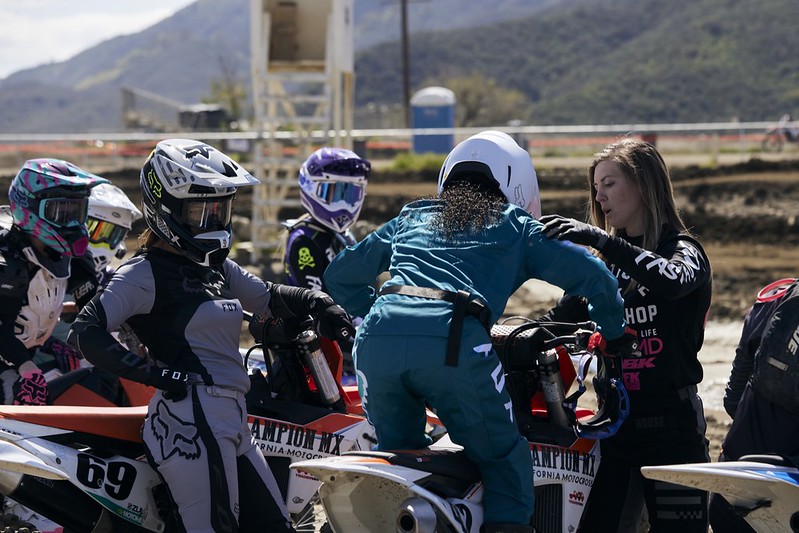 "I think that I was just brought up differently, so I didn't really see it from a woman's point of view of how to learn, how [women] prefer to learn. So, for instance, if I crash with the boys, we point and laugh, and it's funny. You get up and try it again. In a girl's aspect, in front of a sea of guys, that's not so funny to them…but if they're around other women, it's not so bad because they feel like they're in a place where they're on the same page."
Vicki has made a difference, attracting those who want to follow her into the sun of a new jump and those who just want to improve. Vicki brings the lessons of how to get there just as much as how to prepare mentally.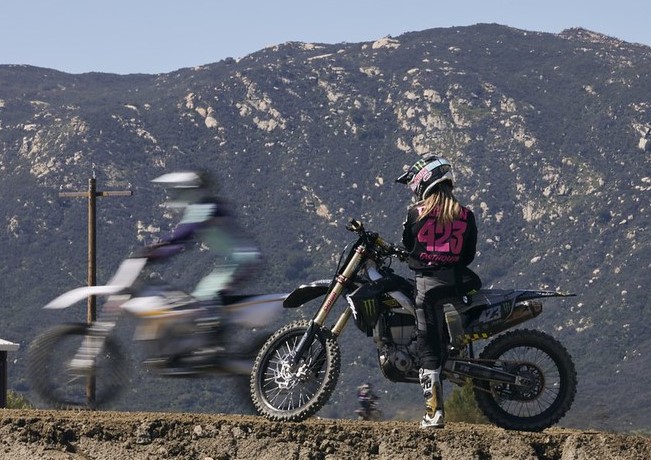 "It's a very brutal sport to come into… It's dangerous. It's going to take some time to adjust whether you're first starting out or whether you've done it for a year, two or five years…There's always somebody faster, somebody better. You can never be perfect at this sport because it's an imperfect sport. So, I mean, just being able to not give up and push through, that's going to be the main thing."
"There's a time and place. There are days when it's time to go to work and when it's just a fun day to ride."
Stressing the importance of sport and the joy of being part of this community, OAO tries to make this a high-spirited way to bring women to the dirt. There is laughter and cheer during mini-bike games, raffle giveaways, and getting through difficult off-road huddles. And Beneath every helmet, a smile. OAO doesn't fail to bring the community into the stitch of its work. And they are every bit inclusive, as this is an all-age event.
The proof was whenever we saw Vicki, we saw her seven-year-old shadow, Lily Davis. The 822 Golden Prodigy rips past women twice her size on the track and giggles like a devil doing it.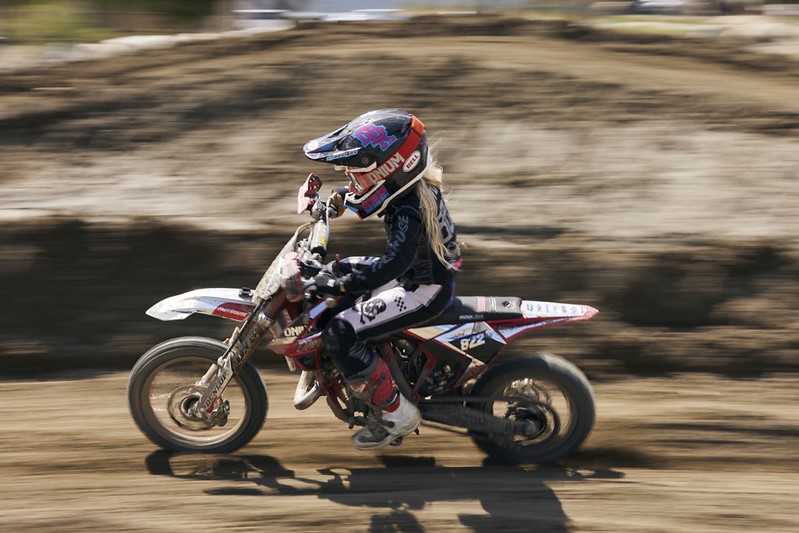 OAO hosts a camaraderie of friends, families, and supporters of women and girls who ride. It's the disposition that events like this are made for availability, betterment, and toast to evenings on the field. Off-road sports need fewer boot camps and more events for riding, training, community, and festivity. Meeting groups and families that traveled far to make the event reminded me of my own riding pursuits. Trailering and planning for events away from home was a dream and vacation all in one. A place to see old friends, encounter new ones and ride with people who didn't mind helping you pick up a bike or teaching you a trick on theirs.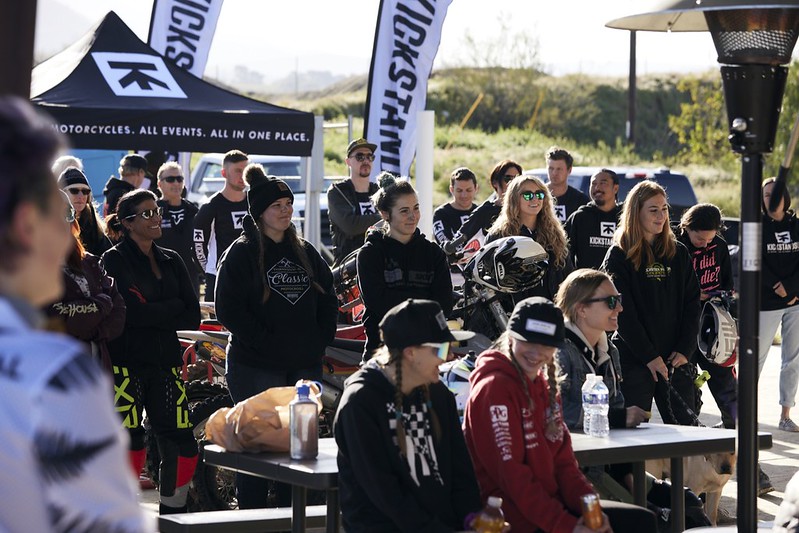 Each day at OAO, they included it all. It had the lessons, the rides, and the warmth of a fire to relay stories of the day and the people who made them. We fall asleep to their words of encouragement, the rap of a kickstart, and the yell of hero dirt in the morning, but remember to turn back and say we'll see them there.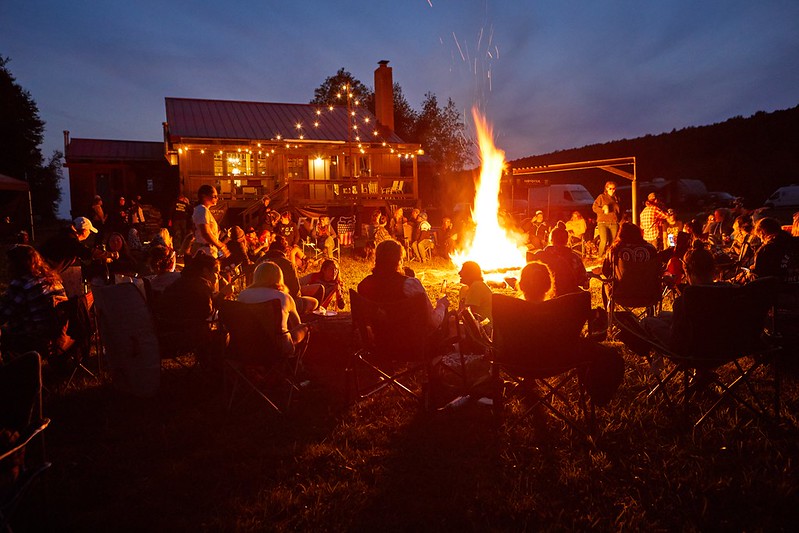 Event Photo Gallery