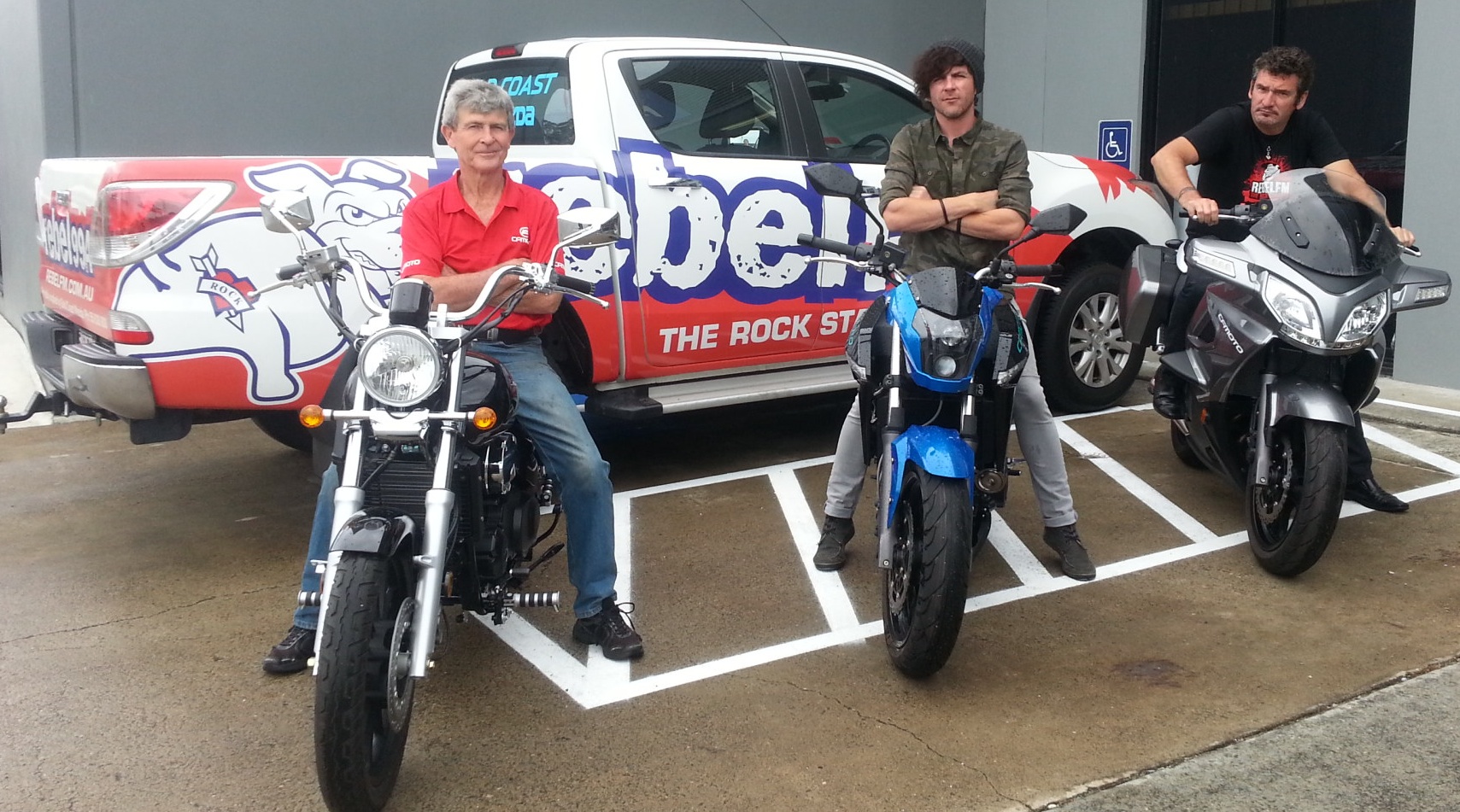 Police may be confused by a Gold Cast charity ride next weekend (November 24).
The Rebel FM Can Do In-Law Motorbike Ride for Movember sounds dangerously like an outlaw ride since it includes the name of a declared outlaw motorcycle club.
But instead of outlaws, the FM station is asking riders to bring an in-law as a pillion.
Rebel FM promotions manager Ashley Palmero says it's not a protest ride against the anti-bikie laws.
"It will be interesting to see if the name causes any confusion and we attract a police presence," he says.
"The radio station has no alliance with any motorcycle group. It's just a name. Is Rebel Sports going to be investigated? I would like to think that our law providers are a little bit smarter than that."
He says they are hoping to avoid confusion and police presence by having a signwritten Rebel FM car as the lead vehicle.
However, ride organiser and owner of Shark Leathers, Matthew Kuhne, says he fully expects police to have a presence at the ride.
"Regardless of whether we call the police to tell them about our ride we will probably get harassed a bit," he says.
"We did a charity ride the other day where we got pulled up and all they got was a couple of number plates in the wrong spot.
"I got pulled over yesterday in my car and I'm in wheelchair, but I have motorcycles all over the van."
Matt says his store has experienced a decrease in trade since the new anti-bikie laws were introduced.
"We usually have social rides on Saturday and Sunday that attract about 50 to 60 bikes but lately there have only been a half a dozen," he says.
"Cafes in the area have also seen a 50% drop in sales which is unfortunate.
"I wish you could get a rebate for your loss of trade, but it's something you have to go through. We went through the financial crisis and survived."
Matt is unsure how much the ride will raise for prostate cancer research as he believes participant numbers could be down.
"People are scared to go out and ride. They are worried about being harassed by the police," he says.
"This isn't a rally, just a charity ride, but we also want to show that we aren't scared to ride in a group for a good cause.
"We usually do charity rides for the Spinal Injury Association and we got over $15,000 in one ride.
"Hopefully with Rebel FM helping to market this ride it should be successful. About $5000 would be a great start as we will run it annually."
You can register for the Rebel FM Motorcycle Charity Ride for Movember from 8am on Sunday, November 24, at Shark Leathers, 142 Siganto Dr, Helensvale.
The ride leaves at 10am and heads out to Beaudesert before returning at 1pm.
The $25 nomination fee includes steak sandwich and cold drink.
The first 250 get a free Rebel FM cooler, but be careful police don't confuse it for unlawful items as it is now an offence to wear or publicly display any colours, patches or symbols of a declared outlaw club.
All riders go in the draw to win two nights for two at Crowns Plaza Surfers Paradise and riders with one of their in-laws riding pillion gets an extra ticket in the raffle.
Meanwhile, news of charity rides being harassed by police presence is coming in from all over Queensland.
A Bumz on Bikes cancer fundraiser ride in Bundaberg last weekend reportedly left participants feeling like their were criminals rather than community minded citizens.
Participants said two uniformed police and two plain-clothes police patrolled the event and demanded all entry forms from the organisers. The entry forms were taken and photocopied.
Bundaberg News Mail reports that local CIB Detective Sergeant David Tucker said they had "an obligation to ensure that there were no members of criminal motorcycle gangs attending there and committing an offence under the new legislation".
Under the new legislation three more members of a declared criminal bikie gang cannot congregate.
"The reason that police attended was to ensure that among the persons attending, there wasn't three or more criminal motorcycle gang members," he told the Bundaberg newspaper.
"We had to make inquiries there to confirm that.
"There was one member of a criminal motorcycle gang who we did identify – he belonged to the Rebels."
Det Sgt Tucker said the Bumz on Bikes ride was an event worth police support.
"We know there were off-duty police who were there supporting the event," he said.
"We organised to have our police motorcyclist escort the motorcycles out of the event.
"We did that as a positive publicity initiative."
The Australian Motorcycle Council has established a fighting fund to support any High Court challenge to any of the anti-bikie legislations. To read more about the fund and to donate, click here.