Bull-it Women's Jeans Review Summary
Bull-it Women's Jeans Image Gallery
The Bull-it Ladies Sidewinder and Italian Boot Cut jeans are the most protective, soft-to-the-touch, simple styling jean I have seen.
Sizing may be an issue, however.
Abrasion-resistant motorcycle jeans are certainly nothing new but there are fewer options available for women riders.
There are lot of companies in the "men's department" right now that are making protective riding jeans, but fortunately there are also some manufacturers that have not forgotten us girls.
Whether designed for men or women though, most motorcycling jeans incorporate a liner made from products that include Kevlar or Dyneema materials, which offer an increase in abrasion resistance over just the plain denim used in regular street jeans. .
The Bull-it jeans are tested to the EN 13595:2002 Level 1 standard. For more info on that, all the details about European Motorcycle Clothing Safety Standards are detailed in this webBikeWorld report.
Bull-it Jeans Background
So who (or what) is Bull-it Jeans? If you've read the webBikeWorld Bull-it men's jeans review or theBull-it jeans jackets review, the following will sound familiar so feel free to skip ahead.
Bull-it is a new-ish company, started in 2006 in the UK. They have just started operations in the U.S.A. in 2015. Like some other manufactures, Bull-it claim to make riding gear for riders, by riders. That's not exactly the phrasing, but you get the idea…
What Bull-it Jeans does for certain, however, is make protective riding gear that doesn't look like protective riding gear. As motorcycle-specific jeans, the Bull-it SR6 line of jeans use a cotton outer shell (denim or twill), combined with a special non-melting Covec Textiles abrasion-resistant liner to create their motorcycle riding pants.
When I received these jeans from Bull-it I went online to see what, if any, other offerings they have for women. As it turns out, they have 9 different jeans listed under the "Ladies" category; four pairs from their SR4 lineup and five from the SR6.
Bull-it told us that "The SR6 is tested and certified to exceed and deliver an impact abrasion resistant time of 6.26 seconds in Zones 1,2 and most of 3. The test pass for Level 1 in zone 3 is 1.8 seconds, ensuring the rider wearing the SR6 is getting a product that exceeds leather performance, the zone 3 cover is still 6.26 seconds."
(The "SR" in SR6 is the Bull-it "Slide Rating"; how long the pants will protect in a slide before wearing through.)
Bull-it said "The (Bull-it) website says tested and exceeded the level in all relevant zones, and there is a coloured diagram showing the zones, under that there is a diagram showing where the liner is for the protection layer. …Last year no other brand prepared a description in detail of the test and exactly what is covered in their own product.
Bull-it SR4 Range: Tested to and exceeded CE EN 13595-1 Level 1 Clause 5.4 for abrasion resistance with 4 seconds in all relevant zones.
Bull-it SR6 Range: Tested to and exceeded CE EN 13595-1 Level 1 Clause 5.4 for abrasion resistance with 6 seconds in all relevant zones.
Bull-it VoloCE Range: CE EN 13595-1 Level 2. This garment is CE APPROVED TO LEVEL 2.
"Certified" means tested by an accredited body, such as Satra or CTC. Bull-it said their products were tested as such. But, they are not "Approved", because the shin to hem is not lined, that's a rider choice.
Bull-it also said "When you look at most bike jeans they have a hip panel, a knee panel and seat panel; this can not be approved either. But they might and do say certified."
For more information and details on CE testing for motorcycle jeans and other types of motorcycle clothing, be sure to read the CE Certified vs. CE Approved article published recently on webBikeWorld.com.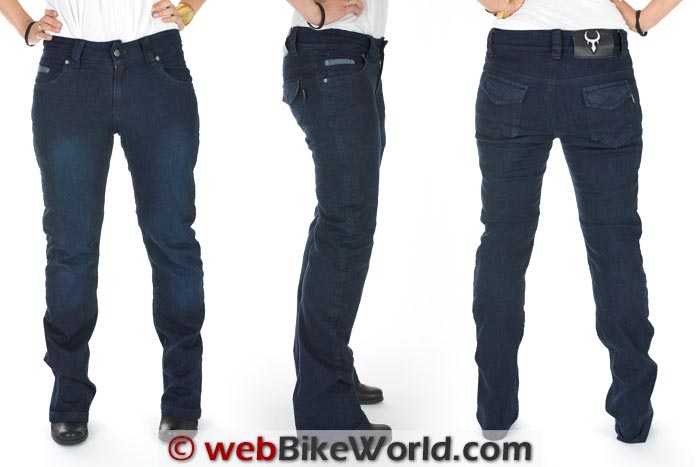 The Bull-it Ladies Sidewinder and Italian Boot Cut SR6 Jeans
The Bull-it jeans in this review include the Italian Boot Cut and Sidewinder women's styles. Both pair include the same SR6 level of protection as the men's jeans, as well as the mesh lining common to all of the Bull-it SR6 Jeans.
The Italian Boot Cut style are a very dark blue while the Sidewinder jeans are black. The stitching on both pairs is black save for a series of double stitched rows of "angle" set into the rear pockets of the Sidewinder jeans in a bright pink thread.
The Italian Boot cut version having a small strip of denim at the top of the coin pocket in a light blue/grey color. Other than those bits of flair, both jeans are subtly styled.
Branding is displayed on both pairs with a patch of leather along the waist band with the Bull-it logo embroidered on it in white. The main button for the front closure also has the Bull-it logo on it for both jeans while the rivets on the front pockets of the Italian Boot Cut jeans also have this logo.
Video: Burn Test Comparison of Motorcycle Protective Gear
Construction
The Italian Boot Cut jeans are a five-pocket jean with 6 rivets (with the Bull-it logo) decorating the front pockets. The back pockets have a flap closure with a double tab hook-and-loop fastener for security.
The right rear pocket has a small tag advertising "Covec" sewn on the side. The coin pocket has a strip of light blue/grey material sewn in to the top edge but otherwise all the denim is the dark blue color.
There are five belt loops and they can accommodate a regular 2" size belt. The waist band is single-stitched and has a flap of leather with the Bull-it logo embroidered on it.
The Italian Boot Cut jeans have a black mesh lining that starts at the waist and goes down to 5 inches below the knee. Within the lining are pockets to insert hip and knee armor. These pockets use hook-and-loop fastener to open and close and they have two separate rows to allow a small amount of height adjustability.
The Sidewinder jeans are also a five-pocket type, with pink stitching mentioned earlier on the back pockets. The pockets are open and like the other jeans, the right rear pocket has a "Covec" tag sewn on the side, this one in pink.
Like the Italian Boot Cut jeans, they share the same belt loop and leather Bull-it logo patch configuration. Likewise there are also pockets for knee and hip armor present, but the armor is not included with either pair.
The Sidewinder jeans diverge a bit in color scheme, as they have a pink waistband inside. The mesh liner is also pink and starts at the waist and goes down 7 inches below the knee.
On both jeans, the fact the liner stops several inches above the end of the leg makes it easy to have the legs hemmed if necessary to make a more precise fit. Liners that go all the way to the end of the leg would pose much more of a challenge.
While on the subject of the legs, the leg openings of these two jeans are a little different in size. The opening of the Sidewinder jeans is 16" (40.6 cm) and will stretch about another 1.5" (3.8 cm). As expected, the opening on the Italian Boot Cut jeans is larger and has a 17" (43 cm) opening with an equal amount of stretch.
The zippers used on both pair are brass and are from YKK, which should mean the zippers should operate smoothly for a long time, as brass zippers become smoother the more they are used.
Another nice feature is a pair of loops inside the waist on each hip for the purpose of storing the jeans on a clothes hanger.
The main seams are double and triple-stitched, though at first glance, the outside facing stitches on the side of the legs looks like a single stitch. Looking inside the leg reveals a much more sturdy and complex bit of sewing going on. This style of internal stitching is not only strong but it also helps protect the thread from abrasion and snagging in the event of a slide.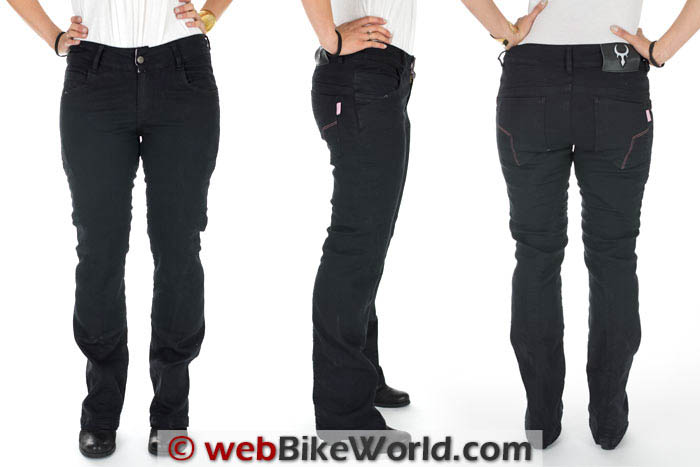 Protective Features
The primary feature of both of these jeans is the Covec material that them apart from other brands using Kevlar or other Aramid fibers.
Bull-it has a partnership with Covec Ltd., a British firm that specializes in the creation of "Technical Textiles". Covec textiles are used in the jeans and other gear produced by Bull-it to provide abrasion resistance.
One of the specific goals of Bull-it was reducing thermal transfer in the jeans in a slide if the rider crashed. Low thermal transfer helps not only to keep the heat of friction from the slide away from the rider's skin, it also makes the material highly resistant to burning from hot surfaces — like exhaust pipes. Covec fabric withstands heat compared to several other protective liners typically used in motorcycle clothing (see the video above).
The Covec liner will not melt, like many other fabrics used as liners, including some implementations of Kevlar, which is sometimes combined with synthetic yarns like nylon, which can melt.
The Covec material is also highly cut-resistant, meaning that pieces of glass, rock and the like will not penetrate the Covec liner in the jeans, althought the denim on the outer shell will likely not fare well.
On paper, the Covec material appears to be quite the "super-fabric" and Covec has published quite a lot of details about how their materials stand up on their website. Personally I have been lucky not to test the claims in the real world but their construction and heft certainly inspire confidence.
Impact Protection
Abrasion resistance is important but impact protection is just as important. While Bull-it does not include protectors for the knees and hips in the price of the jeans, they do have provisions for protectors in both locations.
Providing hip protector pockets is a great feature that doesn't seem to be included in many motorcycle pants.
The pockets use a pair of hook-and-loop fastener closures to provide a little adjustment in height. An extra step or two at the knees would be welcome to accommodate a wider variety of riders, however.
These pockets are designed to hold Covec-branded protectors but could likely fit other brands as well. For the retail price (on the Bull-it website) of $30.22 for a pair of hip inserts or pair of knee inserts, the protectors seem quite good.
I have sets of both and the protector material is soft and flexible and carries a CE EN-1621 Approved rating. The nature of the "Memory Elastane" material keeps it soft until an impact occurs so they don't feel like you have boards strapped to your knees while riding.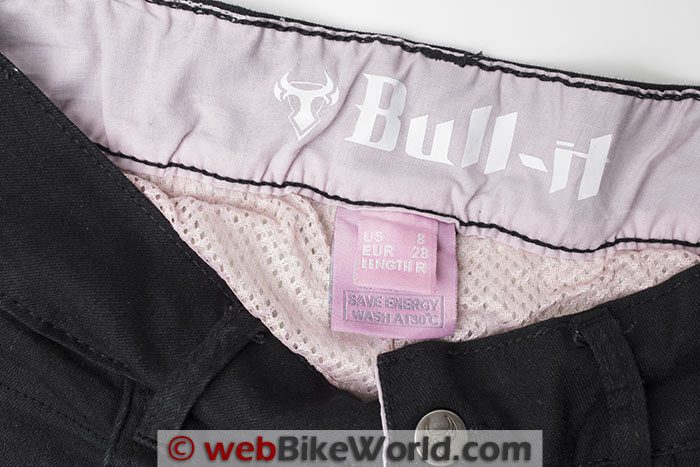 Fit and Comfort
I find the features and design of both of these jeans to be impressive; however, sizing is a different story.
The Bull-it jeans are advertised as a women's size 8, but these do not fit like a women's size 8. For some time I have worn a solid size 8 in most of my riding gear and regular clothes, but I recently lost 10 lbs. and I still found these jeans to be extremely snug, especially in the hip area — the jeans fits like a men's jean with no room for a women's hips.
Both pairs were too small by about one size, but the Italian Boot Cut jeans are the smaller of the two, although they are both marked as a size 8.
The Bull-it Italian Boot cut jeans measure a 33.25 inch (84.5 cm) waist; a 31.5 inch (80 cm) hip and 31 inch (78.75 cm) inseam. The black pair has a 35 inch (89 cm) waist, 34 inch (86.3 cm) hip and a 30 (76 cm) inch inseam.
Styling of the different cuts would explain some of the differences — but that is quite a difference.
I was able to squeeze into the black pair and sat on my bike but they were rather tight and a bit uncomfortable. Also my rear end immediately became exposed as I leaned forward at all on my bike. I imagine that "rear exposure" would be a non-issue or at least less of an issue if the sizing was true as advertised.
It is important to note that for the photos in this article of these jeans being worn, I had a friend who normally wears a size 4 or 6 model them. That is why they don't look uncomfortably snug in the photos.
So sizing issues aside, both pairs of jeans are very soft handling and even the mesh lining that holds the protectors is surprisingly soft, not scratchy, like some mesh liners can be. I can imagine these jeans would be pretty comfortable as an everyday jean, except You would still be aware that you are wearing something designed for protection though, with the blue pair weighing 2 lbs., 5 oz. (1042 g) and the black pair weighing in at 2 lbs. 1 oz. (944 g).
Also, the characteristic of low thermal transfer from the Covec material means that the liner can also assist in insulating you from the ambient temperatures. So far I have not had an opportunity to ride in hot weather, so a follow-up may need to be done this summer if I can squeeze myself into them again.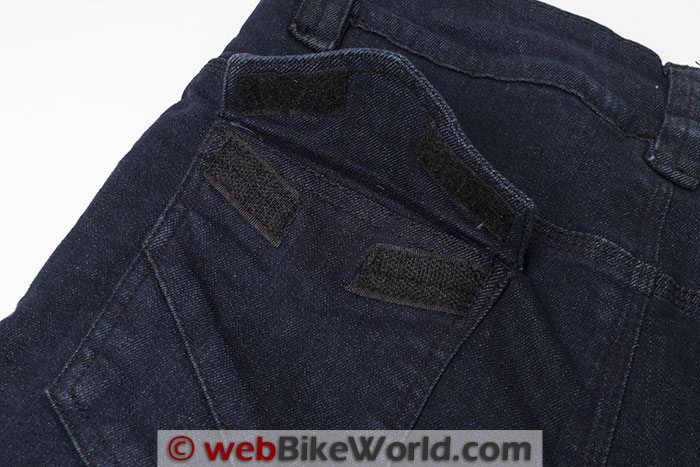 Conclusion
It is really a shame about the sizing issues, because on all the other fronts I feel these jeans offer very good protection for the rider. They also do this while not giving away that they are anything but a regular pair of jeans.
t a retail price of $199.00 these are close to the higher end of motorcycle jeans prices. Throw in the cost of the protectors from Bull-it and the price is reaching over $250.00.
However, being a newer company and one that seems to have spent quite a bit of time and money developing their products, the price makes a bit more sense.
As with any piece of protective gear, one needs to keep in mind what is being asked of protective gear: How much is your skin worth to you?
Factor that in and with the styling and what appears to be an amazing set of protective features, this is the jean to buy. Sizing is a major issue however, so expect to go up at least one size for correct fit. Definitely try the jeans on before you buy them or make sure where you purchase them from has a good return policy.
More wBW Motorcycle Jeans Reviews  |  Motorcycle Clothing Reviews
w

BW

 Review: Bull-it Women's Motorcycle Jeans
List Price (2015): $199.00
Colors: Varied styles and colors.
Sizes: 8-22 W, 31 or 33 L
Note:
 For informational use only. All material and photographs are Copyright © webWorld International, LLC since 2000. All rights reserved. See the webBikeWorld® 
Site Info page
. Product specifications, features and details may change or differ from our descriptions. Always check before purchasing. Read the
Terms and Conditions
!
Owner Comments and Feedback
---
From Bull-it (April 2015): "The labeling on the existing women's jeans are UK sizing. (Below) is a conversion chart that was created by our Canadian importer. … My approach has been to provide UK 6 = US 2-4, UK 8 = US 4-6 etc.
The range fitment specification, 2-4, 4-6, 6-8, etc. is to allow for the  2% stretch that our women's range offers. My observation with women riders thus far is fitment preference varies women to women, from desiring a snug fit to those that prefer a loose fit."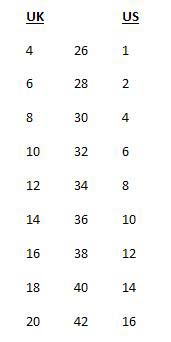 Editor's Reply: We provided the waist and length measurements so we assumed the sizes that were sent were correct. I'd suggest that to truly accommodate the U.S. market, U.S. sizing should be used.
---
From "S.W." (April 2015): "I suspect the sizing issue is attributed to the pants are from a UK company and the sizing represents UK sizes. A search for sizing comparisons on Wikipedia shows a UK size 8 = USA size 4. This would explain the pictures of a size 4 or 6 friend modeling them having them fit, assuming the reviewer is in the USA."
Editor's Reply: Thanks, good tip, I have a question in to them about it, I think these were supposed to be the US version of the jeans however, they opened a US office and distribution center a few months ago. But I wonder if they are using US sizes or not. Actually, now that I think about it, we provided them with the exact measurements before ordering and the original pair was too small, they then sent the size 8.