Bull-it SR6 Motorcycle Jeans Review Summary
Bull-it SR6 Motorcycle Jeans Image Gallery
The Bull-it jeans are now distributed and sold in the U.S.A.
Bull-it jeans feature the special Covec Ltd. abrasion-resistant non-melting "Technical Textiles" liners
The jeans are claimed to be tested to meet CE Level 1 for the SR6 jeans.
This makes them one of the more protective motorcycle jeans currently available.
Bull-it jeans come in a wide variety of colors and styles.
The SR6 jeans in this review (tested to a minimum of 6 seconds of abrasion resistance) include the Sidewinder; the Federal Red jeans and also the SR6 Bull-it Cargo Sahara jeans.
Abrasion-resistant motorcycle jeans are no longer news.
There are lot of players in the arena right now manufacturing jeans of various types with special linings claimed to help protect riders during a pavement slide.
Typically, these liners are made from products with familiar names like Kevlar or Dyneema, which offer an increase in abrasion resistance versus the average pair of street jeans.
So when the Bull-it jeans arrived, my first thought was "OK, yet another pair of motorcycling jeans". But, I may have been a bit quick to judge.
Bull-it is a new-ish company, started in 2006 in the UK. Like some other manufactures, Bull-it claim to make riding gear for riders, by riders. That's not exactly the phrasing, but you get the idea.
What Bull-it Jeans does for certain is make protective riding gear that doesn't look like protective riding gear.
As motorcycle specific jeans, the Bull-it SR6 jeans use a cotton outer shell (denim or twill), combined with a special non-melting Covec Textiles abrasion-resistant liner to create motorcycle riding pants.
What is not typical is that the Bull-it said that their jeans are tested to the EN 13595:2002 Level 1 standard. For more info on that, all the details about European Motorcycle Clothing Safety Standards are detailed in this webBikeWorld report.
One thing to note is that the Bull-it website is rather confusing on this issue. Currently, there's no indication on the SR6 jeans product pages that the jeans are CE certified and the information page for the Voloce jeans lists them as meeting Level 1.
Yet their "Technical Testing" pages indicates that the SR6 jeans are indeed tested and approved to Level 1 and the Voloce jeans are Level 2.
Apparently, a motorcycle jacket or pants can come with a "CE approval"…but when you read between the lines, it's the CE approval for street clothes.
Some manufacturers claim their motorcycle gear is "CE approved" but they don't tell you they're referring to the basic street clothes approval, not the Personal Protective Equipment approval.
This is news to me…
Bull-it told us that "The SR6 is tested and certified to exceed and deliver an impact abrasion resistant time of 6.26 seconds in Zones 1,2 and most of 3.
The test pass for Level 1 in zone 3 is 1.8 seconds, ensuring the rider wearing the SR6 is getting a product that exceeds leather performance, the zone 3 cover is still 6.26 seconds."
(The "SR" in SR6 is the Bull-it "Slide Rating"; how long the pants will protect in a slide before wearing through.)
Bull-it continued: "The (Bull-it) website says tested and exceeded the level in all relevant zones, and there is a coloured diagram showing the zones, under that there is a diagram showing where the liner is for the protection layer.
Last year no other brand prepared a description in detail of the test and exactly what is covered in their own product."
Bull-it SR4 Range: Tested to and exceeded CE EN 13595-1 Level 1 Clause 5.4 for abrasion resistance with 4 seconds in all relevant zones.
Bull-it SR6 Range: Tested to and exceeded CE EN 13595-1 Level 1 Clause 5.4 for abrasion resistance with 6 seconds in all relevant zones.
Bull-it VoloCE Range: CE EN 13595-1 Level 2. This garment is CE APPROVED TO LEVEL 2.
"Certified" means tested by an accredited body, such as Satra or CTC. Bull-it said their products were tested as such. But, they are not "Approved", because the shin to hem is not lined, that's a rider choice.
[
UPDATE:
 See the webBikeWorld report "
CE Certified vs. CE Approved? There is a Difference
"]
Bull-it also said "When you look at most bike jeans they have a hip panel, a knee panel and seat panel; this can not be approved either. But they might and do say certified."
Bull-it mentioned that the CE body, which includes BMW, Harley-Davidson, Rukka and others are debating the standard and creating a platform that makes sense for all. But that is believed to be at least 2 years away.
The French believe the standard is too hard to achieve and so have created an "Urban level", much lower than the CE level. And they even gave it a name, The French Protocol, to add more confusion.
Bottom line? The Bull-it jeans have potentially good protection without the drawbacks of Kevlar or other types of aramids.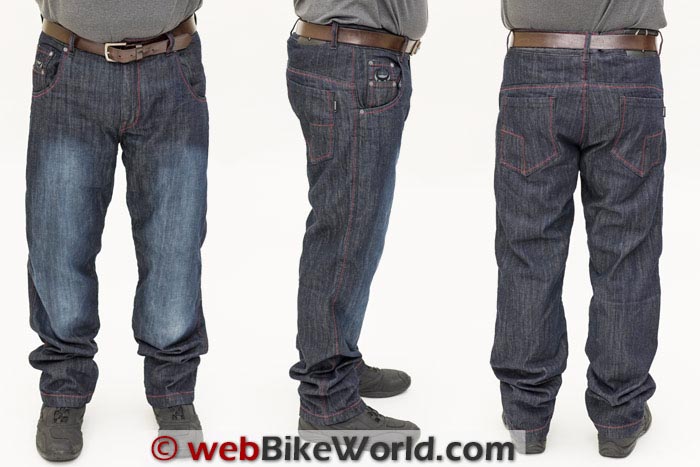 Covec, Ltd. "Technical Textiles"
Bull-it has a partnership with Covec Ltd., a British firm that specializes in the creation of "Technical Textiles". Covec textiles are used in the jeans and other gear produced by Bull-it to provide abrasion resistance.
Just before I wrapped up my review on these jeans, I had the opportunity to sit in on a teleconference with Keith Bloxsome from Covec, Ltd. and Paul Gomez, President of Bull Tech USA.
It turns out that Keith is not just a motorcycle rider but a chemical engineer, and as such was able to provide a lot of details about why Kevlar or other similar aramids were not chosen for use by Bull-it Jeans.
Thermal Transfer and the Covec Liner
One of the specific goals of Bull-it was reducing thermal transfer in the jeans in a slide if the rider crashed.
Low thermal transfer helps not only to keep the heat of friction from the slide away from the rider's skin, it also makes the material highly resistant to burning from hot surfaces — like exhaust pipes.
Video: Burn Test Comparison of Motorcycle Protective Gear
Typical Protective Liners vs. Covec Melting Points
The video above demonstrates how the Covec fabric withstands heat compared to several other protective liners typically used in motorcycle clothing.
The admittedly-thick Covec liner will not melt, like many other fabrics used as liners, including some implementations of Kevlar, which is sometimes combined with synthetic yarns like nylon, which can melt.
I actually had no idea that Kevlar was sometimes blended with other fibers in motorcycle riding gear; this is done for comfort and because apparently Kevlar can degrade over time, especially when the garment is washed.
The amount of Kevlar in relation to the other products making up the protective liner in motorcycle gear can vary quite a bit.
So apparently not all Kevlar added to motorcycle clothing is created equal, which means it's also hard to make general claims about it one way or another.
I do realize that I was hearing this from someone who manufactures a product that is a competitor of Kevlar, but Keith does have a lot of science and testing to back up his claims.
It's also important to note that Bull-it and Covec do believe that Kevlar is inherently a good product. They find it to be a remarkable material that has benefitted many other industries.
They do feel, however, that it may simply not be the best material for use as an abrasion- and heat-resistant liner in motorcycle clothing.
And here's an interesting tidbit. A typical set of motorcycle leathers is 1.4 mil thick.
These were tested using the same abrasion test performed on the jeans reviewed here and the leather lasted 5.8 seconds in the abrasion test while the Bull-it SR6 jeans lasted even longer.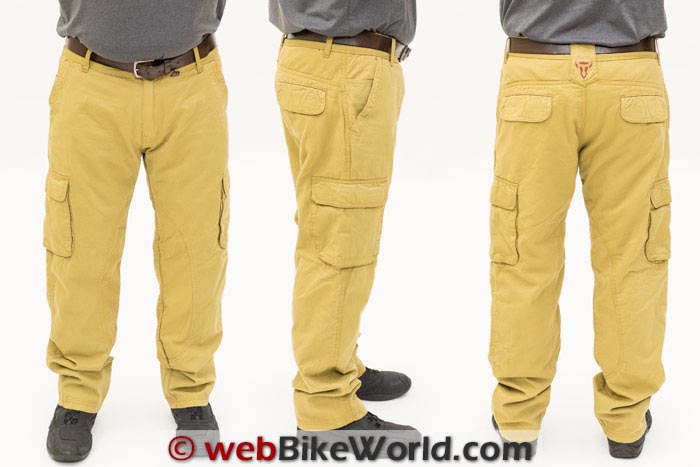 Bull-it SR6 Jeans
Bull-it offers no less than fourteen styles of jeans that fall in their SR6 lineup.
The SR6 standard means that the jeans will withstand at least six seconds of sliding on a rough surface (according to the CE EN 13595-1 standard).
We'll get into the details a bit more on that later but first let's have a look at the SR6 jeans. We have three different pair of the SR6 jeans included in this review: the men's Sidewinder; the Sahara Cargo jeans and the Federal Red.
All three of these pants offer the same internal protective features and the same amount of Covec liner coverage so I'll go ahead and point out the style differences first.
Bull-it SR6 Sidewinder Jeans
The Sidewinder jeans are made from a 12.5 oz. black denim cotton outer shell and for all intents and purposes, these look like regular black jeans, save for the red stitching on the rear pockets.
They have the standard five pockets with a very large coin pocket set inside the right front pocket.
When I say large, I mean I can fit an iPhone 5 comfortably inside it, sideways!
The denim is very soft and pliable; something I can't really say about other jeans I've reviewed. The interior mesh lining and waistband are also a nice red color making them easy to distinguish from your other pairs of black jeans, if you have them.
Bull-it SR6 Federal Red Jeans
The next pair of jeans are their Federal Red style. These are perhaps a bit more fashionable, as they are blue with a lightly faded wash look.
Where the Sidewinder jeans use red stitching on the rear pockets, the Federal Red jeans have — you guessed it — red for nearly all the exterior stitching.
The Federal Red jeans also have two vertically aligned, slim pockets within the main front right pocket.
These are both rather narrow and I can just get two fingers inside them.
There are some nice little touches on the front as all the rivets and the main button are made with a brushed metal with the Bull-it logo on them in a matte finish.
Bull-it SR6 Cargo Sahara Jeans
Finally we have the Bull-it Cargo Sahara jeans. These are also constructed with 12.5 oz. tan-colored twill (they are also available in black) and — like one would expect for a cargo pant — they have a pocket on each thigh.
These pockets each use two patches of hook-and-loop for closure and are 43 cm (7″) square, making them useful for wallets, mobile phones, etc. Since the pockets do not seal, however, they will likely not protect electronic items in the rain.
The standard five pockets are also in play here, with the two rear pockets also closing via hook-and-loop fastener like the cargo pockets.
Despite being the same weight fabric as the Sidewinder and Federal Red jeans, the Cargo Sahara pants have a lighter feel. Also, the interior mesh lining is a dark brown color to coordinate with the tan color of the outer shell.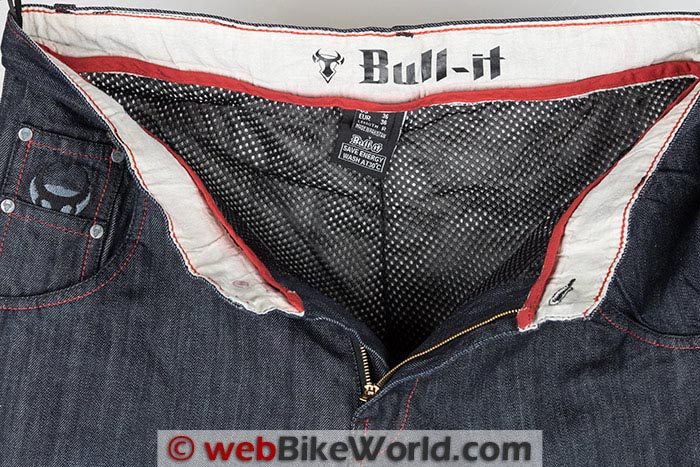 Before proceeding, in the spirit of full disclosure, the Cargo Sahara pants and the Federal Red jeans reviewed here were not the first pairs we received from Bull-it.
The first pairs that arrived may have been show samples and they appeared to have some wear and were not stitched together as well as I would expect from a product of this caliber (price).
Indeed, after we took some photos and sent them to Bull-it, it was explained that these were samples that had been sent in a rush and they would follow up with normal production retail units to review, which is what we're using here.
However, the Sidewinder jeans shown here were not replaced and they are from the first batch that was sent.
We'll have to assume that the Bull-it pants in the retail supply chain are equivalent to what we are describing and what you see in this review. We hope to hear from any webBikeWorld readers who own Bull-it jeans to learn more.
Construction
Zippers
All three of the jeans (pants) described here share several construction similarities. For example, they all use YKK zippers for the main entry; metal on the Sidewinder and Federal Red jeans and plastic on the Cargo Sahara pants.
Lining
They also share a polyester mesh liner that sits between the wearer and the layer of Covec textile that lines 60% of the interior. The color of liner varies with the style of the pants.
One nice thing about the Covec protective liner is that it stops several inches above the leg cuff opening. This makes it easy to hem the legs if required for a more personalized — and necessary in my case — fit.
The cotton surrounding the Covec lining not only provides a smooth surface for the wearer but also provides UV protection for the Covec material inside.
It feels relatively soft and pliable and seems surprisingly average considering what this fabric is capable of withstanding.
Stitching
The stitching on the replacement pants that were sent is very even and tight with no pulled threads or other issues. Also, the stitching doesn't truly show how complex it is from the outside.
The main seam, for instance, would appear to be just an average double stich, but it turns out the edges of the fabric panels are folded over underneath and triple-stitched.
All of the action is really taking place underneath, which also means the stitches are protected in the event of a crash.
Weight
One thing that indicates that these are not your average motorcycle jeans is how heavy they are.
The Sidewinder SR6 jeans and the Federal Red SR6 jeans weigh in at about 1.3 kg (2 lbs., 13 oz.), with the Cargo Sahara pants coming in just 57 grams lighter (2 oz.).
Make no mistake: with this weight, you'll need to wear a belt with these jeans. (You're buying the Bull-it jeans because they're protective, so you're interested in safety, right?
Try the REV'IT! Safeway belt (review), which fits REV'IT! jackets or other jackets when the matching zipper is sewn to any jacket.)
The weight isn't really a problem when riding, but you won't forget these are protective riding jeans when you're off the bike.
Logos
As far as branding, all three pants have a just the Bull-it logo showing either on a leather belt loop "patch", or in the case of the Cargo Sahara pants, an embroidered logo on a wide, rear belt loop.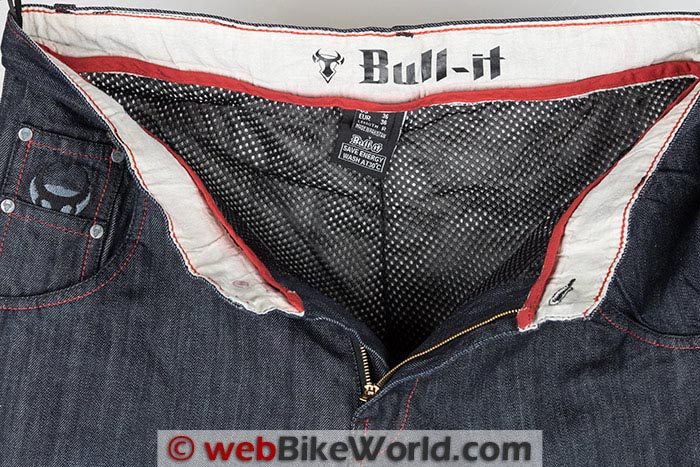 Knee and Hip Protection?
Abrasion resistance is only part of the equation when it comes to protection in a crash.
The energy from the impact also needs to be mitigated and while Bull-it does not include protectors with the purchase of their pants, the pants do have pockets for both knee and hip protectors.
Bull-it does have protectors available as optional accessories; these are also made by Covec.
The protectors feel like rubber but are softer and they're very flexible…as long as it is flexed slowly. Strike the material hard and the flexibility disappears, making it protective when it is needed (similar to d3O protectors).
I very much appreciate it when manufacturers include hip protectors — or at least a provision for it — in their products. I think this is an often overlooked impact zone that should be protected if possible.
While there are pockets for knee protectors, I tend to feel these are not very effective in jeans and other textile pants in most cases.
The reason is that very often textile pants are too loose around the leg and the protectors can easily slide around in the case of a crash. Better yet: get a pair of armored underpants, with their body-hugging fit and built-in protection.
The leg profile of the Bull-it jeans is a bit slimmer than some others I've reviewed in the past, but they're certainly not like leather track pants either (nor are they supposed to be).
The Sidewinder and Federal Red jeans are a little better than the Cargo Sahara pants, because the twill in the Cargo Sahara pants is more supple, which results in a looser feel.
In some cases though, this is less of an issue. For example, women's jeans tend to fit tightly and have more stretch, so protectors placed in the knee pockets has a much better chance of staying in place. (And yes, we have a review coming of the women's Bull-it jeans).
Fit and Comfort
I am pleased to say that the stated sizes for all three pairs of Bull-it jeans were very close to the actual measurements I took.
My street size for jeans is 36X30 and the Sidewinder jeans are that size.
The other two are sized 36R, or 36×32. The "R" (Regular) usually means 32″ inseam and that's what these have. Since, as I mentioned earlier, the construction of the legs makes them easy to adjust the hem length, I don't see this as an issue.
The waist on all three pants measured 36.5 inches, which is very consistent for sizing across different models, as there is typically more variability than that, even with the same style and cut.
The lengths were all very close, with the Sidewinder jeans at the ordered length of 30 inches and the Cargo Sahara pants spot-on at 32 inches. The Federal Red jeans are a little long at 33 inches but still not a bad showing.
Don't forget, you'll need about a couple of inches of extra length to account for the sitting position on a motorcycle. Also, remember that cotton can easily shrink up to 5% after it's first been washed and 5% of 30″ is 1.5″ — quite a lot. Keep that in mind.
Unlike some of the jeans I've reviewed, the seat/waist height is correct and not placed too low on each of these three styles of Bull-it jeans.
They fit as one would expect for a regular cut.
As there are many styles to choose from Bull-it's lineup, this could be different for some of the other available styles.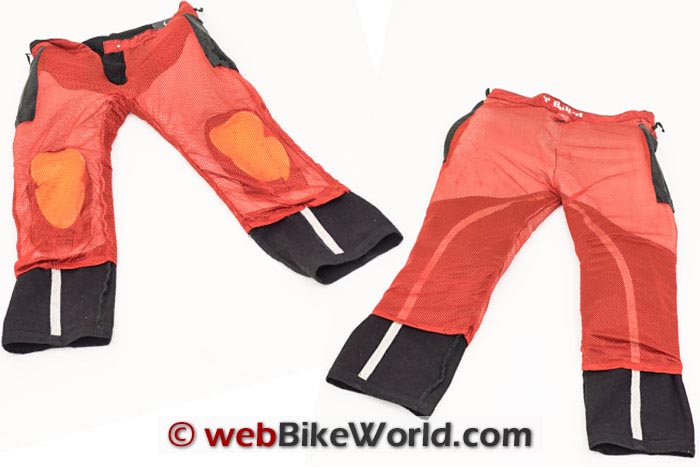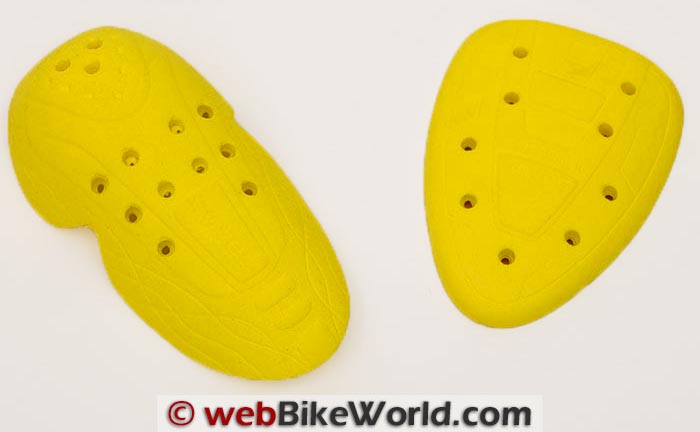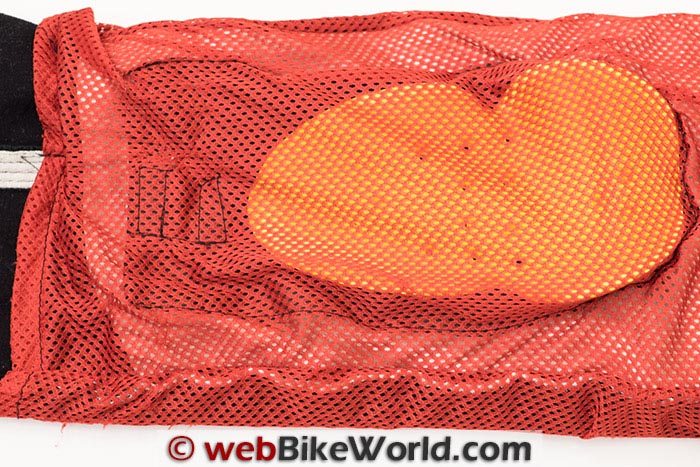 The Bull-it "Micro-Climate"
The polyester mesh lining is very smooth and comfortable against the skin and does a good job of disguising all of the various seams and protective layering going on between the shell and the mesh lining.
The ridged surface of the Covec lining in combination with the fabric liner backing helps to create what Bull-it calls a "Micro Climate".
The nature of the space created between the shell and skin by the intermediate layers in theory should help keep you warm when it's cold and vice versa.
I can verify that the jeans do seem to have better insulation than most riding jeans when the weather is cold…but they are not replacements for dedicated cold-weather riding pants.
Hot and warm weather evaluations will have to wait until the weather becomes conducive.
Conclusion
Like the Bull-it jeans jackets (review) I reviewed not long ago, the Bull-it jeans and cargo pants succeed in offering good protection while maintaining a casual look.
Unlike some other motorcycle jeans, there are no additional seams crossing the legs above and/or below the knee, so these are pretty stealthy.
Of course, how important that stealth is versus protection will vary from rider to rider. I'm not really concerned about how stylish a pair of motorcycle riding jeans or pants may look.
I will say that the level of protection offered by the Bull-it Jeans appears to be very impressive.
I am also pleased by the provisions for hip protectors and the fact that the location of the protector pockets seems to be correct for my knees, which isn't always the case with other brands I've tried.
For the $199.00 price ($209.00 for the Cargo Sahara pants), I would like to have the protectors included. However, I have no idea how much the Covec material costs.
If these jeans are as tough as claimed — besting leather in abrasion testing — then all of a sudden the price doesn't seem so high.
Bull-it has just started distribution in the U.S.A. with an office and warehouse in California, so if you're looking for some seriously strong jeans to ride in, these may be the ticket.
More wBW Motorcycle Jeans Reviews  |  Motorcycle Clothing Reviews
w

BW

 Review: Bull-it SR6 Motorcycle Jeans
List Price (2015): $199.00 to $209.00
Colors: Varied styles and colors.
Sizes: 30-44W with 32-34L
Note:
 For informational use only. All material and photographs are Copyright © webWorld International, LLC since 2000. All rights reserved. See the webBikeWorld® 
Site Info page
. Product specifications, features and details may change or differ from our descriptions. Always check before purchasing. Read the
Terms and Conditions
!
Owner Comments and Feedback
---
From "V.H." (September 2015): "I have owned 3 pair, first pair I gave to a friend because I lost so much weight. I ride every day and alternate these jeans daily now for about 2 years.
I have had 2 low speed crashes at 30 and perhaps 40 mph with zero road rash on legs.
I bet I have washed these jeans at least 100 times over the last couple of years and they still are going strong. I wear only Bull-it jeans or my leathers, nothing else comes close to their real world performance."
---
From "R.R." (June 2015): "I own a pair of SR6 dirty wash style bull it jeans, and they are the best I've tried so far. I can wear them at work an people can't tell the are bike jeans.
They fit very well and the unlined lower leg isn't a problem as your boots cover that area.
They are heavy and you do need a belt, I also have sewn in extra belt loops between the existing ones as the distance between was to long and the waist sagged between the belt loops.
I have used them with the hip and knee protection and for me they are in the correct position when wearing my jeans. All up I love these jeans and wear them with the confidence they will protect me when called upon for duty."
---
From "D.W." (March 2015): "Do please check these again when Canada can afford heat (nyuck, nyuck), I'm tired of the slow drop in Sliders cargo pants quality and would love something classy to wear in the office.
Jeans are out of the question, and the only other company that I have found wants $299 a pair for very little Kevlar (or style)…Cheers from So Cal!"