The Breakdown
Versatility is the keyword here; I think you'd be hard-pressed to find a motorcycle jacket that can provide this much protection while at the same time look perfectly normal when it is worn to a casual dinner or an evening at the pub. With quality protectors (which would mandate the optional back protector), these jackets should provide pretty good protection for the street.
Pros
Great protection (given the style), looks awesome, reasonable price
Cons
Needs additional protectors to truly protect
Denim Jackets With CE-Rated Protection
The Bull-it Carbon and Roadster jackets are an excellent blend of casual looks and tough protection. Neither jacket gives away its function as protective gear, as the styling of both jackets is subdued. In fact, if the protectors were removed, I see no reason that these jackets couldn't be used as everyday lightweight (yet protective) outerwear.
Bull-it Jeans is a relatively new player in the motorcycle garment game, having been founded in the UK in 2006. They are one of those manufacturers who claim to be "riders making gear for riders". I'm paraphrasing there, but you get the idea.
Their mission is an admirable one and it is obvious that their primary concern is to make casual looking gear as tough and safe as possible for the motorcycle rider. Bull-it has partnered with Covec Ltd., a British firm that specializes in development of "Technical Textiles". Covec textiles are used extensively in the apparel made by Bull-it Jeans to provide abrasion resistance.
The Covec fabrics used in the Bull-it jeans and jackets is different from Kevlar or the other Aramids that are often found in motorcycle gear. Bull-it Jeans and Covec claim there are many benefits of using the Covec textiles and we'll take a closer look a bit later.
The special Covec fabrics used in the Bull-it products include "Covec+7"  for CE Level 2 protection in the Bull-it "Voloce" jeans and Covec "SR6" for CE Level 1 protection in the rest of the jeans and in the Roadster and Carbon jackets that are the subject of this review.
Both of these jackets have been tested to and exceed the CE EN 13595-1 standard at Level 1 for abrasion resistance in all of the relevant impact zones. Both the Covec+7 and SR6 fabrics are also claimed (by Bull-it Jeans) to have a higher melting point, better resistance to degradation (from washing and oxidation) and they feel much softer than some of the other abrasion-resistant liners in motorcycle jeans.
[UPDATE: See the webBikeWorld report "CE Certified vs. CE Approved? There is a Difference"]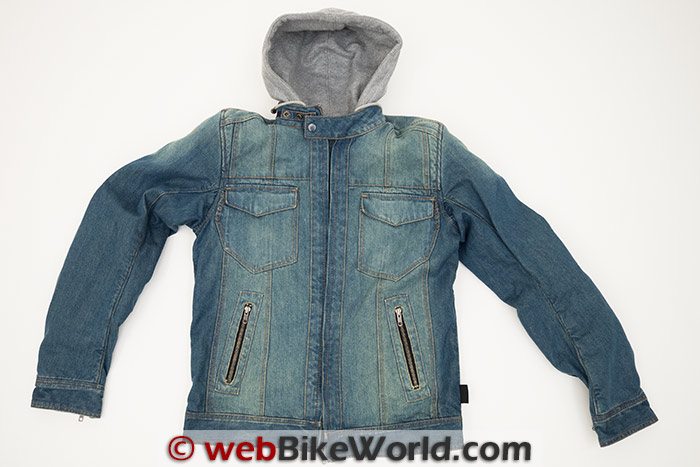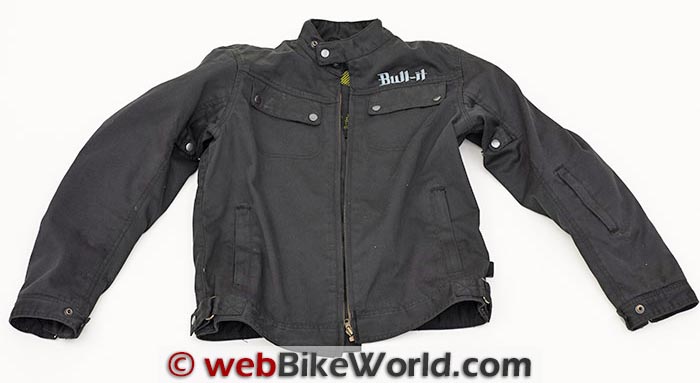 ---
Where to Buy Bull-it Roadster and Carbon Jacket
Check Reviews & Prices on Amazon
Check Reviews & Prices On RevZilla
Also: Motorcycle Jackets, Motorcycle Gloves, Motorcycle Boots, Motorcycle Pants
---
The Bull-it "Roadster" and "Carbon" CE-Rated Jackets
In this review, I'll be taking a look at the Bull-it Carbon and Roadster hoodie jackets, which are lined with the Covec SR6 fabric, CE tested to EN 13595-1 to 6.26 seconds abrasion resistance — better than most motorcycle jackets or pants of any type.
The Roadster hoodie jacket is a blue denim that has been "distressed" in what Bull-it refers to as a "grunge faded wash", while the Carbon hoodie jacket has black denim outer shell and is styled a bit differently in both cut and pocket types.
Despite the difference in appearances, these two jackets share a lot of common features beneath the surface. That is why I am combining the reviews of both jackets into one. I will point out differences where applicable.
Bull-it Roadster and Carbon Jacket Shell Details
The Bull-it Carbon and Roadster jackets are constructed using a shell of 12.5 oz. denim, with the Roadster in blue and the Carbon in black.
The jackets have a rather substantial feel and a nice heft of nearly 2 kg, which lends a feeling of security. This weight measurement is with the included CE-rated protectors in the shoulders and elbows as well as the standard foam back pad.
Both jackets have two chest pockets and two hand warmer pockets, with the chest pocket closing with a snap (one on the Roadster, two on the Carbon) and the hand warmer pockets closing with a brass YKK zipper.
The Carbon jacket adds an additional pocket on the left forearm that is convenient for keys or other small items that also uses a zippered closure. All of the zippers used on these jackets are YKK brass units (save one) and can operate a little stiffly at first.
After some usage, brass zippers tend to get smoother in operation, as did the examples on these jackets.
Zippers and Closures
While discussing zippers, the main zipper on the jackets attaches in the European "reverse" fashion from the U.S. standard for men's apparel, as the slider is located on the left side instead of the right.
This is typical for other European apparel that I have worn in the past.
Both jackets also use a zipper closure for the sleeve cuffs, with the Carbon jacket adding a snap closure with two positions for adjustability. This is a nice touch, but in use, it can make the sleeve cuff bulky if snapped to the smaller position.
This is more of an issue for those who like to put their glove gauntlets on the outside of their sleeves versus inside the cuff (another European habit).
Jacket Construction
The Bull-it Roadster jacket is a bit more complex in construction, as there are more smaller panels that make up the outer shell of denim. This gives the Roadster a more distinct style over the more minimalist Carbon jacket, but it does not appear to affect the overall shape as both jackets fit very similarly.
The literature for both jackets mentions triple stitching on "impact seams", but all I can see from the outside of the jacket are double stitches. Perhaps some of the seams are stitched again from within, where I cannot see them.
The stitching overall looks good with no loose or pulled threads.
At the neck on both jackets is a snap closure with three positions of adjustment. I like the ample adjustment in this area as it can accommodate not only various neck sizes but allows for layering clothes such as turtlenecks or using neck gaiters for colder weather riding.
Branding is subtle on both jackets, with the Roadster having brass-colored embossed stitching of the Bull-it Jeans logo on the shoulders and on the back and the Carbon having the same logo in a simple light grey thread.
The Carbon takes one additional step with the actual Bull-it text over the left chest pocket. Still, either jacket would be at home in use as a casual light/medium jacket for use off the bike making them great for ride-to-casual-event situations.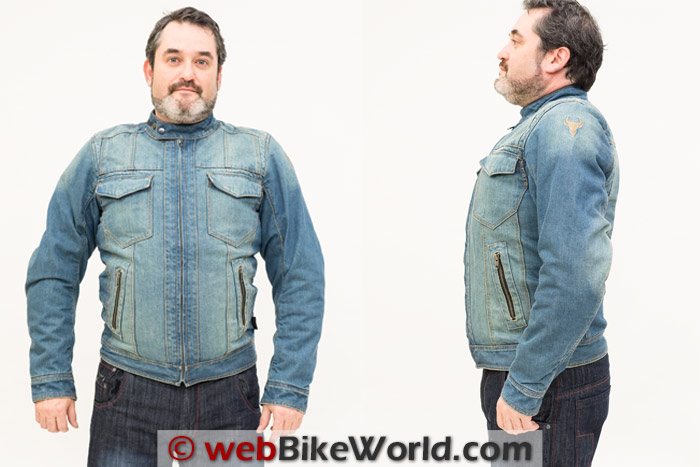 ---
Where to Buy Bull-it Roadster and Carbon Jacket
Check Reviews & Prices on Amazon
Check Reviews & Prices On RevZilla
Also: Motorcycle Jackets, Motorcycle Gloves, Motorcycle Boots, Motorcycle Pants
---
Lining and Pockets
Both jackets have a polyester mesh liner inside that makes them easy to slip on and off as well as keeping the seams and the Covec mid-liner from abrading the skin.
The two jackets have a small inside pocket with a hook and loop closure that is accessed from just behind the main zipper in the denim. Below that is another pocket sewn to the mesh lining also closed with hook and loop.
The Roadster jacket adds one more inside pocket on the right side that is closed with a plastic unbranded zipper set in denim.

Protective Features
Protection is the key feature with Bull-it products, with headline being the use of the Covec textiles in the jacket for abrasion resistance.
Bull-it and Covec claim that these textiles survive longer in their abrasion tests than Kevlar-based liners and other Aramid-based liners, as well as having excellent resistance to cutting.
They also claim very low thermal transfer from friction so that heat from a slide on the pavement, for example, doesn't end up on your skin.
These are some very interesting claims and I am happy to not test these claims in the real world myself. However, it does say to me that these jackets will likely deal better with a slide on the ground than your average non-lined denim jacket.
The Covec +7 fabric (used only in the Bull-it Voloce jeans) is CE tested (SATRA) to EN 13595-1 Level 2 for 7.97 seconds abrasion resistance, which is said to make these the first jeans in the world to perform to Level 2.
The Covec SR6 fabric used on the rest of the Bull-it clothing is tested to 6.26 seconds.
Covec also says that the polymer in the yarn was tested by NASA as a replacement for Aramids and was used for the MARS space mission, providing impact and abrasion protection for the spacecraft.
The Covec+7 and SR6 fabrics have a unique laminated construction consisting of 400 up to 800 GSM (grams per square meter) knitted textiles made of high performance yarn.
The fabric and the construction gives it a soft, knitted feel, unlike the scratchy feel of other types of abrasion-resistant linings often found in motorcycle clothing. The softness also improves the drape of the clothing.
The Covec SR6 fabric is visible through the mesh lining in the jackets and it presents as a white, smooth, cotton-like material. Careful squeezing of the fabric indicates it has many layers; there is definitely a rippled weave.
The Covec SR6 fabric coverage includes most of the back and shoulders, minus the area of the back pad, and most of the arm except for a small band above elbow.

Impact Protection
For impact protection, Bull-it includes CE-rated shoulder and elbow protectors of the rubber-like variety. The protectors are the same for both shoulder and elbow positions instead of the elongated pieces typically used for the elbow.
For 2015, Bull-it (via the Covec Impact Division) makes and sells a complete line of CE-rated Level 1 and Level 2 protectors, including back protector inserts, shoulder, elbow, hip and chest protectors, knee protectors and more. The protectors are yellow in color and made from "Memory Elastane".
The Roadster jacket has an included back pad that is CE tested, but the look and feel do not inspire confidence in my opinion.
It is a dual-density foam pad that is just 5/8″ inch (16 mm) thick that doesn't feel much more sturdy than the pads often placed in less expensive apparel that are just for "filling the pocket".
This filler-type pad was included in the Carbon jacket as well but it appears even less substantial that the one in the Roadster. Personally, I would replace either of these with more substantial Covec back protection shown above, which are available as optional accessories.
Along with the protectors, both jackets include belt fastening loops at the rear. In the Carbon jacket, there are three belt loops sewn into a reinforced section of mesh.
On the Roadster jacket there are three denim loops attached to a section of denim that is attached to the liner via strip of what appears to be Spandex.
In either case, attachment points like these can help prevent a jacket from riding up in a slide and exposing the back.
One last protective feature appears just on the Carbon jacket in the form of a thin reflective stripe on the welt across the upper back.
It isn't exactly the brightest reflector I've seen but it is there and as the Carbon jacket is rather flat black, having this small reflective strip is better than nothing.
Fit and Sizing
Sizing was a particular issue for me during this review. Both the jackets I received were a men's size large and that is the typical size I wear in most motorcycle jackets.
But both Bull-it jackets run small to the point I'd say they might be nearly a half-size smaller than expected, depending on what manufacturer's jacket you compare to.
For reference, my chest measures 43 inches (109 cm) and both of these size large jackets were so snug I almost could not ride in them.
According to Bull-it's online sizing charts, a 109 cm chest measurement falls into the high end of medium and I'm certain I could not have fit into that size. Bottom line: you may want to order up one size.
Despite the very snug fit and the current cold winter temperatures, I was able to get some ride time in with these jackets.
With their snug fit, I wasn't able to get more than a thin shirt on underneath, so riding in December here in the Mid South of the United States was a bit chilly.
Both jackets have a similar feel despite their very different outer looks. Also, I wasn't quite as chilly as I expected, so the extra layer of Covec may provide some insulation and Bull-it does claim that the structure (weave) of the liner does help create a "micro-climate".
How this translates to summer use may be a different story.
Neither jacket includes any vents, so short of opening the main zipper, air flow will be minimal and since there are no rear vents either, opening the front zipper can result in "ballooning".
Finally, let's not forget the hood. Included with both jackets is a gray cloth hood that snaps into place. This is actually a useful extra — especially considering the current weather conditions.
It makes sense to have this removable so it doesn't flap about and catch in the wind while riding. I only wish there was a dedicated pocket to store the hood in as it is really too bulky to fit in any of the jacket's pockets.
Conclusion
Both of the Bull-it denim jackets are an interesting take on the "casual-looks-meets-serious-protection" type of motorcycle gear. The Covec SR6 protective liner appears to be a promising alternative to some of the other "superfabrics" used in abrasion-resistant liner formulations combined with Kevlar and/or other Aramids.
The thermal heat transfer aspect is particularly interesting and something I had not considered before. With quality protectors (which would mandate the optional back protector), these jackets should provide pretty good protection for the street.
Bull-it offers jackets in these two styles and I think together they cover a wide variety of tastes. I personally like the simpler and understated look of the Carbon jacket but I think the café racer and cruiser crowds will dig the look of the Roadster.
Versatility is the keyword here; I think you'd be hard-pressed to find a motorcycle jacket that can provide this much protection while at the same time look perfectly normal when it is worn to a casual dinner or an evening at the pub.
The fact that the hood can help keep your ears warm on a chilly evening is a nice bonus.
Bull-it Jeans and jackets have been available in Europe for some time and the company is just starting U.S. distribution and sales.
More wBW Motorcycle Jeans Reviews  |  Motorcycle Clothing Reviews
w

BW

 Review: Bull-it Roadster and Carbon Jeans Jackets
List Price (2015): $289.00 (£189 UK)
Review Date: January 2015
Note:
 For informational use only. All material and photographs are Copyright © webWorld International, LLC since 2000. All rights reserved. See the webBikeWorld® 
Site Info page
. Product specifications, features and details may change or differ from our descriptions. Always check before purchasing. Read the
Terms and Conditions
!
---
Where to Buy Bull-it Roadster and Carbon Jacket
Check Reviews & Prices on Amazon
Check Reviews & Prices On RevZilla
Also: Motorcycle Jackets, Motorcycle Gloves, Motorcycle Boots, Motorcycle Pants
---
Owner Comments and Feedback
Other WebBikeWorld Jacket Posts