Early adopters have already slapped down a deposit for the Brammo electric motorcycle due here in the next few weeks.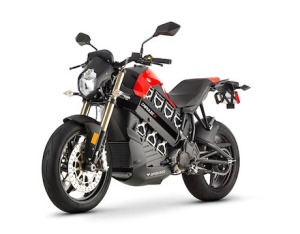 The Oregon-built Brammo Empulse and Empulse R are about to be certified for sale in Australia and will be available at $16,670 and $19,350. They are being imported by ElectroMotive Force (ELMOFO), a subsidiary of Solar Power Australia which is an industrial design and engineering company for solar-powered systems and batteries.
Managing director Brett Sutherland believes Australia is ready for electric vehicles. "A lot of the early adopters will be tech heads, not necessarily riders," he says. "Some of the guys that work here that have never ridden bikes have now got their licences. I think it will bring in a new breed of motorcyclists."
Brett has been riding dirt bikes most of his life and has only started riding road bikes. He says he got involved in importing Brammo because he believes in ecological vehicles. "We should all be driving vehicles that can be recharged from the sun," the electrical engineer says.
His company has already built an electric De Lorean sportscar and a race car which was competed successfully in the Australian Supersports series against radical petrol vehicles. The car holds the two quickest lap times around the famous German Nurburgring.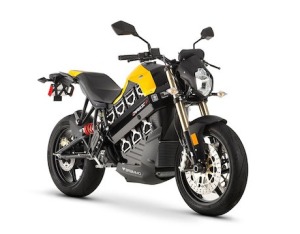 The Brammo Empulse and Empulse R sportsbikes are no slouches, either. Both have 54 horsepower (40kW) and the Empulse produces 63Nm of torque while the R has 90Nm and hurtles to a top speed of 177km/h.
It has a 10.2kwh lithium-ion battery which takes eight hours to recharge on an American 120 volt mains, but will be a lot quicker on our 240V system. It comes with a 3kW on-board charger. Range is about 200km in the city and 90km on the highway or 129km combined.
The Empulse might be American powered, but it has a lot of exotic European parts, including an Italian aluminium frame with tubular steel subframe and swingarm,  Marzocchi forks, Sachs shock, Brembo brakes, and 17-inch Marchesini wheels. Seat is 800mm off the ground, wheelbase is 14763mm and it weighs 213kg. Empulse rides on 120/70 and 180/55 tyres and comes in red or black, while the R also comes in silver or yellow.
Unlike most other electric vehicles, the Brammo Empulse doesn't have a single gear but has a six-speed transmission and a wet, multiplate clutch. The instruments also strangely feature an analogue tachometer and an LCD screen in a waterproof housing. The screen displays battery charge, speed, odometer, energy use, gear position, battery status, estimated range, and system status.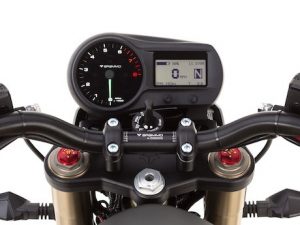 Brammo may also be the first to produce an electric cruiser. While Harley-Davidson has developed the Project LiveWire electric concept, it's a sportsbike. However, Brammo has plans to develop an eCruiser.
Brett says that if Brammo goes ahead with the "eCruiser" and a motocrosser called the Engage, he will consider importing them, too. However, ELMOFO has no plans at this stage to import the Brammo Enertia Plus city bike with 130km range and a 16kW/40Nm motor.
Brett says it has taken two-and-a-half years to convince Brammo to allow his company to import the Empulse and about seven months for Australian certification which is only a rubber stamp away.
"We have the first bikes on the ship now and we're hoping it will be approved by the time they arrive," Brett says.
ELMOFO is based in Newcastle, but Brett believes dealerships will start in the capital cities and he hopes to show the bike at the Moto Expo in Melbourne in November.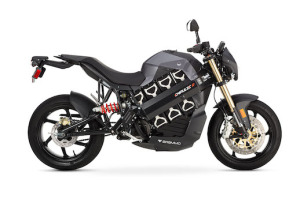 Brett says they have had a lot of interest from motorcycle dealers and electric vehicle companies wanting to stock the bike. "Currently it's like the chicken and the egg. We need more charging stations on the roadways, but we need more electric vehicles to make it commercially viable," he says.
So far, the only other roadworthy electric motorcycle on sale in Australia comes from Californian electric company Zero.