BMW Motorrad has just dropped their most powerful boxer engine ever, and it's housed in the all-new R 1300 GS – "the perfect GS for you."
Based on the sheer amount of new stuff this thing touts, we're inclined to agree with the press release's quote on this one – but first, let's take a gander at what BMW has gifted their fresh pace-setter… because not all of the perks come as standard.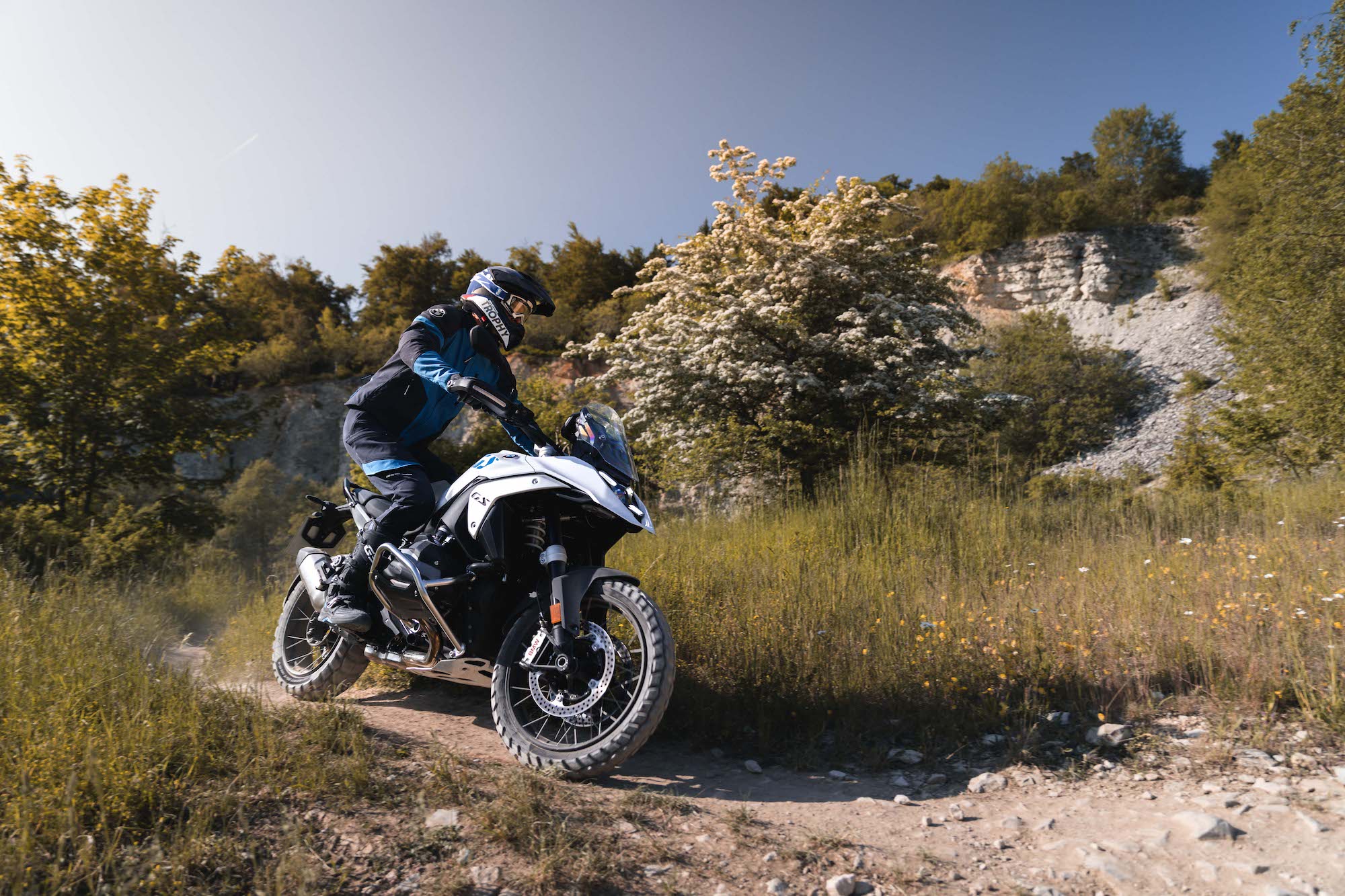 The R 1300 GS follows the concept that "more isn't always better;" to this effect, the Bavarians have purportedly made this new Adventure bike lighter, stronger and cleaner, all to "distill" the essence of a GS by "utilizing integration and modularity." 
In short, this bike is trying to have everything for everyone, and to do that, BMW focused the GS's packaging as tight as possible, making the aesthetic of the R 1300 GS efficient and simple to keep in line with the original "Gelände/Straße" (GS) moniker.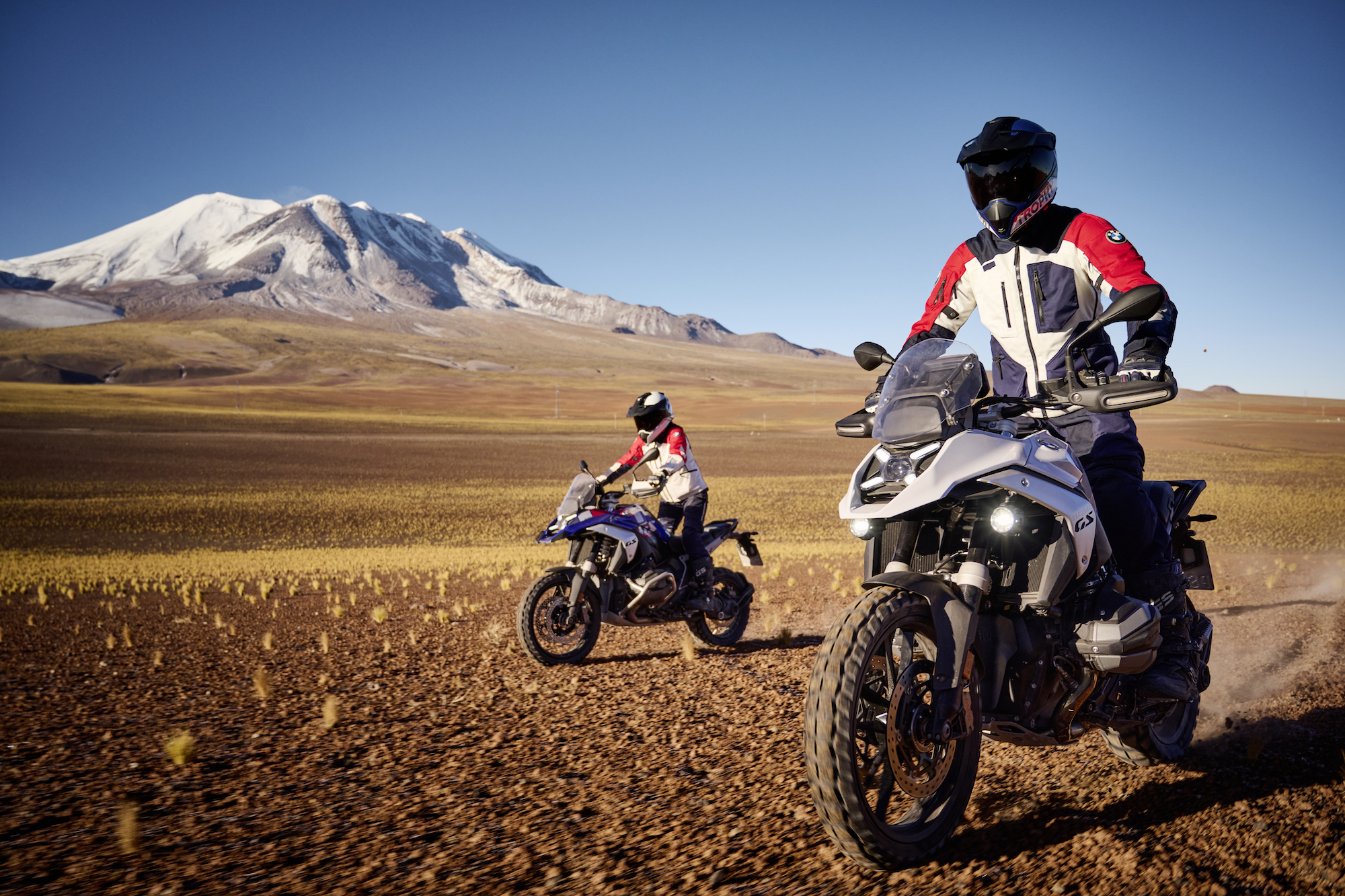 One of the bigger changes, of course, has to be the side-step from the iconic asymmetrical headlight to a Matrix LED Headlight, sporting a center light source that's flanked by four centrally-oriented slash LED DRLs and supported by an additional dual-foglight situ embedded into each of the bike's shoulders. 
BMW also added the following list as standard to all of the R 130 GS variants: 
Adjustable windscreen

Hand protectors

Heated grips

Keyless ride

ABS Pro

DBC Dynamic Brake Control

MSR Engine Drag Torque Control

TPS Tire Pressure Control

DCC Cruise Control

BMW's new "eCall" ("Emergency Call") button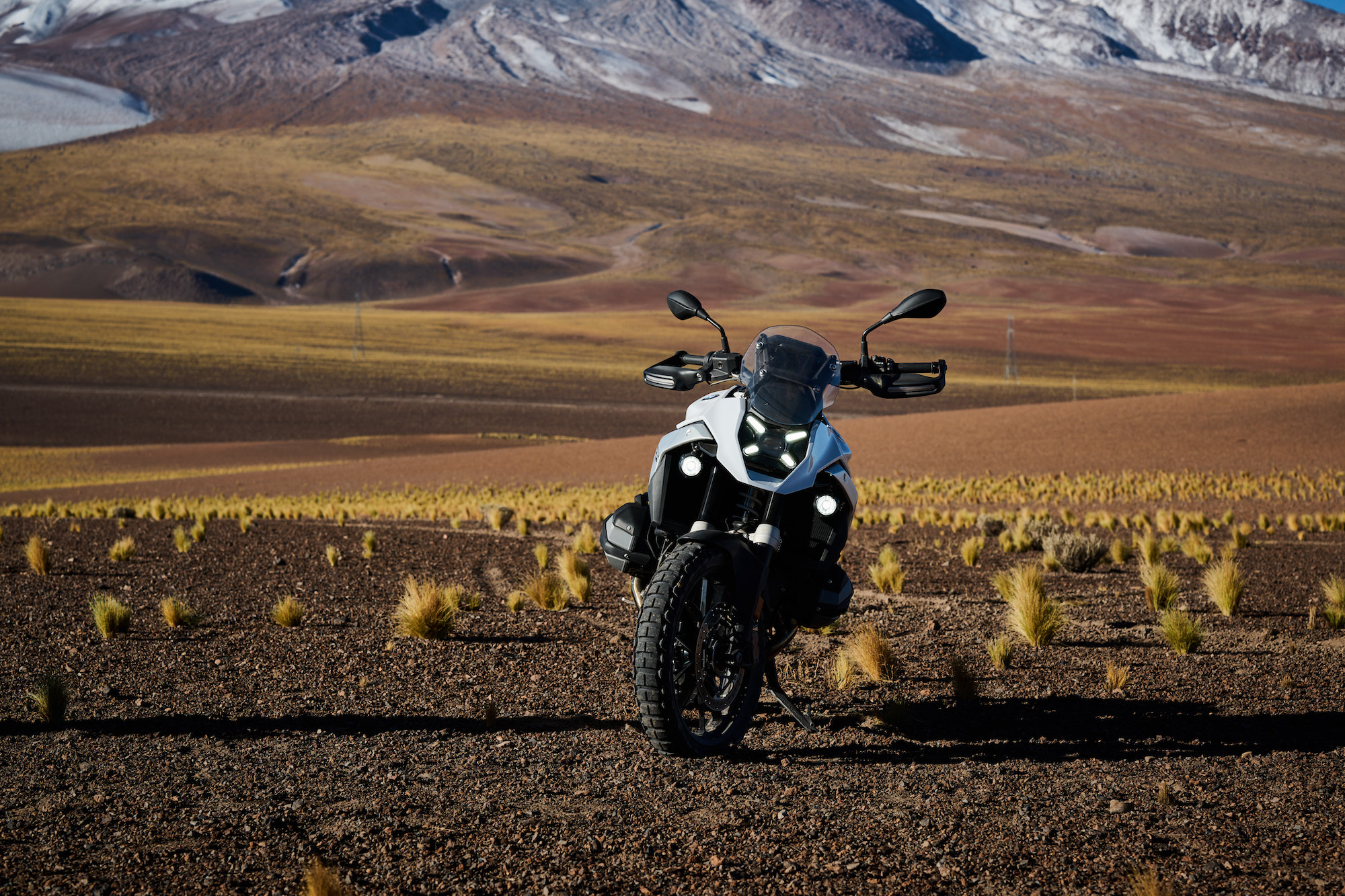 Riding Assist, ACC (Active Cruise Control), SWW (Lane Change Warning), and the brake-intervention FCW (Forward Collision Warning) tech complete the bevy of electronic perks for the R 1300 GS, all of which complement the bike's four Ride Modes: "Rain," "Road," "Eco," and the off-road-happy "Enduro."
For power, BMW works from a stiffer, sheet-metal-shell main frame that houses an obligatory 1,300cc boxer engine capable of 145hp @ 7,750rpm and 149Nm of max. torque @  6,500rpm – the brand's biggest boxer heart yet.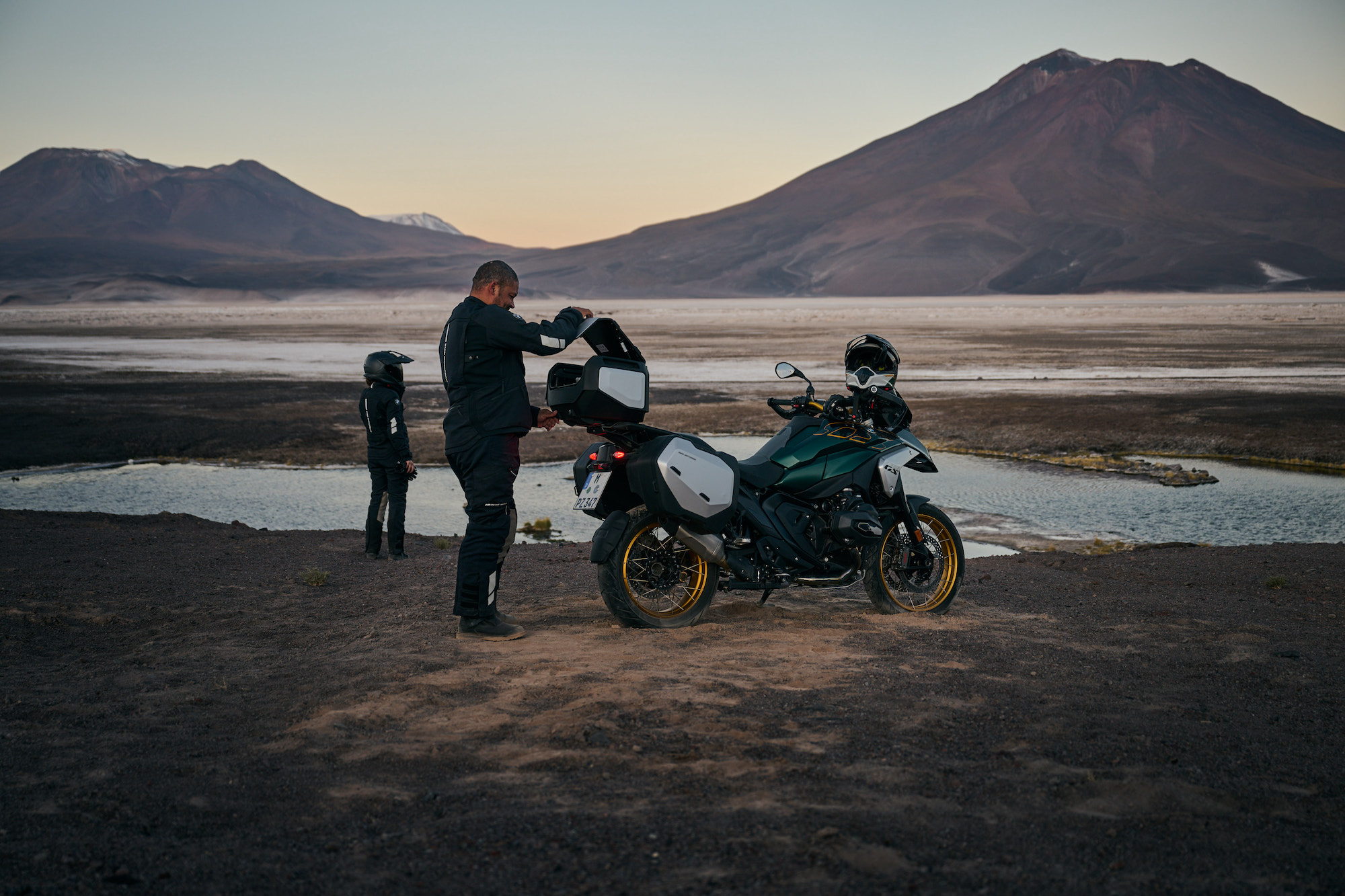 Additional (standard) perks for this model include the EVO Telelever front wheel guide with flex element and the revised EVO Paralever rear wheel guide, both of which improve handling and responsiveness, both on and off the road.
Not sure if the R 1300 GS is for you? 
You might want to look a little closer at the four variants BMW's punted out for this new bike, just in case:
BMW R 1300 GS "Light White"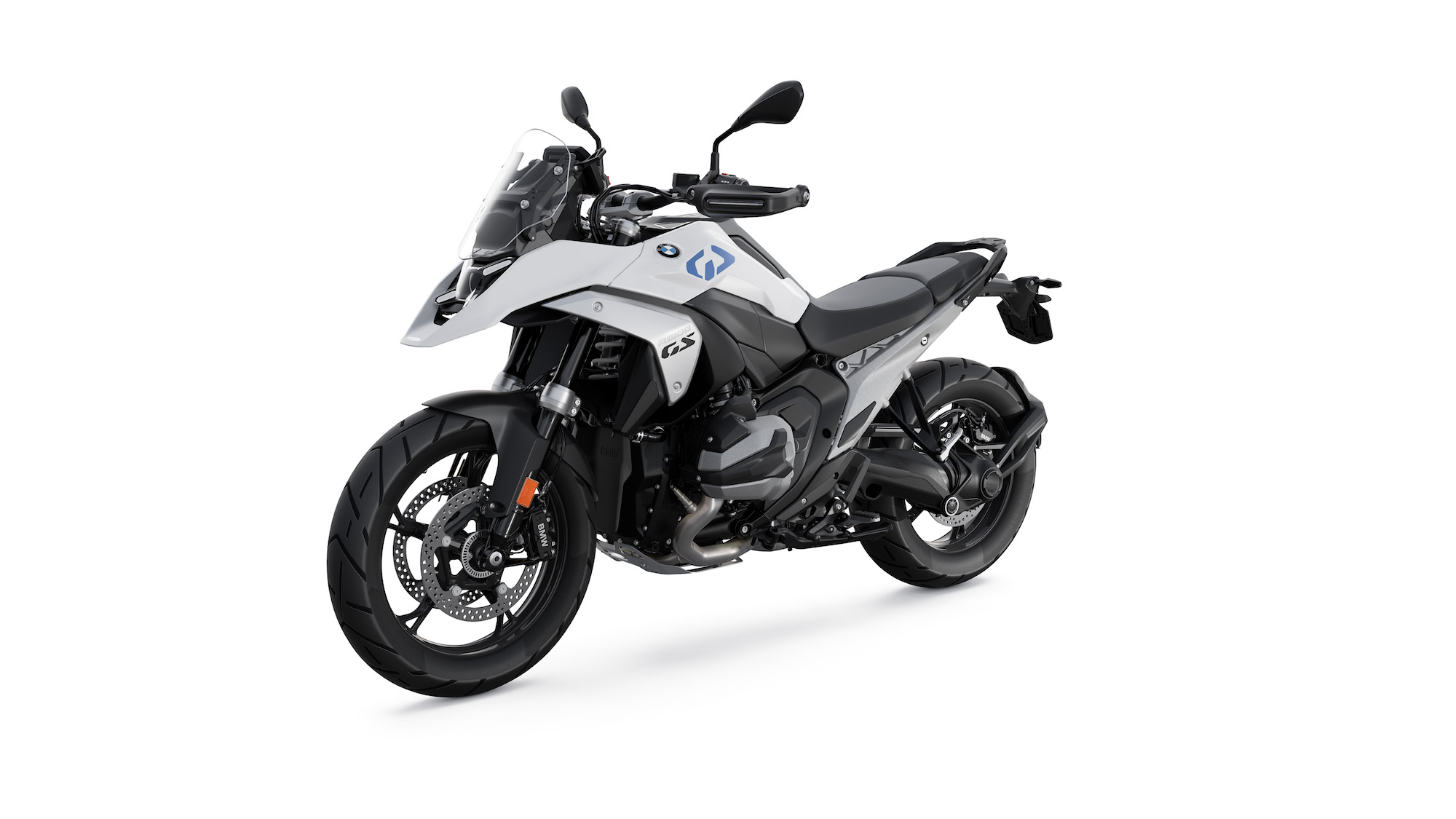 "The standard GS for all road adventures"
~522lbs

A clean design, build to emulate the bare essentials of the GS experience
BMW R 1300 "GS Trophy"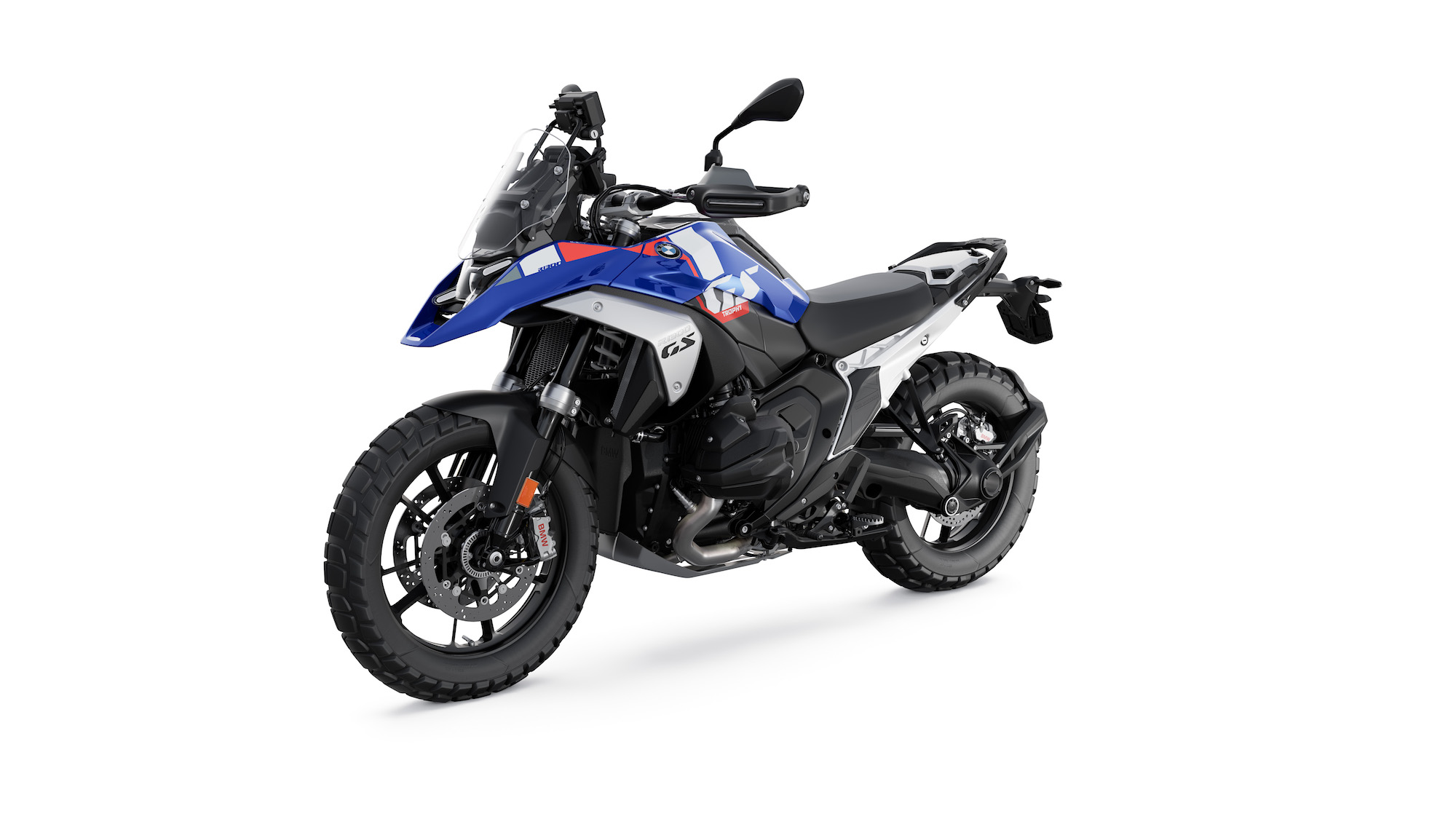 The variant that begs for off-road usage
Less passenger comfort

Frame is designed for off-roading durability and stability

 EVO suspension

Compact exhaust system 

Aluminum fuel tank

Rallye saddle

Radiator guards

Off-roading footpegs

Back-turn indicators
BMW R 1300 GS "Triple Black"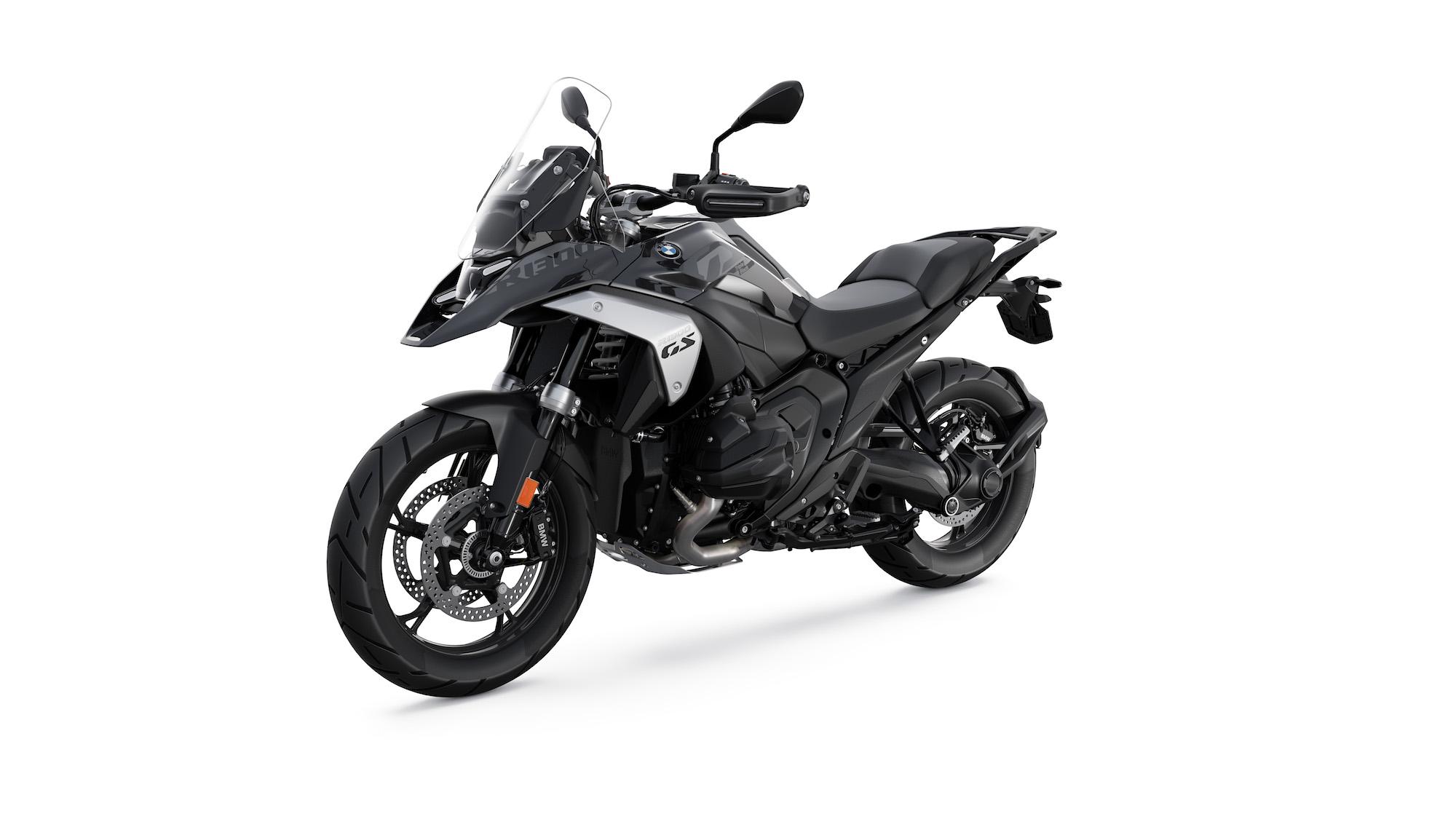 The variant that prioritizes more on-road, touring comfort
Optimized wind protection via tinted, electrically adjustable windscreen

More cushy comfort for the saddle (rider and passenger)

Center stand
BMW R 1300 GS "Option 719" ("Tramuntana")
BMW's top-shelf, luxury variant
New livery in Aurelius Green

Gold cross-spoked rims

Titanium double silencer

This variant has the option of a shadow billet pack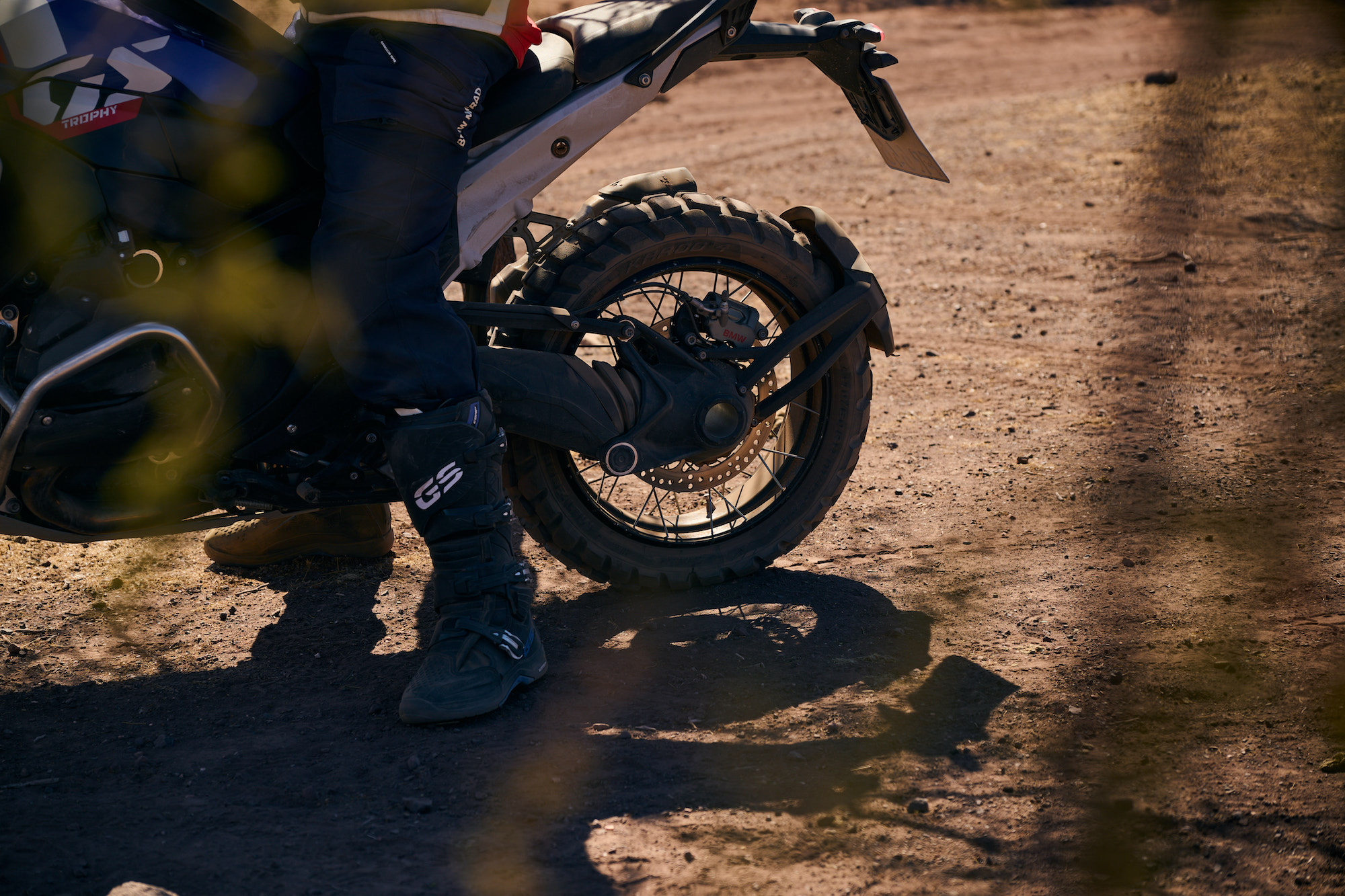 As you can see above, one of the optional features of the R 1300 GS lineup includes Adaptive Ride Height Control; this new tech ranks up with the convenience of the Pan America (Harley)'s Adaptive Ride Height and the Adaptive Seat Height tech offered in Triumph's new Tiger 1200 – a smart move on BMW's part, since both those bikes will be the R 1300 GS's main competitors.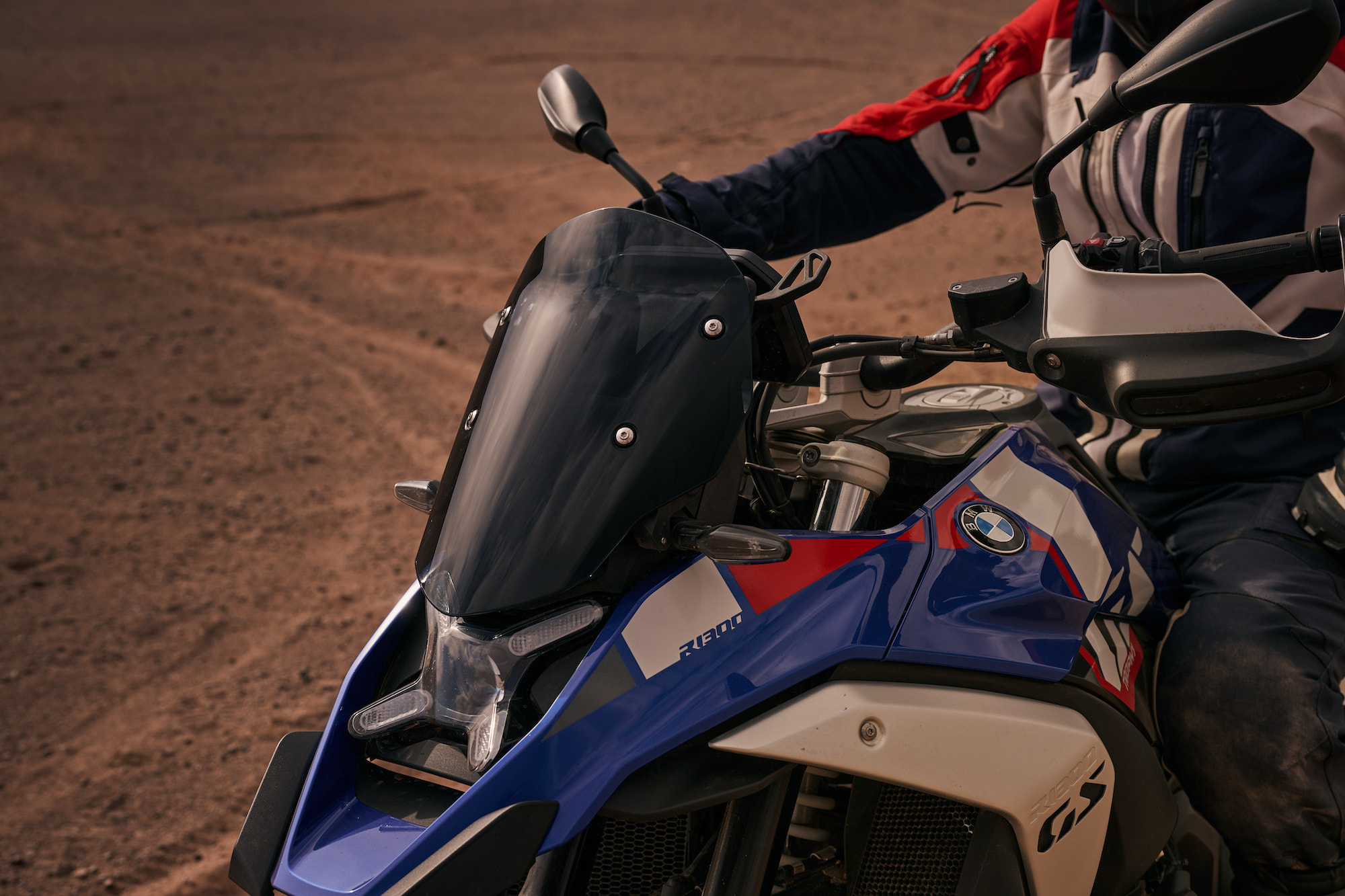 Other optional perks include a windscreen that's electronically adjustable, as well as an optional athletically firm sports suspension and the electronic Dynamic Suspension Adjustment (DSA), designed to increase rider safety. "Headlight Pro" is also an option for riders who want their light to follow the bend in the road – a useful bit of tech, if not something that will rely on the R 1300 GS's banking position.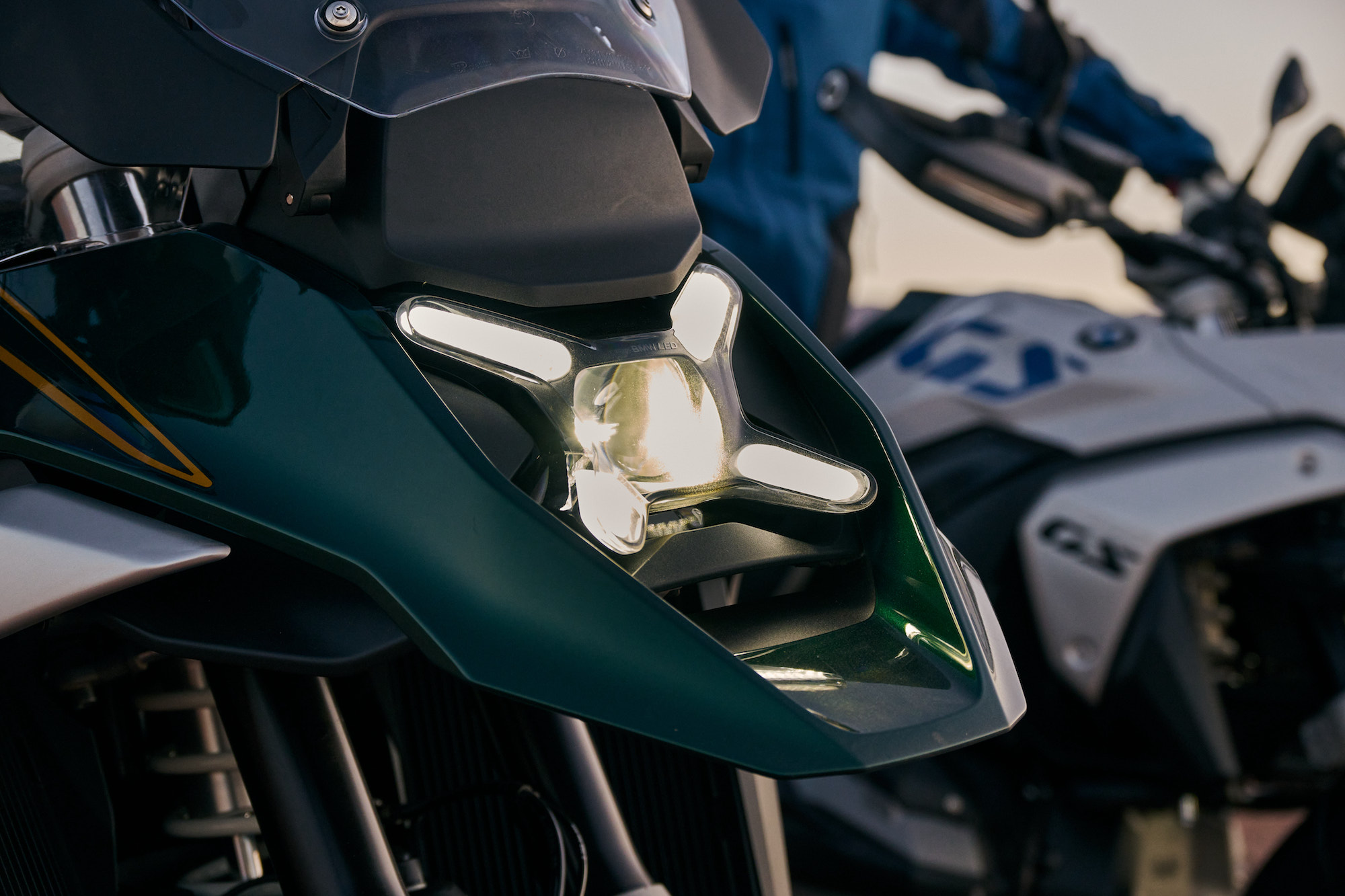 Here's the full list of features for the BMW R 1300 GS, according to the press release: 
Completely newly designed boxer engine with bottom-mounted gearbox and BMW ShiftCam technology for varying the valve timing and valve stroke on the intake side.

Most powerful BMW boxer engine ever.

Powerful response across the entire engine speed range, exemplary fuel consumption, emission levels, running smoothness, and refinement.

Output and torque: 107 kW (145 hp) at 7 750 rpm and 

149 Nm at 6 500 rpm.

Knock sensor system for optimized travel suitability.

Completely redesigned suspension with sheet metal shell main frame and die-cast aluminum rear frame. Even greater steering precision and ride stability thanks to the new EVO Telelever with flex element and revised rear wheel guide EVO Paralever.

Weight reduction of 12 kg compared to the previous model.

BMW Motorrad Full Integral ABS Pro as standard.

Four riding modes as standard.

Engine drag torque control (MSR), dynamic brake assist (DBC), and ride-off assistant (HSC) as standard.

Driving Modes Pro with additional riding modes as optional equipment ex works.

Dynamic Traction Control DTC as standard.

Electronic Dynamic Suspension Adjustment (DSA) as optional equipment ex works, with dynamic adjustment of the damping and spring rate, and also load compensation.

Adaptive vehicle height control and sports suspension as optional equipment ex works.

New matrix LED headlamp as standard.

Headlight Pro with adaptive turning light as optional equipment ex works.

Hand protectors with integrated turn indicators as standard.

Lithium-ion battery with Battery Guard (service function via BMW Motorrad APP) as standard.

Dynamic Cruise Control (DCC) with brake function as standard.

Riding Assistant with Active Cruise Control (ACC), 

Front Collision Warning (FCW) and Lane Change Warning (SWW) for safe and convenient motorcycling as optional equipment.

Smartphone charging compartment with integrated USB socket and additional 12 V on-board power socket as standard.

Seat heating for rider and passenger for enhanced touring suitability as optional equipment ex works.

Handlebar riser by up to 30 mm as optional equipment ex works.

Wide range of seat height variants as optional equipment ex works.

Connectivity: multifunctional instrument cluster with 6.5-inch full-color TFT screen and numerous features as standard.

RDC, Keyless Ride, heated grips as standard.

Intelligent Emergency Call as optional equipment ex works.

Attractive basic variant along with the model variants 

Triple Black, GS Trophy, and Option 719 Tramuntana.

Extensive range of optional equipment, Original BMW Motorrad Accessories.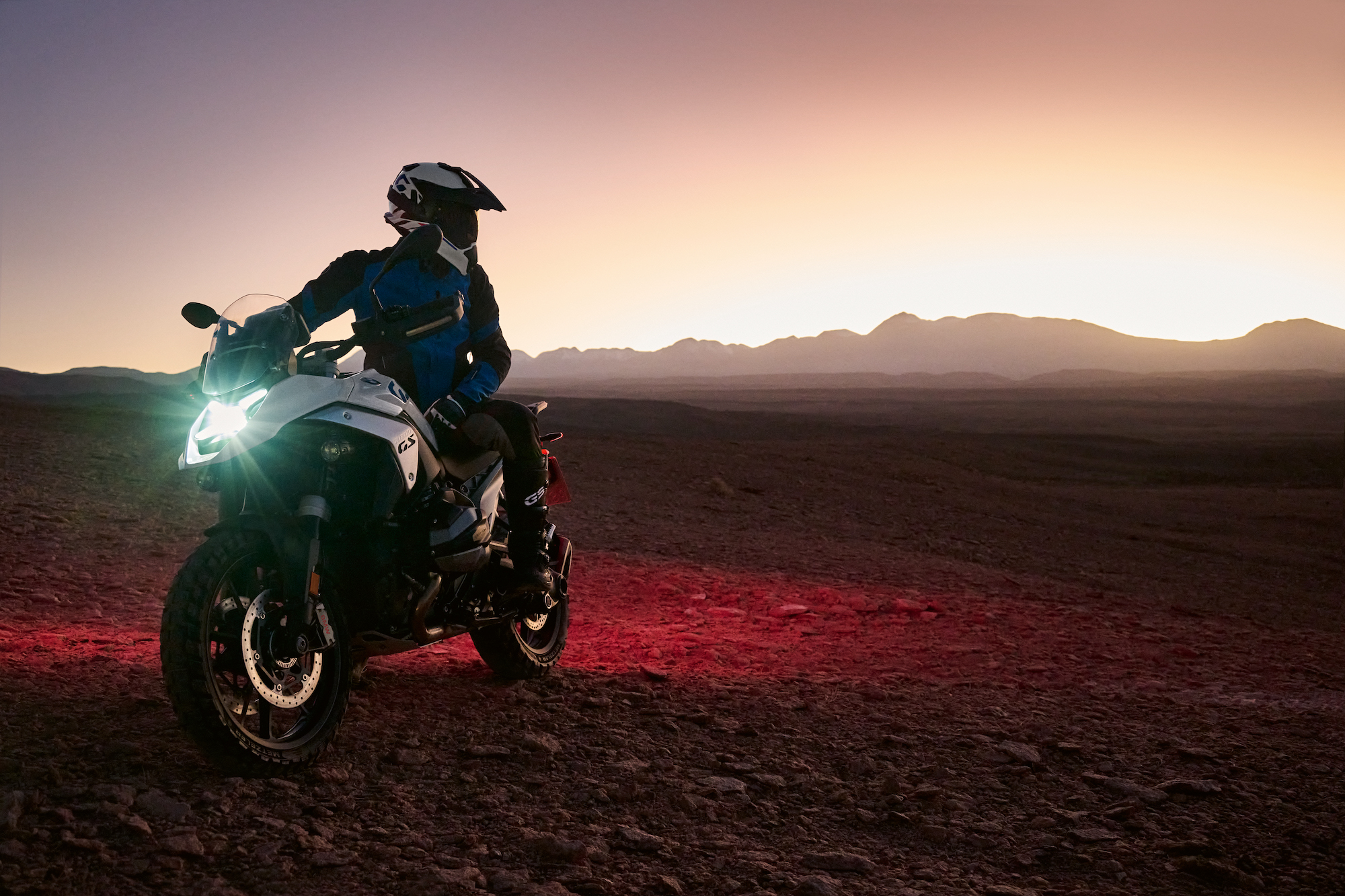 Increased range of standard equipment in the new BMW R 1300 GS compared to the previous model:
Heated grips.

Keyless Ride (steering, ignition, and fuel tank lock).

RDC.

MSR.

BMW Motorrad Full Integral ABS Pro.

Cruise control DCC with brake function.

LiO starter battery.

Hand protectors with integrated turn indicators.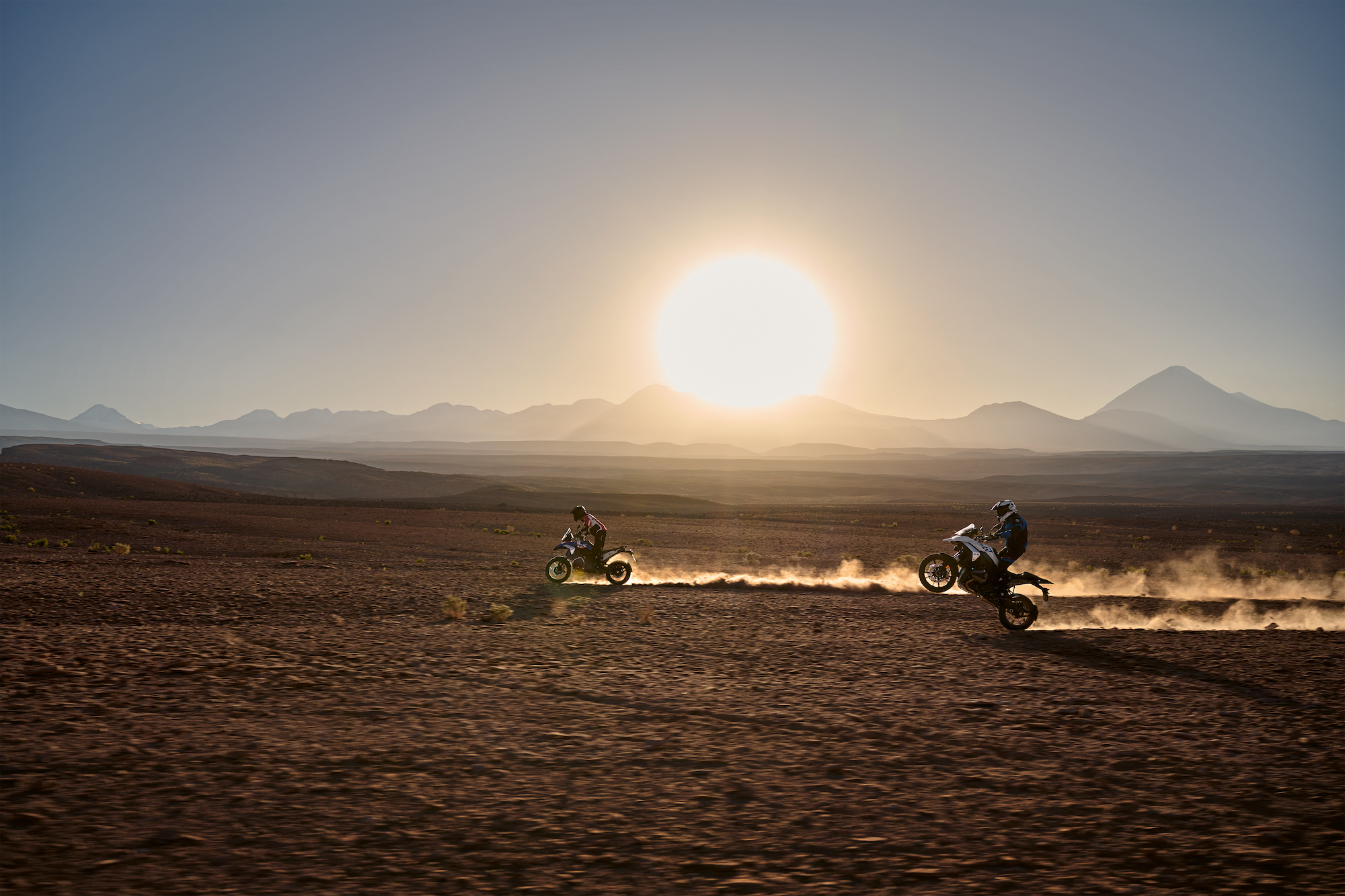 What do you think of BMW's new R 1300 GS?