As a styling exercise the BMW R nineT Scrambler has a lot of appeal, but how does it perform and will it actual scramble?
I much prefer the look of the R nineT Scrambler version over the standard model and any of the other three upcoming versions: Pure, Racer and Urban G/S.
It's also the cheapest at $19,150 compared with the standard R nineT ($22,490 – $24,315) or the Pure ($17,690 – $21,445) and Racer ($19,150 – $22,655) which arrive in March. But it's the same price as the Urban G/S arriving in May.
But does the R nineT Scrambler actually scramble?
I have ridden the R nineT and was impressed with its performance and nimble handling, but I only had a short road ride around Mt Macedon on the Scrambler version.
Gruntmeister boxer
They share the same "gruntmeister" boxer engine which is now Euro4 compliant without any drop in power (81kW), but slightly less torque (116Nm down from 119Nm). However, I defy anyone to notice the torque drop.
This monster pulls like a draught horse on steroids and will hoist the front wheel in the first three gears just with a hefty use of throttle.
While the gears are a little clunky and can be reluctant to go into first, you don't need to be in the right gear for instant throttle response. Just ride the torque tidal wave in any revs in any gear.
It's an addictive engine that I loved when I owned the last of the air/oil-cooled R 1200 GS models.
The R nineT Scrambler also comes standard with a beautiful standard Akrapovic exhaust upswept behind the rider's and pillion's legs so it doesn't burn you. It also has one of the most beautiful tones of any standard exhaust.
While I am excited by the boxer engine in these lighter R nineT models, I was initially not totally enthusiastic with the Scrambler's road manners.
Road manners
With that 19-inch front wheel and raked-out forks, it felt slow to turn in and difficult to change direction on a set of twisties.
The Scrambler's non-adjustable suspension also felt a bit taut and unforgiving while the rear end seemed to flop into corners.
So BMW Motorrad Australia boss Andreas Lundgren organised a review bike for me through Motorline BMW at Daisy Hill for a week to see if I would change my mind.
I was very enthusiastic and keen to get that gorgeous bike a little dirty.
Out on the highway, the bike is as solid and stable as a rock, unshaken by wind blasts from trucks with steady steering thanks to the rake and the non-adjustable steering damper.
If it weren't for the hard seat, I could easily tour for hours on the R nineT Scrambler.
The seat is 820mm high which might seem tall, but it's very narrow and most people's feet should comfortably reach the ground.
Head for the hills
Then I headed to the hills and the bumpy country roads in Brisbane's hinterland.
As I shifted around in the saddle, the seat didn't seem as hard or uncomfortable.
Over time, I grew used to the fact that you have to manhandle the bike to get it to turn which is easy thanks to the wide bars. You just have to learn to give them a good counter-steering nudge.
If you hold your elbows out wide, you can also get it to change direction quickly.
And that big hoop on the front maintains a stable line through corners where you can hold a deep lean angle before your toes start touching down.
The demo bike was shod with knobby Karoo tyres which made the front a little vague, but standard tyres should be better.
Brakes are different to the standard R nineT which has strong bite and effect. By comparison, these feel a little mushy and unresponsive at first, but if you give them a good squeeze, they perform very well with minimal front-end dive and no fade.
After a while, I was being quite brutal with the steering and braking inputs and the Scrambler simply followed orders and made short work of the twisting mountain circuit.
So once you get used to riding it, the R nineT Scrambler is quite a decent canyon carver. Not the sharpest tool for the job, but more than capable.
And you always have that monster torque to fire you out of corners.
Getting down and dirty
Then I hit the dirt.
What a revelation!
Suddenly the front didn't feel vague at all. It felt precise and grippy.
The taut suspension now soaked up the sharp bumps and even ironed out those annoying inside-corner corrugations that usually make the forks stutter and the bike steer wide.
The brakes also made much more sense on the dirt without initial bite. Instead, they have good progressive feel for use on a loose surface.
I rode the R nineT Scrambler for a while across smooth country dirt roads having an absolute blast, going faster and faster through corners I would normally take with much more caution.
As I became more aggressive, I decided to switch off the ABS and $450 optional traction control using the handy button on the left handlebar.
To switch off ABS, you have to stop but you can switch the traction control on and off while riding.
I performed a few emergency stops with and without ABS but I couldn't beat the ABS stopping distance. It seems to be set up just right for loose gravel roads.
So I left it on.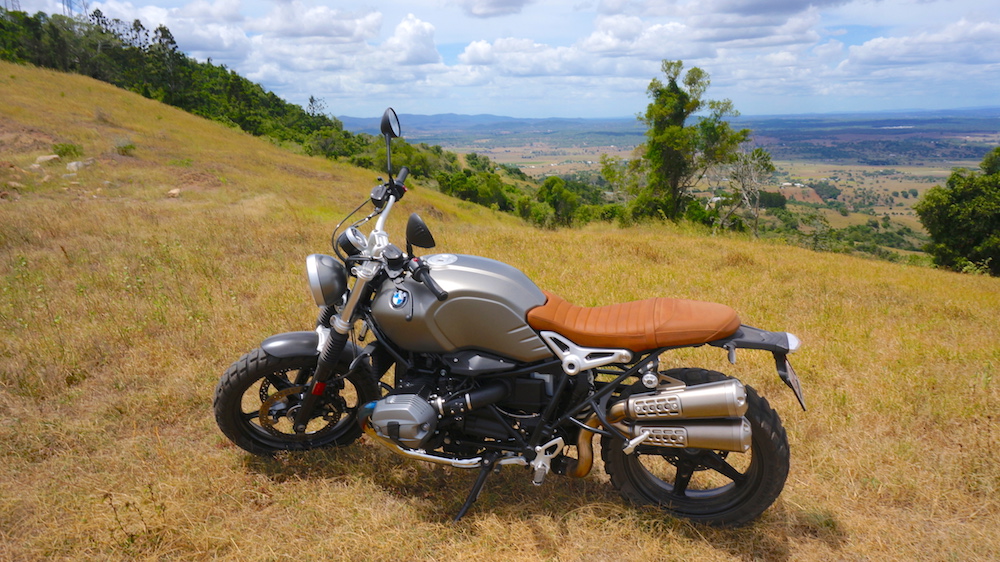 The traction control allows a little bit of slip, but it bogs down too soon and on a couple of hairy steep ascents, it actually stalled the bike.
So traction control stayed off for the duration on the dirt.
I stopped on several occasions to take photos and used the kill switch to stop the engine, rather than the key as that resets ABS and traction control to being on.
And oh what fun I had.
That gruntmeister boxer allows controlled and prolonged power slides. It doesn't alarmingly snap into sideways action, but comes on in a sweep that most riders can easily control.
After a while, you find yourself spinning the back wheel even on the straights, just for the sheer thrill.
On the smooth country dirt roads, the R nineT Scrambler make so much sense. No need to stop when the tar runs out. In fact, drop a gear, turn off traction control, spin the back tyre and enjoy.
Adventure riding
As my week's rides became more adventurous, I chose more difficult roads until I finally climbed quite a steep and gravelly track to the summit of Mt Tarampa.
The lack of a sump guard and limited clearance make progress slow and steady on bumpy tracks like this, but it can be done with a steady hand.
My excitement at summiting the mountain soon turned to fear as I realised I had to descend the same steep track with its fist-sized rocks.
I nearly dropped the bike on several occasions because first gear is too tall. In fact, I stalled it a couple of times by braking too much.
So I decided to pull the clutch in and roll down the hill using only the brakes with ABS engaged.
It worked. The ABS actually allowed it to roll over the rocks when it started to slip.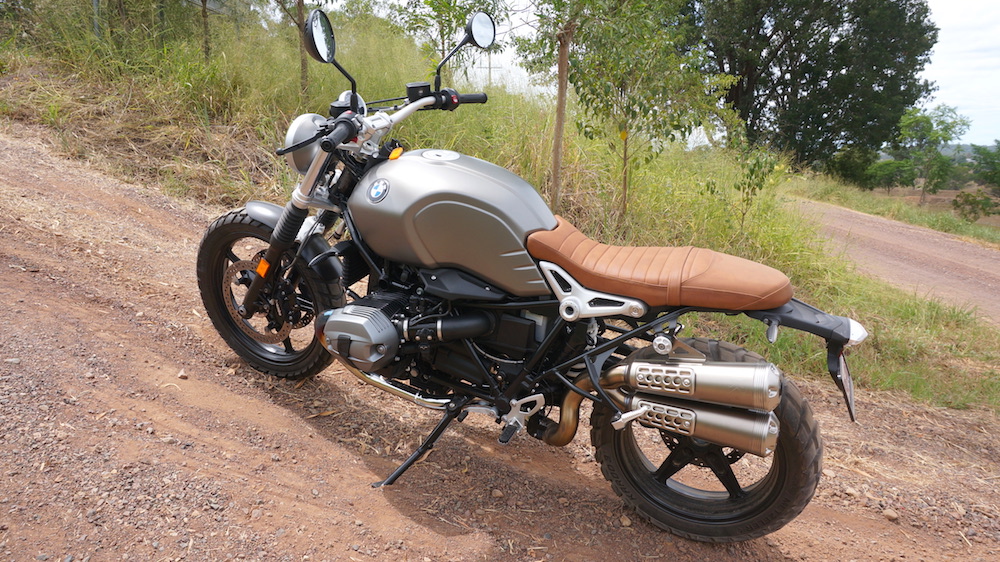 With its limited clearance and lack of engine protection, the R nineT Scrambler is no GS. However, it will handle some single track if you take it slowly, especially with decent knobby tyres.
In a couple of patches of very loose and deep gravel and some sand the steering felt too light. An adjustment on the steering damper would be handy.
I also didn't stand up often as the bars are too low, the tank too slippery to grip with your knees and the narrow foot pegs – the same ones they've been using for years on the F 650 GS – are too far back.
But it's ok for short stints standing up over tricky sections.
Otherwise, sit down, put your foot out speedway-style and have fun power sliding the beast.
Budget model
The R nineT Scrambler is the cheapest model and you can see where the cuts are made.
They include telescopic forks instead of upside-down forks, although they seem to work really well, especially over stutters and corrugations.
Another budget item is the single instrument pod. It has an LCD screen with some information, but not the all-important fuel gauge. I'd rather a fuel gauge than an engine temperature readout.
However, with a lean burn and economy in the low 5L/100km area, you won't need to fill the 17-litre tank for at least 300km, depending on how much thirsty off-road work or power-sliding you do.
I also found the automatic indicators take too long to cancel. However, the indicator duration can easily be changed using genuine BMW service software at a local dealer.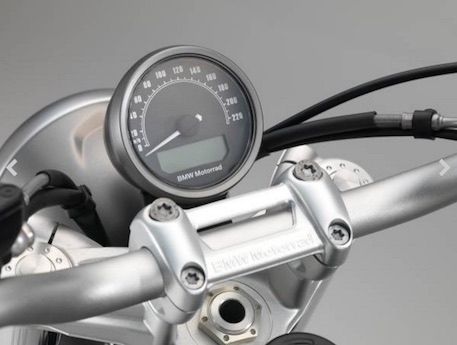 Accessories
There is a host of BMW factory accessories for the R nineT Scrambler, including a solo seat with short luggage rack. Just dismount the rear frame section.
Other options include cross-spoke wheels, traction control, heated grips, LED indicators, aluminium fuel tank, chrome-plated manifold, raised seat, lowered suspension, alarm system, comfort seat, tacho, headlight grille, engine guard, Scrambler windshield and luggage.
No-cost options include knobby tyres and a higher seat.
There are also Akrapovic sports exhausts (titanium slip-on muffler $1139 and full system $3100, plus labour to fit), but the standard model is made by Akrapovic and sounds just great.
BMW also has a series of "Machined Parts" made for them by Roland Sands Design of LA.
The Machined Parts include: cylinder head covers ($3000), oil filler neck lid ($150), belt cover ($1600), headlight cover ($900), handlebar end cover ($200), rear axle cover ($300), bevel gear bearing cover ($100), swinging-arm pivot mount cover ($200).
If you buy them all separately, they will cost $6450, but if you buy the lot as a package, it's only $4500, saving you $1950.
BMW says more RSD products are being developed.
Verdict
After a week of running to the cafe, up the mountain, around town, out on the highway and into the bush with some tricky single-track thrown into the mix, I think I've found the perfect compromise tool for almost all occasions.
It's not tall and heavy like a GS, it's not a race-track machine like the S 1000 RR and it's not an all-day tourer like the RT.
Instead, the R nineT Scrambler is a stylish machine that is comfortable in most situations and will allow you to do some exploring on Australia's many unsealed roads.
Unfortunately, it's so flexible, stylish, practical and torquey that I want one. Badly! I'd sell a kidney for one. Or at least a couple of my current bikes!
BMW R nineT Scrambler
Price: $19150 (+orc)

Engine: 1170cc, eight-valve boxer twin

Bore x stroke: 101 x 73mm

Power: 81kW (110hp) @ 7750rpm

Torque: 116Nm @ 6000rpm

Compression: 12.0:1

Fuel: 17-litre tank, premium unleaded (95-98 RON)

Economy: 5.3L/100km

Transmission: 6-speed, shaft drive, hydraulic dry clutch

Suspension: Telescopic 43mm fork with 125mm travel, BMW Paralever swingers with 140mm travel

Wheelbase: 1527mm

Brakes: hydraulic, 320/265mm discs, switchable ABS

Wheels: 3.0 x 19"; 4.5 x 17" cast alloy

Tyres: 120/70 ZR19; 170/60 ZR17

Length: 2175mm

Width: 880mm

Seat: 820mm

Wet weight: 220kg

Supplied by: Motorline BMW