BMW Motorcycle LED Turn Signal Replacement Image Gallery
Warning: this has to be the craziest, most ridiculous way to burn money that you've ever seen.
But what the heck — nothing's too expensive for Acolytes of the Temple of the Farkleization Nation!
So all of you cheap BMW Airhead guys who visit a junkyard just to grift a valve cap from a wreck because 25¢ for a new one is too much — this article is NOT for you.
For the rest of us maniacal LED freaks — those to whom spending more money is better when it comes to tweaking your ride, rejoice!
After all, when you can spend $246.00 — you read that right, two-hundred-and-forty-six semolians — to replace four $1.81 turn signal bulbs on your BMW, the answer is…yes!
OK, now that the sniveling proletariat has left in a huff, let's get down to business.
BMW F800S and ST owners; BMW R1200GS owners; F650GS, R1200ST, K1200S, HP2 and others can enjoy the benefits that only a high-zoot set of LED turn signals will bring.
We're not talking measly 25-buck "tower" LED turn signal bulbs (review) that will fit your stock BMW turn signal housings.
Anyone can buy those…although you'll need to fool the CANbus by splicing in a load resistor.
We tried it on Rick's new (used) 2007 BMW F 800 S. Plug in an LED tower and the turn signal will work, but you'll get the nasty BMW error warning light come on in the instruments.
If you can live with that, I guess you're OK, but then you'll never know if you really do have a problem with a light and I'm also not sure of the long-term effect it might have on Mr. CANbus.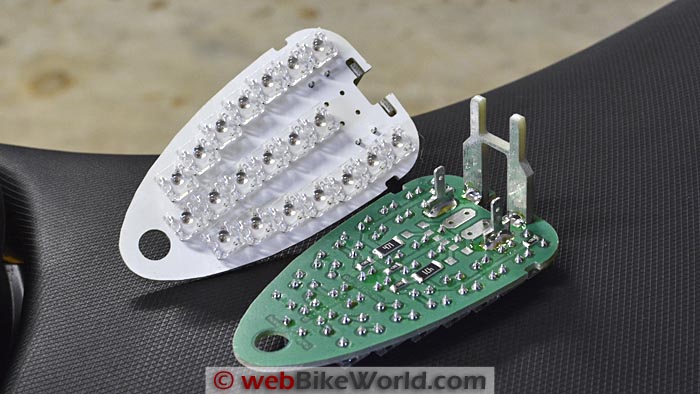 BMW LED Turn Signals
That's where these Hornig part number 20103-01 amber "LED Blinklichte" come in. They're "only" $123.00 the pair. That should keep those cheapskates at bay…
This is a printed circuit board with a 20-LED amber array on one side and the brains on the other.
It has a built-in load resistor circuitry (or it crosstalks with the CANbus somehow) so you don't need a separate load resistor; i.e., they're plug 'n' play.
They're made in Germany and QC tested so you have to figure because they're German, they'll work correctly in the bikes they're designed for. As it turns out, that's a good assumption.
The lights are also available in a slightly different version for the rear set that has a strip of red LEDs but you don't want that. Remember? One light, one purpose.
Don't try to mix your signals when it comes to lighting or you may risk other vehicle drivers not understanding the message. These are turn signals, not faux brake lights.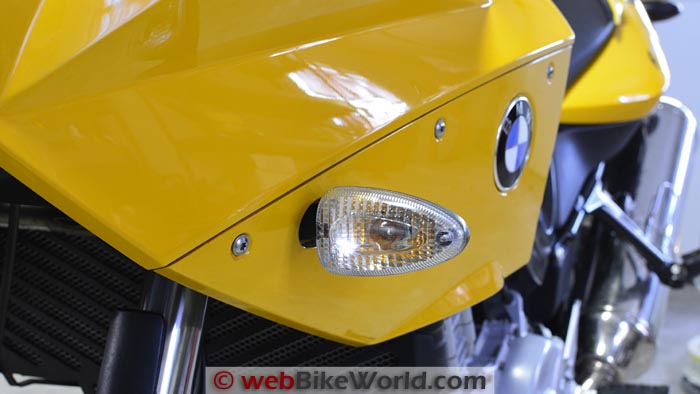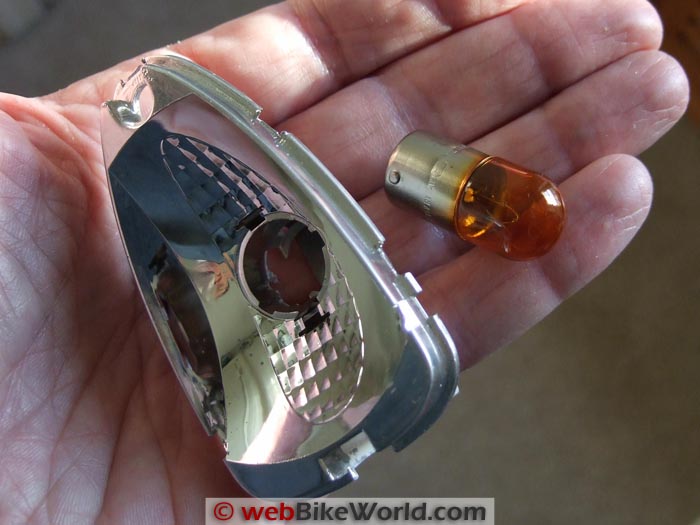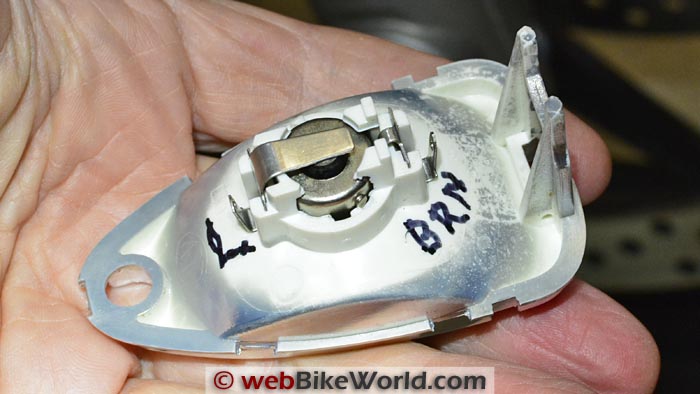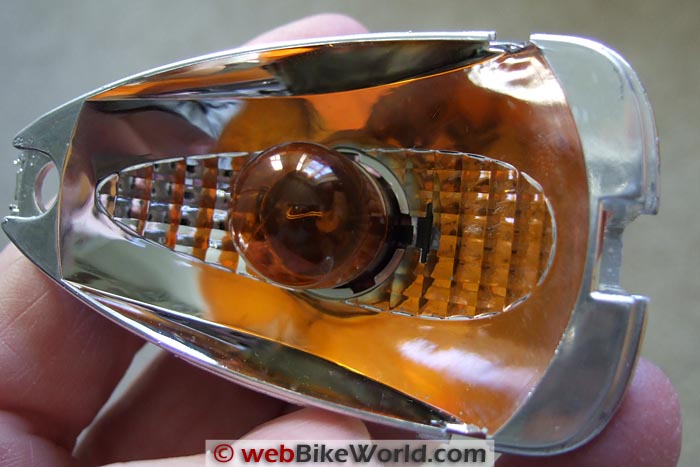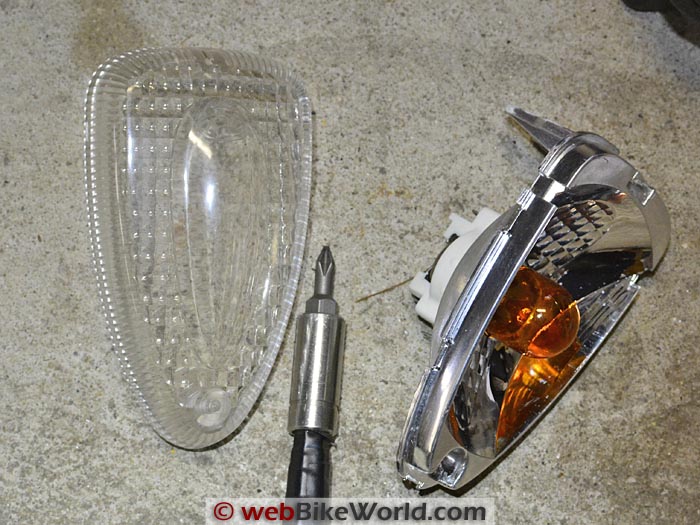 Replacing the Stock Bulbs
Replacing the stock Osram 5009 amber 10W bulb — at least on the F 800 S — is a piece o' cake.
Remove the one Phillips head screw in the rear of the turn signal housing and carefully pull out the plastic chrome-plated reflector. There are two wires on the back, attached with friction crimp terminals.
Carefully remove the terminals and then attach them to the posts on the back of the LED circuit board.
Be careful to follow the instructions — the ground is a specific location (see photo below) and also be careful when you push the terminals on the posts.
I first thought they wouldn't fit but they do, it needs a straight angle (no bending) and a solid push.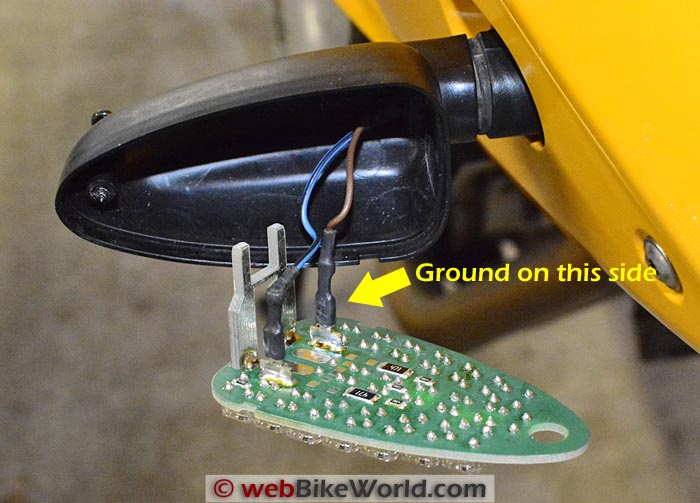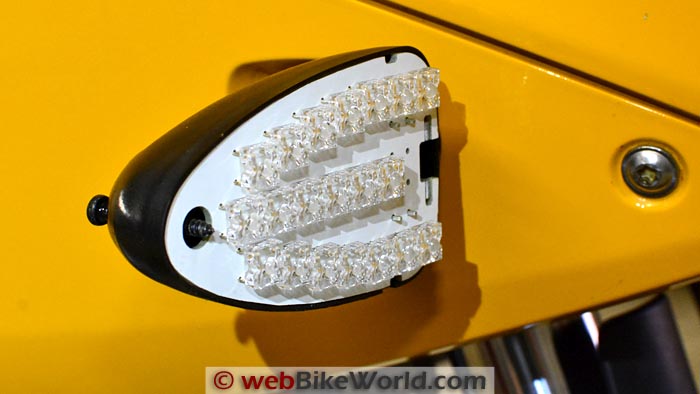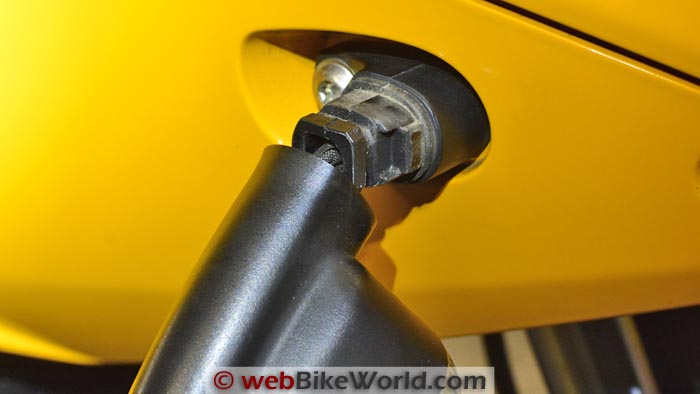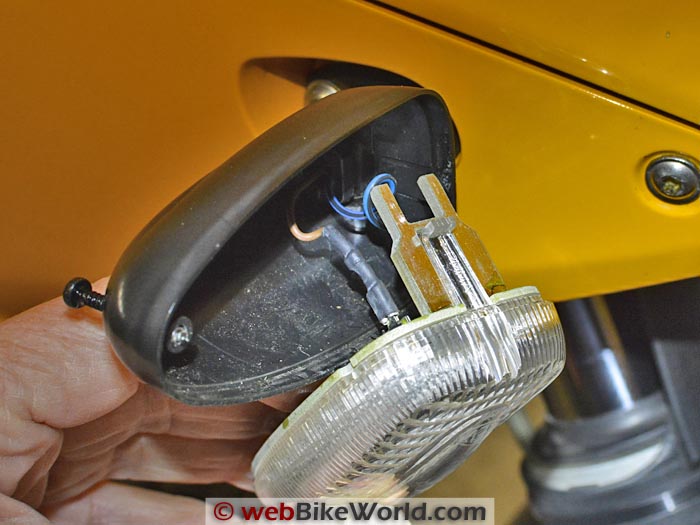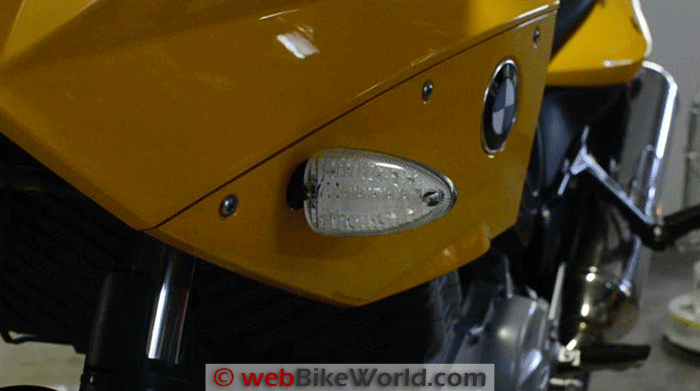 w

BW

 Video: BMW LED Turn Signal Replacement
Installing the LED Turn Signals
To make it easier, place the clear lens over the front of the circuit board first before you insert the Phillips head screw to reinstall the turn signal, because it gives you something to hold.
The lens has to be on the board anyway to push the circuit board into the turn signal housing and to correctly locate the "U" shaped fork so it slides over the groove in the plastic locating post on the inboard side of the turn signal housing.
You may have to move the wires out of the way to make sure everything seats properly.
Again, I thought they wouldn't fit at first but they do, just be careful and have some patience. Repeat for all four turn signals and you're done.
No load resistors necessary and the LEDs work very nicely.
They're bright (although not all that much brighter than the incandescents) and they have the fast on/off cycle time that LEDs are known for.
We show this in the video with a reduced speed so you can compare the ramp-up/decay difference between the incandescent Osram 5009 10W bulb and the Hornig LEDs.
All it takes is money — lots of it — and a few minutes of your time. Next up: replacing the BMW's incandescent tail light/brake light bulb with an LED tower and adding a load resistor.
More info on LEDs for motorcycles can be found on the webBikeWorld Motorcycle Lighting Reviews index and the Motorcycle LED Tail Light Comparison: Part XV article.
Conclusion
OK, so you have to be nuts to spend this much dough on something you don't need. Guilty as charged. But, it's all about the farkle. And these LEDs sure do look good!
w

BW

 Review: Hornig BMW LED Turn Signals
List Price (2015): $99.95
Colors: Amber or Amber/Red
Sizes: Fits various BMW motorcycles.
Review Date: January 2015
Note:
 For informational use only. All material and photographs are Copyright © webWorld International, LLC since 2000. All rights reserved. See the webBikeWorld® 
Site Info page
. Product specifications, features and details may change or differ from our descriptions. Always check before purchasing. Read the
Terms and Conditions
!
Owner Comments and Feedback
---
From "A.T." (February 2015): "I have tried and installed an aftermarket set of LED turn signalsWeiser Motorrad Ultra Bright LED Blinker Inserts that are $60 a pair. They seem good so far so just thought I would mention them if you are not familiar."
---
From "L.W." (January 2015): "I've just read the article about the Hornig LED BMW indicator inserts. I think you've really missed a trick here and are a few years behind the times…
Why pay out $246 for non genuine inserts such as these when you can pay around $170 for genuine BMW OEM LED indicators that bolt straight on, plug into existing loom connectors, have no CANBus issues, are brighter than the Hornig inserts and look far far nicer!
I know, I've had both. Oh and no potential warranty issues either.
I had the Hornig inserts (also sold by Wunderlich) on my K1200S about 5 years ago and very quickly sold them on eBay when my BMW dealership told me I could retrofit the much slimmer and nicer looking OEM indicators with no mods or software updates needed.
Note that the above link is to show the design of the indicator… I'd suggest people contact their local dealership as there are different stalk lengths (long/short) available for different bikes.
I had the short on the rear of my K1200S which I've now moved to my 13. There are plenty of photos on the web of bikes with them fitted.
Although the BMW indicators only have two LEDs per unit, I'm guessing that these are at least 1W each as they are extremely bright and much more visible than the Hornig inserts. How about a review of those?
Editor's Note: We did consider those but the styling is different and they have less surface area. Also, it seemed like it would be more work to replace the entire indicator.