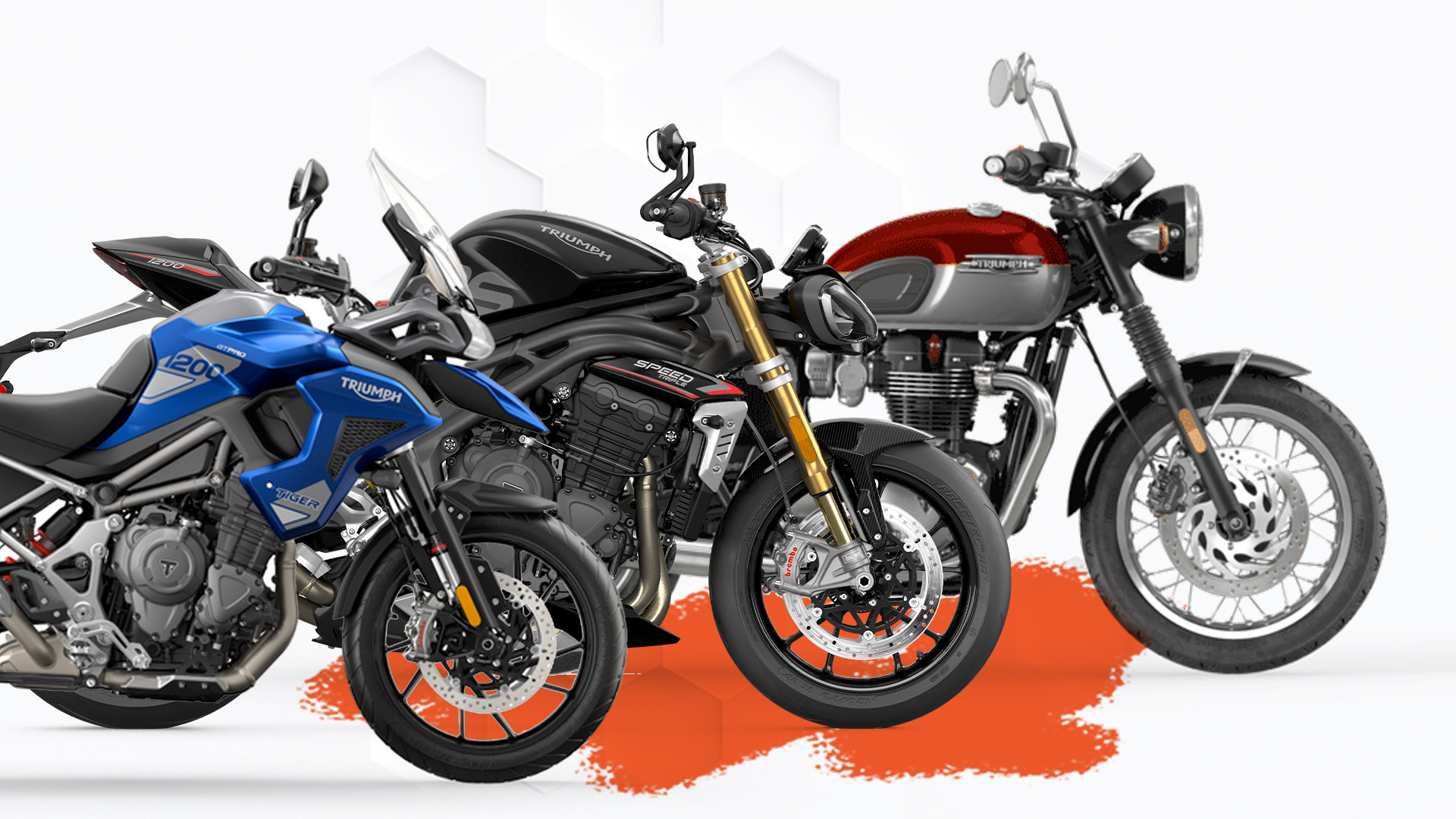 Triumph's Legendary Journey From Bicycles to Iconic Motorcycles
About Our Selections
Founded in the late 1800s by Siegfried Bettmann, Triumph started as a bicycle producer before venturing into motorcycles in 1902 with a design featuring a Belgian Minerva engine.
Throughout the years it has changed hands multiple times and has continued its tradition of creating a wide variety of motorcycles, breaking records and appearing in iconic movies like "The Wild One". Triumph continues to evolve and produce powerful, historically significant and exciting motorcycles.
When choosing the "best" Triumph motorcycles, we considered historical significance like the Bonnevile, performance like in the latest Speed Triple and what just looks cool like the Rocket 3!
These picks consist of powerful bikes, iconic models and just plain cool looking rides! Old or new, Triumph has done an amazing job of creating motorcycle marvels and putting out fantastic works of art.
The Bonneville embodies timeless speed and simplicity
Why We Picked It:
The Triumph Bonneville, inspired by Utah's famous Bonneville Salt Flats, is a classic motorcycle with a rich history. Its standard 900cc engine is known for reliability and eco-friendliness, reaching speeds up to 115mph. For thrill-seekers, the T120 model can hit 130mph. The Bonneville's charm lies in its simplicity, with minimal gadgets and a strong road connection. It's a timeless bike that showcases Triumph's winning design from the start. Perfect for those who appreciate raw biking experience.
Specifications:
Price: $10,995

Engine: 900 cc parallel twin

Power: 64 HP




Torque: 59 lbs-ft

Transmission: 6 Speed Manual

Curb Weight: 503 lbs
Strengths:
Classic design

Rich history
Learn More:
Sleek and unique, the best Triumph sport-bike
Why We Picked It:
For motorcycle enthusiasts, the Triumph Daytona 675R is more than just a bike; it's a legend. Introduced in 2006, this three-cylinder sport bike quickly became a favorite, especially the 2014 model, which holds a special place for many, including myself as I owned one for several years. Triumph's journey with the Daytona series was a response to the fierce competition from Japanese sport bikes.
While it might not have been the most powerful, its top speed, sleek design, and advanced features like ABS and multiple rider modes made it a top choice for riders everywhere. Though its production ended in 2016, the Triumph Daytona 675R remains an iconic chapter in motorcycle history.
Specifications:
Price: $NA

Engine: 675cc liquid-cooled, 12 valve, DOHC, in-line 3-cylinder

Power: 128 HP




Torque: 55 lbs-ft

Transmission: 6 Speed Manual

Curb Weight: 368 lbs
Strengths:
Stunning looks

Impressive suspension
Learn More:
Ridiculous and powerful or Ridiculously powerful?
Why We Picked It:
When you think of mighty cruisers, British bikes might not be the first to come to mind. But the 2023 Triumph Rocket 3 might change that perception. It's not just the most powerful in the Triumph range but also boasts the largest engine at 2,500cc. With a whopping 163 lb-ft of torque, it's the king of production bikes. This year, Triumph introduces fresh styles, including the 221 option, showcasing its massive torque, and a dazzling Chrome variant.
The Rocket 3 isn't just about power; it's packed with features like Brembo Stylema brakes, cornering ABS, and cruise control. Its adjustable Showa suspension ensures smooth rides, even in corners that the older version couldn't handle. Available in two models, the Rocket 3 R and GT, they mainly differ in handlebar position and accessories. The new Rocket 3 is lighter, more agile, and ready to impress any motorcycle enthusiast. Whether you're into aggressive street rides or relaxed cruising, the Rocket 3 has got you covered.
Specifications:
Price: $23,895

Engine: 2458 cc DOHC, inline 3-cylinder

Power: 165 HP




Torque: 164 lbs-ft

Transmission: 6 Speed Manual

Curb Weight: 641 lbs
Strengths:
Stunning looks

Endless Torque
Learn More:
The multi tool of motorcycles
Why We Picked It:
Last year, Triumph revamped the Tiger 1200 bikes, making them a top choice for adventure enthusiasts in 2023. These bikes boast a powerful 1160cc engine, 6-speed transmission, and top-notch features like Brembo brakes and a 7" display. The GT models are perfect for the road with adjustable features and added bonuses in the GT Pro. The GT Explorer stands out with a larger fuel tank and extras for long rides. Perfect for any motorcycle lover seeking adventure!
Specifications:
Price: $19,595

Engine: 1160 cc DOHC, inline 3-cylinder

Power: 147 HP




Torque: 95 lbs-ft

Transmission: 6 Speed Manual

Curb Weight: 529 lbs
Strengths:
Triumph Shift Assist up-and-down quick-shifter

Brembo Stylema 4-piston radial monobloc calipers
Learn More:
From '94 to Now: The Speed Triple's Thrilling Journey
Why We Picked It:
In 1994, the Speed Triple roared onto the scene, inspired by the classic 'Speed Twin'. With its powerful 885cc engine and unique 'bug-eye' headlights, it quickly became a favorite. Fast forward to the 2023 Speed Triple which boasts an even mightier 1160cc engine with a roaring 178 HP.
Recognized as one of the first "streetfighter" style bikes, it's stripped of excess, focusing purely on speed and power. While it's not the go-to for daily commutes or romantic picnics, thrill-seekers adore it. Just ask Tom Cruise, who showcased its prowess in Mission Impossible 2. If you crave adrenaline-packed rides, the Speed Triple might just be your dream bike.
Specifications:
Price: $18,895

Engine: 1160 cc DOHC, inline 3-cylinder

Power: 178 HP




Torque: 92 lbs-ft

Transmission: 6 Speed Manual

Curb Weight: 437 lbs
Strengths:
Learn More: