Article Contents:
Riding off-road is different than riding on the pavement. Ask any guy who has spent his life on a Harley cruiser and then decides he wants to try his hand on some dirt. It's still riding, but it's dramatically different and requires off-road techniques for keeping safe.
I've had multiple experiences on the road and off. Off-road riding is a serious challenge and one that I encourage everyone to have. Before you can have that experience, though, you need to have a heck of a good helmet and other gear for tackling the dirt and dunes.
I've ridden dirt with a street lid on and it's downright hot and uncomfortable. Get yourself a designated off-road lid and you'll be happier.
What to Look For in a Good Off-Road Helmet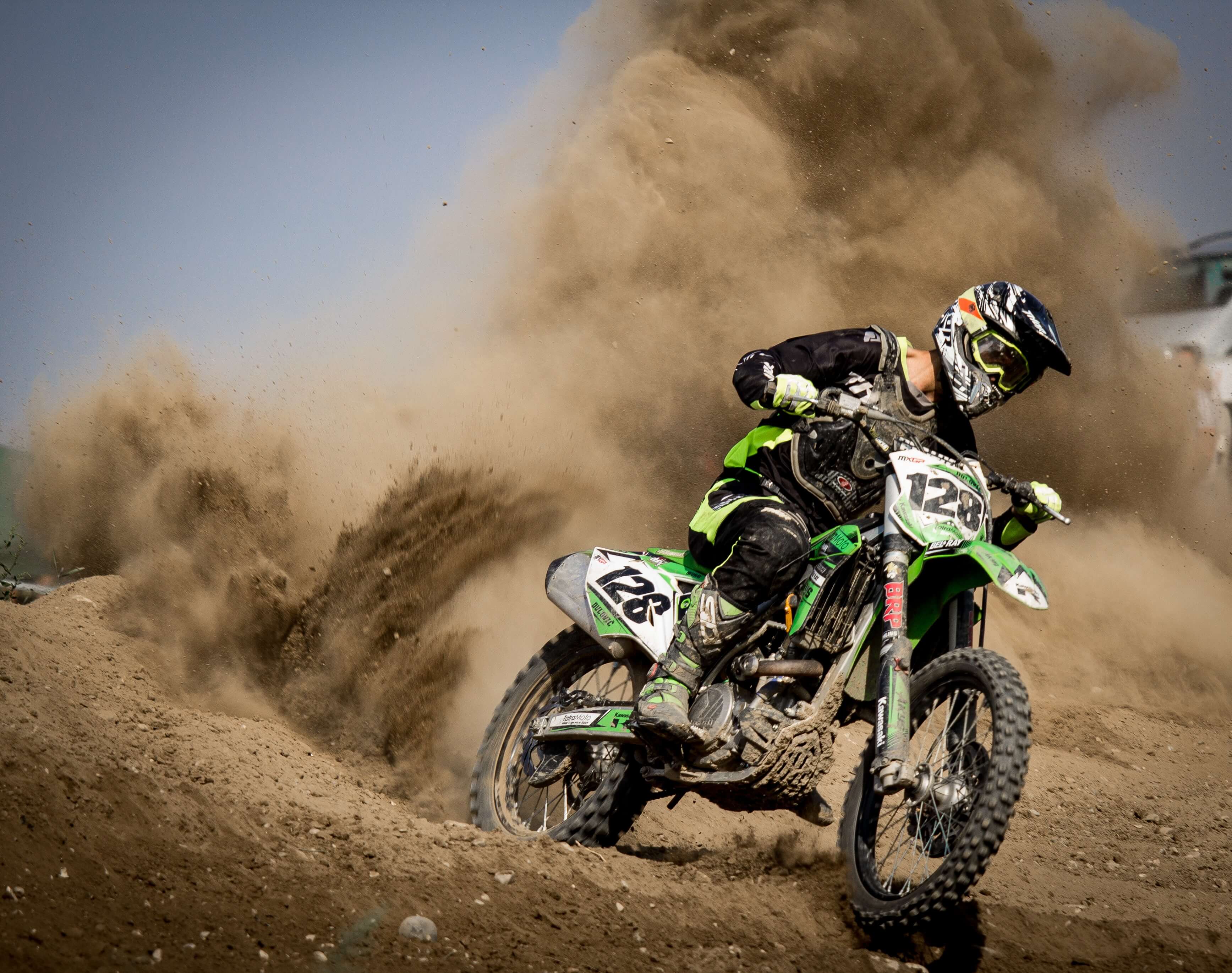 As I said above, taking on a twisty dirt trail or blasting across some sandy dunes is different than taking on a twisty mountain road or cruising on the interstate. Because it's different, your gear has to be, too. Here's a look for when searching for the best helmet to use for off-roading.
Safety Certifications
Just like with your road-legal full-face lids, you need an off-road helmet that has the proper certifications from DOT, ECE, and SNELL. While DOT might be a good place to start it is not the best standard out there. It's mostly self-policed, and that can mean many DOT helmets don't actually meet approval.
Look for ECE or SNELL ratings. Just because DOT isn't as closely regulated like the other designations it doesn't mean that a DOT-only helmet is a bad helmet, it just means that you need to be a little more focused on the brand, helmet construction, and features to ensure you're getting a quality product.
Low Weight
Weight is important with any helmet, but when you're riding off-road, you're very active, and a heavy lid will wear you out really quickly. A lightweight helmet is extremely important. You'll be able to ride longer and enjoy your rides a lot more with a light helmet.
Try to find helmets that are around or under 3.5 pounds. Check out this handy motorcycle helmet weight guide for a multitude of weight comparisons between various helmet types.
Removable Interiors
You're outside, you're sweating and you're riding on dirt, through puddles, and in the sand. Your helmet's interior is going to get nasty. Every helmet you own should have a removable and washable interior, but this is especially important for an off-road lid.
You can ride once and need to wash your liner, so make sure it comes out of your helmet.
Plenty of Airflow
Airflow is paramount. It's going to be warm or even hot when riding off-road most times. Airflow is your friend for staying cool and comfortable. Don't go for a helmet that doesn't offer a plethora of vents. You want to feel the wind on your head and face while riding.
Getting a helmet with plenty of airflow will keep you feeling better and let you ride longer.
Best Off-Road Helmets Up to $300
Bell MX-9 MIPS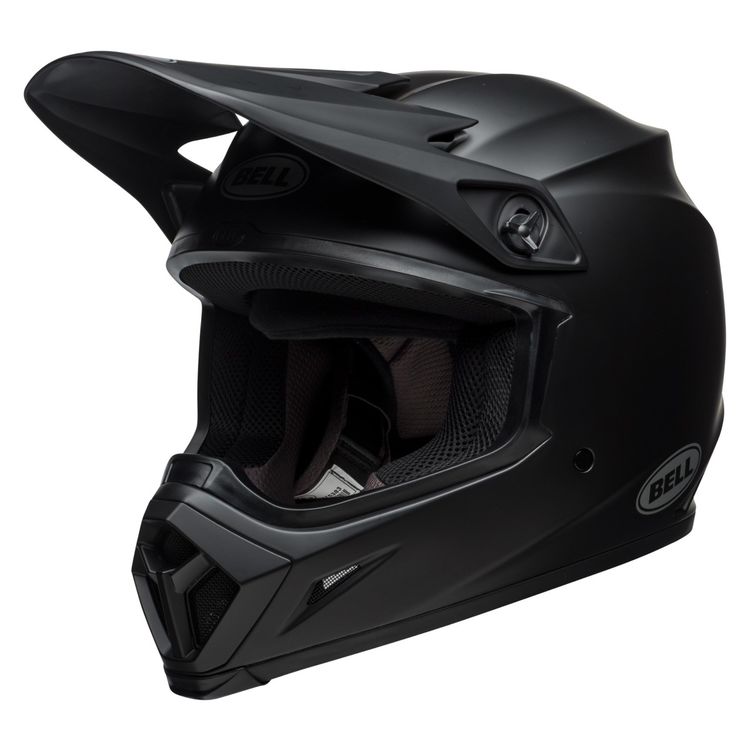 Price: $159.95
Review: Dirt Rider
Weight: 3.38 pounds
The Bell MX-9 MIPS helmet provides quite a lot for the price. It checks a lot of the boxes in terms of what you want to look for in an off-road motorcycle helmet.
The lid comes with plenty of features such as MIPS (Multi-Directional Impact Protection System), a lightweight polycarbonate shell that comes in three shell sizes, an excellent ventilation system, moisture-wicking removable liner, and an EPS chin bar.
The helmet also comes DOT and ECE certified.
LS2 MX470 Subverter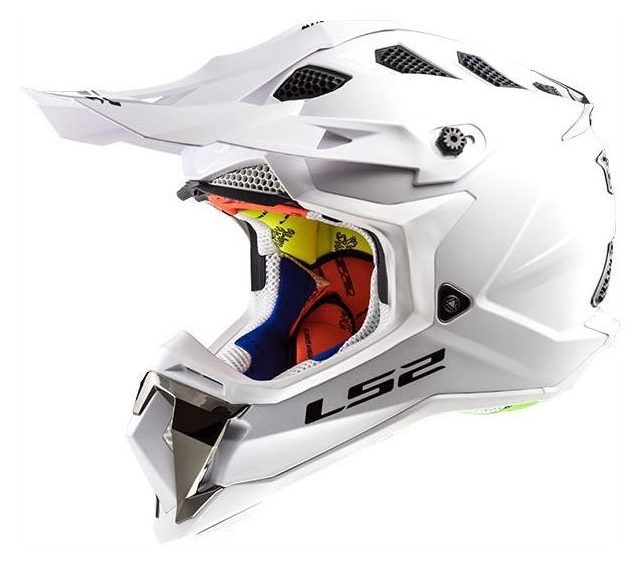 The LS2 Subverter helmet is a special off-road motorcycle helmet. LS2 has a unique Kinetic Polymer Alloy shell material that it uses on the helmet that sets it apart from the competition.
In addition to that, the helmet has a special in-mold technology that reduces rotational energy, a shell that comes in three different sizes, emergency-release cheek pads, a huge eye port for accommodating all sorts of goggles, and a ventilation system with 35 different ports for airflow.
The helmet also comes DOT and ECE approved.
Fox Racing V1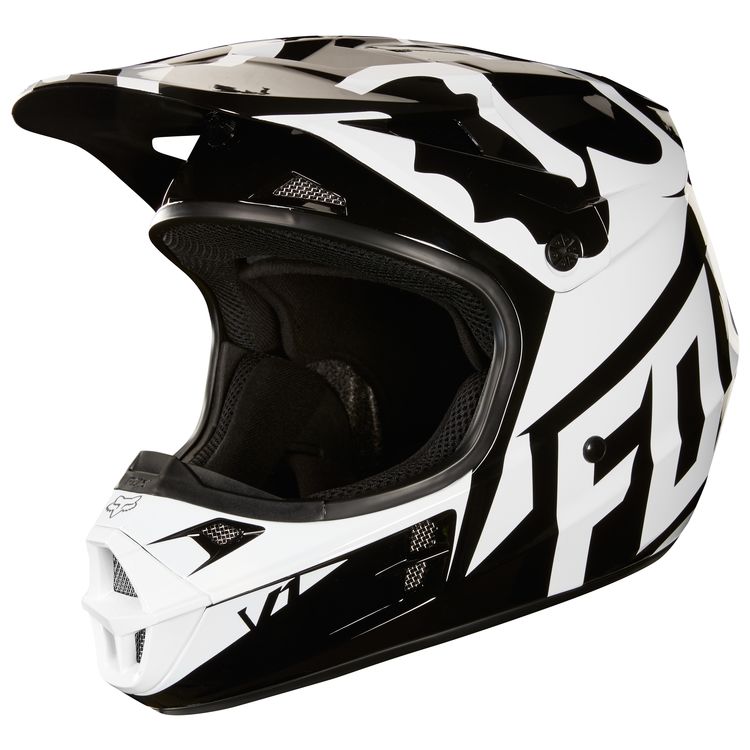 Price: $169.95
Review: Dirt Rider
Weight: 3.26 pounds
Fox Racing is a well-known name in off-road motorsports and for good reason. The company makes some seriously good helmets and gear. Chief among them is the Fox Racing V1 helmet.
The helmet features an aggressive design with plenty of features, including an injection molded polycarbonate construction shell, three shell sizes, four EPS sizes, nine intake vents, and four exhaust vents.
Pair that with the fact that the helmet meets or exceeds ECE and DOT certifications, and you have a fantastic off-road lid.
Fly Racing Dirt F2 Carbon MIPS Shield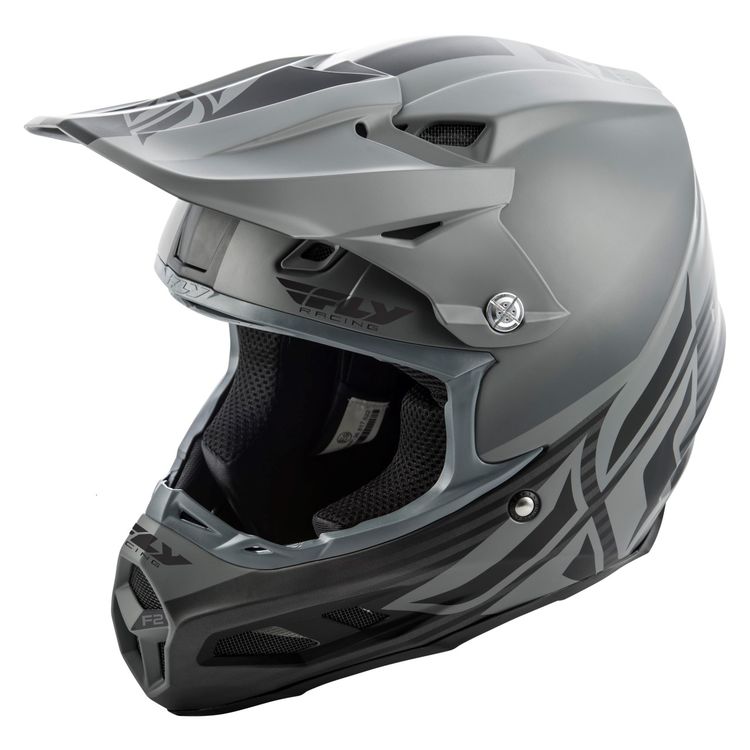 The Fly Racing Dirt F2 Cargon MIPS Shield helmet is a fantastic helmet if you're looking for something at the top end of this price point.
The helmet is race-inspired and has some of the best features out there, including MIPS, a carbon matrix composite shell, dual-density EPS, 11 intake vents, 4 exhaust vents, anti-fogging goggle vents, and a Coolmax quick-release liner and cheek pads.
In addition to all that, the helmet is ECE and DOT approved.
Best Off-Road Helmets Over $300
Arai VX Pro 4
The Arai VX Pro 4 helmet is a follow up to the VX Pro-3. This helmet is built upon a tried and true helmet design, and Arai certainly knows what it is doing.
The company endows the helmet with plenty of fantastic features including a cLc (complex Laminate construction) shell. This shell is a composite fiber sandwiched between two layers of another type of fiber laminate.
In addition to that, the helmet gets several intake and exhaust vents a Dry-Cool interior liner that was designed for MotoGP, and Arai's special Facial Contour System.
The helmet is also SNELL and DOT rated.
Shoei VFX-EVO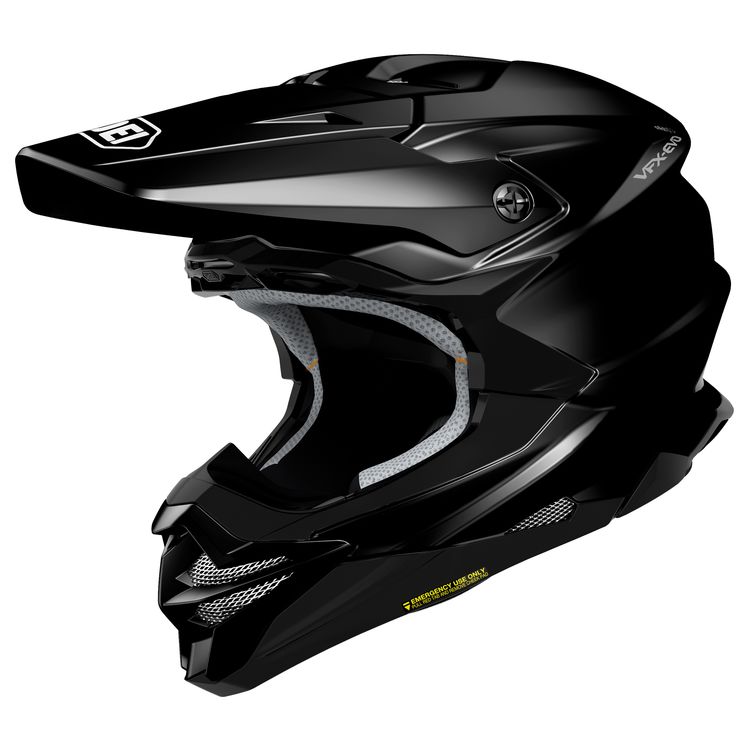 The Shoei VFX-EVO helmet is one that is a dominant force in the off-road motorcycle helmet space and has recently had its price slightly reduced by Shoei while still maintaining that same high quality it's known for.
It features a unique Advanced Integrated Matrix Plus (AIM+) shell construction. The shell comes in four sizes and has an exterior design that's both aerodynamic and built for wearing goggles.
The helmet also features several intake and exhaust vents, a 3D Max-Dry removable liner, E.Q.R.S (Emergency Quick Release System), M.E.D.S (Motion Energy Distribution System), an ergonomically shaped mudguard.
The helmet also comes SNELL and DOT approved.
Alpinestars Supertech S-M10 Carbon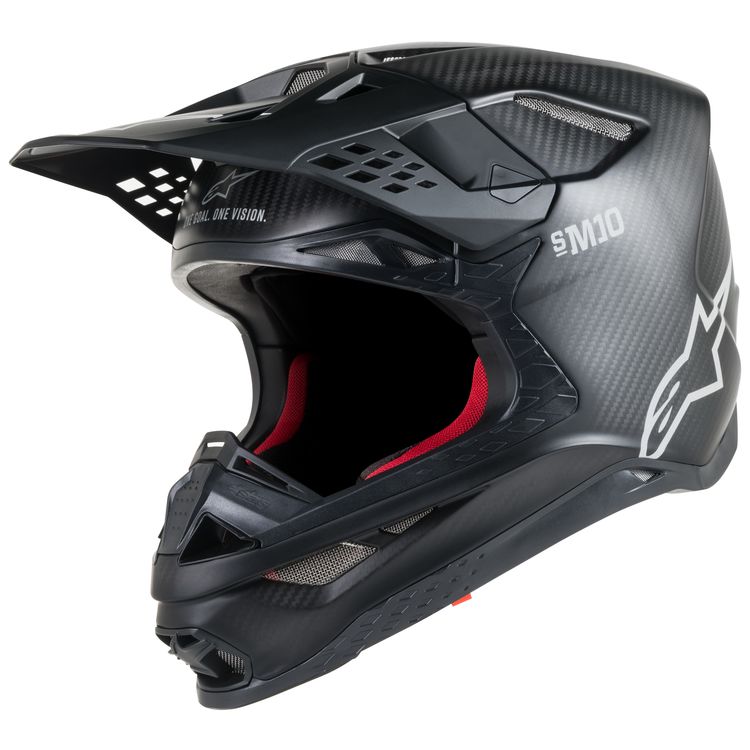 Price: $579.95
Review: Vital MX
Weight: 2.78 pounds
Alpinestars took years developing this helmet, but it is worth the wait. It's one of the best out there.
The helmet features a carbon fiber shell that's available in four sizes, multi-density EPS, MIPS, easy release peak, adjustable top pad height, 19 intake vents, five exhaust vents, and soft material on the helmet shell so that it won't damage your collar bone in the event of a crash.
The helmet also features removable cheek pads, a removable and anti-bacterial comfort liner, hydration prep, E-Ject prep, and DOT and ECE approval.
Klim F5 Koroyd Abyss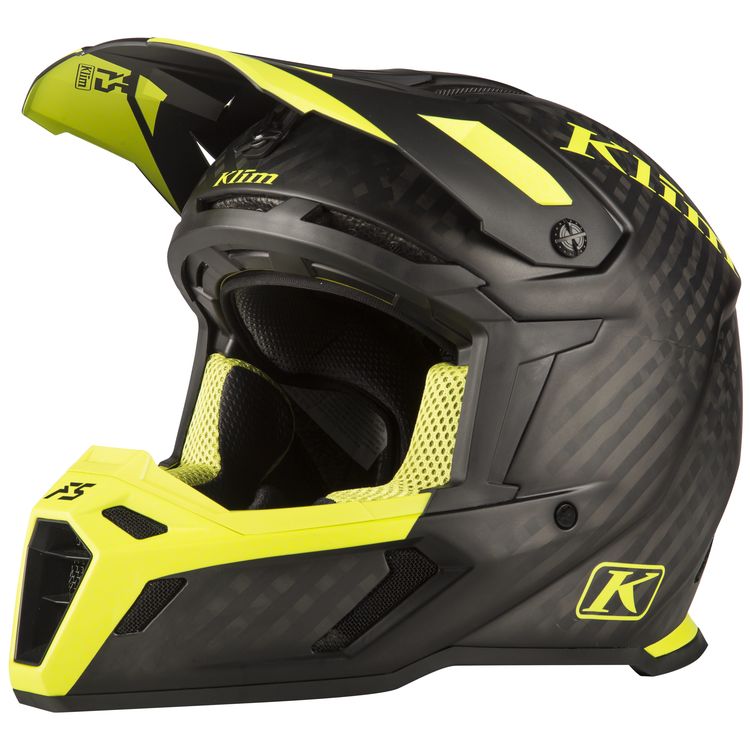 Klim makes some of the best gear out there in terms of adventure and off-road stuff, so it should be no surprise that its F5 helmet made this list. The helmet comes with a carbon fiber shell available in three sizes, three sizes of EPS, and MIPS technology.
The helmet also features an extra-large eye-port, a fid-lock strap closure, 18 intake vents, eight exhaust vents, neck brace compatibility, moisture-wicking Drylex comfort liner, and DOT and ECE approval.