Updated February, 2018
Good off road/dirt bike gloves are pretty unique in that they need to tolerate an environment which is much different than anything that you will encounter on the street. When riding off road and on natural dirt trails, it is very common to repeatedly "brush" against or get smacked by tree branches and other foliage. These obstacles are protruding into the fringe of the riding line and continually making contact with your gloves. Even with handguards, off road gloves are going to take a lot of abuse. So durability and protection over your knuckles is critical.
The other time when you really test the benefits of an off road/dirt bike glove is when you are breaking your fall during a wreck. You might think that the natural terrain would be more forgiving than an asphalt track but that is not always the case.
Dirt might provide a slightly softer landing for your body as a whole but there will likely be other objects which can cause you a great deal of harm and pain. Rocks, debris, thorns and tree roots are all going to test the durability and puncture resistance of any off road glove.
Picking the best off road/dirt bike glove is a critical component for your safety gear.
Be sure to check back regularly with us here at wBW to read about our latest hands-on reviews of Off Road/Dirt Bike Gloves and other great products for riders.
Other great options: Leatt GPX 5.5 Windblock, MSR Impact Mud Pro, Fox Dirtpaw
Motorcycle Glove Buyers Guide
There are several factors to consider when selecting an off road or dirt bike glove. Durability, safety and comfort needs should all be evaluated to be certain that you are selecting a glove to meet your riding environment and riding style.
Best Overall


Klim Mojave Pro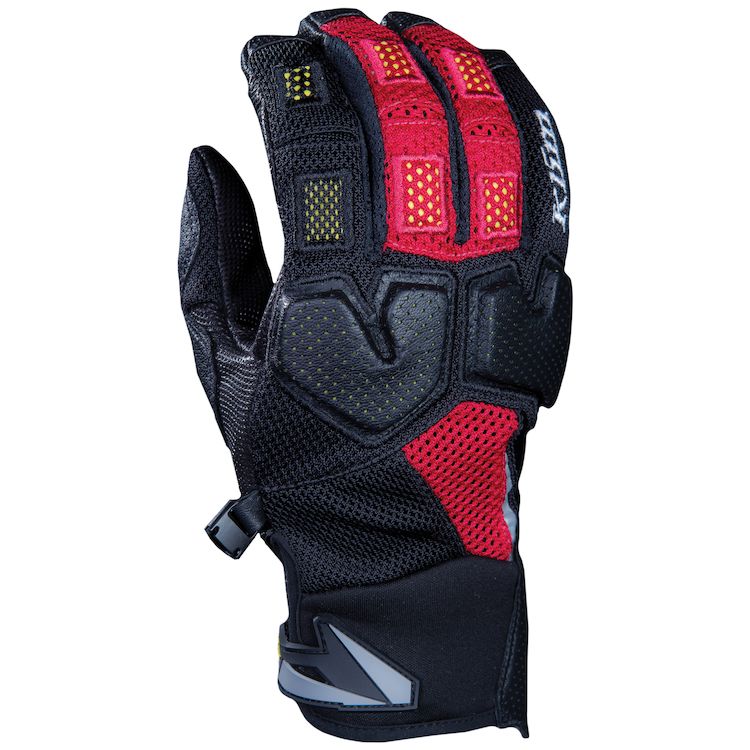 The Klim Mojave Pro is a hybrid glove which provides maximum protection as well as comfort.
The Pittards Microvent leather palm provides uncompromising protection for the hand while still offering superb grip, great dexterity and a resistance to perspiration. Poron XRD impact protection panels cover the knuckles and fingers while still offering flexibility and a full range of motion unlike many of the solid molded knuckle protection systems of other gloves.
Another unique feature for the Mojave is the mid length cuff which is a bit longer than most conventional off road gloves. Extended leather panels provide additional protection for the side of the wrist while abrasion resistant mesh covers the back of the hand.
Even with all of the protective features, this glove still offers riders great comfort and air flow.
The mesh panels on the back of the hand as well as the perforated palm allow air to circulate around your entire hand.
The breathable inner fourchette material also allows for maximum airflow and rider comfort.
The TPU and Velcro wrist closure on the Mojave Pro mean that you will never need to worry about the glove slipping or being torn from your hand.
Every aspect of a gloves durability and protection can be tested on a single ride or lap of a dirt track. And even the slightest failure can result in blisters or a hand injury that can stop you from enjoying your bike. But with a good glove selection you will never need to worry about that.
The combination of quality, cost and comfort offered by the Mojave Pro gloves make them our best overall choice when looking at Off Road/Dirt Bike Gloves.
---
Best Short Cuff Glove to Buy


Alpinestars Megawatt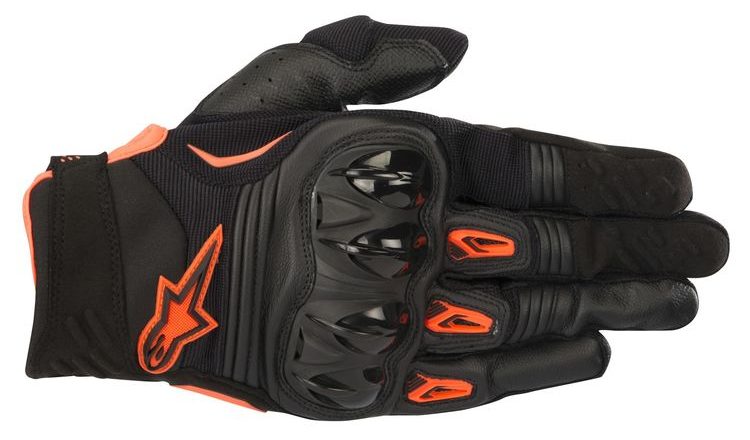 The Alpinestars Megawatt glove offers superb protection for any off road rider who is interested in wearing a short cuff style glove.
The glove is constructed of perforated leather and a stretch polyamide material for added comfort, durability and breathability. Synthetic suede protects the palm of the hand with additional foam padding to reduce potential injuries on impact. The thumb and palm are also reinforced with a super grip material and silicon printing to provide a more secure grip on the bar.
The safety features are rounded out with Alpinestars trademark polymer molded knuckle protectors.
During a long ride, comfort can be almost as important as protection. Finger and hand fatigue can be a huge contributing factor in many avoidable incidents. The pre-curved finger construction of the Megawatt helps to greatly reduce finger fatigue and eliminate that unnecessary increase in risk.
The Megawatt will always remain secure during a ride because of the Velcro cuff closure. This is an important factor with traditional short cuff gloves for both comfort and safety.
For a short cuff off road/ dirt bike glove with a reasonable price, the Megawatt offers many great features.
---
Best Long Cuff Option


EVS Wrister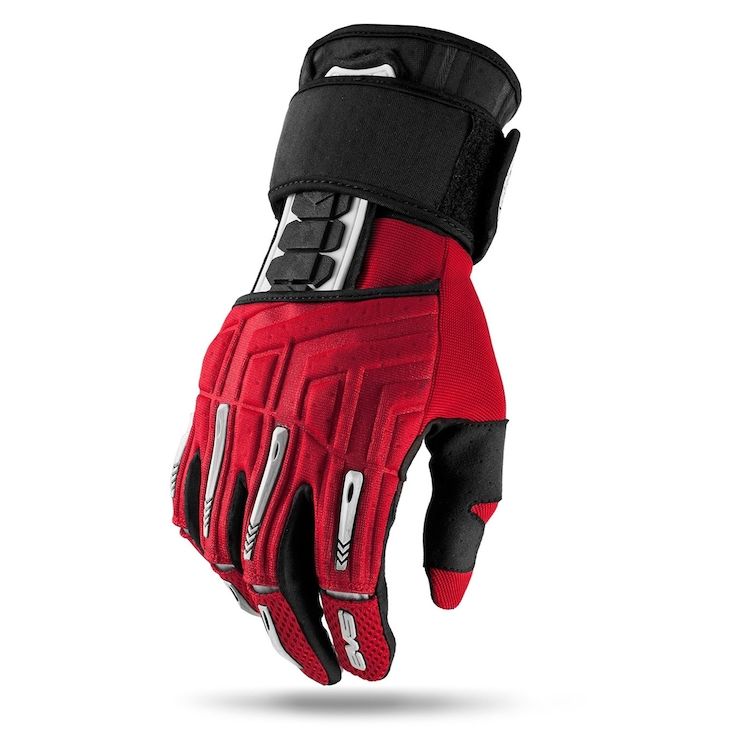 The EVS Wrister glove is somewhat original in that the cuff is much longer than most other off road or dirt bike gloves. Unlike the gauntlet style glove which is designed to cover the sleeve of a jacket, the Wrister cuff is designed to fit closely to the riders wrist and offer additional support and protection.
The airprene cuff along with the integrated injection molded shock absorption system reduce potential hyperextension and compression related injuries to the wrist and hand. Solid TPR impact guards on the knuckles and fingers provide protection from tree branches and other obstacles which might impact the hand.
Additional protection is provided for the fingers by the silicone infused fingers and palm of the the glove. Grip print on the fingers and a reinforced single layer palm provide great grip and comfort.
The air mesh and perforated leather provide ample air flow on even a long ride.
If you are spending a lot of time off road or on a dirt bike, then the Wrister is a great glove option to reduce stress and potential injuries to your wrists and hands. The longer cuff style is relatively rare in an off road/dirt bike glove but it is proven to have its advantages.
---
Best Overall Value Option


O'Neal Butch Carbon
When you are looking for a true off road/dirt bike glove, the O'Neal Butch Carbon will meet all of your needs for safety features and durability. This glove provides state of the art polycarbonate ballistic protection for each knuckle. Additional TPR and direct injection patches are provided on the top of the fingers and on the wrist.
The double layer Clarino palm padding not only helps to reduce blisters and fatigue but it also prevents stiffening of the glove as it is drying. And the seamless silicone rollover fingertips are designed to provide better lever control. The hook and loop wrist closure provides a fully adjustable fit for comfort and security while the pre-curved construction helps to reduce hand fatigue and arm stress.
The O'Neal Butch Carbon provides durability and comfort from a name you know you can trust for quality off road/dirt bike equipment at a reasonable price.
---
Leatt GPX 5.5 Windblock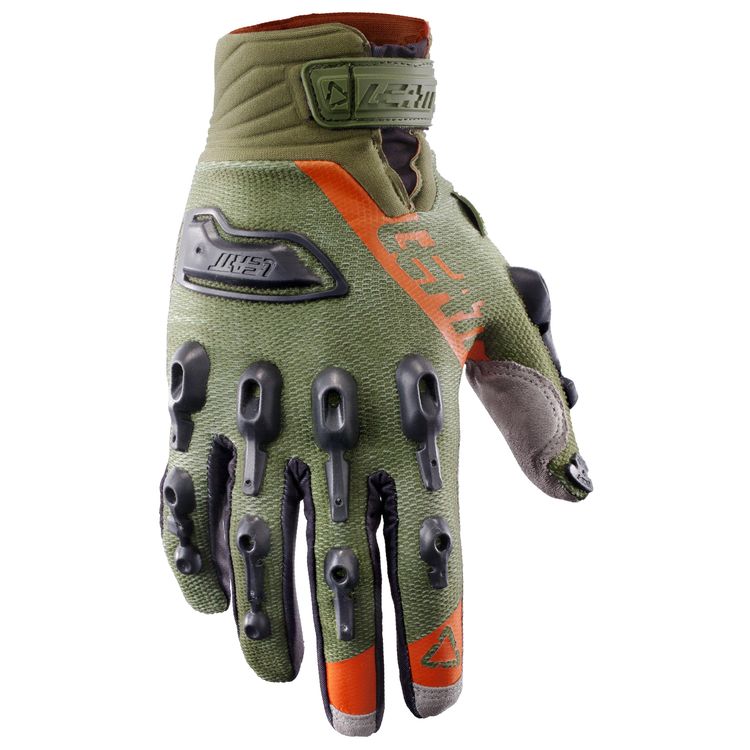 When you are looking for an off road/dirt bike glove with great protection but a minimalist feel, then look no further than the GPX 5.5 Windblock. Comfort is a major design feature in these gloves.
The solid piece of single layer nano grip palm material allows a rider to feel every nuance of the ride. This material offers a tremendous grip in both wet and dry conditions and is always form fitting due to the flexibility and stretchy nature of the fabric.
Riders also appreciate the ability to operate touch screens with the integrated touch screen function on the index finger. Finally, the pre-curved and seamless palm greatly aids in reducing hand and finger fatigue as well as the potential for blisters.
Safety was not overlooked when designing this glove.
It offers an anatomic 3D molded self-locating Armourgel impact protection system on the hand and fingers.
The palm is also Aramid reinforced for for added protection.
The GPX 5.5 Windblock is CE Certified to prEN 13594:2014.
If you are looking for a thinner glove that packs a lot of protection in a comfortable format then the Leatt GPX 5.5 Windblock is your solution.
---
MSR Impact Mud Pro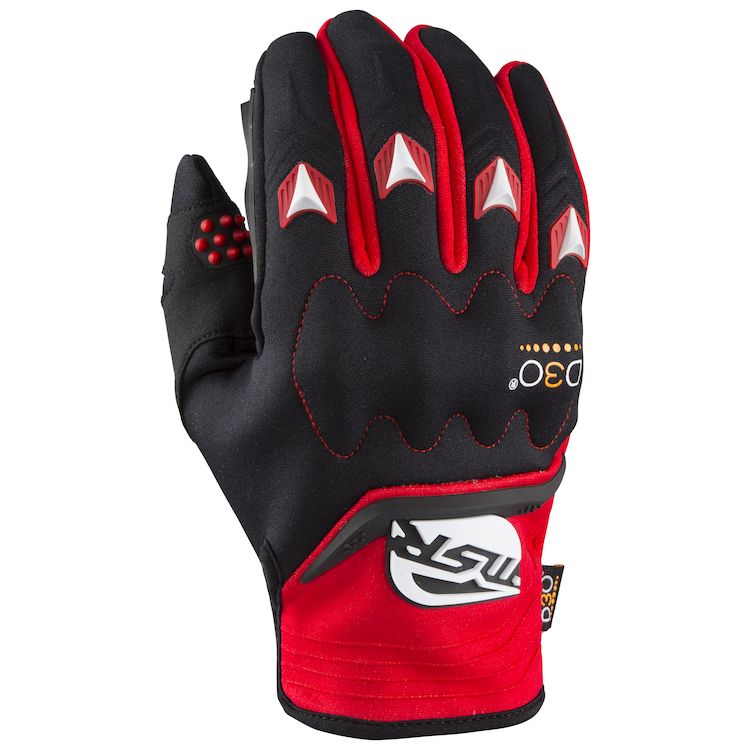 If you are looking for an off road/dirt bike glove for muddy conditions then the MSR Impact Mud Pro is your glove. This glove offers TPR mounds throughout the palm and fingers to help increase your grip when you are out in the mud. This innovation works much like studded tires do on ice and it lets you get a secure grip on the throttle and levers.
The back of the hand is constructed of neoprene for added warmth and flexibility. Added protection is provided for the knuckles by the D30 molded armor. Soft rubber knobs are molded directly to the synthetic leather palms of the gloves to improve your control even on mud covered grips. A mesh panel in the palm allows excess water to drain away from your hands.
The worst off road conditions require a glove that is tailor made for the mud and the MSR Impact Mud Pro will not disappoint.
---
Fox Dirtpaw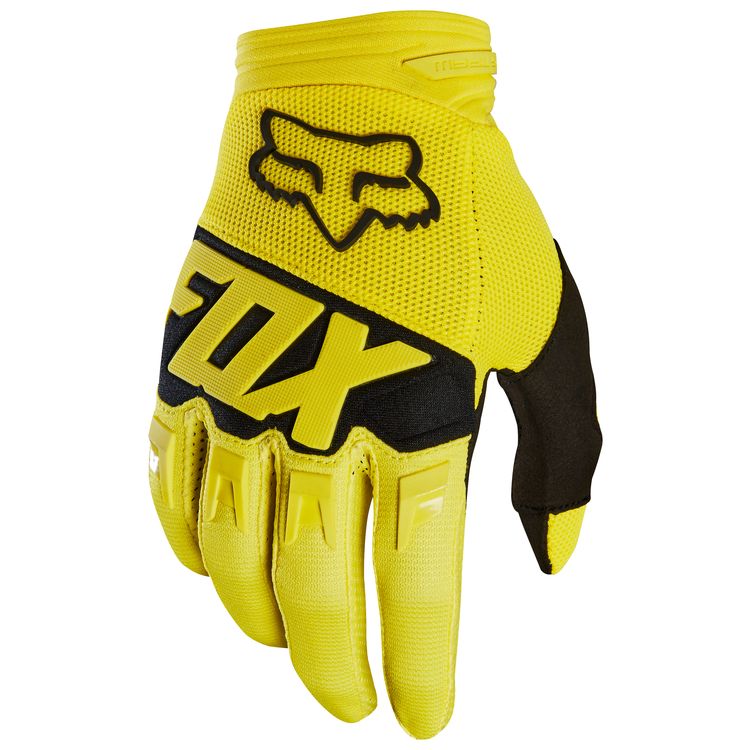 Fox has improved the design of the standard entry level glove for off road/dirt bike riders. The Dirtpaw now offers completely padded knuckles and a padded single layer Clarino palm.
The stretch polyester construction and stretch mesh gusseted fingers provide a great fit from the first time you slide this glove on your hand. The hook and loop wrist closure keeps the glove secure throughout your ride. New or inexperienced riders will like the added grip from the silicone print on the finger tips for extra control of levers.
This glove is far from the cost of the top of the line options listed above, but it is a great place to start when you are beginning to ride off road. The Fox Dirtpaw offers a lot of benefits for a very low price.
---