The United States is the largest ATV market in the world and industry trends forecast that it's likely to remain so for the foreseeable future. Understandably, the most popular and well-known manufacturers globally have a strong presence in the US. These include the likes of Suzuki, Can-Am, Polaris, Arctic Cat, Kymco, Yamaha, Honda, Kawasaki, DRR, Linhai, and CFMoto.
In this list, we'll take a look at what makes them the best ATV manufacturers out there, along with their top models for 2022.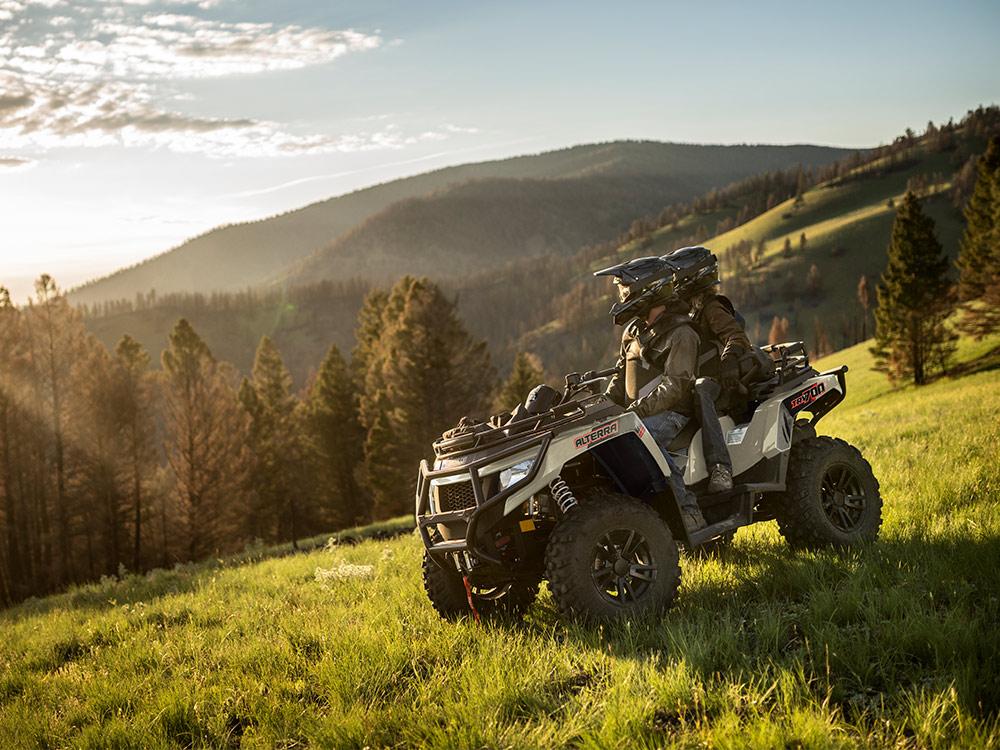 Popular ATV Manufacturing Companies
Arctic Cat:
Now Owned by Textron, Arctic Cat is a Minnesota-based manufacturer with an extensive product line. The company's portfolio includes ATVs, snowmobiles, and related parts and garments—like snowmobile suits. Since Textron acquired the company in 2017, it has been growing rapidly and has multiple new ATVs for 2022.
Can-Am:
Can-Am is a Canadian manufacturer that's most popular for its three-wheeled motorcycles, the Spyder and Ryker. However, the company also has a long list of off-road models, including side-by-sides and ATVs.
CFMoto:
CFMoto is another manufacturer that's globally known for its motorcycles. The Chinese manufacturer is a key player in its home market and has recently grown a substantial following in the North American market as well.
DRR:
Founded in 2000, DRR is an ATV manufacturer headquartered in Brunswick, Ohio. Over the last two decades, the company has designed and developed American Motorcyclist Association (AMA) approved machines that have won several National Championships. More recently, the firm has expanded to building electric ATVs and is the only manufacturer on this list to offer one.
Honda:
In the late 1960s, American Honda Motor Company, Inc. asked one of its engineers, Osamu Takeuchi, to design a product that could continue to sell when sales for Honda motorcycles dropped in the winter. The following product was the first popular ATV—or ATC (All Terrain Cycle), as Honda called it. Five decades later, Honda continues to be one of the most popular companies in the space and, unsurprisingly, was the second most sold ATV in North America in 2020.
Linhai:
Linhai is a Chinese firm that was founded in 1956. The company's roots were in small engine and power machinery manufacturing, but it soon turned its focus to ATVs and UTVs. The firm dominates its local market in terms of sales and was also one of the most popular manufacturers globally in 2020.
Kawasaki:
Kawasaki ATVs have been manufactured for just over four decades now. The Japanese manufacturer's first ATV was a three-wheel model called the KLT200, which debuted in 1981. Following its success, Kawasaki expanded its ATV portfolio to include several models that would cater to different applications and requirements. This year, Kawasaki's ATV lineup isn't as extensive as it used to be a few years ago, but it still includes some impressive machines.
Kymco:
KYMCO, or Kwang Yang Motor Co Ltd, is a Taiwanese manufacturer of motor scooters, motorcycles, and ATVs with worldwide distribution. Kymco was founded in 1963 after splitting from Honda, for whom they originally made parts.
Polaris:
Polaris is the global leader in ATV sales. The American manufacturer has one of the most extensive ATV portfolios for 2022. There are five different categories, and each offers its own kind of ATV—whether you're looking for an ATV for your kid or a seasoned rider looking for great performance, there's a Polaris out there for you.
Suzuki:
Suzuki was a pioneer in the design and manufacturing of mass-produced four-wheeled ATVs. It's come a long way since the introduction of the QuadRunner 125 in 1983. The company's portfolio for 2022 includes multiple Utility Sport and Youth models.
Yamaha:
Yamaha made its way into the North American market in 1980. In 1984, it introduced its first four-wheeled model, and there's been no looking back since. The Japanese manufacturer has seen the most success in the GNCC Racing Championship, winning multiple titles with the popular YFZ 450R. Its 'Utility' models have garnered a fair share of attention amongst the general public as well.
2022 Model Year ATVs by Manufacturer
Youth ATVs
Sport ATVs
Utility ATVs
Arctic Cat

Alterra 300
Alterra 450
Alterra 600 EPS
Alterra 600 LTD
Alterra 600 XT
Alterra 600 SE
Alterra TRV 700 EPS

Can-Am ATVs

DS 70
DS 90
DS 90 X
DS 250

Renegade
Renegade X XC
Renegade X MR 650
Renegade X MR 1000R

Outlander 450/570
Outlander
Outlander DPS 450/570
Outlander DPS
Outlander XT 570
Outlander XT
Outlander Mossy Oak Edition 450/570
Outlander Mossy Oak Edition 650

CFMoto ATVs

CFORCE 400
CFORCE 500
CFORCE 600
CFORCE 600 Touring
CFORCE 800 XC
CFORCE 1000 Overland

DRR ATVs

600 UT
EV Stealth
EV Adventure
EV Safari 4×4

Honda ATVs

FourTrax Recon
FourTrax Rancher
FourTrax Foreman 4×4
FourTrax Foreman Rubicon 4×4 EPS
FourTrax Rincon

Linhai ATVs

LH300ATV
LH400ATV
Linhai 500-D
M550L
Linhai 700

Kawasaki ATVs

Brute Force 300
Brute Force 750 4x4i

Kymco ATVs
Polaris ATVs

Outlaw 70 EFI
Outlaw 110 EFI
Polaris Sportsman 110
Polaris Phoenix 200

Scrambler 850
Sportsman XP 1000 S

Sportsman 450 H.O.
Sportsman 570
Sportsman Touring 570
Sportsman 850
Sportsman Touring 850
Sportsman XP 1000
Sportsman Touring XP 1000 Trail
Sportsman High Lifter Edition
Sportsman 6×6 570

Suzuki ATVs

QuadSport Z50
QuadSport Z90

KingQuad 400ASi
KingQuad 400ASi+
KingQuad 400FSi
KingQuad 500AXi
KingQuad 750AXi

Yamaha ATVs

Grizzly 90
YFZ50
Raptor 90

Kodiak 450
Kodiak 450 EPS
Kodiak 450 EPS SE
Kodiak 700
Kodiak 700 EPS
Kodiak 700 EPS SE
Kodiak Grizzly EPS
Kodiak Grizzly EPS SE
Kodiak Grizzly EPS XT-R
Best Youth ATVs in 2022
Polaris Sportsman 110: best on rugged terrain
Kawasaki KFX90: best for very young riders
Can-Am DS 250: best ATV for young adults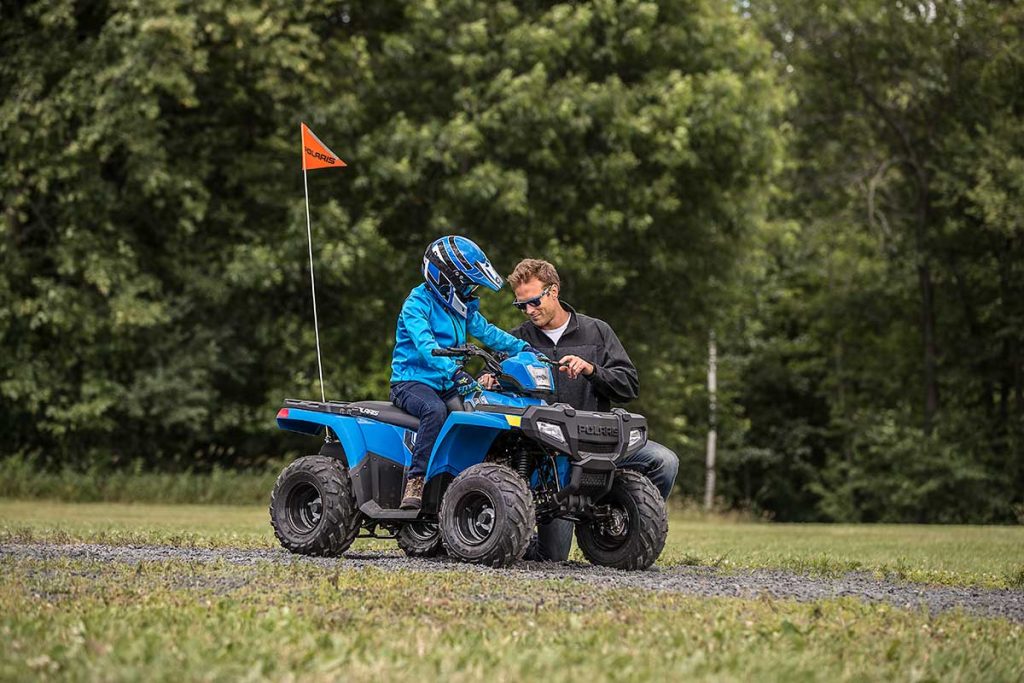 Best ATVs in 2022
Yamaha Kodiak 700 EPS SE: best for exploring trails
Polaris Sportsman XP 1000 S: best Sport ATV
Honda FourTrax Foreman Rubicon 4×4: best for carrying load/equipment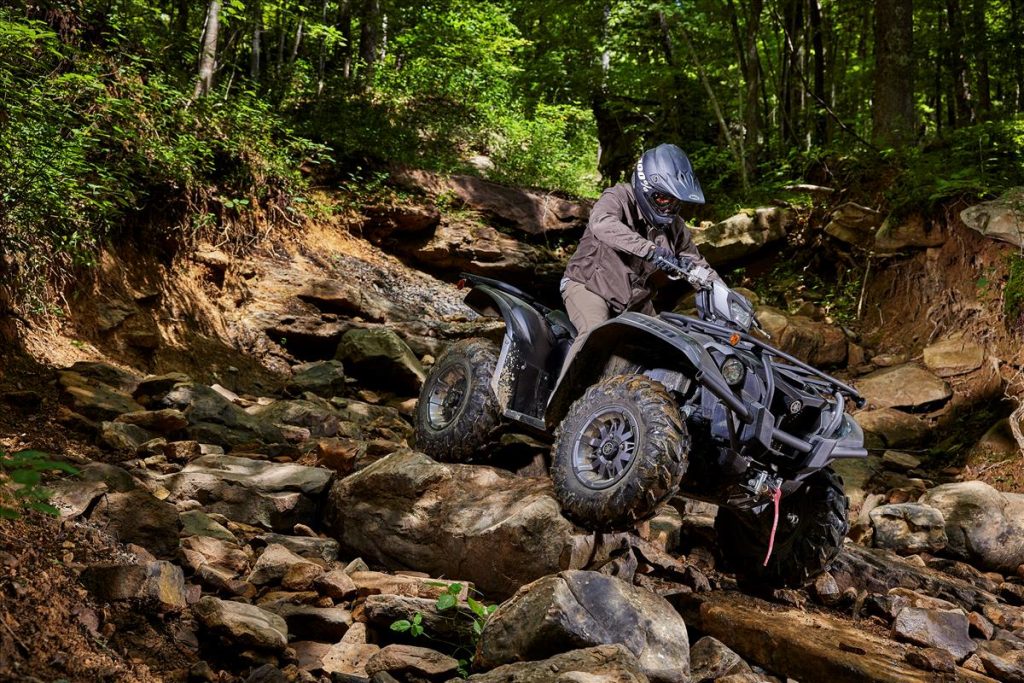 Popular ATVs Made in the USA
Of the brands listed above, Arctic Cat, DRR, and Polaris manufacture their ATVs in the USA. It's worth noting that these 'American Made' products may have certain components that have been imported—it's nearly impossible to find an ATV (or any product, for that matter) that has been locally made from scratch.
Most of the other manufacturers have a strong presence in our market and have established facilities to assemble their products here. The Japanese big four—Honda, Kawasaki, Suzuki, and Yamaha—build their engines overseas and ship them to the US, where they're put together with the rest of the ATV.
Should I Buy an ATV?
Owning an ATV can be an exciting and rewarding experience. That said, there are some factors you should consider before spending money on one. For starters, there's the kind of off-road vehicle you should choose. For 2022, every manufacturer has multiple Utility/Recreational models on offer and these are perfect for heavy-duty work like carrying load on a farm, or for traversing through trails.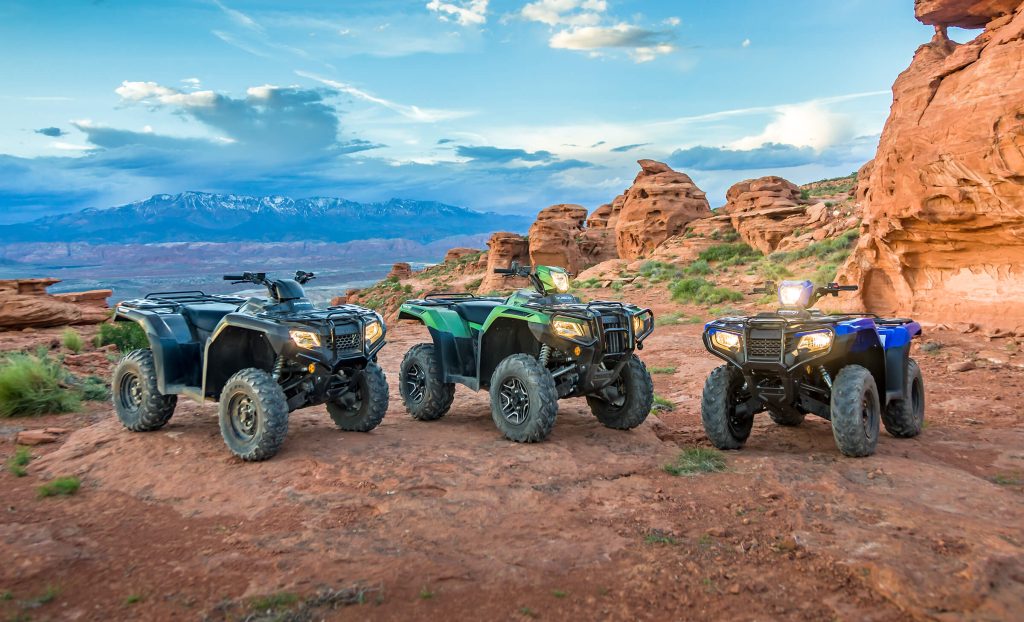 If you're looking for something a little more Sport oriented, there aren't as many options for you to choose from. However, we could see manufacturers like Yamaha and Suzuki update some of their Sport models (that were on sale last year) and make them available in 2022 as well.
You should also consider how many people you'll be using your machine with. All the ATVs on this list come with a pillion seat and are perfect for two. If you intend on heading out on an adventure with your family, a side-by-side (that typically seats 4) will be the more practical choice.
At the end of the day, there's an ATV out there for everyone. Once you know what you're looking for, you can get out there and get your adventure started.