Adelaide's Royal Enfield custom builder, Carberry Motorcycles, has followed up its 1000cc V-twin with a plate that stops the retro bikes' traditional vibration.
The engine vibration reduction plate is only available for Royal Enfield 350cc and 500cc Unit Construction Engines (UCE) which have two bearings on the left and one on the right.
The plate which stabilises and supports the right side of the crank will cost about $A60 (Rs3000 €38).
It is fitted after the gear that drives the cam wheels. An additional bearing installed on the end of the crankshaft sits on the vibration reduction plate for improved support.
Vibration reduced
Carberry says the plate will reduce vibration between speeds 60km/h and 90km/h, increase the life of the bearings, reduce wheel wear and reduce noise.
It is not needed on Carberry's Double Barrel 1000 engine which is two joined carbureted 500cc single-cylinder Royal Enfield engines.
The Double Barrel produces about 42kW of power at 4800rpm and 108Nm of torque at 5250rpm, compared with the single-cylinder's 20kW at 5250rpm and 41.3Nm at 4000rpm.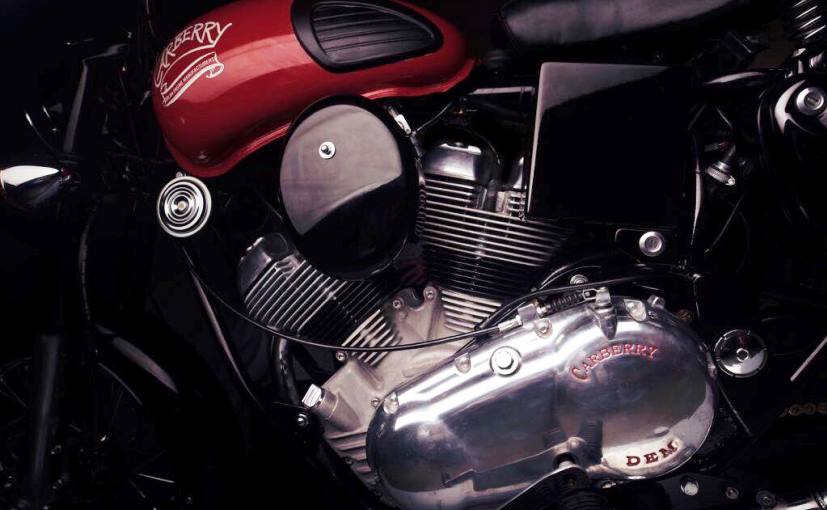 It costs about $13,000, which is some $4000 more than a whole Royal Enfield Classic 500 costs on the road.
The engine comes with primary drive, five-speed gearbox, seven-plate clutch, heavy-duty starter motor, 3.7-litre oil tank and the lifters and oil pumps have their own housings to protect the engine.
It doesn't include the exhaust system which depends on the frame of the motorcycle it is being fitted into.
Carberry plans bike and EFI
Developer Paul Carberry says the engine will fit most custom motorcycle frames.
Paul has been working on the project for a number of years and last year moved engine operations to Bhilai, India.
Complete Carberry bikes will be available later this year when they move operations to Pune, he says.
Paul is also working on a V-twin based on the new fuel-injected 500cc single.
However, Royal Enfield has since released its own 650 twins.
The Interceptor INT 650 and Continental GT 650 are powered by a 648cc, single-overhead-cam, eight-valve, air/oil-cooled parallel twin married to a six-speed gearbox with assist clutch.