Aussie rider Linda Norman has published a US road trips guide for other Australian riders after spending several years touring the country with her husband, Barry.
Aussies Guide to Roadtripping America isn't a recap of their trips but a valuable guide to help other Aussie riders plan their journey, Linda says.
"Hopefully it will save them a few dollars along the way."
Reader discount
To celebrate the launch, Motorbike Writer readers can get a 20% discount when they order online if they type in the special code "motorbikewriter19". The road trips guide normally costs $39.95 plus $5 shipping. (Motorbike Writer does NOT get any commission on book sales. This is simply a good offer for our readers that we are passing on.)
Linda says her guide includes tips such as placing a red arrow on the screen or fairing that points to the kerb to remind riders to ride on the right side of the road.
"It is very easy to forget what side you are supposed to ride on when you become fatigued," she says.
Other helpful tips revolve around licensing and helmet laws, phone connections, currency conversion and insurance.
"I also cover the options of undertaking a fully guided tour, hiring a bike, shipping your own, or purchasing one over there and how to ship it home."
The book features the Sturgis Motorcycle Rally, Route-66, and many of the great bucket list rides, with full-colour photos from her tours as well as easy-to-follow maps.
"My book is written by an Aussie, for Aussies, and was printed in Australia," Linda says.
Road trips
Linda describes herself as a 50+ nana of three who has been around motorbikes since meeting her husband over 37 years ago.
She was the first woman in Queensland to become a registered Q-Ride provider and is now on her 12th Harley, a 2018 Roadglide.
"I remember my first trip to America, the planning, searching, studying that went into that trip and there was still so much we didn't know," Linda says.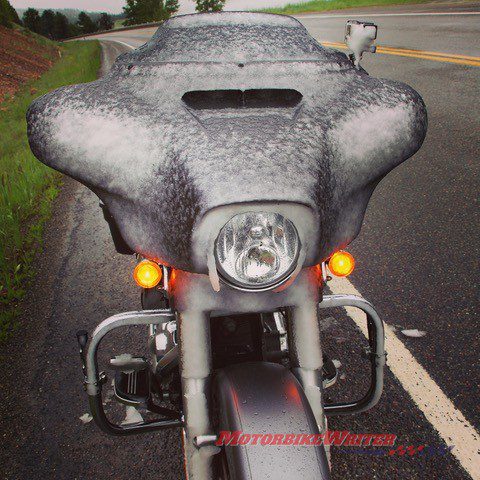 "My husband, Barry, and I head over to America almost every year and spend between four to six weeks riding roads that just seem to get better every day, winding our way among the snow-capped peaks of the Rocky Mountains, or cruising our way along a favourite part of the historic Route-66.
"I love traveling those hidden backroads, finding historic little towns that still look the same as when the people walked away from them over 100 years ago.
Linda and Barry have also done a lot of road trips throughout Australia, Canada and many other countries. They are also planning a ride to Alaska in 2020.