ATV Dog Carrier – Securely Ride With Pets
An ATV dog carrier is a box or cage securely attached to a quad so that a dog can ride on an ATV too. It protects the dog from falling off the ATV and from accidentally being hit by trail debris. Before you buy an ATV dog box it's smart to consider all of your needs and options, which I'll discuss here on ATV Style.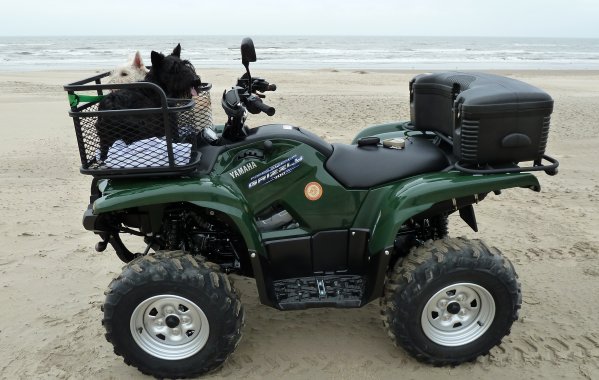 There are some safety considerations you should be aware of before you strap a dog box to your ATV and head out on the trails. Planning a fun trip that includes your dog means you're planning for their safety too. I've put together a checklist for you of things to consider when choosing the right at dog carrier for your ATV, here it is.
Your ATV dog carrier checklist
Provide a mat, bed or padding for your dog to lay on
Add roll-bar padding along the top to prevent head injuries
Exposed metal gets hot in sunlight, opt for cooler materials
Size the box to your dog, too big or too small can be dangerous
Don't leash or tie the dog in, if the ATV rolls this will certainly injure your pet
Opt for an enclosed box if you think your dog may jump off the ATV
The top of an enclosed dog box can provide shade but an open top is better for bigger dogs so that they can sit upright
Ensure the sides of the box are shielded from trail dirt, debris and gravel
A multi-use box can store other items when your pet is not with you
Don't place cargo in the box with your dog, they become projectiles in a crash
Ensure that your dog carrier is firmly fastened to the ATV
Consider a front mounted ATV dog carrier box to keep an eye on your pet
A drop down tailgate allows you to store items on top of the box
Ask if the dog carrier fits onto your specific ATV brand. Yamaha, Polaris, Suzuki, Kawasaki, KTM and others each have different sizes and shapes of racks.
Make sure it's easy to clean when out on the trail, it's no fun carrying an oopsie.
Unsure if a generic unit will fit on your quad? Contact a custom box maker like dustydawgs.com
If cost is an issue consider a DIY project carrier using PVC piping.(plans)
Depending on the temperament of your dog you can opt for a padded rear pack