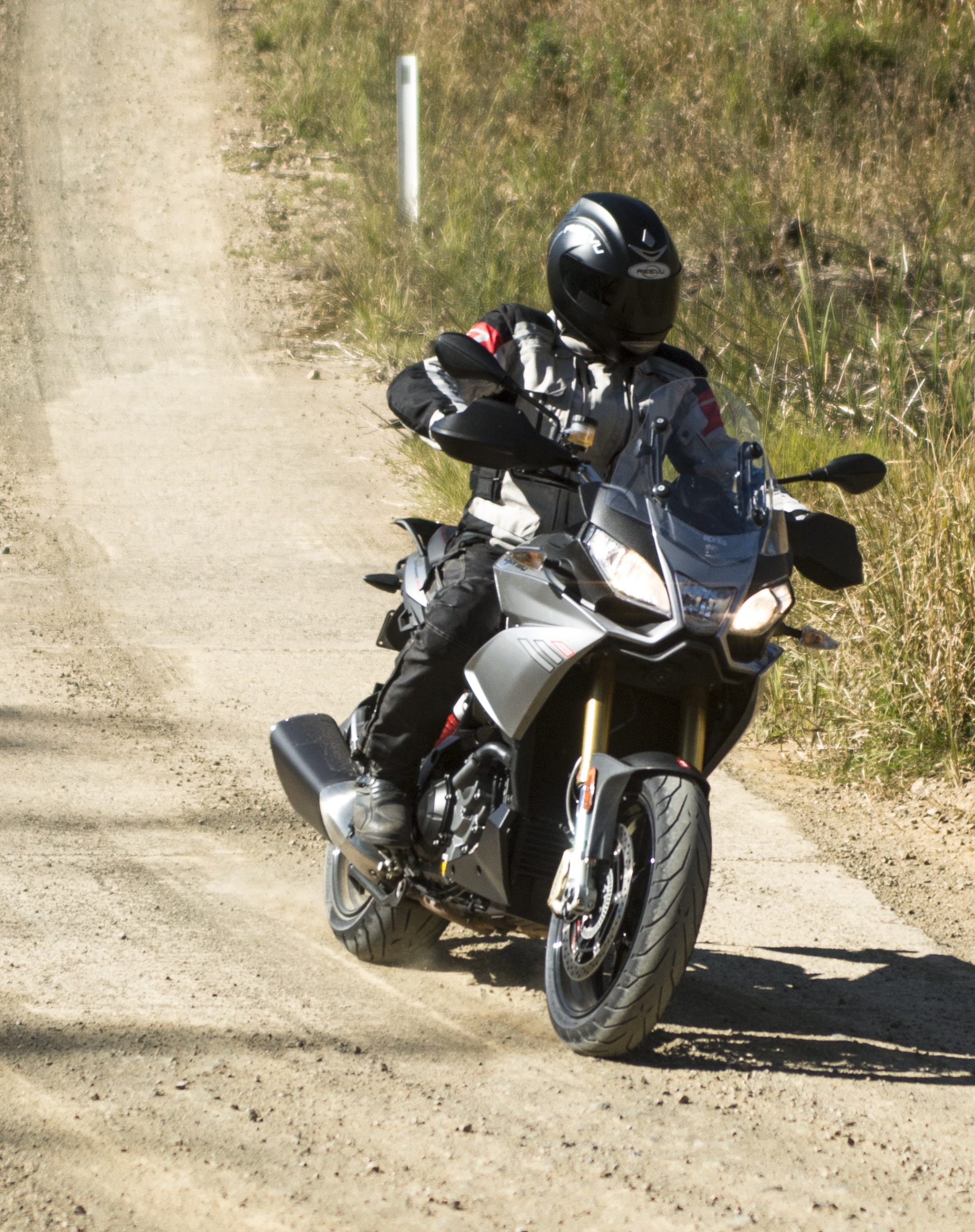 The fast-growing adventure motorcycle segment is becoming crowded with models.
Aprilia wades in with the Caponord (Italian for north cape), a road-oriented adventurer featuring a 17-inch front tyre, ABS, three-stage traction control, engine maps, cruise control and electronically adjustable active suspension.
You get all this, plus Italian design flair, for $21,990 (plus on-road costs).
The Aprilia is the most stunning model in this usually ugly duckling sector.
It comes in either a fiery red or a stately grey with contrasting gold forks, red-stitched two-piece seat and a stylish reptilian beak.
The Caponord is way too stylish to take bush bashing and that's not really what it's about anyway.
It's a touring bike for dynamic cross-country traveling on our lonely country roads with the occasional stint across formed dirt tracks.
While the 17-inch front tyre and road-oriented rubber choices are the biggest limiting factors for traversing dirt, the electronics package of three-stage traction control and semi-active suspension do their best to accommodate the occasional dirt squirt.
The electronics package is similar to what is now available on many Aprilia models, including their new SRV 850 scooter.
Most of these technologies were developed in the heat of battle in the World Superbike Championships.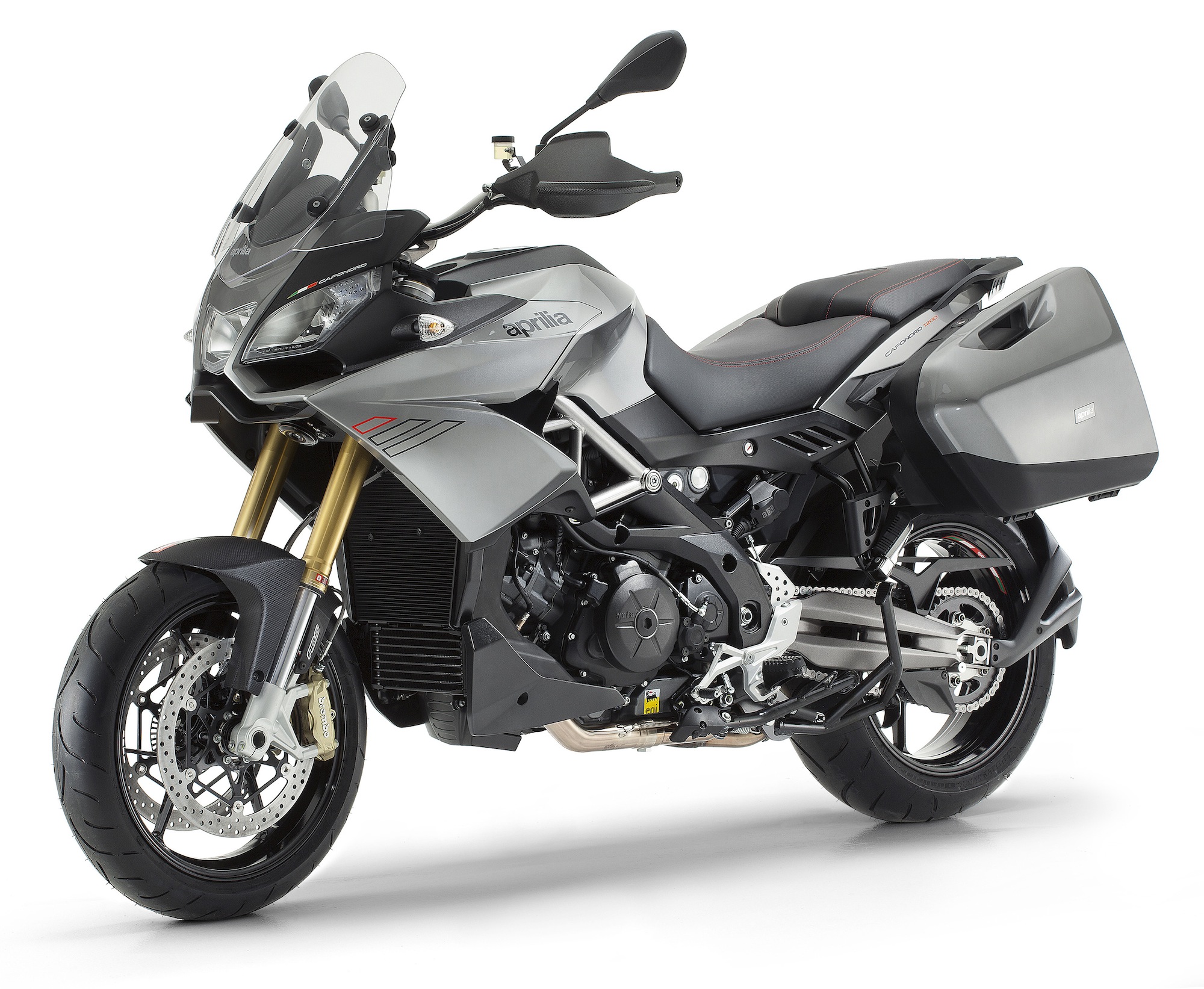 However, they have been adapted for real-world conditions and for the low-traction world of dirt roads.
But the best technology is the new and very clever ADD (Aprilia Dynamic Damping) system.
It's a dynamic and semi‐active suspension system that you can set for single rider or two-up, with or without luggage, or set to auto so it detects the rider, pillion, luggage and even the fuel load and adjusts the spring preload.
That automatic set-and-forget setting is pretty clever and convenient, but it does a lot more than that.
The system also monitors the bumps in the road and adjusts the hydraulic forks and rear piggy back shock as you ride, taking note of acceleration and braking to provide optimum comfort and keep the wheels on the ground for traction and steering.
Despite the wheel and tyre configuration, it works extremely well on the dirt, not only providing confidence with grip, but also ironing out the surface for a remarkably smooth ride.
The raked-out fork and very wide handlebars also take out the nervousness from the front end on loose surfaces.
But the Caponord is really at home on the tar, no matter how choppy or broken.
Here it will dazzle with its willing and responsive engine.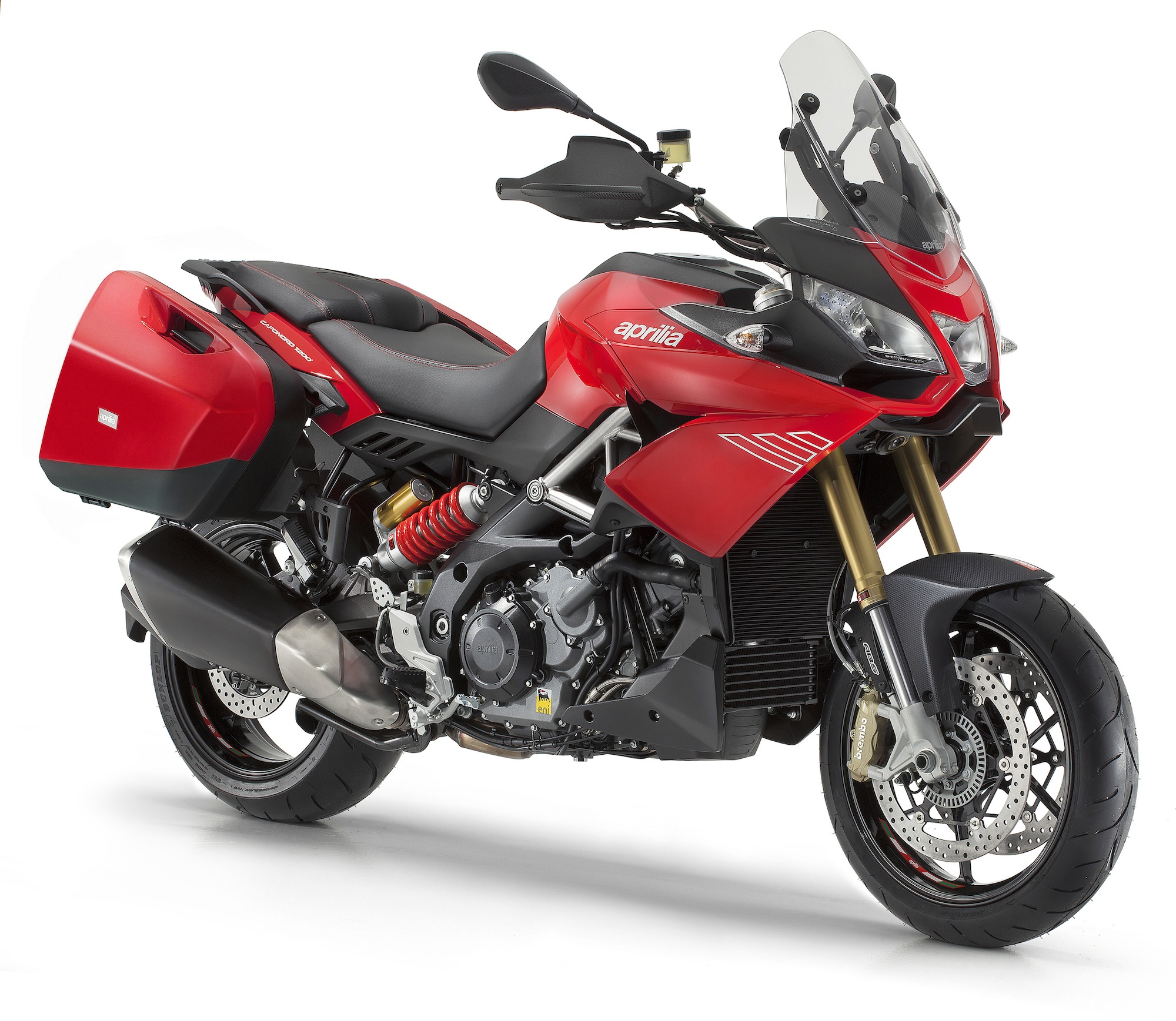 The three engine maps are T for touring, R for rain and S for sport. The R map also works well on the dirt by smoothing out the V-twin's power delivery and limits peak power to 75kW.
In touring mode you still get the full 91.9Kw of power, but without the sudden surge around 4000-45000rpm that you get in S mode.
While early fly-by-wire throttles were very snatchy, this has a predictable, even in S mode.
The engine is mated to a very tall six-gear transmission with chain drive.
It's so tall geared you can take 90-degree corners or small roundabouts in first gear and thanks to the smooth throttle it is quite maneuverable.
On the highway, it rumbles along in sixth gear at 3500rpm and requires a downshift for acceleration, or even two cogs for rapid passing.
I found myself on many occasions rolling down the highway still in fourth gear.
However, if you wanted to lower the gearing, you could simply swap the sprockets.
Stopping is accommodated by hydraulic brakes with powerful Brembo calipers, twin 320mm discs up front and the latest two-channel switchable ABS.
I found you could leave the ABS on when riding on the dirt as it adapts well to the low-friction conditions. If needed, you can use downshifts to lock the back wheel to turn into corners.
The brakes with steel braided cable have good feel and progression, but the foot pedal is a little small and you can easily miss it with chunky boots.
The riding position is upright with a comfortable reach to the high-bend bars and the adjustable windscreen provides a reasonable amount of weather protection, although I felt buffeting around my head at highway speeds, despite it being developed in a wind tunnel.
The footpegs are a generous width and have removable rubber inserts for off-roading. Some may find them set a little far back for long touring comfort.
When riding off road, they feel comfortable when standing and the high-bend bars – if rotated slightly forward – are high enough without the need of risers.
The rider's seat allows you to slide forward for control or back onto a wide and well-cushioned section for touring comfort.
It's also narrow which allows you to get your legs down on the ground easily and makes it more comfortable and controllable when standing. You can also get a lower seat as an accessory.
Pillion comfort is also good with a wide and firm separate seat and big grab handles.
There are plenty of places to tie down luggage on the back seat, plus there is a small rack and pannier latches to attach the factory colour-coded luggage.
Most of the electronic functions are accessible from buttons on the handlebars so you don't have to take your hands off the bars to select them.
The one-button cruise control is surprisingly tricky to set and operate. To activate it, you have to hold it on too long while also holding the throttle at the desired speed.
The all-digital instrument pod is easy to read and includes speedo, tacho, odo, clock, two trip odometers, fuel level, gear indicator and coolant temperature. Surprisingly there is no fuel range or consumption gauge.
Sitting up high and proud, the bike offers a good view in the traffic and, together with its wide bars, is a highly manuevrable commuter bike, although the clutch is on the heavy side.
Its performance and dynamic electronics package plus grippy road rubber make it an eminent competitor in the weekend mountain derby.
The comfort and touring features make it a dependable tourer with more than 400km of range from the generous 24-litre tank. Touring options include tank and tail bags, gel seat, top box, alarm system and heated grips.
It will even confidently trot across gravel tracks.
Some adventurers would prefer a 19-inch front wheel for more confidence in the dirt, but this is still a most stylish all-round adventurer.
Aprilia Caponord 1200
Price: $21,990 (+ ORC)
Warranty: 2 years/unlimited km
Service: 10,000km
Engine: 1197cc, DOHC V90
Power: 91.9kW @ 8250rpm
Torque: 114Nm @ 6800rpm
Transmission: 6-speed, wet multiplate hydraulic clutch, chain drive
Chassis: Modular tubular steel frame, removable steel rear subframe
Suspension: 43mm Sachs upside‐down fully adjustable forks, 167mm travel; alloy swingarm, adjustable Sachs shock, 150mm travel
Brakes: 320mm floating discs, Brembo four‐piston radial callipers; 240mm rear disc, ABS and ATC
Wheels: 3.50 X 17″ Rear: 6.00 x 17″
Tyres: 120/70‐R17; 180/55‐17 tubeless
Length: 2245mm
Height: 1440mm
Seat: 840mm
Wheelbase: 1565mm
Trail: 125mm
Steering angle: 26.1°
Dry weight: 228kg
Tank 24 litres (including 5 litre reserve)