A tiny little piece of plastic has just made universal-fit MotoSafe earplugs from Dutch company Alpine Hearing Protection even better.
With the new minigrip they are now just that little bit easier to pull out, extending the life of the earplugs.
We have written on many occasions about the importance of earplugs. Basically they make you more relaxed, less weary, more alert and save your hearing, all at the same time.
We've tried many different earplugs, including personalised moulded plugs which are very effective, but can leave you feeling disoriented like you are underwater.
MotoSafe plugs are cheaper, more convenient (no need for a fitting because they fit all ears) and more comfortable, even when riding all day with a tight helmet. Since there is no silicone in the material, they also don't get sweaty or itchy.
Most importantly, they filter out the damaging wing noise. And that's why we sell them online from $29.99!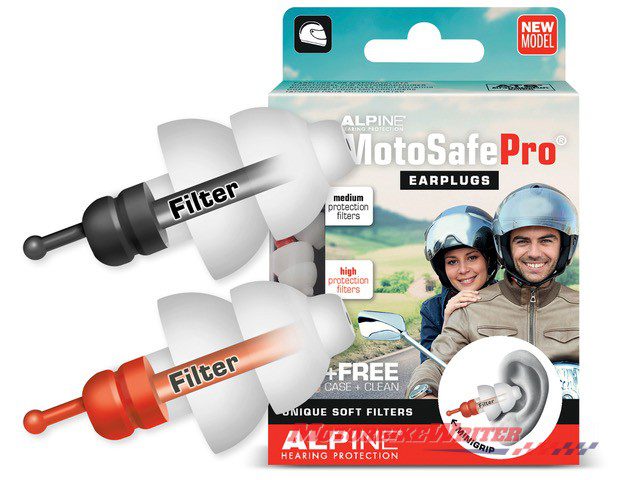 MotoSafe safe
Turbulence generated at high speeds can reach 103dB which is why all racers wear foam plugs to block out all sound.
The filter in MotoSafe blocks damaging high-frequency wind noise, but still allows you to hear important sounds such as sirens, horns and screeching tyres.
Meanwhile, it still allows you to hear "pleasant sounds" such as your music, phone conversation, GPS turn prompts and your bike's exhaust note!
However, we have damaged a couple of sets in the past trying to pull them out.
They come with a small black plastic applicator which you use to push them all the way in until you hear an air seal. (Make sure to wet the plug first!)
To remove them, reverse the applicator and dig underneath the plug to break the seal, then grab the filter and gently pull them out.
The previous plug design had a short filter and you sometimes had to twist them to get them out, breaking the filter in the process!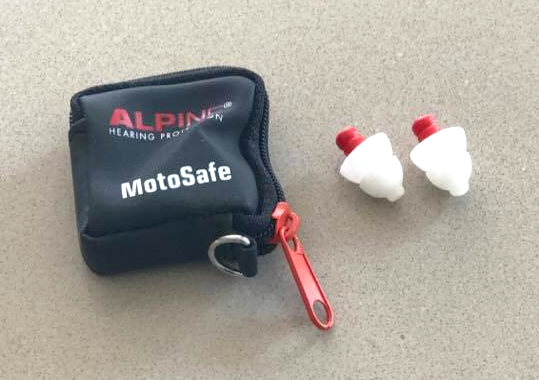 Now the minigrip prevents that issue and makes them just that little bit better.
They come in black (Tour) which reduces noise by 27dB or red (Race) which provides 30dB of noise filtering. I use the red ones all the time; even when just heading out to the shops.
Tinnitus
In Australia, about four million people have hearing loss. In the UK it's 10 million and in the US, some 48 million have some form of hearing loss.
While hearing loss is a part of the natural ageing process, it is increased by prolonged exposure to excessive noise and riders are more than likely to experience greater hearing losses in their senior years.
I not only have profound hearing loss, but, like about 30% of the population, I also suffer from tinnitus (ringing in the ears).
These conditions have developed from years of motorcycle riding, as well as playing in rock bands, going to concerts and listening to loud music.
The ringing is so bad it sometimes wakes me at night.
It's not actually motorcycle exhaust or engine noise that cause the biggest problem, but wind noise, according to the American Industrial Paramedic Services.
That's why riders should have some form of hearing protection whenever they ride, especially on long trips. Any earplug is better than no earplugs.
How long can you ride without risk of hearing damage? Check out this noise pollution calculator.
| Speed | Average volume of wind noise under a helmet              | Maximum time without risk of hearing damage |
| --- | --- | --- |
| 100km/h | 94dB | 15 minutes |
| 120km/h | 98dB | 7 minutes |
| 140km/h | 102dB | 3 minutes |
| 160km/h | 106dB | 90 seconds |
Helmet protection?
If you don't think you can get hearing loss or tinnitus from riding because you wear a full-face helmet, you're wrong.
Dutch magazine Promotor tested the noise levels in 10 different "system" (modular or flip-up) helmets at varying speeds and found some startling results.
The best result was 86dB at 50km/h which proses a risk of permanent hearing damage after just two hours of riding.
At 100km/h, the same helmet registered 100dB which is more noise than a hammer drill at 95dB.
At the other end of the spectrum the worst performing helmet registered 92dB at 50km/h which is comparable to a train speeding past.
At 100km/h it registered 106dB, which is louder than the noise of a chain saw or a disco.
While full-face helmets are quieter, they are not substantially quieter, especially if you ride with the visor open on hot summer days.
Technical details
Alpine MotoSafe earplug filters reduce noise at different levels for different frequencies.
For the technically minded, the Tour plugs reduce bass sounds around 63Hz by 6.6dB and 8000Hz treble sounds by 16.12dB which is wind noise at 50km/h.
The maximum amount of protection is in the harsh and harmful midrange of 2000-4000Hz where the noise suppression is 23.8-18.5dB.
The Race plugs drop bass frequencies 15.7dB, midrange by 26.1 and treble by 19.7dB.
Reduction in noise may vary from ear to ear, depending on fit, with a variation of 2.8 to 4.4dB.
This data was tested according to European standard EN 352-2: 2002.