Valentine's Day is a time for celebrating our love for those important in our lives, particularly our partner or spouse. When your significant other is also in love with their motorbike, consider combining their two greatest loves in one gift to show how much you care. This includes gifts for those who may no longer take to the road on two wheels, but still, hold a love for motorbikes in their heart. There are now many opportunities to create your own customized gifts, providing you with many options. Here are some creative ideas for those in love with their bikes almost as much as they love you:
Jewelry
Valentine's day is a day for jewelry, particularly if you are planning to ask for your partner's hand in marriage, in which case diamonds are your primary choice. Jewelry is also a gift of love on other days on the calendar too. So, if it's your wedding anniversary you can check out these wonderful ideas at goldenweddinggifts.com. One thing is for sure, no matter what the occasion is, you cannot go wrong with jewelry. A classic braided bracelet made from leather come in a range of styles, including one that can be wrapped twice around the wrist and secured with a strong twist magnet clasp, which will look good on any man. For her, a set of diamond earrings will add a touch of class or a pendant to show off her décolletage.
Experience gift
Superbike weekend
Surprise your partner with an action-packed weekend of high-speed thrills and two-wheeled racing at a Superbike Weekend, whether you choose the world-famous Brands Hatch or a circuit anywhere else in the world, you have always wanted to visit. Perhaps your partner wants to ride their own bike round a track which is easy to arrange, or a guided off-road biking experience is one that will create memories that will last forever.
Born to ride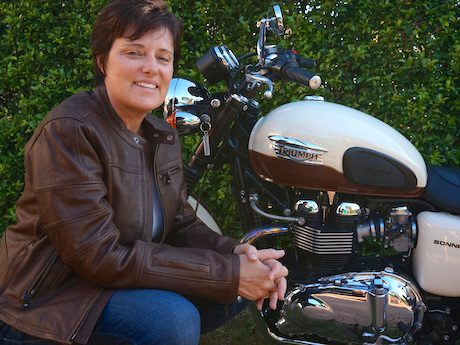 Full leather jacket
A touring jacket made from leather can be in a variety of styles.  If your biker has hung up their riding boots, a full leather jacket will still be appreciated to keep the biker's blood flowing through their veins.
If still biking a two-piece riding suit that fits your beloved's own style would make a great gift. These offer full body coverage and protection, designed to be abrasion resistant in the event of any accident. Other options that are easier on the bank balance are leather gloves, advanced knee protectors, all-weather riding pants, or balaclava, available from a range of biking accessory manufacturers and retailers.
Riding gloves
Full-hand or half-gloves that are abrasion resistant protect the hands from constant friction yet are soft and comfortable inside. You can choose gloves with pre-curved fingers for a snug fit and shock-absorbing padding in the wrist area for added protection.
Saddlebags
Saddlebags make a great Valentine's Day gift for biking enthusiasts. Riders will always have things they need to carry on their journey, which can be placed in saddle bags that are available in various capacities and for different uses. It is best to buy waterproof saddlebags with lockable facilities so contents can be kept dry and safe in all weather conditions.
Motorcycle Art
Personalized motorcycle name
For those who find it difficult being parted from their bike, a gift that can be hung in the home is a way to keep them connected to their pride and joy. Using high-resolution photographs of Harley Davidson, Honda, and other brand motorcycle parts, there are companies who can create a customized work of art showing your lover's name or nickname using the shapes of motorbike parts, covering every letter of the alphabet without having to use the same photograph twice.
Home sign
A sign for your home can be fun, such as "Born to ride, forced to work" will look great hung on the wall of your home or propped up on a windowsill or sideboard. These come in a range of styles and in a range of wordings too, so there will be one that suits you best. Available in wood, clay, and metals
Motorbike technology
GPS device
A GPS device is an ideal valentine gift to make sure your partner gets to their destination on time. These can be stand-alone devices or can be used with a smartphone. Many of these devices come fitted with the latest software, allowing maps to be updated and also with city guides. Garmin devices can work without mobile data or internet connection, through wireless Bluetooth technology.
GoPro Camera
Take fabulous photos and videos whilst out on the bike with a GoPro camera. These are waterproof and remain stable when mounted on a bike.  Of course, this does not have to be just for use on the bike, the camera can go with you on holiday whether you're skiing, snorkeling up to depths of 33 feet or taking in the sites of a foreign city, which is where the stereo audio facility and wind noise reduction are an added bonus.
Being creative doesn't mean you cannot be traditional if you want to gift chocolates and flowers. Search out some delicious Belgian chocolates shaped as motorbikes, for your chocoholic motorcycling Valentine and pair with a dozen red roses or your sweetheart's favorite blooms. Many flowers have specific meanings around love, such as red roses for passion and everlasting love, but also luxurious orchids, colorful tulips and more.
Contributed post