The 2023 KTM 1290 Super Duke GT Goes Places
Contents
If you want to travel a long distance in a short amount of time and on two wheels, the Super Duke GT may be the perfect bike for you. KTM describes it as a "comfortable ballistic missile", and we can see why – this bike takes an absolute monster of an engine from elsewhere in the KTM lineup and wraps it in traveller's garb for the long haul.
The 1301 cc power plant, which can be found in the likes of the Super Adventure and the Super Duke R Evo, produces 171 horsepower and 104 lb-ft of torque, according to the European manufacturer. The Super Duke GT sits with a full 23-litre fuel tank at about 496 lbs.
Sitting as the sole sports touring among the KTM North American lineup, this bike truly is a unique item. It comes equipped with some touring-ready features, including cruise control, heated grips, and semi-active WP suspension. A set of hard side bags are available at an additional cost, while the bike comes equipped from the factory with mounting points for them.
Despite its touring intentions, this KTM is a hooligan at heart with all of that power. The bike has some fun time goodies, including performance mode, which makes the bike's rider aids fully adjustable to your preference, and supermoto mode, which disables rear ABS to allow for some corner sliding action…yes, on a touring bike. Speaking of ABS, stopping is courtesy of a full Brembo setup.
Whether you're buying this bike as a tourer or a sport bike with some storage, we have no doubt it's a good purchase. Things like full LED lighting, a TFT dashboard, and a quick shifter should surely make this bike a nice place to spend some time.
The 2023 KTM 1290 Super Duke Gt starts at $19,799 USD/$20,799 CAD
On this page: we've curated specs, features, news, photos/videos, etc., so you can read up on the new 2023 KTM 1290 Super Duke GT  in one place.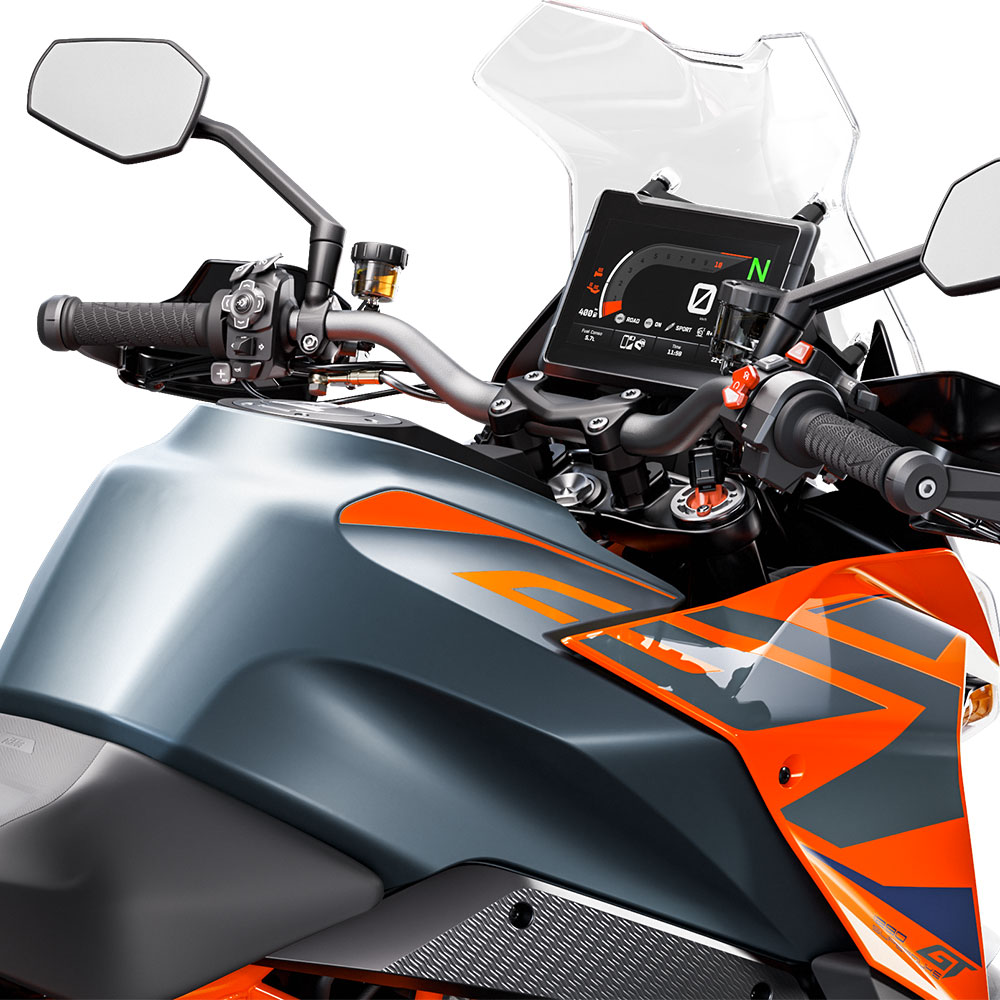 ---
Model Overview
General Info
Price: $19,799 USD/$20,799 CAD
Key Features:

WP semi-active suspension
Standard quickshifter
Cruise control
Full LED lighting
Main Specs
Engine: 1301 cc V-Twin
Power: 171 hp
Torque: 104 lb-ft
Weight (Wet):  496 lbs (225 kg)
Seat Height: 32.9 in. (835 mm)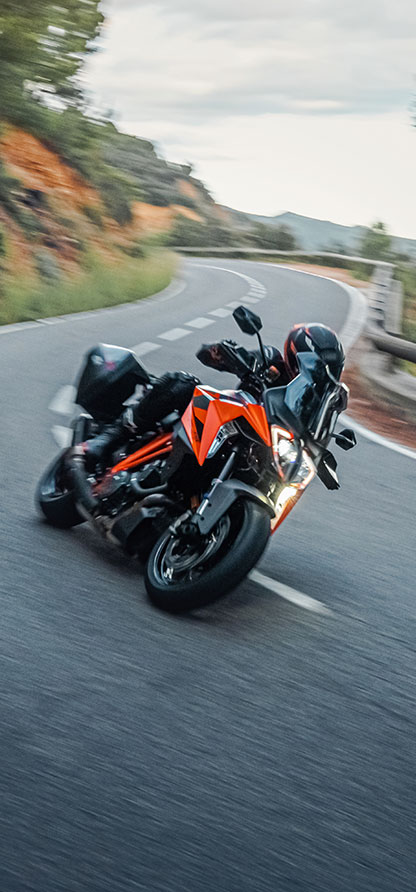 ---
2023 KTM 1290 Super Duke GT Specifications
| | |
| --- | --- |
| ENGINE | |
| Engine | 1,301cc, Liquid cooled, V-twin, 2-cylinder, 4-stroke, V 75° |
| Power | 171 Horsepower |
| Bore x Stroke | 108 mm x 71 mm |
| EMS | Keihin EMS with RBW and cruise control, double ignition |
| POWER IN KW | 128.7 kW |
| Starter | Electric |
| Lubrication | Forced oil lubrication with 3 oil pumps |
| DRIVETRAIN | |
| Clutch | PASC (TM) slipper clutch, hydraulically actuated |
| Transmission | 6-Speed |
| CHAIN | 525 X-Ring |
| CHASSIS | |
| Suspension Front | WP Semi-active suspension USD Ø 48 mm |
| Suspension Rear | WP SAT (semi-active technology) shock absorber |
| Brakes Front | 320 mm |
| Brakes Rear | 240 mm |
| FRAME DESIGN | Chrome-moly tubular space frame, powder-coated |
| ABS | Bosch 9ME Combined ABS (incl. cornering ABS and supermoto mode, disengageable) |
| Fuel Tank Capacity | 23 L |
| Color | Black, Orange |
| ELECTRICAL | |
| Ignition | |
| Spark Plugs | |
| Headlight | LED |
| Tail Light | LED |
| DIMENSIONS | |
| Overall Length | |
| Overall Width | |
| Overall Height | |
| Wheelbase | |
| Ground Clearance | |
| Seat Height | |
| Curb Weight | |
| WARRANTY | |
| Warranty | |
| Extension | |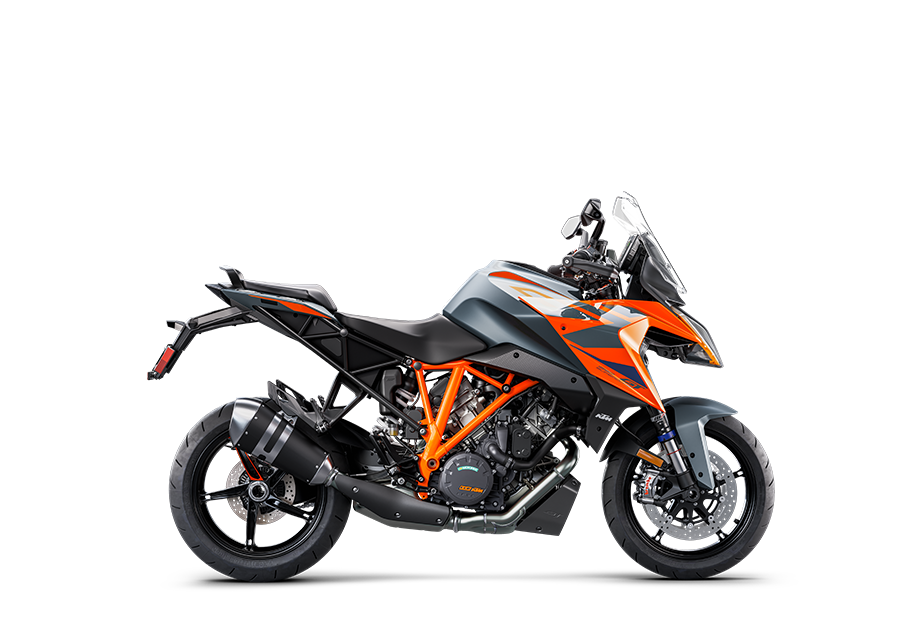 ---
2023 KTM 1290 Super Duke GT Features
Engine & Exhaust
Engine
The KTM 1290 SUPER DUKE GT's BEAST-derived powerplant perfectly fits its sovereign appearance. With 175 hp and 141 Nm of torque, it's as much a superbike slayer as it is a coastal road cruiser. A unique mix of the highest quality components, such as titanium inlet valves, have also combined to create overall reliability and allowing for service intervals of 15,000 km. That's a lot of touring!
Cylinder head
An absolutely key element in the outstanding performance and smooth response of the 1301 cc 75° V-twin are the unit's cutting-edge four-valve cylinder heads. These combine twin-plug ignition, flow-optimized ports, lightweight titanium valves and resonator chambers for the smoothest twin in town.
Mapping
When you're traveling two-up, the last thing you want is a jerky throttle. KTM have worked the EFI mapping, in combination with the plain bearing and timing, to transfer low-down power to the road with less vibration and reduced engine noise.
Crankshaft
The responsiveness and free-revving nature of the KTM 1290 SUPER DUKE GT's engine is thanks to the low reciprocating weight of its crankshaft.
Twin ignition
The twin-plug ignition system controls two differently sized spark plugs in each cylinder head independently of each other in such a way that more efficient combustion and a smoother, optimally controlled combustion sequence are achieved at all times. The result: more power, better control, lower fuel consumption and lower emissions.
Ride-by-wire
The ride-by-wire system on the KTM 1290 SUPER DUKE GT goes the extra mile. By electronically translating throttle commands into optimum throttle valve positions for the current riding situation, it processes throttle twist grip movements with the help of electronic sensors and activates the throttle valves accordingly using servo motors. This means smoother throttle response, reducing the chances of low-rev jolting and involuntary wheelies. Voluntary front wheel antics however, could easily be a thing of your future.
Slipper clutch
Not only does the slipper clutch open when the engine back-torque becomes too high, it also assists when you open up the throttle. The former prevents destabilizing rear wheel chatter when braking sharply or decelerating; the latter reduces the hand force required for changing gear, allowing the clutch to be controlled with one trigger happy finger.
Pistons
We borrowed Formula 1 technology in creating the pistons in the KTM 1290 SUPER DUKE GT. The forged piston structure on the KTM 1290 SUPER DUKE GT, results in a high loading capacity, despite the extremely short and lightweight design. Furthermore, the piston skirts have a state-of-the-art, hard-anodized finish. Not only does this reduce friction, it is also particularly hard-wearing with a consequently a positive impact on durability.
Chassis
Frame
The hint is in the name. The KTM 1290 SUPER DUKE GT is built for covering ground quickly and comfortably. Thanks to its refined ergonomics, electronically adjustable suspension and impressive tank range, the KTM 1290 SUPER DUKE GT is the perfect travel companion.
Subframe
Engineered to support a pillion, as well as full-loaded panniers, the subfame on the KTM 1290 SUPER DUKE GT ticks a number of key hyper-touring boxes.
Swingarm
The single-sided swingarm on the KTM 1290 SUPER DUKE GT is not only the lightest in its class, but also meticulously manufactured and generously dimensioned – a reassuring nod to spirited long distance travel.
Ergonomics & Comfort
Handlebar
Arguably the most important part of the KTM 1290 SUPER DUKE GT, the handlebars give the rider complete control, from small steering inputs to adjusting the suspension and ride modes at a push of a button. Even the handlebars themselves are multi-adjustable, with over 22 mm of movement and four positions. But best yet, the KTM 1290 SUPER DUKE GT comes fitted with heated grips as standard.
Footpegs
Riders can choose three positions for the brake and gear shift lever to accommodate a variety of boots sizes, or to simply find their perfect shifting or braking preference.
Heated grips
The KTM 1290 SUPER DUKE GT comes fitted with heated grips. Cosy.
Bodywork & Graphics
Bodywork
Don't be fooled – there is a BEAST hiding under all those touring components. Build for comfort, speed, and long-distance travel, the GT is 100% true to its namesake – finished in exclusive GT-only graphics and paint package.
Integrated pannier mounting
KTM hard case panniers are available for the KTM 1290 SUPER DUKE GT and can be easily fitted to the integrated mounting system of the motorcycle, while keeping the sporty look and unique style of the motorcycle. Remove the panniers in an instant and be instantly READY TO RACE.
Software & Electronics
Rider aids
A slew of advanced electronics are fitted to the KTM 1290 SUPER DUKE GT, which enable the rider to explore the GT's full potential.
MSC (Motorcycle Stability Control) with C-ABS
The ultimate in safe deceleration. One component of the comprehensive BOSCH MSC assistance package is the lean-angle sensitive cornering ABS. Based on the high-quality 9ME modulator, it unites the talents of combined front and rear wheel braking and lightning-quick, efficient pressure modulation with the high quality BREMBO hardware to make the most advanced braking system on the market – no-one brakes more progressively or safely, even at extreme lean angles.
TPMS (Tire Pressure Monitoring System)
As its name implies, the TPMS monitors tire pressure, and gives you a view of current pressures in the TFT display. In the event of sudden loss of pressure, for example due to tire damage, a warning will alert the rider on the dash.
LED Cornering Lights
The KTM 1290 SUPER DUKE GT has LED cornering lights integrated into its fuel tank. On the left and right side of the fuel tank, the cornering lights consist of three LED segments, using the lean angle sensor of the MSC system. Depending on the lean angle, the KTM cornering light can use up to all three segments, always giving the rider the perfect view of where he is going. Integrated in the cornering lights are the LED indicators, for a unique and exclusive look. Well deserved in a bike like this.
ATIR (Automatic Turn Indicator Reset)
After 10 seconds of movement and 150 meters of riding distance, the turn indicator will stop automatically. If pressed again during longer waits at an intersection, it counts from zero again. A big improvement in terms of safety, as it is now impossible to forget to reset the indicators.
Cruise control
Long motorway journeys are made even easier with the KTM 1290 SUPER DUKE GT's standard cruise control. Switches on the left side of the handlebar and a display in the TFT dashboard allow the rider to intuitively set and change the requested speed, so you'll arrive at the fun bits with energy to spare.
MTC (Motorcycle Traction Control)
The MTC (Motorcycle Traction Control) lean-angle sensitive traction control system reacts immediately if the rotational speed of the rear wheel is disproportionate to the riding situation. In a matter of milliseconds, MTC reduces the engine output with an extremely smooth, barely perceptible intervention at the throttle valves, until the system has reduced slippage to optimum proportions for the selected ride mode and current angle of lean. Depending on the selected riding mode, MTC traction control allows different levels of traction slip at the rear wheel. In "Street mode" somewhat more than in "Rain mode", while slight power slides are allowed when exiting curves in "Sport mode". All this means that the rider can concentrate on the run of the road and other road users – the guarantee for maximum performance and ultimate riding pleasure, but also a decisive contribution to active safety. For particularly ambitious riders, who feel like enjoying the breathtaking propulsion of the KTM 1290 SUPER DUKE GT without any electronic assistance, the traction control can also be switched off.
---
2023 KTM 1290 Super Duke GT Photos
---
2023 KTM 1290 Super Duke GT Videos
New 2022 KTM 1290 Super Duke GT Review: The Perfect All-Rounder? by MOTOBOB:
KTM 1290 Super Duke GT: ridden at home on the roads of Austria by The Bike Show:
---
Links