The original Honda Transalp was introduced in 1986 with a 583cc V-Twin engine and is very much something of a legend in the adventure bike world. Indeed you still see many older Transalps on one's travels still going strong and taking bikers on their adventures.
By 2000 the engine had grown to 647cc and for the last version in 2008 it had a 680cc fuel injection engine with a 214 kg kerb weight.
The Transalp is aimed at the mid-capacity sector in Honda's range with the CB500X at the lower end and the CRF1100L Africa Twin in their upper range.
The new XL750 Transalp has taken inspiration from the original model with extended touring trips as well as urban riding in mind with a new engine (the same as in the new Hornet 750) and with riding modes that you can tailor to your own riding needs and style.
The Honda Transalp will make its way to to US markets in 2024.
Review Summary
This is a tall bike (850mm seat height) with a kerb weight of 208 kg which I struggled to move about (I'm 5'6"). Riding the bike itself was no problem.
At $11,521 USD / $15,871 CAD / £9,500, you are getting a lot of bike for your money.
Four riding modes which you can customize – sport; road; rain and gravel – you can alter the level of engine power and braking, torque control, wheelie control and abs. The rear abs can be turned off for off road riding.
Tires are Dunlop Trailmax Mixtour with a 21" front wheel and 18" rear which are tubed
Quickshifter comes as standard
Self-canceling indicators although you can turn this function off
There is a USB socket under the seat and the TFT screen is multimedia ready
At A Glance
Weight: 208 kg
755 cc 8 valve parallel twin engine
91 bhp
6 speed
Four customisable riding modes: Sport, Road; Rain; Gravel
5' TFT display
Showa suspension front and back
Brembo brakes front and back
21" front wheel, 18" rear wheel, tubed
Self canceling indicators
16.9 liter fuel tank
3 color options: Matte Iridium Gray Metallic; Mat Ballistic Black Metallic; Ross White Tricolor
850 mm seat height; low seat option of 830 mm available
Price: $11,521 USD / $15,871 CAD / £9,500
See also: 2023 Honda Motorcycle Lineup.
There are a range of accessories available for the Transalp which come in 5 packs for you to choose from:
URBAN PACK: 50L top box, aluminum panel, mounting base, pillion pad and inner bag plus tall screen and main stand.
TOURING PACK: Rear panniers (R26L / L33L), aluminum panels, support stays, inner bags and heated grips.
ADVENTURE PACK: Side pipes, LED fog lights and radiator grill.
RALLY PACK: Quickshifter, engine guard, bash plate, off-road rally footpegs and knuckle guards with extensions.
COMFORT PACK: 3L tank bag, wind deflectors, comfort pillion footpegs and AAC charging socket.
First Impressions
Wow, this is a tall bike! At 5'6", for me, the Transalp is a little on the tall side with a standard seat height of 850 mm. I was on tiptoes with this bike. There is a lower seat option available of 830 mm and I think this would have been better for me.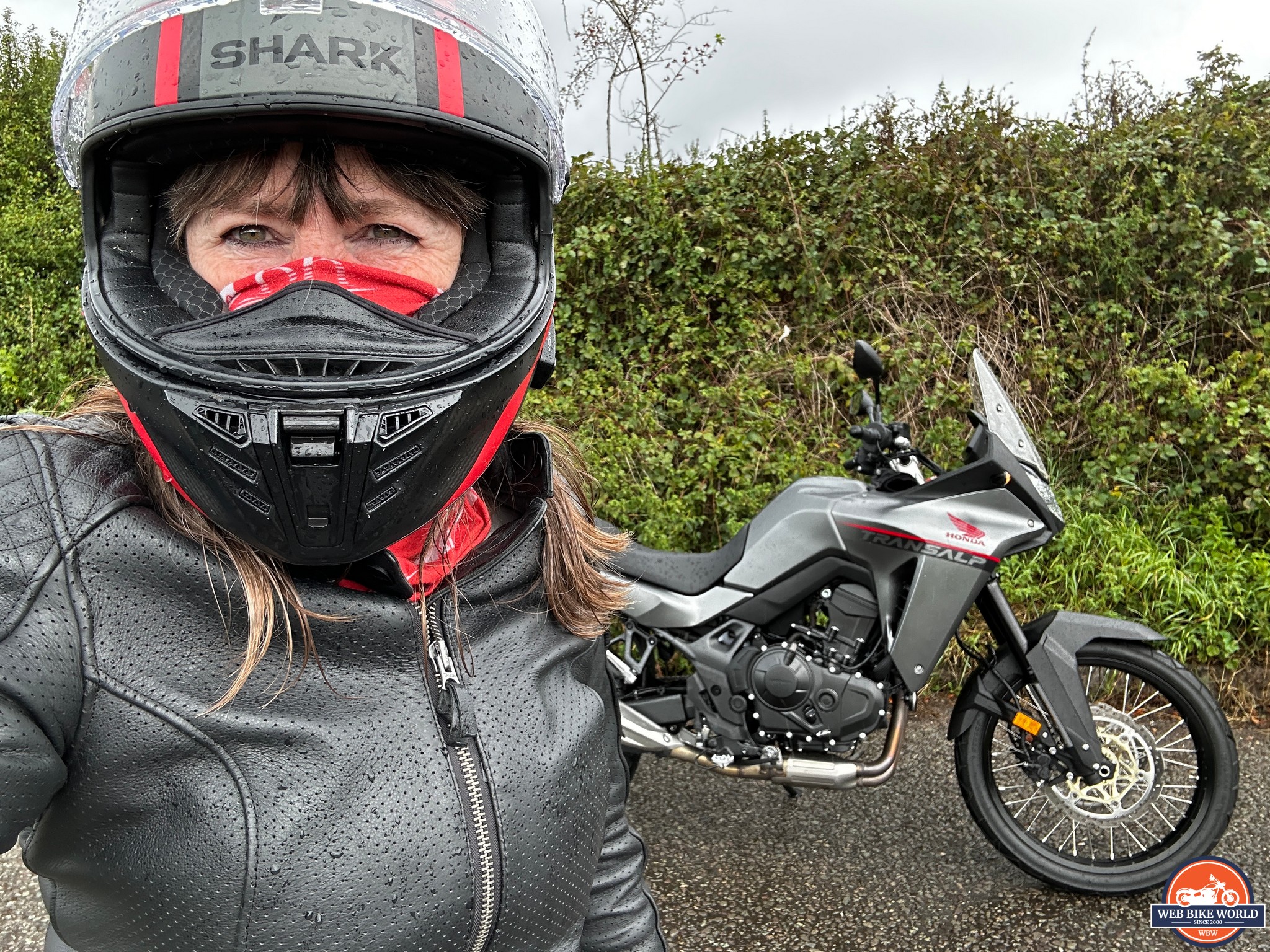 I found riding the bike itself okay, I loved the riding position and how smooth the bike felt, I just struggled a little when stopping at junctions and needing to put my foot down.
I also found moving the bike around a little awkward as not being able to put my feet down properly, I found getting traction when maneuvering was difficult.
I like the styling of the Transalp as did many people when I was parked up. I took the bike to bike night one evening and it garnered a lot of interest, people were eager to look at it and some compared the styling to the Transalp of old.
Engine
The engine is the same as in the CB750 Hornet which is a 755cc, 8 valve Unicam engine which produces good top end power with maximum output of 67.5kW @ 9,500 rpm with a peak torque of 75 Nm @ 7,250 rpm.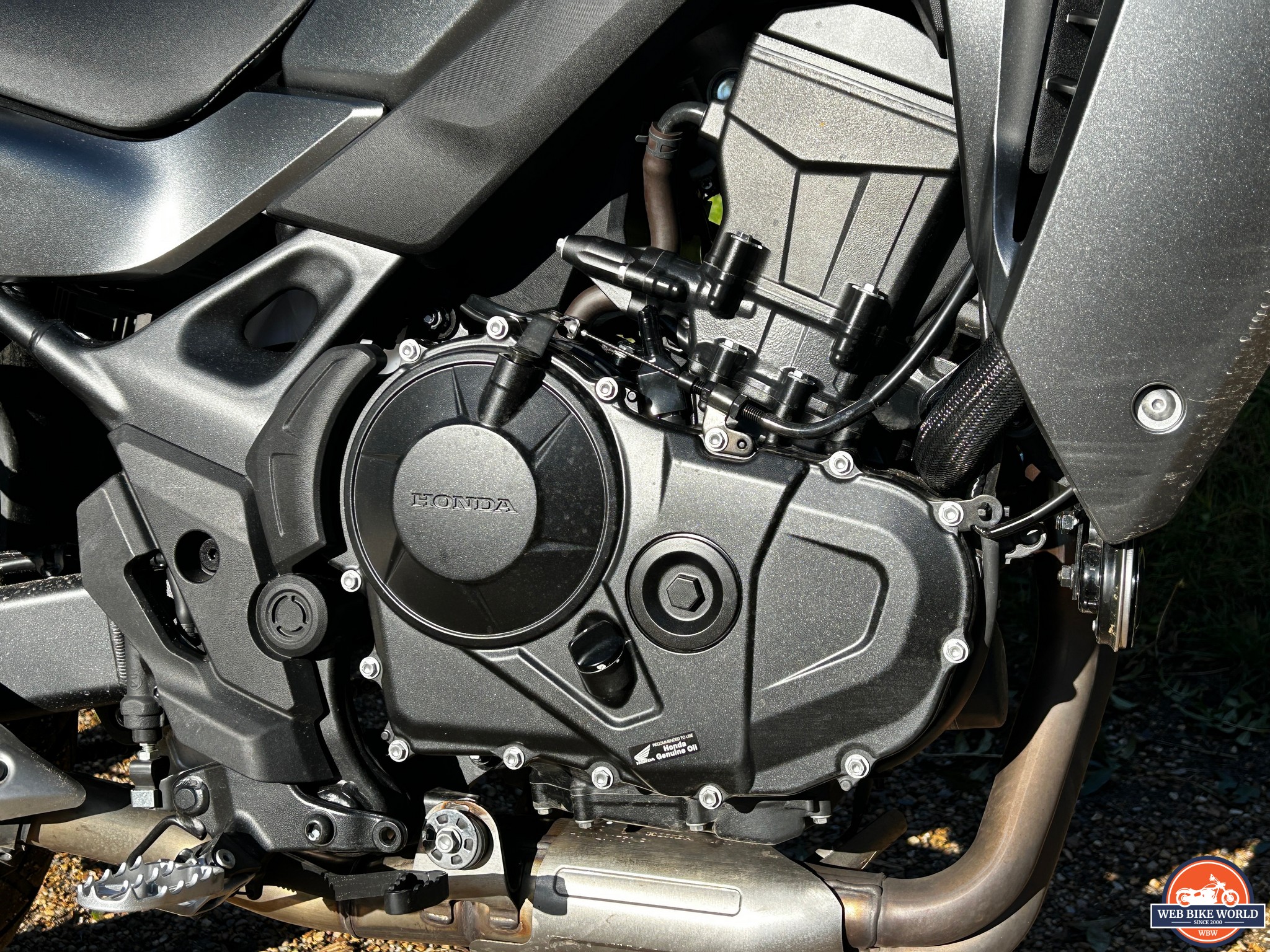 While mechanically the Hornet and the Transalps's engines are identical, the Transalp's TBW settings are tuned differently to focus on an engine 'flavor' in keeping with long distance touring work.
Having previously ridden the Hornet, I was familiar with how it would perform and feel and was not disappointed with the Transalp. The engine feels smooth and because it is a twin, sounds good too.
I felt the engine had a lot of torque especially mid range and was happy at low speeds even in a higher gear. Of course when you open it up, not only does it go well but it sounds great too.
Chassis
The steel diamond frame weighs 18.3 kg and has an integrated heavy duty subframe using high-tension steel for strength and toughness. The frame is some 10% lighter than the CB500X having undergone a major R&D process.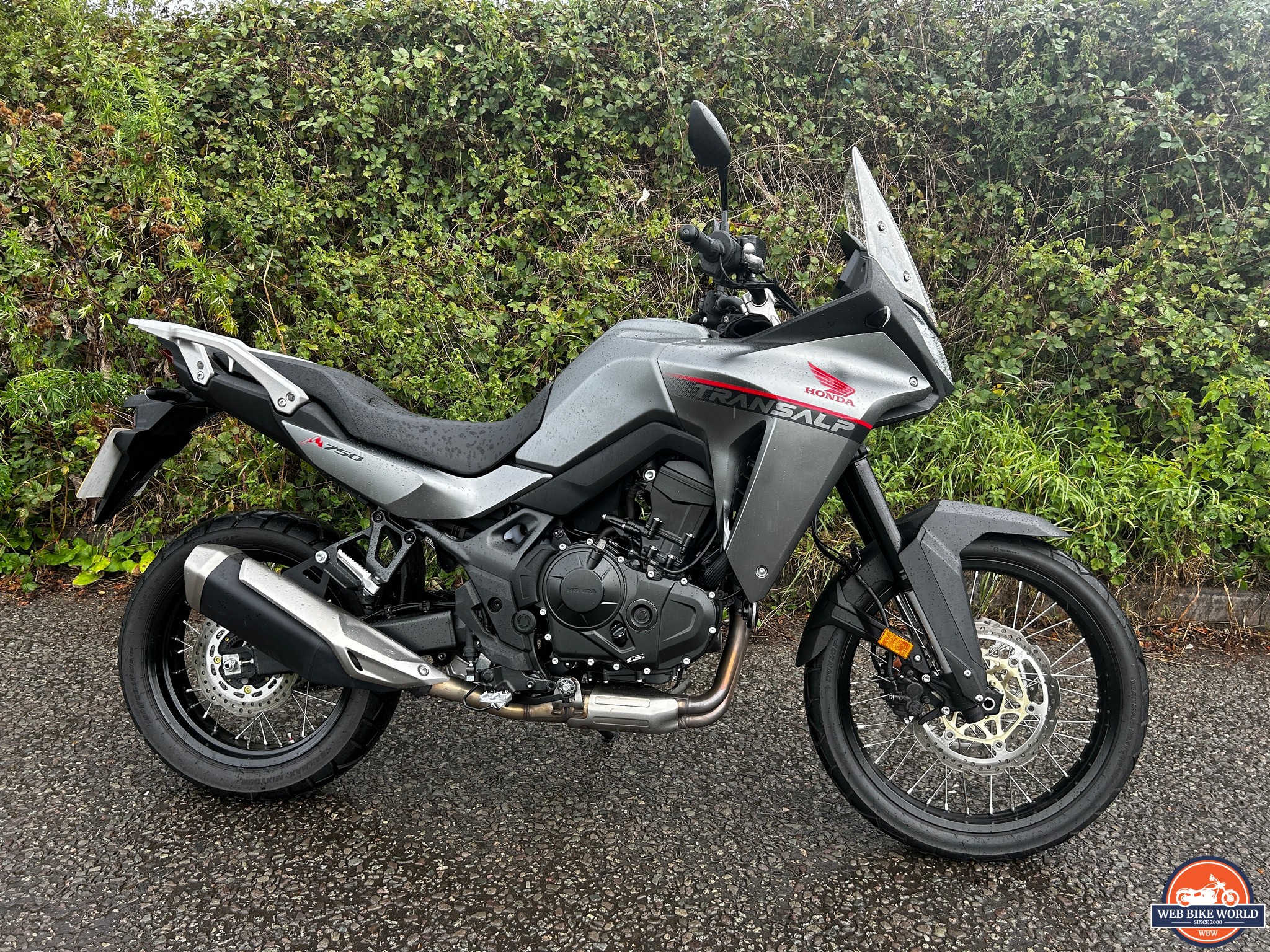 The rake and trail are set at 27 degrees and 111 mm, with a wheelbase of 1560 mm and a kerb weight of 208 kg. According to Honda, slow speed u-turns are supposedly easy due to a 42 degree steering angle and 2.6 metre minimum turning circle!
The Showa 43 mm upside down forks offer 200 mm of travel with spring load adjustments and are mounted by a forged aluminum bottom yoke and cast aluminum top yoke offering a balance of strength and rigidity in a range of riding situations.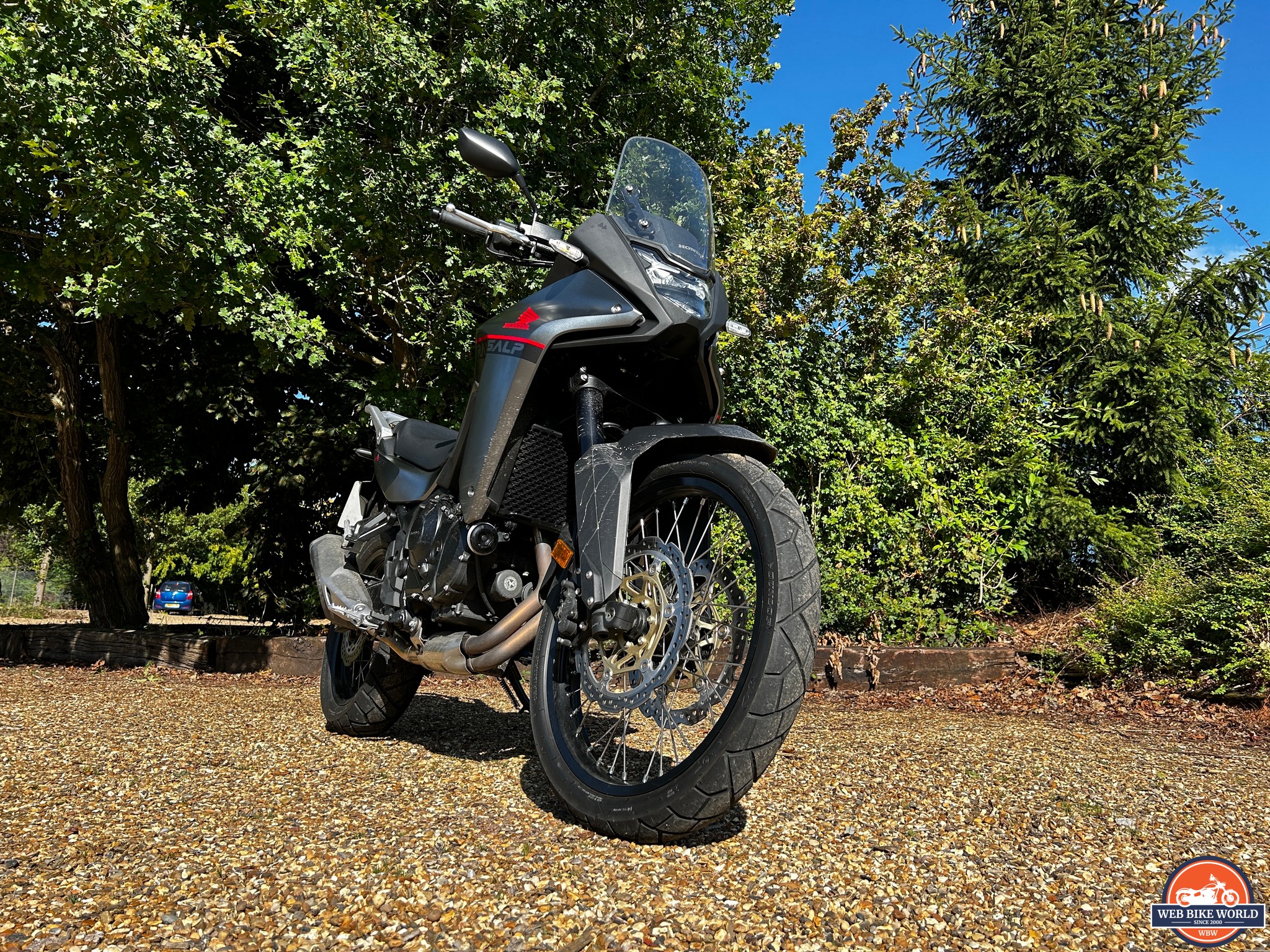 With 190 mm of travel, the remote reservoir Showa shock, which has adjustable preload, operates through Pro-Link, and the swingarm uses aluminum material unique to the Transalp giving a ground clearance of 210 mm.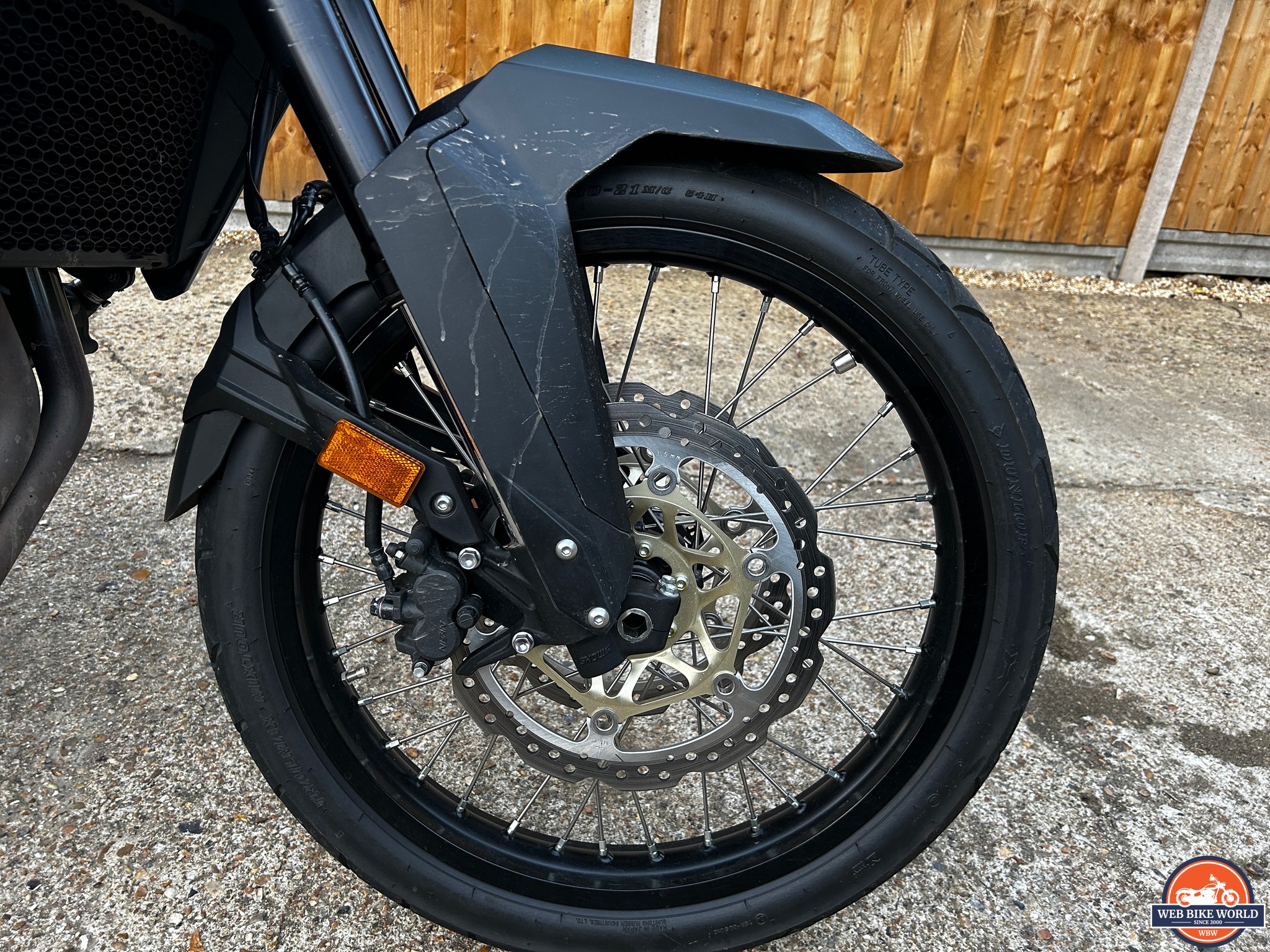 The brakes on the front are two-piston calipers with 310 mm wave discs with a single piston caliper and 256 mm disc on the rear. Just going down the gears, I noticed there was a lot of engine braking and the brakes were responsive when needed.
I really liked the ride the Transalp gave me, it is really comfortable to ride and soaked up the lumps and bumps very well.
TFT Display
The 5" color TFT screen is a good size offering clear visibility especially when glancing down whilst riding.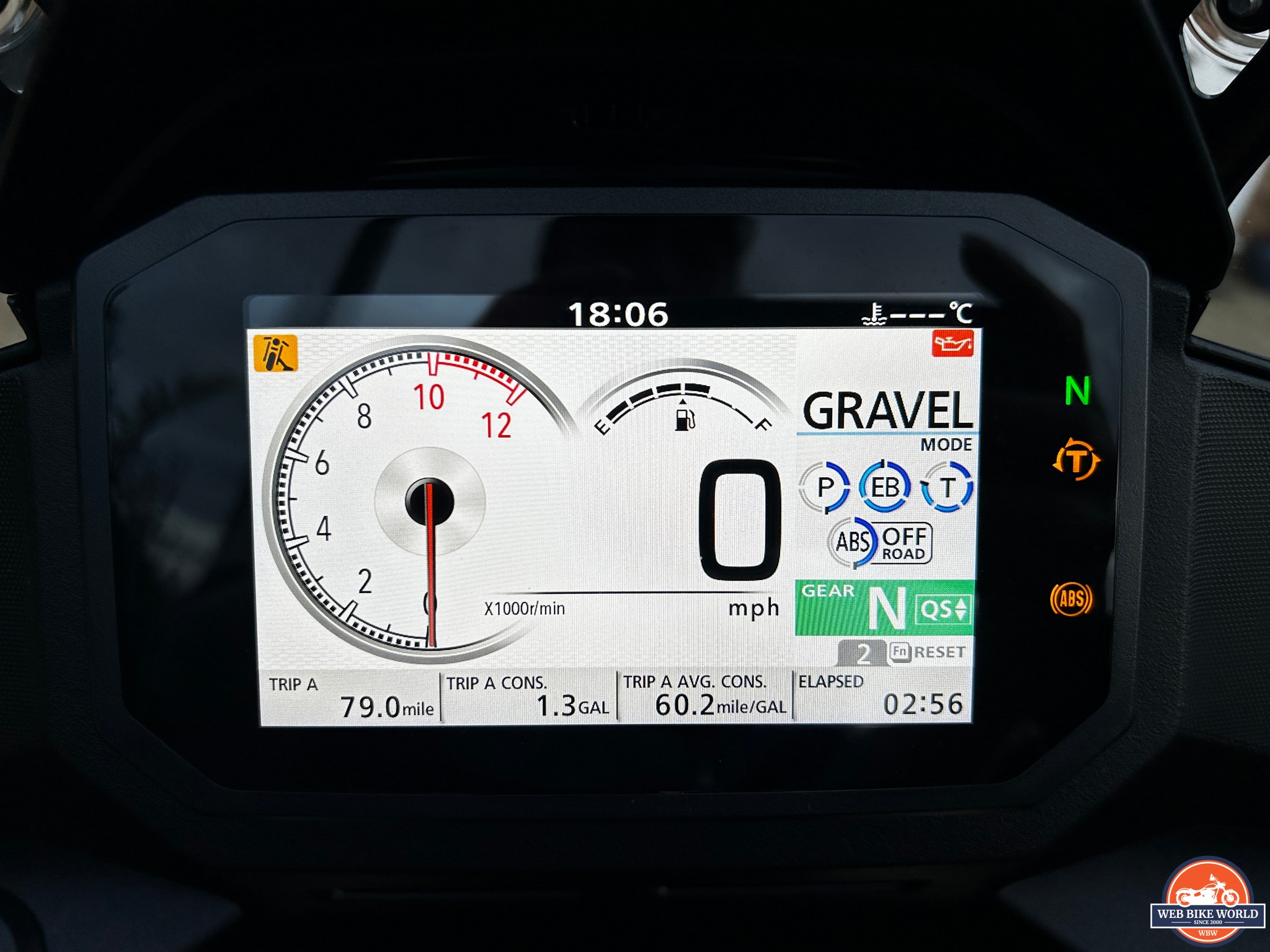 You can customize the screen so you decide what you want to see – there are four types of speed/rpm display, three are analogue rev-counter styles and one a bar style.
Also visible is fuel gauge and consumption, riding mode selected together with the engine parameters and gear selected. You manage the screen via the screen and arrows on the left handlebar.
Also available via the screen is the Honda Smartphone Voice Control system, which links the rider to their Android phone whilst on the move and allows voice management of phone calls, messages, music and navigation. Some of the HSVCs functions will be accessible on IOS smartphones.
Of course you need a helmet-mounted headset to be able to connect to the screen. Your smartphone connects to the screen via Bluetooth, this can also be managed using the buttons on the left bar.
Bearing in mind the number of modes and customisation options, I found navigating the screen easy which is a huge plus point for me!
Riding Modes
There are four default riding modes: sport, standard, rain and gravel adjusting the engine's performance delivery and feel to suit the conditions and how you want the bike to perform.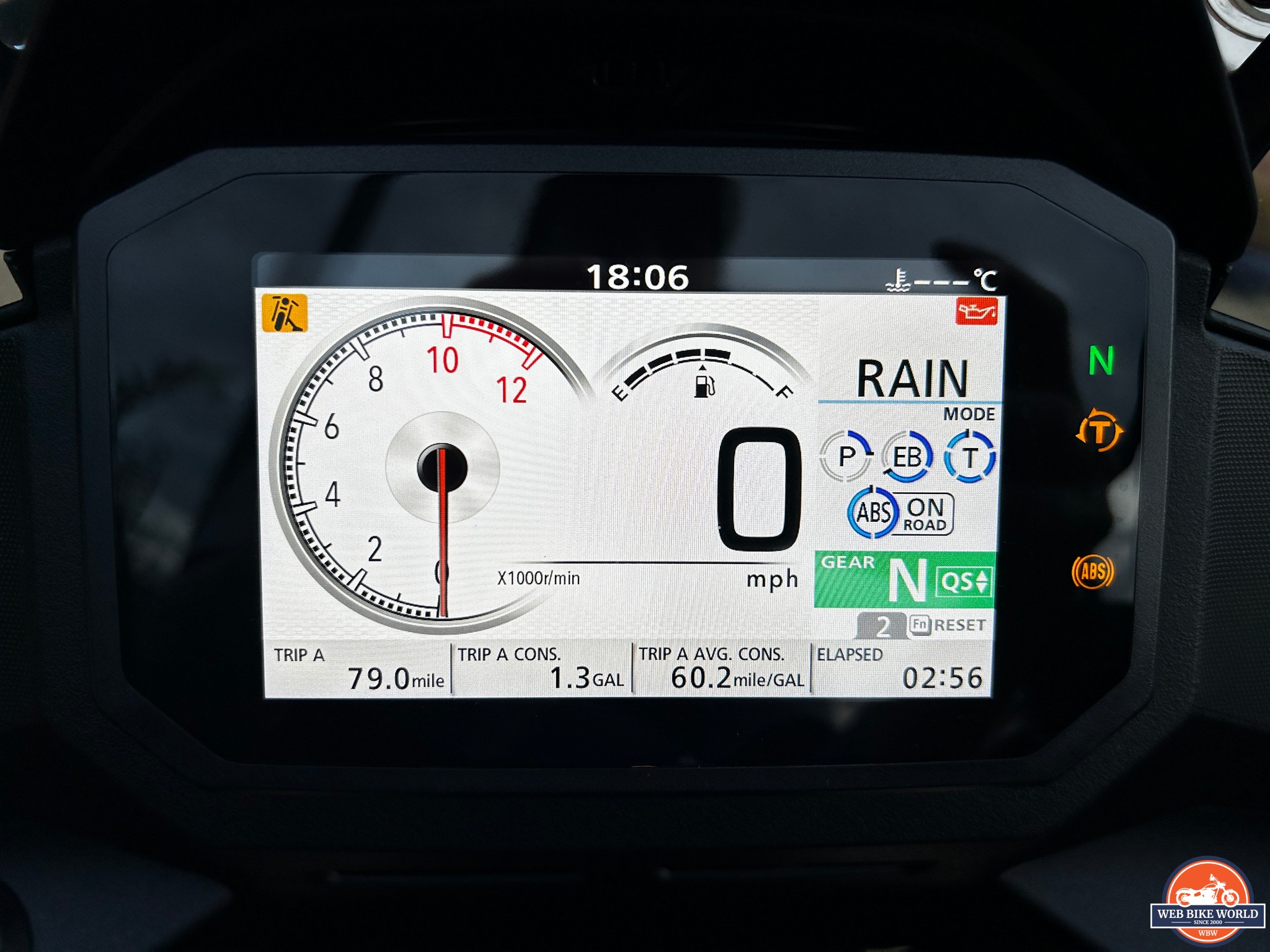 There is also a user customisation option so you can set the bike up to suit you and your riding style.
The off-road ABS brake setting allows the rear caliper to be switched off in user mode.
There are 4 levels of Engine Power (EP), 3 levels of Engine Brake (EB), 2 levels of ABS, and 5 levels of Honda Selectable Torque Control (HSTC) available; HSTC and can also be switched off. The riding modes offer different combinations of each parameter. Wheelie Control is also standard and integrated to HSTC.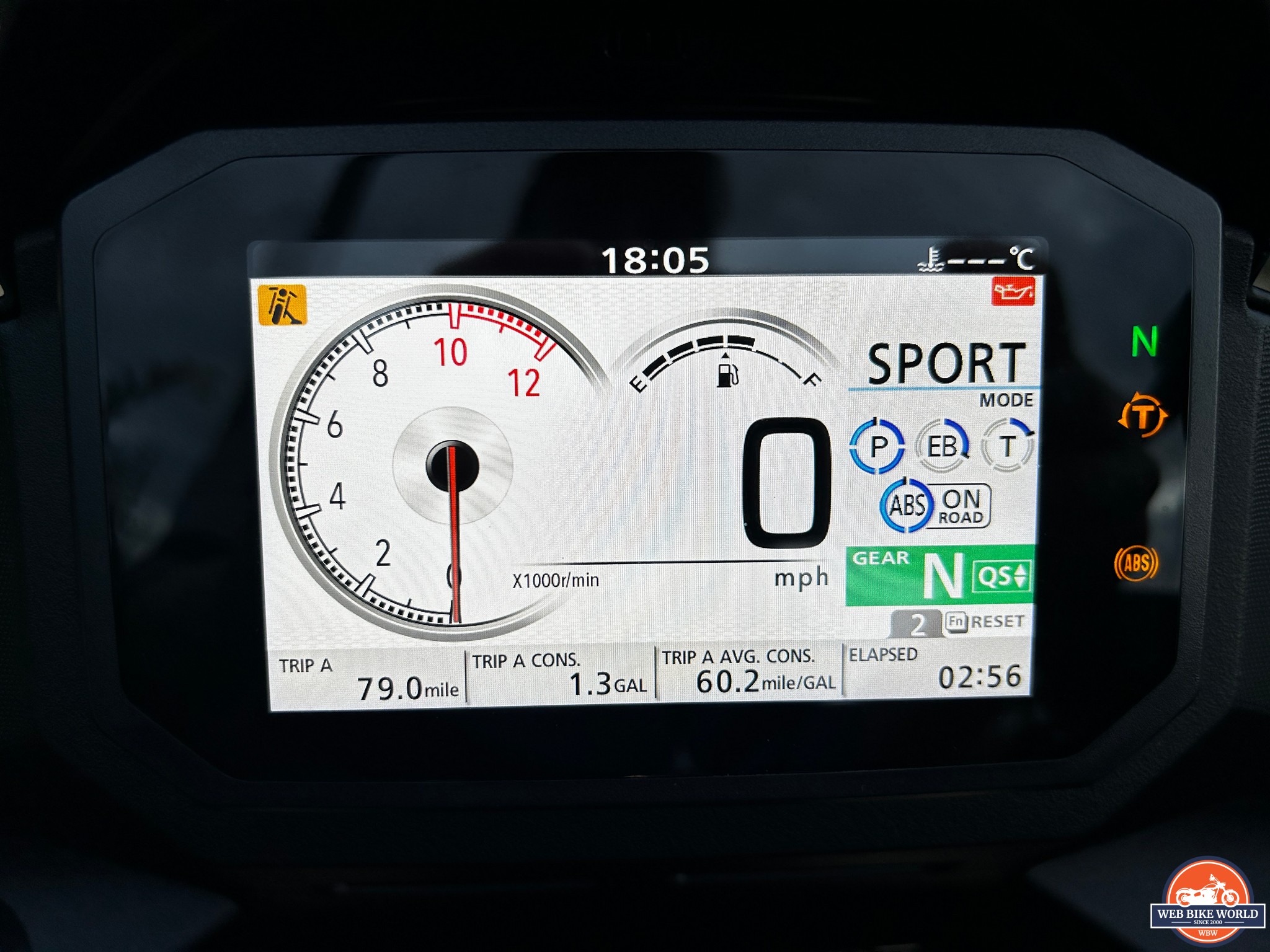 Honda describe their modes as:
SPORT: offers maximum performance and uses level 4 EP, level 2 ABS and level 1 EB and HSTC to deliver strong acceleration with minimum intervention.
STANDARD: is a mid-way setting for urban riding that uses level 3 settings for EP and HSTC, with level 2 EB and ABS.
RAIN: is designed for challenging on-road conditions and employs the lowest EP setting, level 1, for the least aggressive power delivery with level 2 EB and ABS and 5 HSTC.
GRAVEL: features level 2 EP, level 3 EB, and level 4 HSTC with level 1 ABS setting for confident travel on rougher terrain off road.
USER: allows the rider to choose between settings 1-4 EP, 1-5 HSTC and 1-3 EB plus rear ABS switch off, and save them for future use.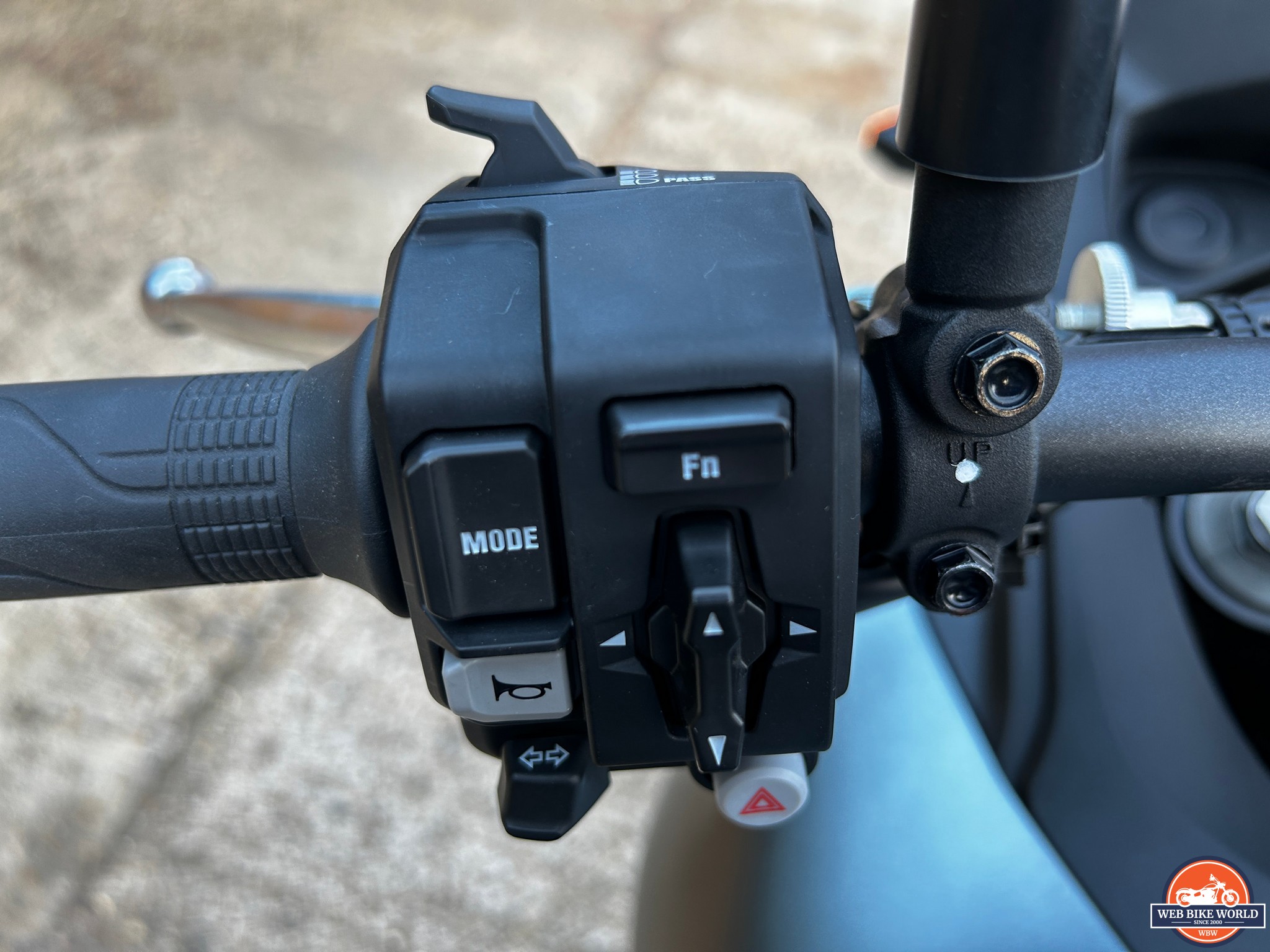 The modes are easily switched and managed using the mode button on the left bar and TFT screen. Bearing in mind the number of modes and levels within those modes that you can choose, it is actually very user friendly. Put it this way, even I managed to find my way round!
Tires
The Transalp has a 21" stainless steel spoked wheel on the front and an 18" on the rear with Dunlop Trailmax Mixtour tires.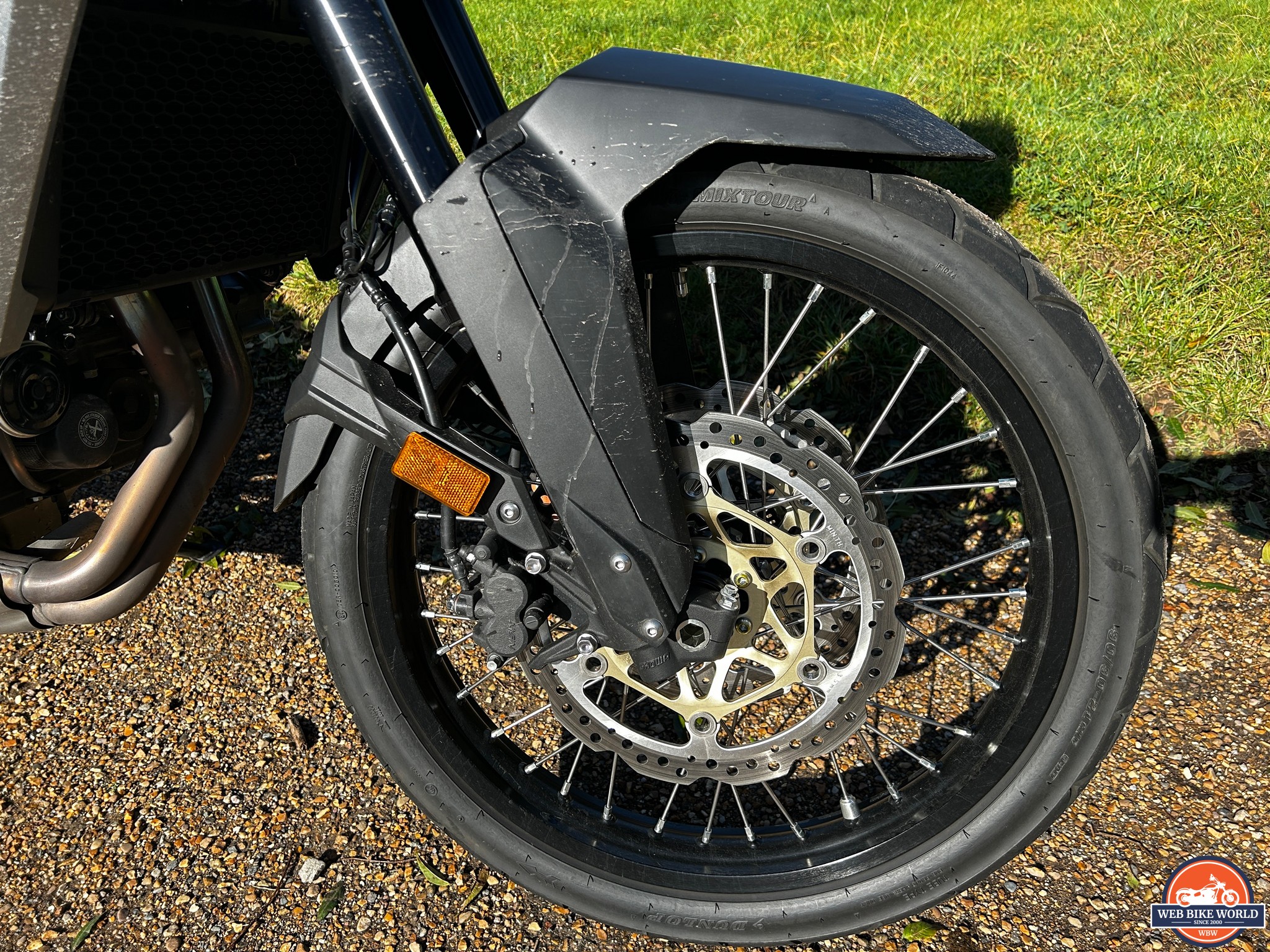 Dunlop describe these tires as: 'The result of our pursuit of balance between on-road touring, dirt running performance and good value. All inspired by the concept of modern adventure bikes.'
By blending silica and carbon for front and rear tyres, you get dry and wet grip with good mileage. The compound offers good abrasion resistance and suppresses block chipping.
The Trailmax Mixtour block pattern is aimed at finding traction on a wide variety of surfaces. By arranging the tread so that the pattern rigidity from upright to full bank is uniform, you can enjoy linear handling.
Both high-speed stability on the road and predictable handling off-road are achieved through a conventional cut-breaker front construction combined with a JLB rear casing.
I have not had experience with these tires before so I was interested to see how they performed. A lot of the time I had the Transalp the weather was warm and wet.
I like these tires, the bike felt good and stable. I came home late one evening from bike night in the dark and very heavy rain but the tires didn't falter once and they gave me confidence riding in those conditions.
Pressing on a bit on dry roads in the twisties was so much fun, the bike was smooth to ride and felt good and solid.
LED Lights
All the lights on the Transalp are LED. The rear indicators feature an Emergency Stop Signal (ESS) function which means that at a minimum speed of 56km/h with either brake working, if negative acceleration of a minimum of 6.0m/s2 is detected, the hazard lights flash to warn other road users a hard stop is in process.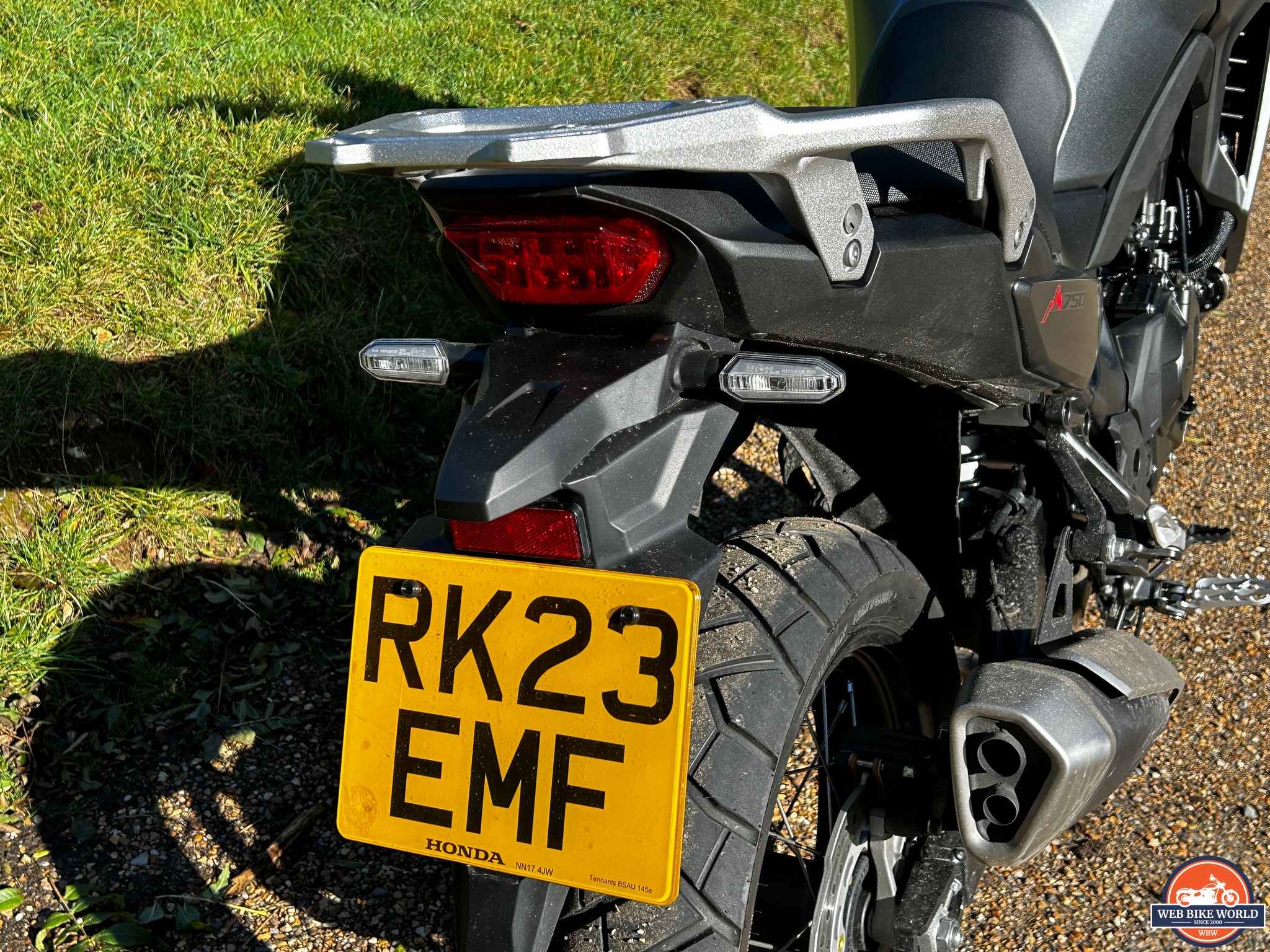 At the same speed the threshold is reduced if ABS is activated, to a negative acceleration of a minimum 2.5m/s2.
I did experience this function happen once but did not think that I was necessarily making a hard stop but at least you know this works I suppose!
The indicators also auto-cancel so rather than using a simple timer, the system compares front and rear wheel speed difference and calculates when to cancel the indication relative to the situation.
I refer to these as self canceling indicators, I really do wish they were standard on all bikes, especially mine!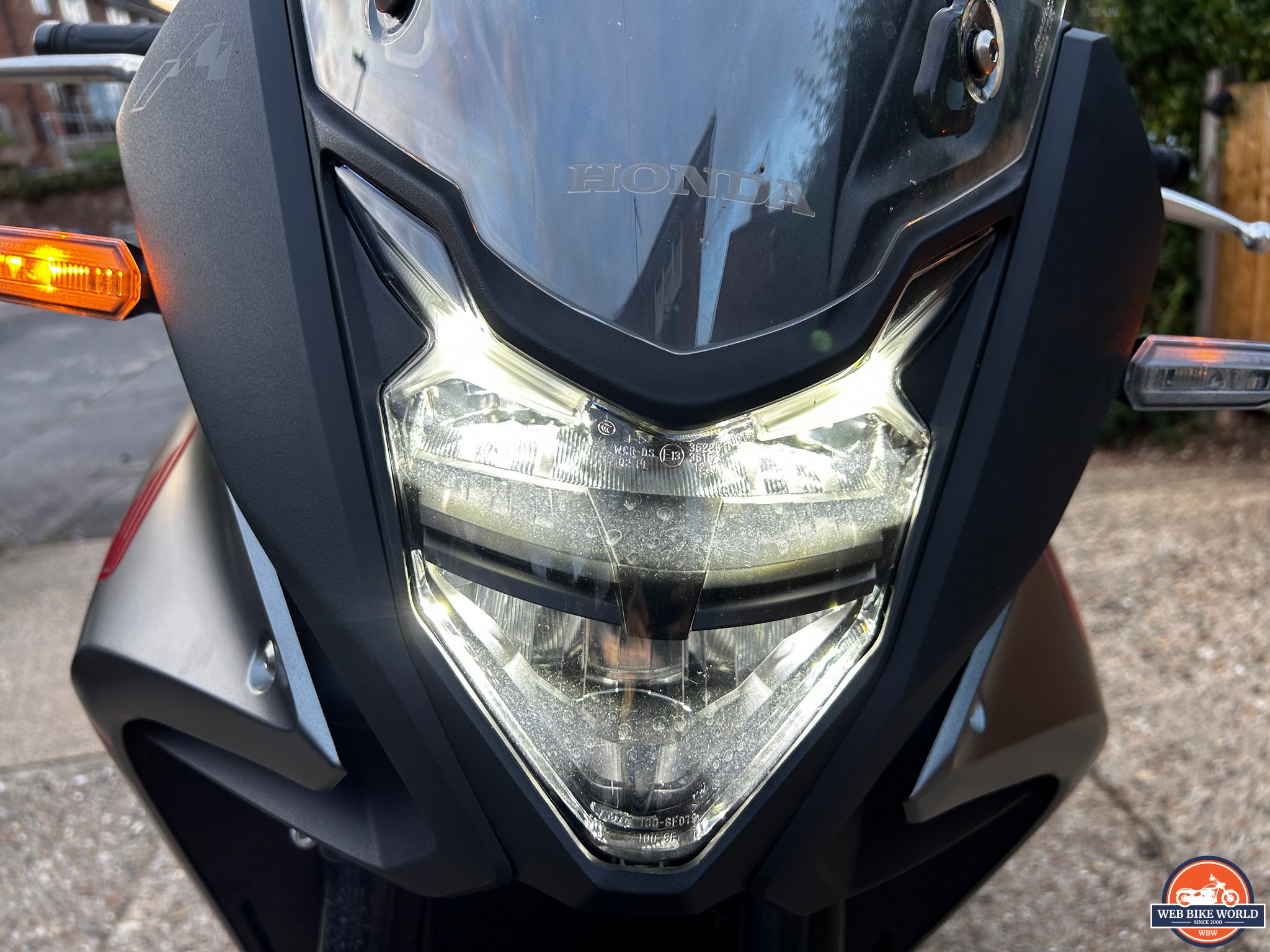 The front headlight is almost animal head in shape with horns. This is neatly intertwined with the molded front end and screen.
The LEDs give off plenty of light and when the main beam is in use, it really lights up the sides of the road too really well.
So, What is the Honda XL750 Transalp like to Ride?
As you would expect with Honda, the Transalp is nicely put together. I like the styling of the bike, it is not like the more 'traditional' style of adventure bike, there is not as much fairing out the sides and front so it actually doesn't feel that big a bike.
Whilst the Transalp is absolutely okay to ride, at 5'6" I found putting my foot down when stopped in traffic or junctions a little nervy as I could only get the tip of my toes down. I would have preferred the seat to be a little lower just to give me peace of mind if nothing else.
Likewise moving the bike around I did find cumbersome. The bars came up quite high on me. I had to think about where I parked the bike when out to ensure I could get going again okay.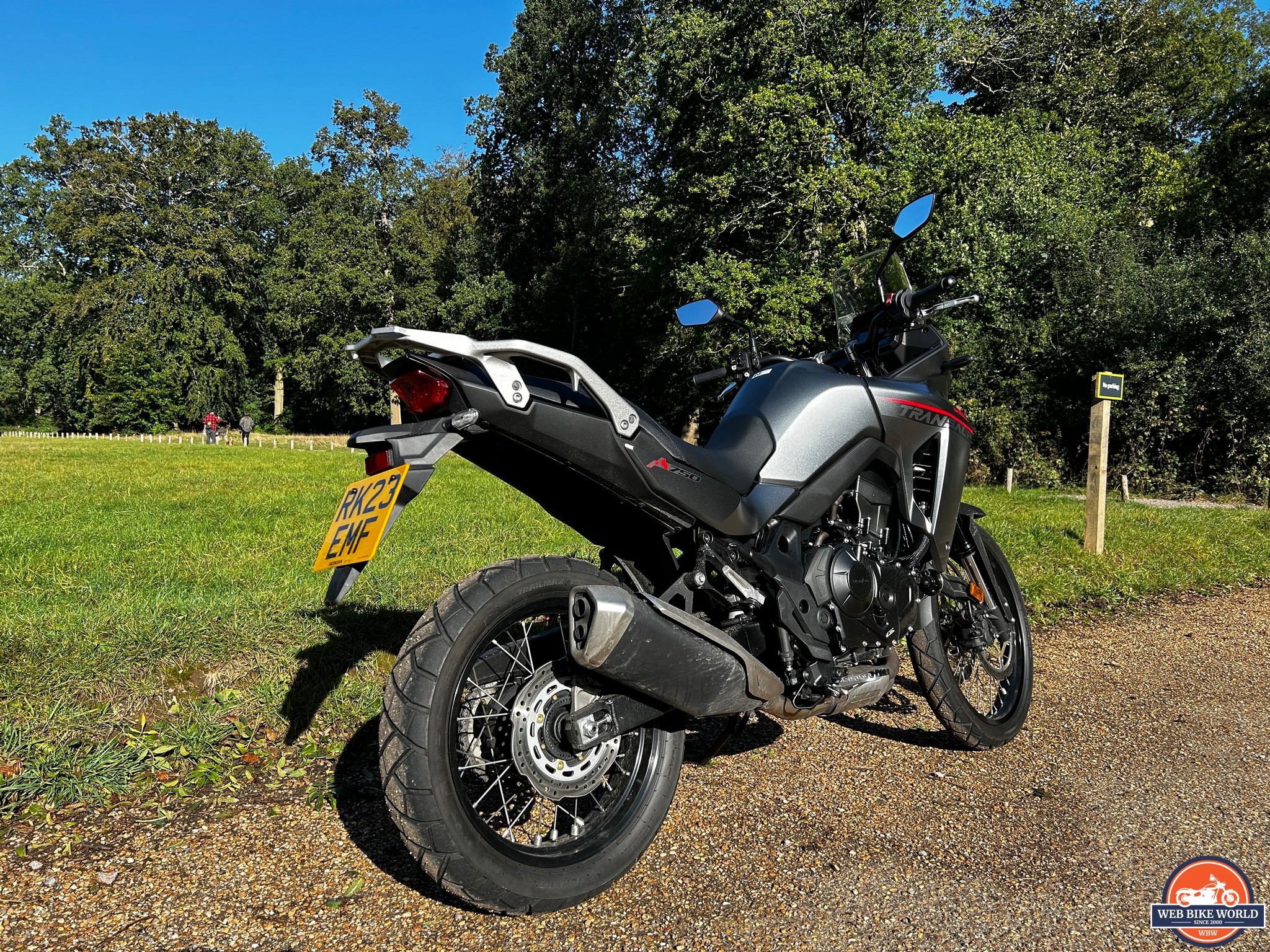 I experienced terrific wind noise in my helmet whilst riding due to the height of the screen. The screen is not adjustable so I could not move it around to see if that helped.
Of course one's height, weight, how you position yourself on the bike etc. all differ between us so how the wind affected me probably wouldn't affect someone taller or bigger.
I did enjoy riding the Transalp, I really liked the seating position, my legs were not scrunched up and I was comfortable.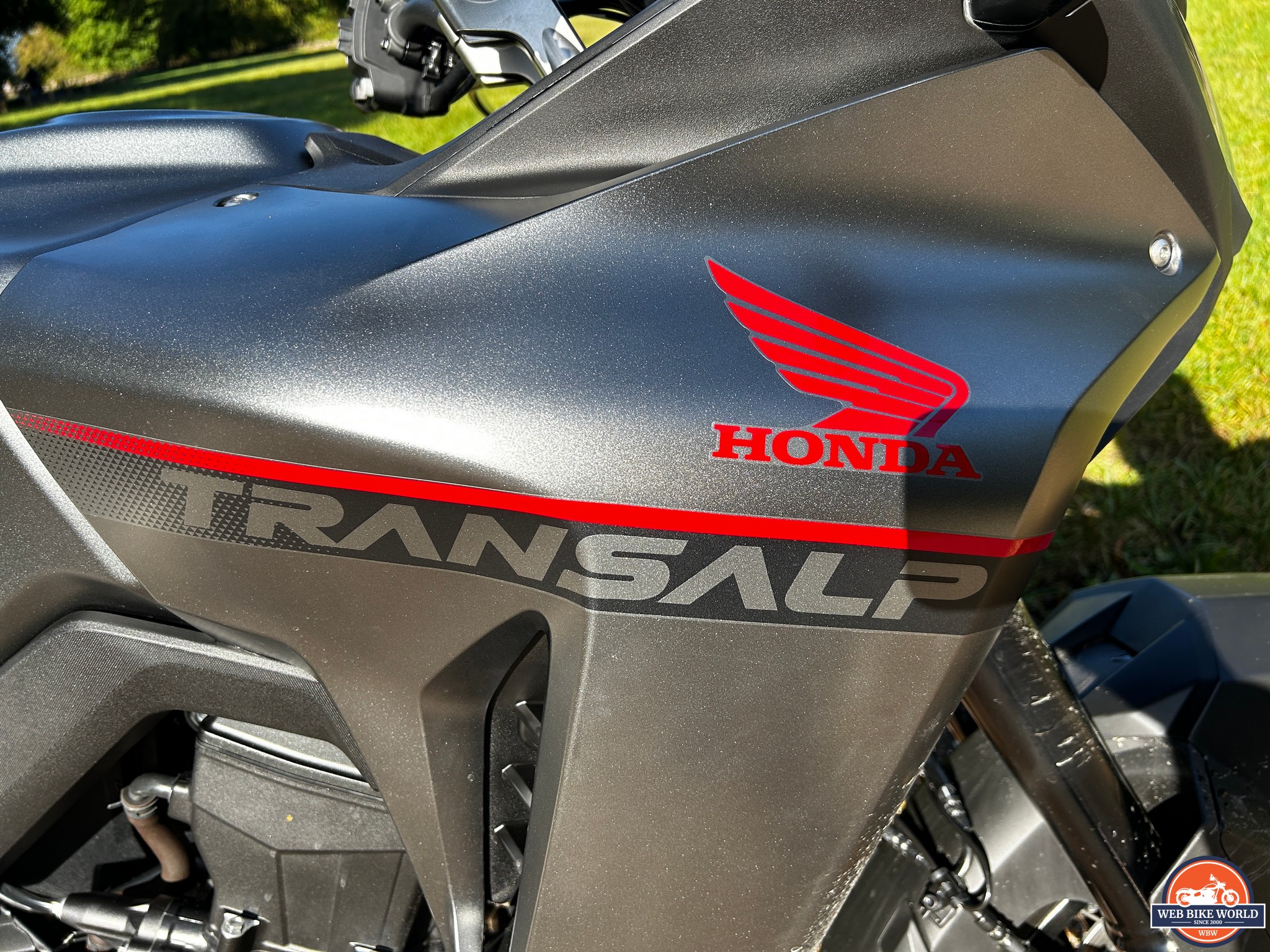 The bike feels smooth to ride, it handles the corners with ease and grace and I really did feel that I would be able to ride it on long journeys.
The suspension felt soft, I didn't really notice the lumps and bumps, you get a very comfortable ride with the Transalp, it trots along nicely and will overtake without dropping a gear with ease.
Navigating the screen whilst riding is easy to do with the controls on the left and glancing down, you can see clearly what you are looking for.
I would have to put a tail tidy of some sort on the rear as there is a bit too much 'going on' at the rear for me. I would definitely have to put a louder pipe on too to really bring out the sound of the twin engine.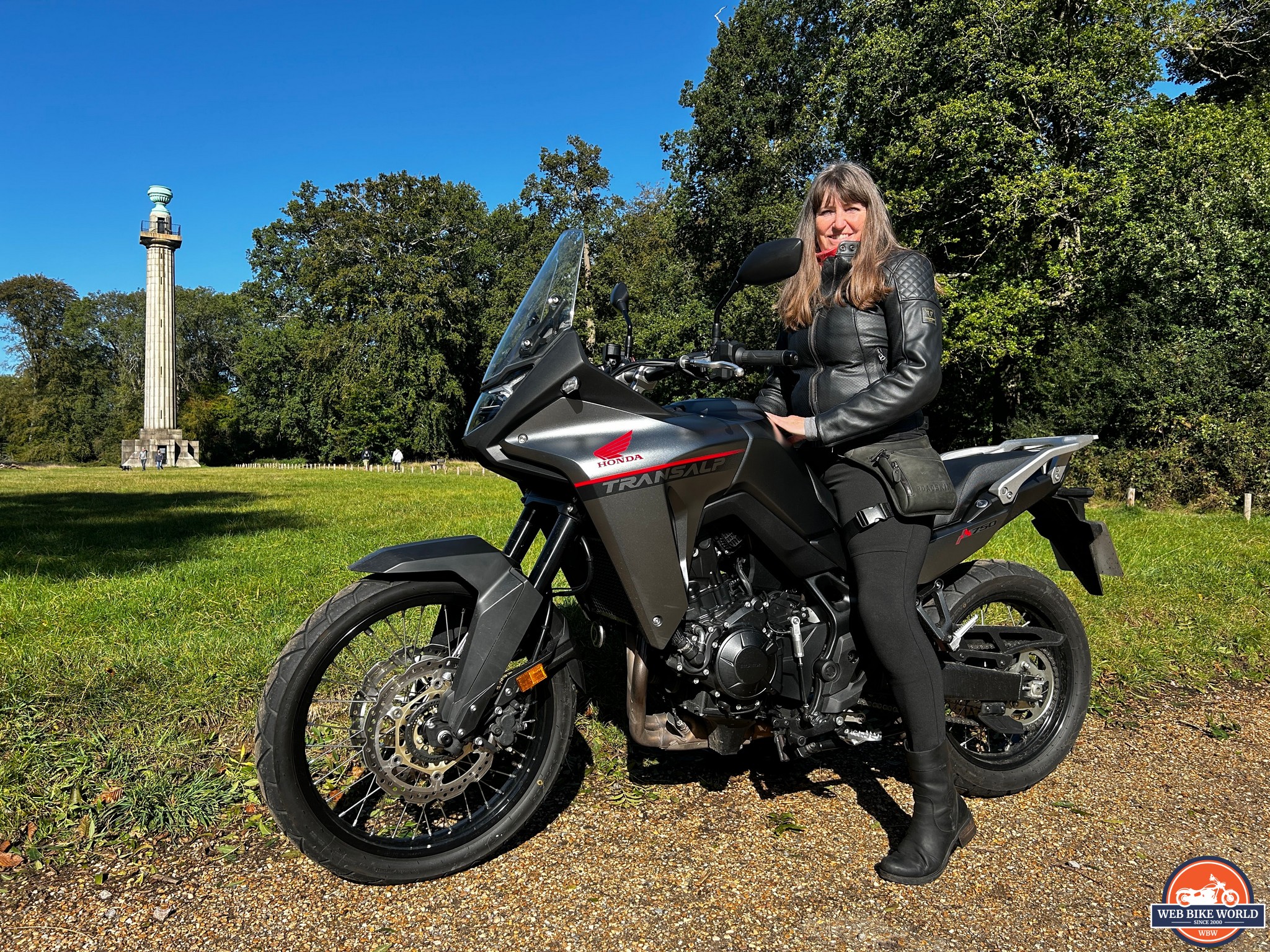 I had a great adventure with the Transalp and can see why Transalps over the years have been a popular bike and I think this model will be no exception.
Thank you Honda UK for the loan of the Honda XL750 Transalp.
2023 Honda XL750 Transalp Video Review
Pros
At $11,521 you are getting a lot of bike for your money with Honda quality and reliability
Quickshifter comes as standard
Four customisable riding modes so you can seat this bike up to suit you and your riding both on and off road
Self-canceling indicators which are an absolutely favorite of mine, which can be turned off
The 5"  TFT display is clear and easy to read; navigating the screen is easy too despite being able to adjust modes within the modes!
Three color choices available and I particular like the nod to the Transalp of old with the white tricolor option
Cons
A really tall bike with a standard seat height of 850 mm which is not good for those of us who are vertically challenged!
The front screen is not adjustable so you may need to change the screen for a shorter/taller one depending on your height etc if you experience wind noise
The standard exhaust is way too quiet and does not show off the noise of the twin engine
A tail tidy would neaten up the rear end
2023 Honda XL750 Transalp Image Gallery