Note: this is a comprehensive review of the HeyBike Tyson, coming in at 4,400 words and going over every aspect of the bike. If you're shopping the Tyson and want to see what it's like to own and ride, this review was made for you.
Folding ebikes are widely popular, and the segment is a competitive one. Many – most? – of the large ebike manufacturers have a folding bike in their lineup, and they are no longer a rarity when encountered in the urban jungle, on public transit, or even stowed away in an office.
The Tyson is one of the most thoughtful folding ebikes you'll come across, with care put into not just its package, but its feature suite as well. Equipped with turn signals, a rear brake light, and an electronic "horn", the Tyson's tight form factor will help it slip through the crowds with minimal fuss. 
Something that differentiates the Tyson – and HeyBike in general – is its app, which is powerful and feature-rich. HeyBike allows you to adjust and interact with the bike via your phone vs. using a clunky interface on the display, which is novel at this price point – and very good, too.
I was excited to see what this folder was like, especially since I recently reviewed the Surface 604 Twist. Where the Twist is meant to offer the best riding experience in a folding frame, the Tyson was designed to be a smart and convenient commuter. I was curious to see if the 77 lb Tyson would be a good short-range or last-mile commuter, or if it was a case of poorly implemented features that come at the expense of the core riding and transportation experience.
Delivered neatly wrapped and protected in its box, Melissa and I unboxed and built the Tyson in under an hour. Since then, we've been scooting and pedaling around our suburban backyard in this surprisingly capable folder.
Words & Photography: Cameron Martel 
HeyBike sent us the Tyson for this review. We do not have a financial relationship with HeyBike. All reviews are subject to our review policies.
2023 HeyBike Tyson Specifications
MSRP:

$1,699 USD / $2,399 CAD

Where to Buy:

HeyBike.com

Warranty:

30-day money-back guarantee, 1-year warranty on the bike and battery

Top Speed:

25 mph / 40 kph 

eBike Class:

Class 3

Range:

Estimated 55 miles / 88 km

Bike Weight:

77 lbs / 35 kg (including battery)

Weight capacity:

400 lbs (181 kg)

Motor:

750-watt rear hub

Torque:

Estimated 70 nm

PAS:

Cadence, 5 settings (adjustable via HeyBike app)

Brakes:

RST hydraulic brakes with 180 mm rotors

Gearing:

Shimano 7-speed

Battery:

48V 15 Ah (UL 2271 recognized)

Wheels & Tires:

20" x 4" wheels and tires (no-name tires)

Other: Rear brake light, turn signals, rear rack, electronic horn, headlight, full-suspension frame with hydraulic front fork and rear spring shock, fenders
Unboxing & Assembling the Tyson
Arriving neatly packaged and carefully wrapped, unboxing the Tyson only takes a few minutes.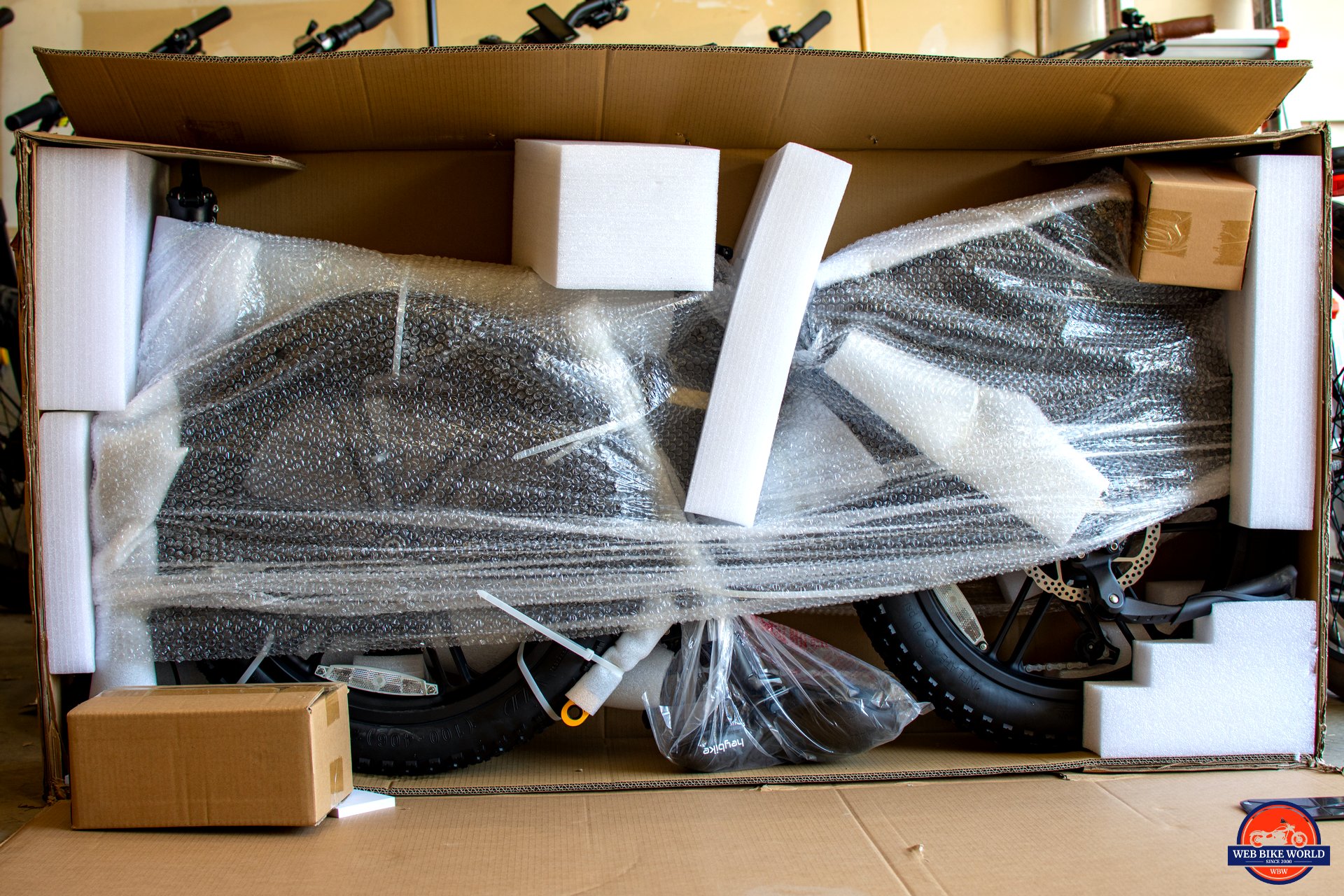 Be mindful of the screen, which is largely unprotected once you've removed the wrapping from all the other components. Unfortunately, this display scratches easily and you'll find yourself with a few if you aren't careful.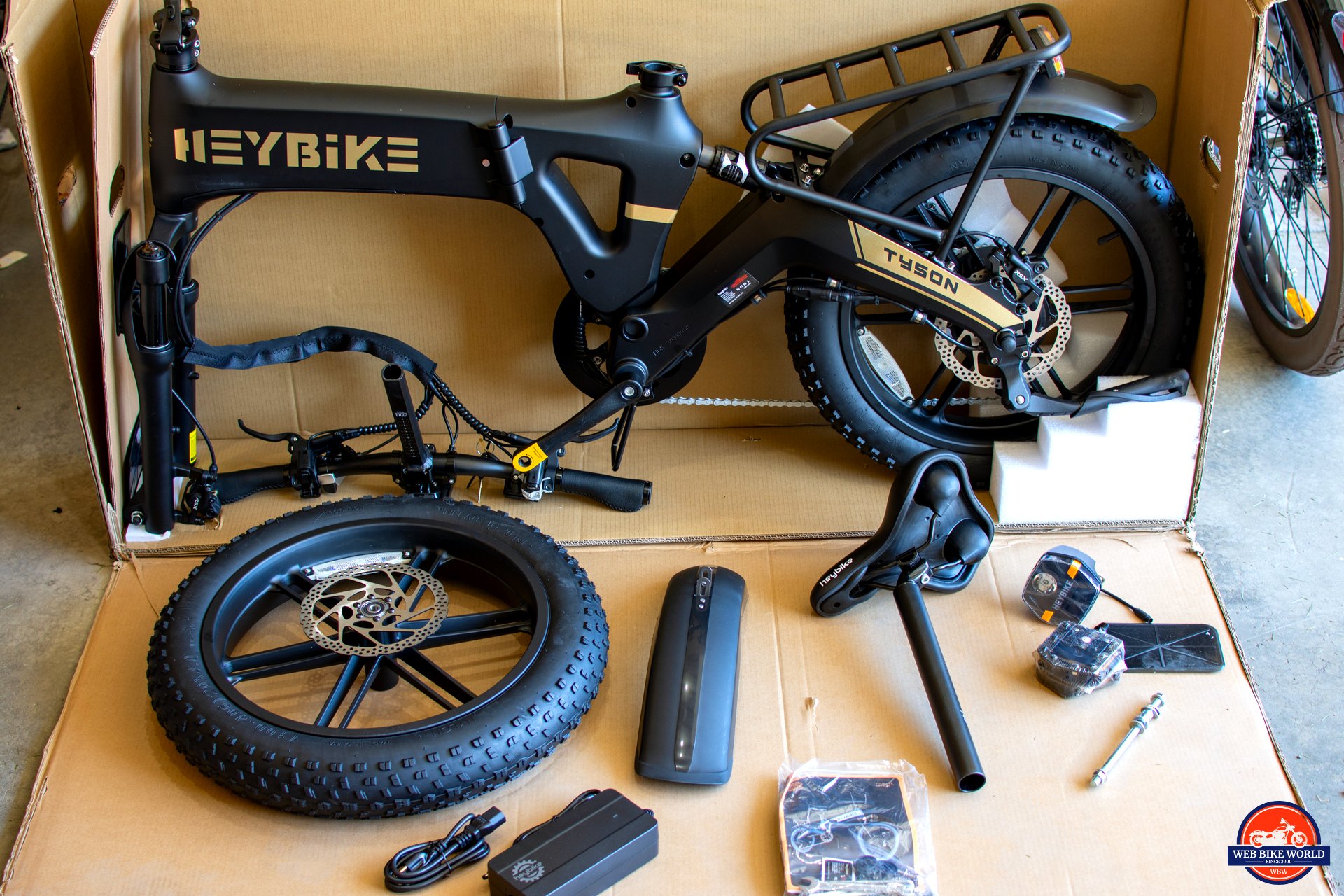 Once you've removed the protective wrapping, there are only a few components you need to install:
Attach the front wheel

– We had a bit of trouble with a nut that didn't want to thread properly, but some WD40 and a ratchet later, and that problem was solved.

Install the front fender and headlight

– A single bolt slides through the mounting points for both items, making this a simple 2-minute task.

Install the seat

– The seat post goes into the seat tube – easy!

Align and tighten the stem and handlebar

– This took us a few minutes to get dialed in, but easy overall.

Attach the pedals

– Mercifully, HeyBike includes stickers on the crank arms that tell you which direction to thread the pedals.
HeyBike includes all the hardware and tools you'll need to assemble the bike, including written instructions (you can also find a walkthrough video on YouTube).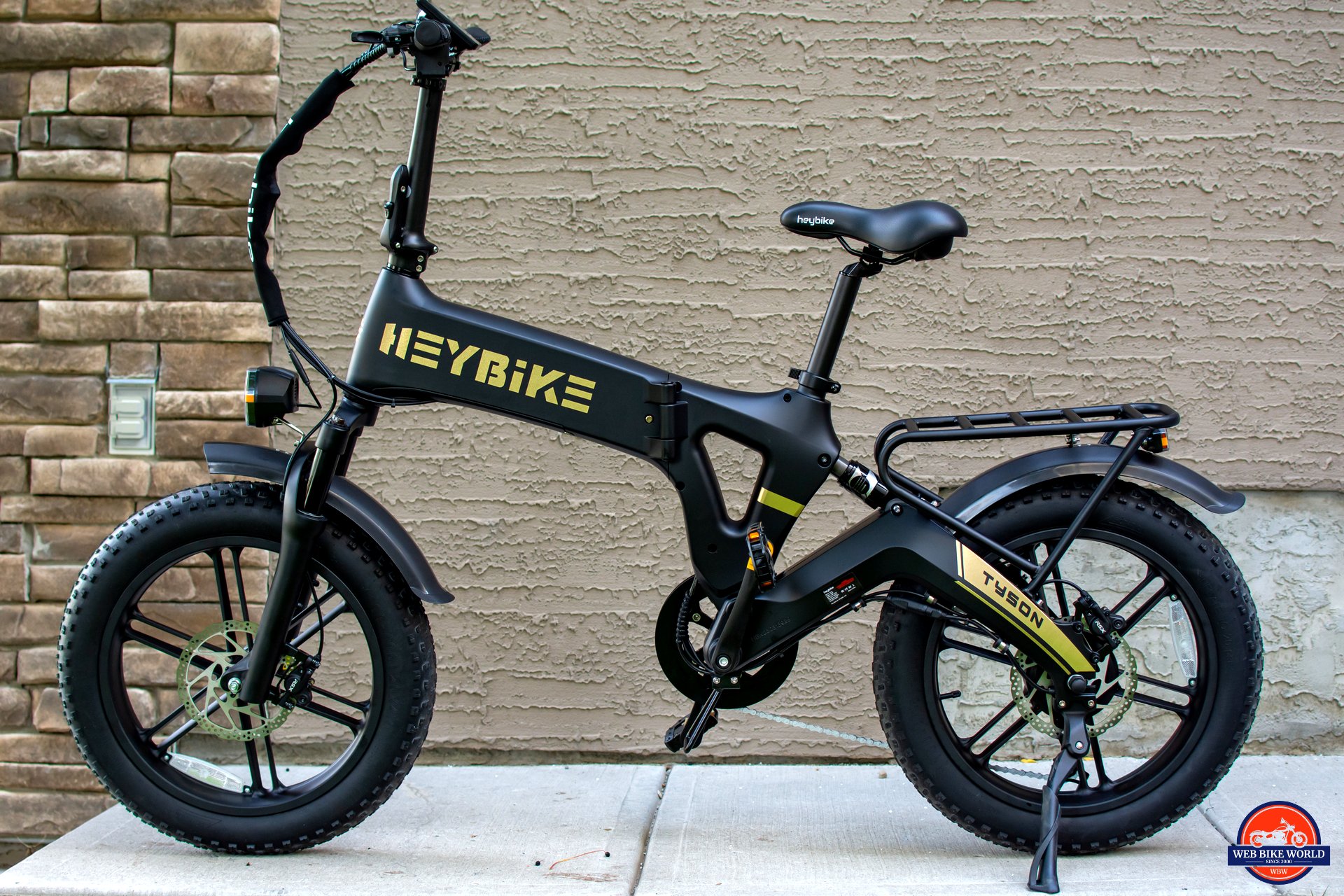 If it's your first time building a bike-in-a-box, budget about an hour to unbox and assemble the Tyson.
Assembly How-To Video
Using the HeyBike App to Customize the Tyson
The HeyBike app is where you will interact with the settings menu and customize the Tyson. It is available for both Android and iPhone.
At the time of this review, the app was rated 1.8 and 1.3 out of 5 on Android and iPhone app stores, respectively. This concerned me when I first downloaded the app, but outside of a few random Bluetooth disconnections, my experience with the HeyBike app has been fine on my Pixel 6.
Registration & Using the App
Creating a new account can be done within the app, though the process is a bit clunky. The app sends you a code via email (which came from a seemingly unaffiliated email address that looked like spam). It also asks for your phone number.
There is a "Google" button, presumably to let you use your Google account to sign up. However, every time I hit this it just said that I didn't have an account and couldn't login… even when I was on the registration page. Confusing.
Once I finally signed in, it almost immediately found the Tyson via Bluetooth. Once connected, it asked me to verify the Tyson's color, and then I was at the dashboard.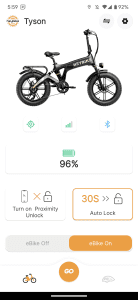 From the dashboard, you can see the battery charge level, as well as remotely lock/unlock the bike's electronics or turn the Tyson on or off. You can also access the settings menu by clicking the icon of the gear in the top-right corner of the screen.
Accessing the Settings Menu
The settings menu allows you to customize the Tyson's various personalization options. The most important are found under the "Personalize" section.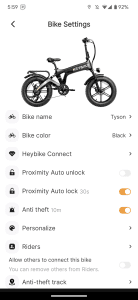 Within the "Personalize" screen you can adjust the display units between mph and kph, change how the throttle behaves, and customize your pedal assist settings.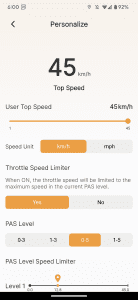 I was very happy to see that you can adjust the pedal assist settings among the options within this menu. I spent a few minutes tinkering with the various settings until I found some which I thought were ideal for my environment.
Other App Features
You can track your rides within the app via GPS

– If you don't already have a ride tracking / GPS tracking app, this may be fun.

Theft tracking – Kind of like "find my iPhone", but for your HeyBike. This uses a 4G connection and GPS. For example, you can set up a geofenced area and get alerted if the bike leaves the area.
What's the HeyBike Tyson Like to Ride?
At 6'2" and 210 lbs, I'm a bigger user than many. I'm used to hunching over handlebars or fighting and tweaking endlessly to get to a comfortable riding position.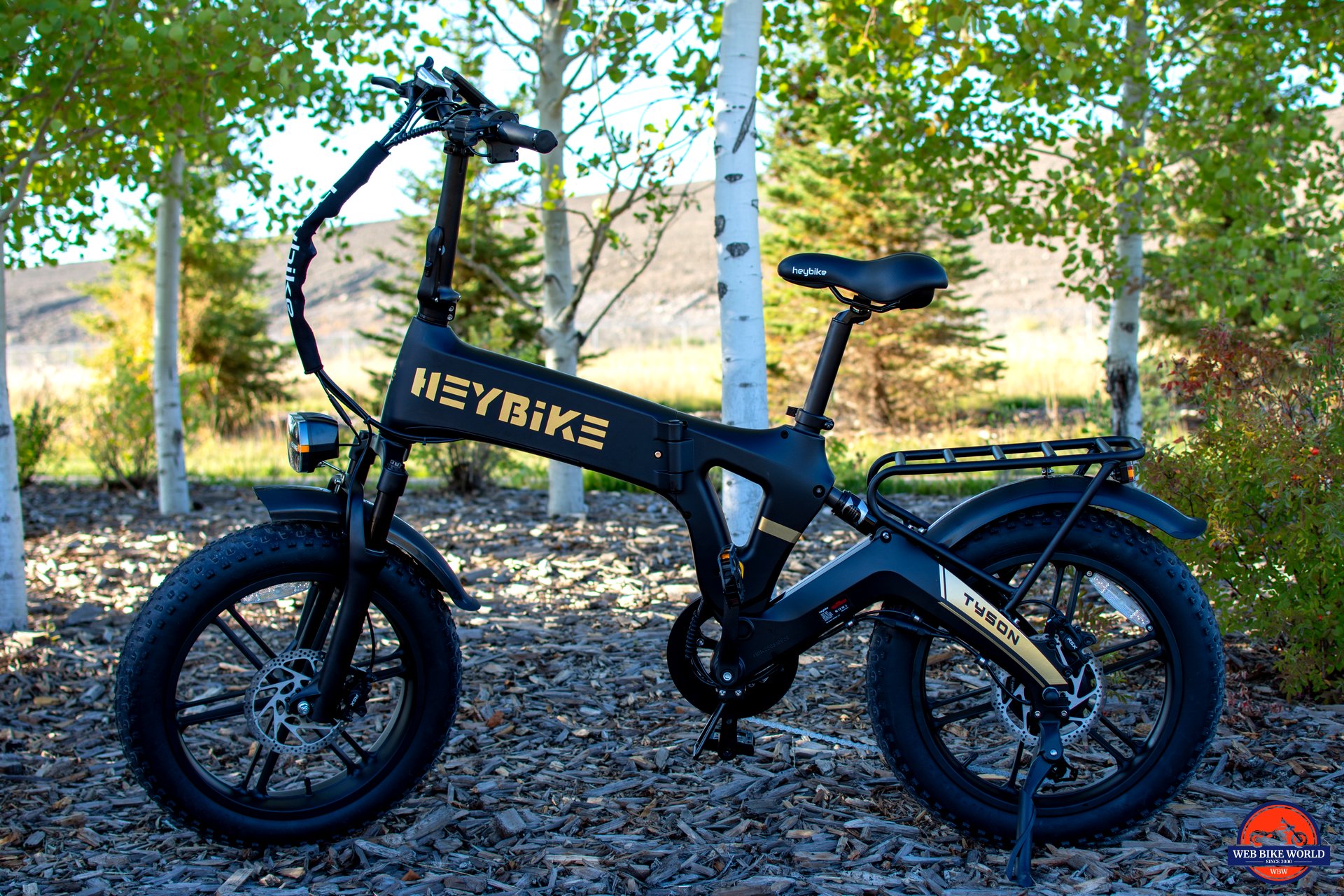 The Tyson was easy for me to dial in, and while it's never really comfortable when riding, it is very comfortable to ride. Make sense?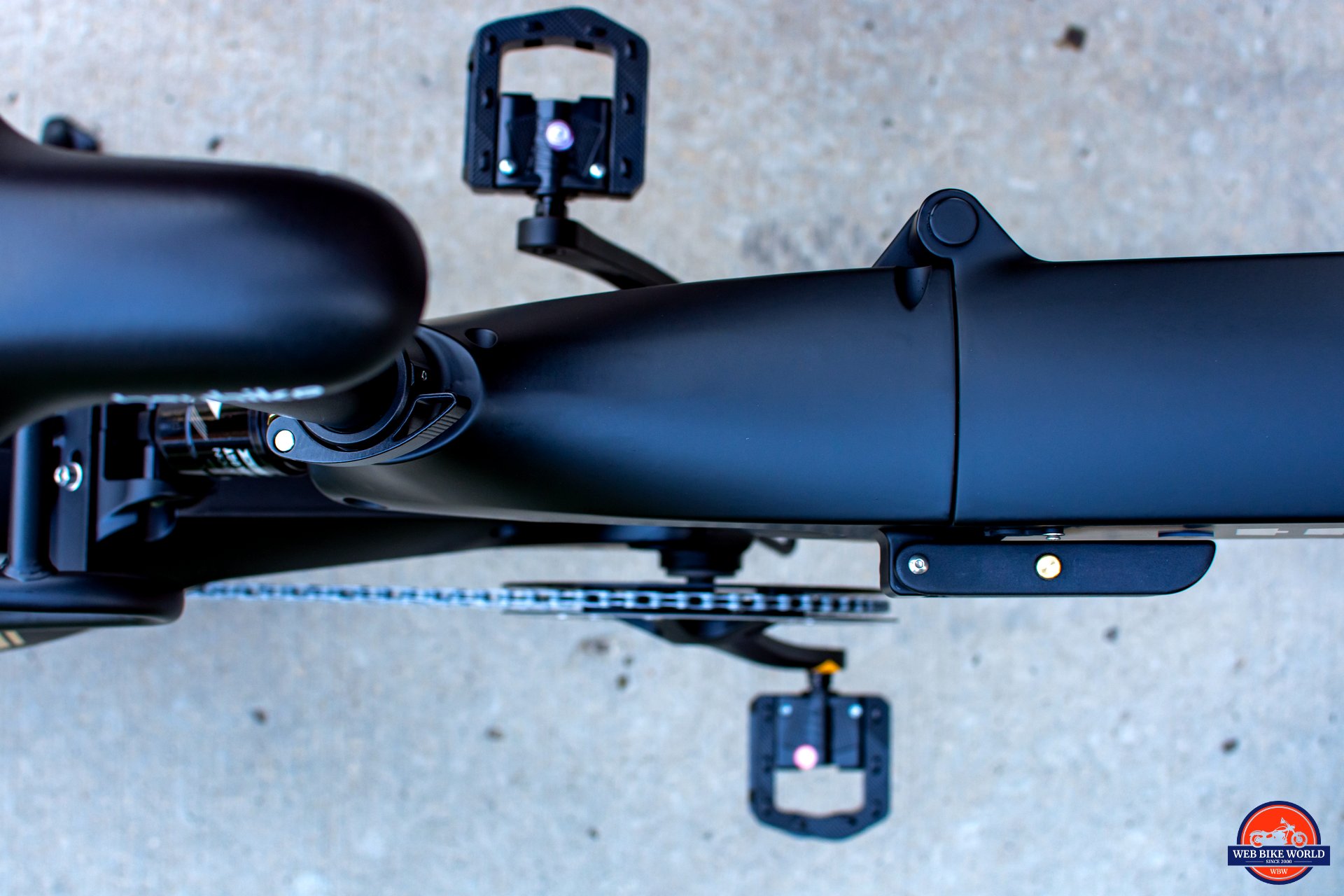 This is partly because of the thicker mid-tube and the hinge and latch mechanisms, which occasionally rub my knees as I pedal. It's more noticeable in this style of frame because of the hinge placement, which for me, is right alongside where my knees travel when pedaling. You won't notice this with low-step frame folders, such as the Surface 604 Twist, because the hinge is down by your ankles instead of your knees and is far less intrusive.
This isn't a big deal for last-mile commuting or using it as a local runabout, but I would find hill climbing or technical riding uncomfortable after a short while.
Getting Going
On flat and paved ground, acceleration is relatively brisk. It has enough torque to throttle from a dead stop and get moving easily.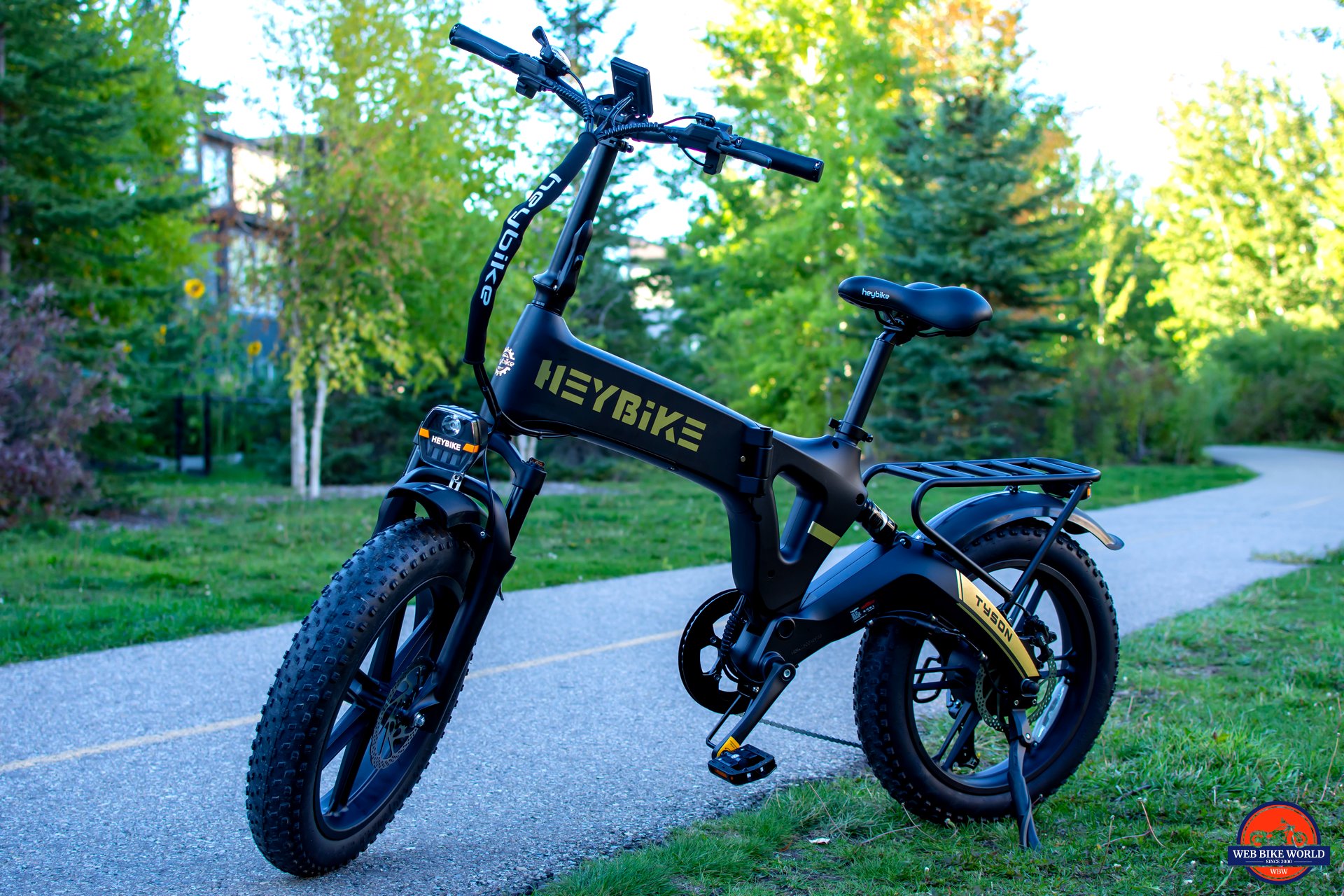 However, on my flat front lawn, the bike really struggles to get moving on throttle only from a standstill. This surprised me quite a bit, as the 750 watt motor is paired with a 20 amp controller… so it shouldn't have too much of an issue getting me going. And yet, it struggles.
I thought maybe I was overestimating what the motor should be able to do, so I tried my 2021 Surface 604 Shred (which has a 500-watt hub drive) and a 2021 Himiway Cruiser (which has a 750-watt hub drive), and both were able to get going with considerably less effort than the Heybike.
On minor paved hills, the result is the same. It gets going but struggles to get up the hill on its own.,
On steeper hills, you will need to pedal alongside the motor. This is where the shallow gearing becomes most noticeable.
Customizable Cadence Pedal Assist
You can completely customize the pedal assist settings using the HeyBike app, which is a game changer compared to other affordable folding ebikes at the price point. Using the app, I set my pedal assist settings as such:
PAS 1 = 12 kph / 8 mph

PAS 2 = 20 kph / 12.5 mph

PAS 3 – 25 kph / 15.5 mph

PAS 4 = 33 kph / 20.5 mph

PAS 5 = 45 kph / 28 mph
Why? Because PAS 1 is a slow crawl, perfect for crowded pathways and streets. PAS 2 is the speed limit for pathways where I live. PAS 3 through 5 are increments until you hit the bike's top speed.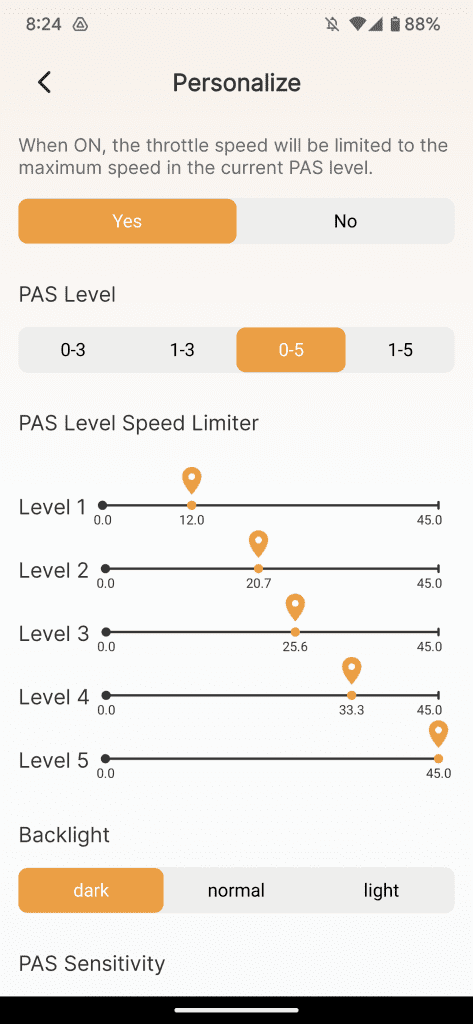 The app also allows you to decide if throttle applies power to the PAS level, or maximum power. Again, it is a smart choice that people using the Tyson in crowded urban environments will appreciate.
If you wish, you can adjust your PAS and throttle settings and then throttle your way around without worrying about speed limits or causing a scene. This is some great thinking from the HeyBike team.
Commuter Creature Comforts
HeyBike has included several smart features that level up the Tyson's commuting game.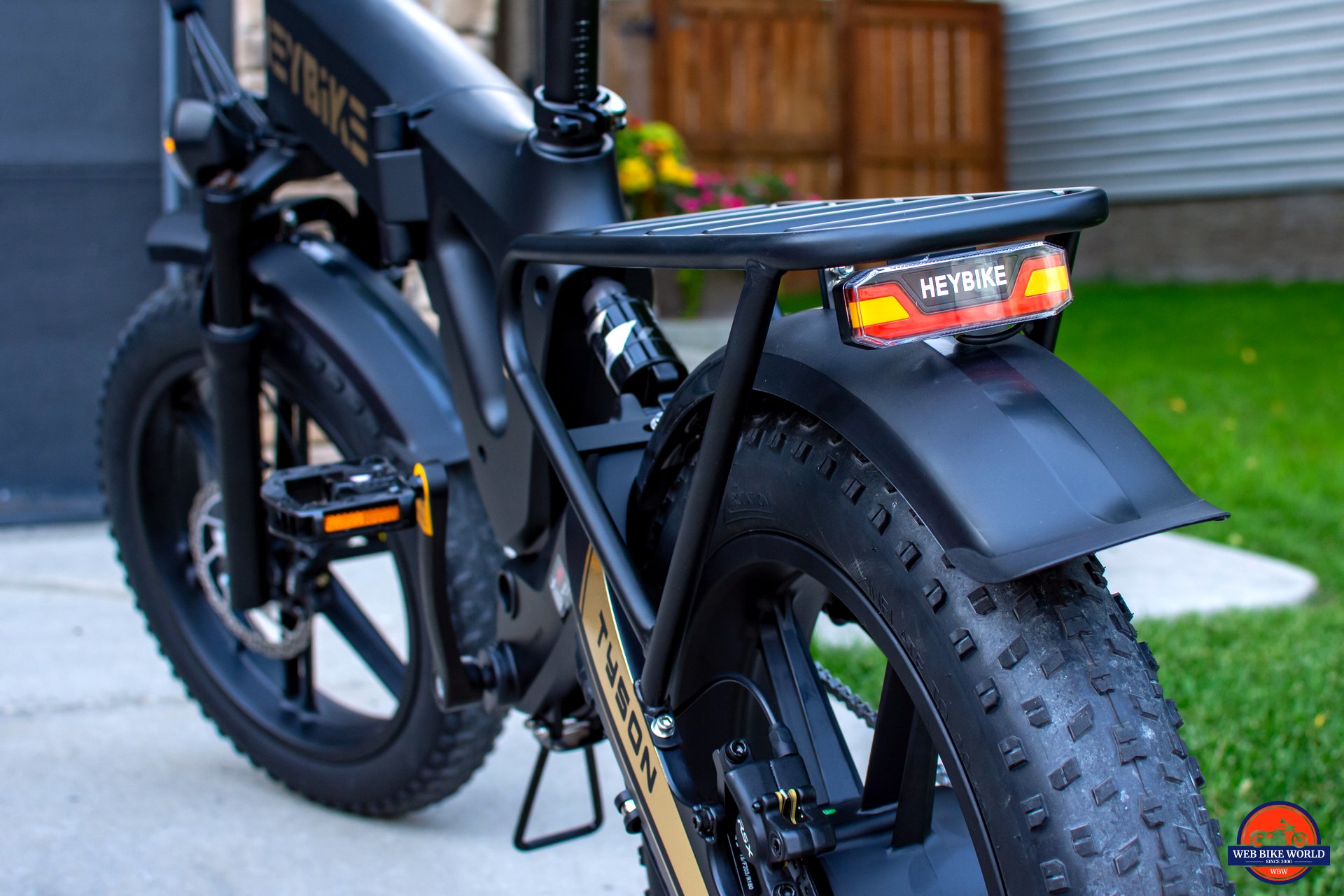 Adjustable pedal assist, as discussed earlier

Front and rear fenders

The full suspension frame with front-fork lockout

Headlight and taillight, with turn signals

A horn (quiet, very scooter-like

meep

)

Rear rack

Metal leg underneath the crank to keep the bike standing when folded

Wireless connectivity to the display and bike settings
For someone taking this bike to class or work, these creature comforts reduce friction; the bike is easy to use and adjust via the app, the fenders will help keep gunk off of your clothing, and the lighting improves visibility. Even the turn signals are highly legible, though I question how much attention they'd actually earn from passing motorists due to the bike's small form factor.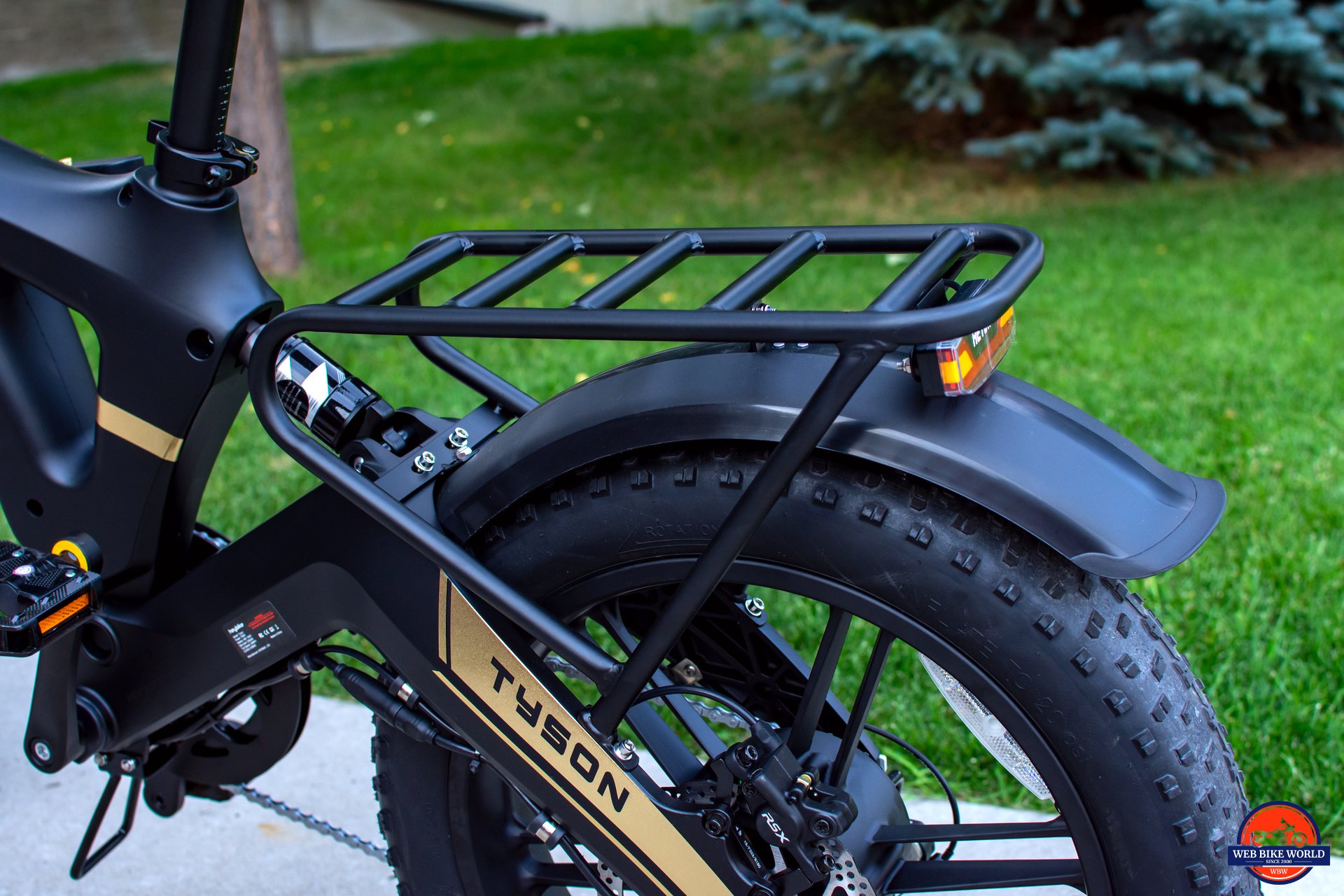 Take a bungee cord with you; the rear rack is plenty usable – perfect for a backpack, canvas bag, or whatever else needs moving. HeyBike also offers affordable pannier bags, so you can ramp up the storage space if it suits you.
Gearing & Terrain
Simply put, the Tyson is not designed to be ridden aggressively, including tackling steeper hills or technical trails.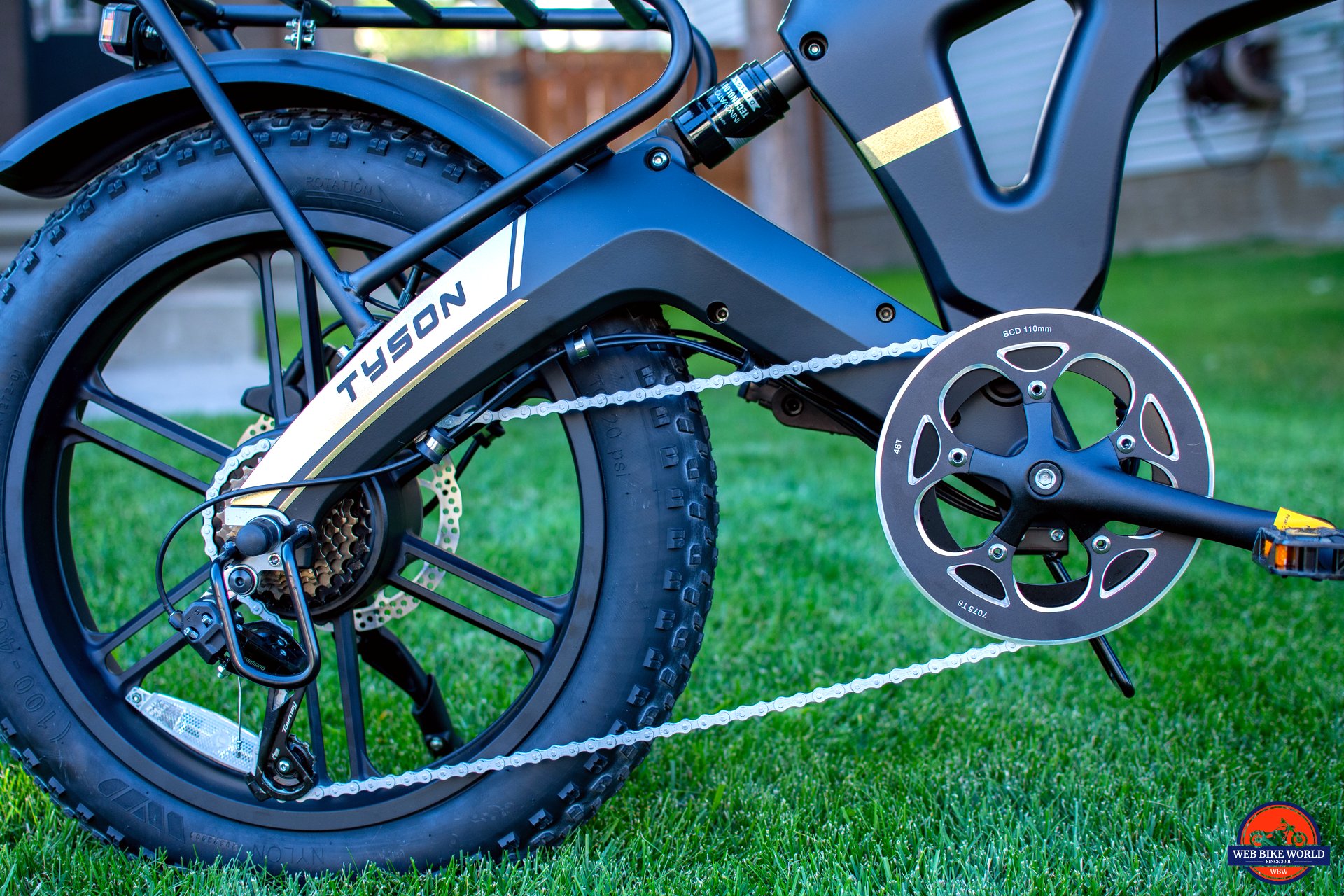 The Shimano 7-speed groupset works fine from a shifting perspective, but it runs out of steam as the incline increases. This bike does not want to be ridden around without pedal assist, and I found myself using pedal assist in areas that I normally would downshift and pedal my way through.
The customizable PAS levels can help minimize this sensation somewhat, but it doesn't change the fact that the gearing is not set up for hard riding… or even mediocre riding. Then again, look at how low the chain and derailleur are to the ground – this isn't a bike that wants to tackle obstacles, anyway!
Dirt & Gravel
The no-name tires are fairly knobby and stable on dirt and gravel. However, the limitations of the bike's form factor become very obvious here. You'll be fine if you're riding on light singletracks or groomed trails, but I wouldn't take it anywhere near proper off-road trails.
Bottom Line
I am underwhelmed by the throttle-only performance from a dead stop on grass and slightly hilly terrain. The 750-watt motor should be more potent and able to get you going from these surfaces. I tried all PAS levels and got the same result.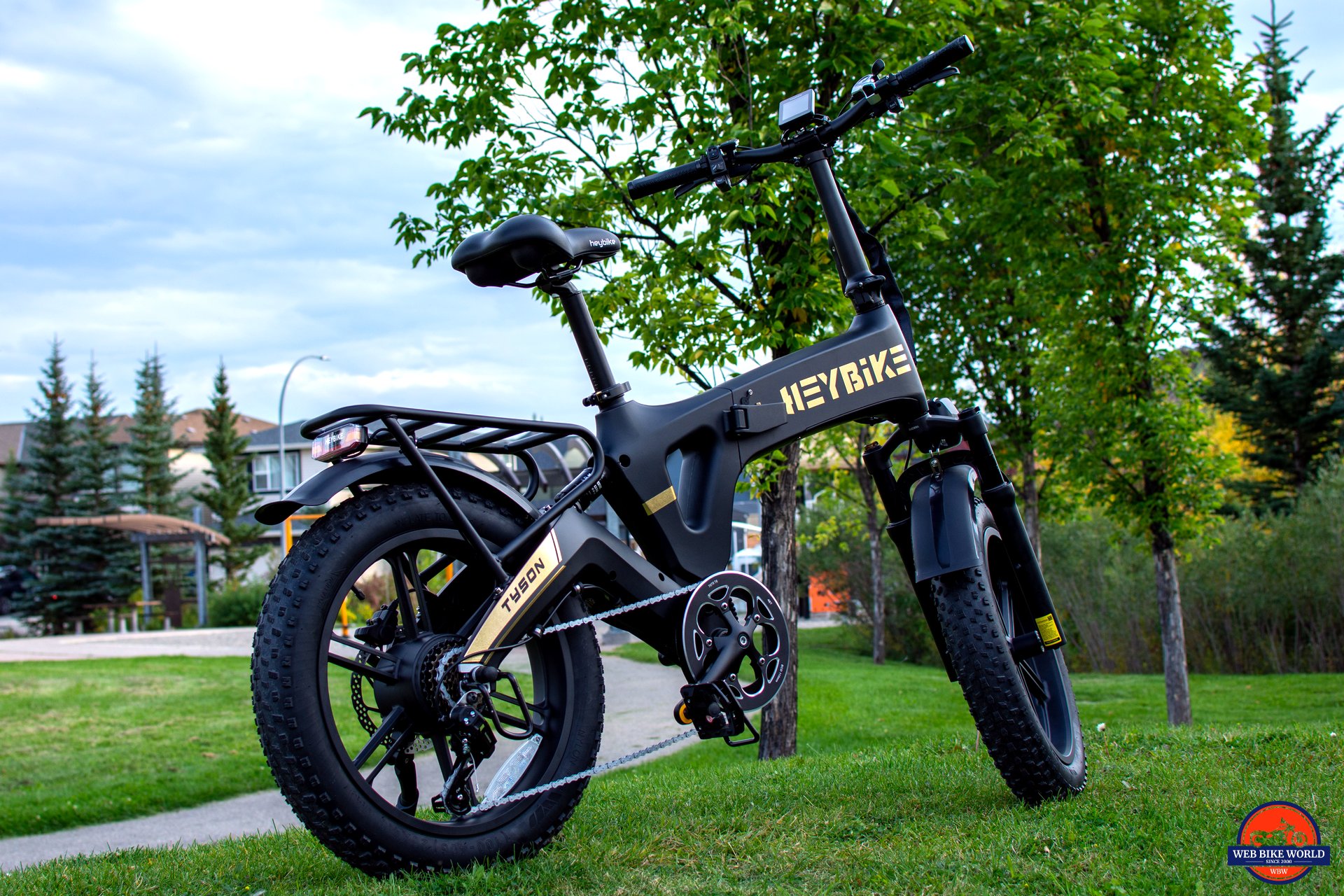 Once you're moving though, even if only slightly, the motor feels much more powerful and capable. It's like that low-end power delivery is throttled when you're at a stand-still. 
I also found that the bike is way more comfortable on paved surfaces vs. grass, gravel, or dirt. During my first few rides with the bike, all of which were on paved pathways, I was happy with the power. It wasn't until I ventured off the path that I noticed the power gap.
Build Quality & Components
At $1,699, and considering the folding frame, it's safe to assume that the Tyson comes with a few compromises. It has to in order to hit this price point and form factor. However, these compromises aren't particularly obvious if you plan to ride the Tyson in the city or on relatively flat areas.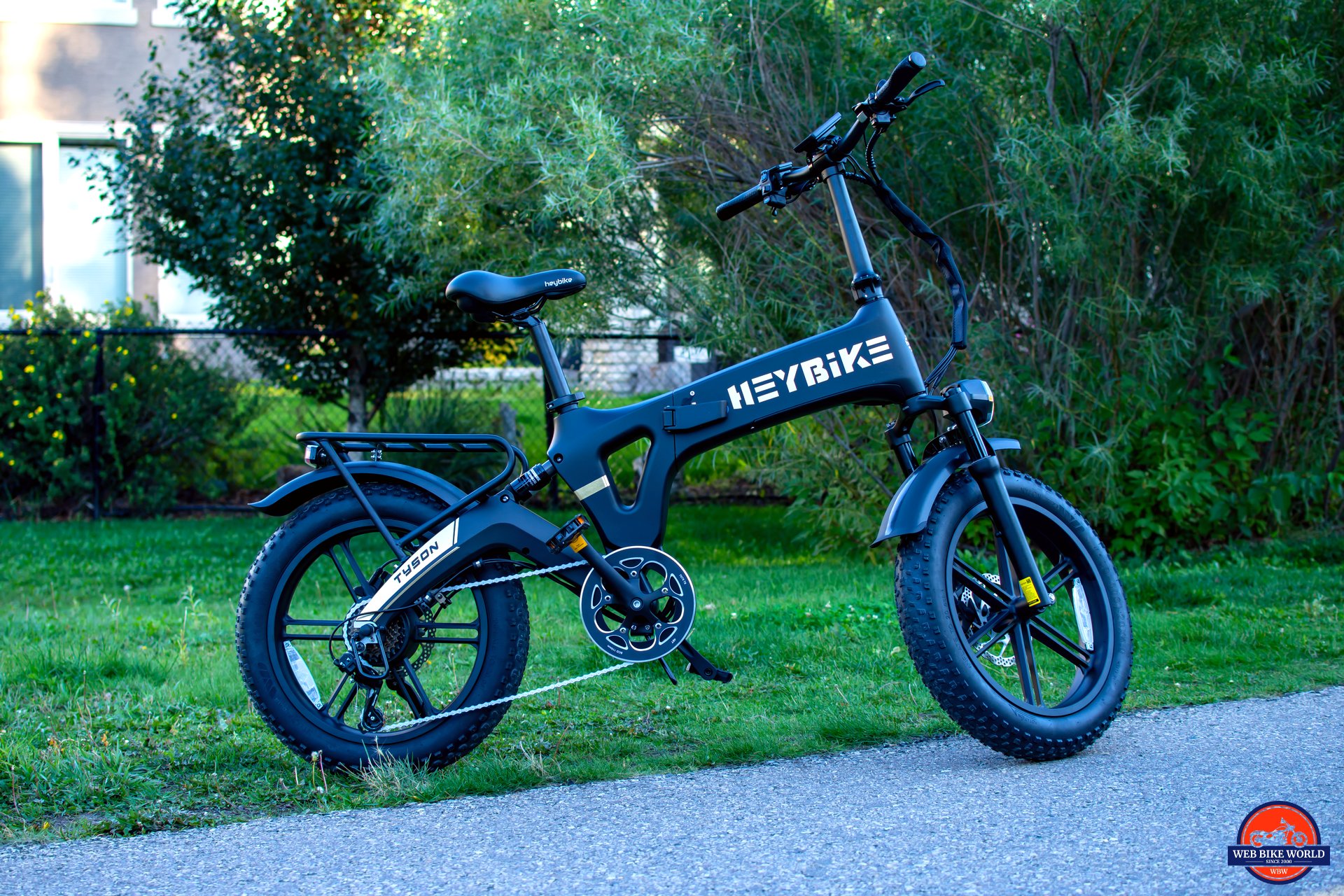 And for the conscientious commuter, there is a lot to like about the Tyson. But if your route includes steeper or long hills, you may want to look at alternative bikes that have more appropriate gearing.
Build quality is good overall, but you can see areas where corners were cut in some areas if you look closely enough.
Frame
The Tyson's unibody frame differs from typical folders, but not unique to HeyBike (this particular frame may be, but the frame style is not).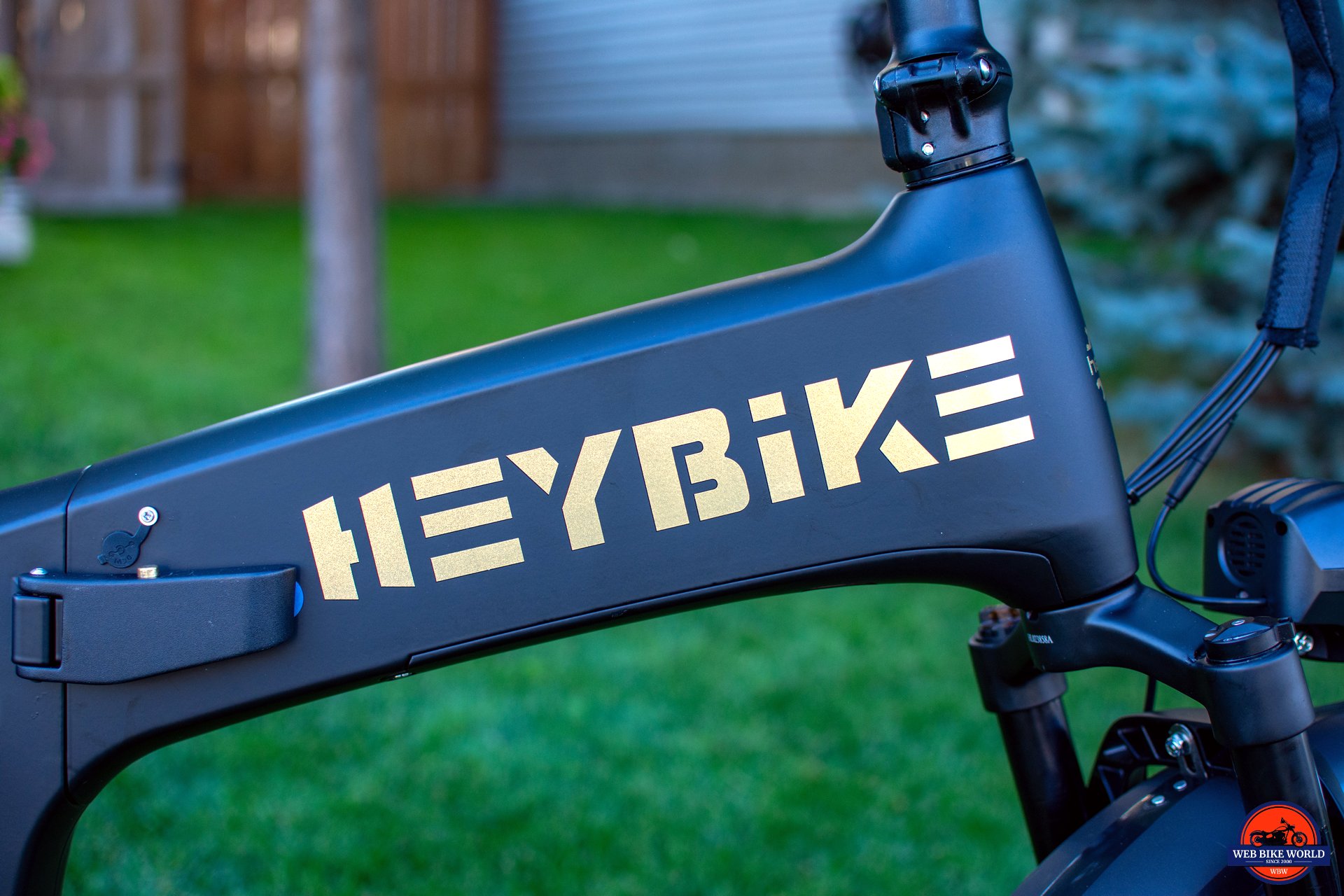 Instead of a low-step folding frame, the HeyBike is a high-step that folds right down the center of its top-tube (and only tube, really). This tube also includes the battery, hiding it inside for a nice, clean aesthetic.
Hinge Mechanisms
The hinge itself is a sealed unit you cannot access easily. Presumably, this keeps it in reliable operation and reduces the need for maintenance.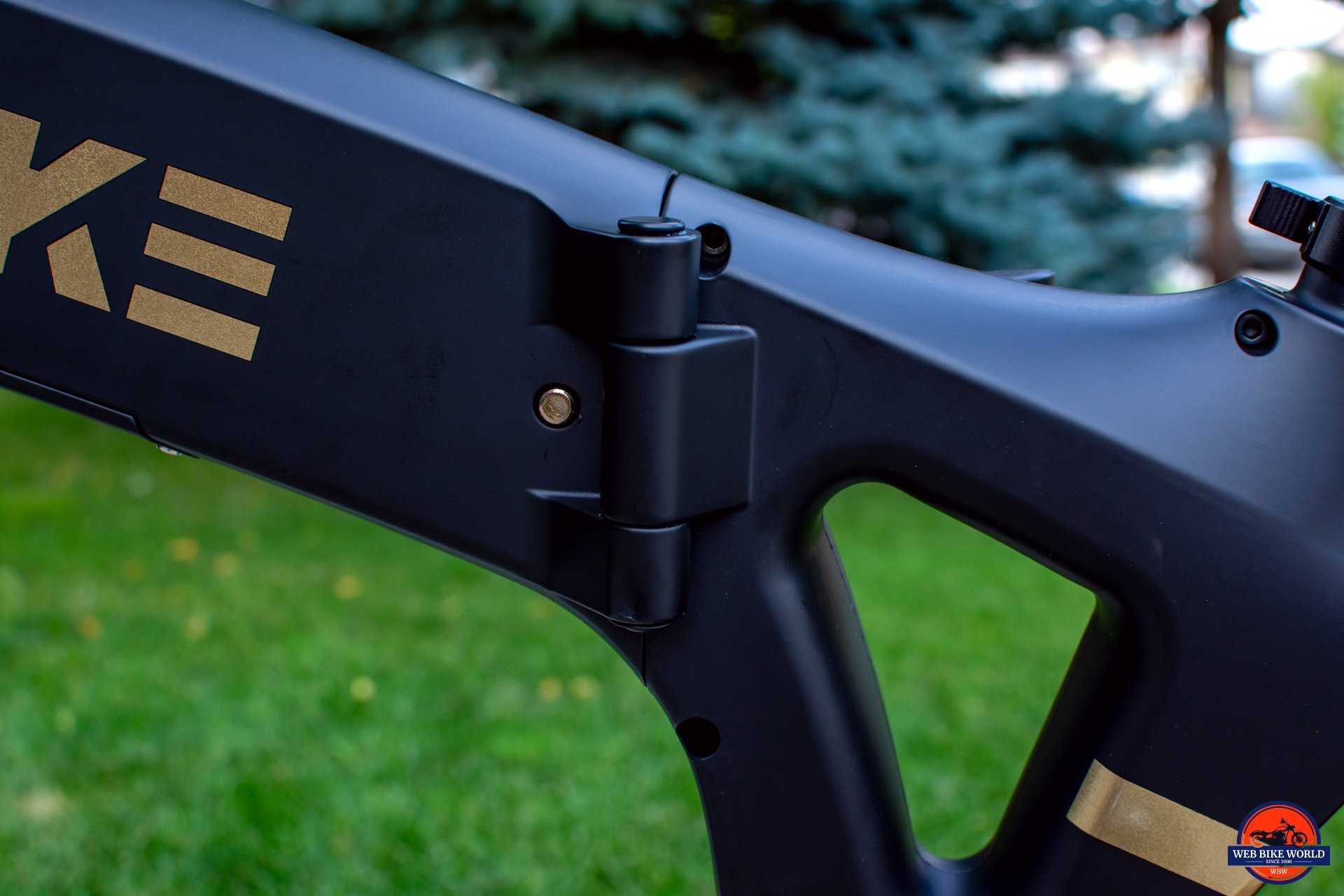 It feels robust and secure enough but lacks the beefy feeling that the S604 Twist has. It isn't easily moveable, but it isn't difficult to manipulate either. Just about everyone should be able to fold/unfold the Tyson.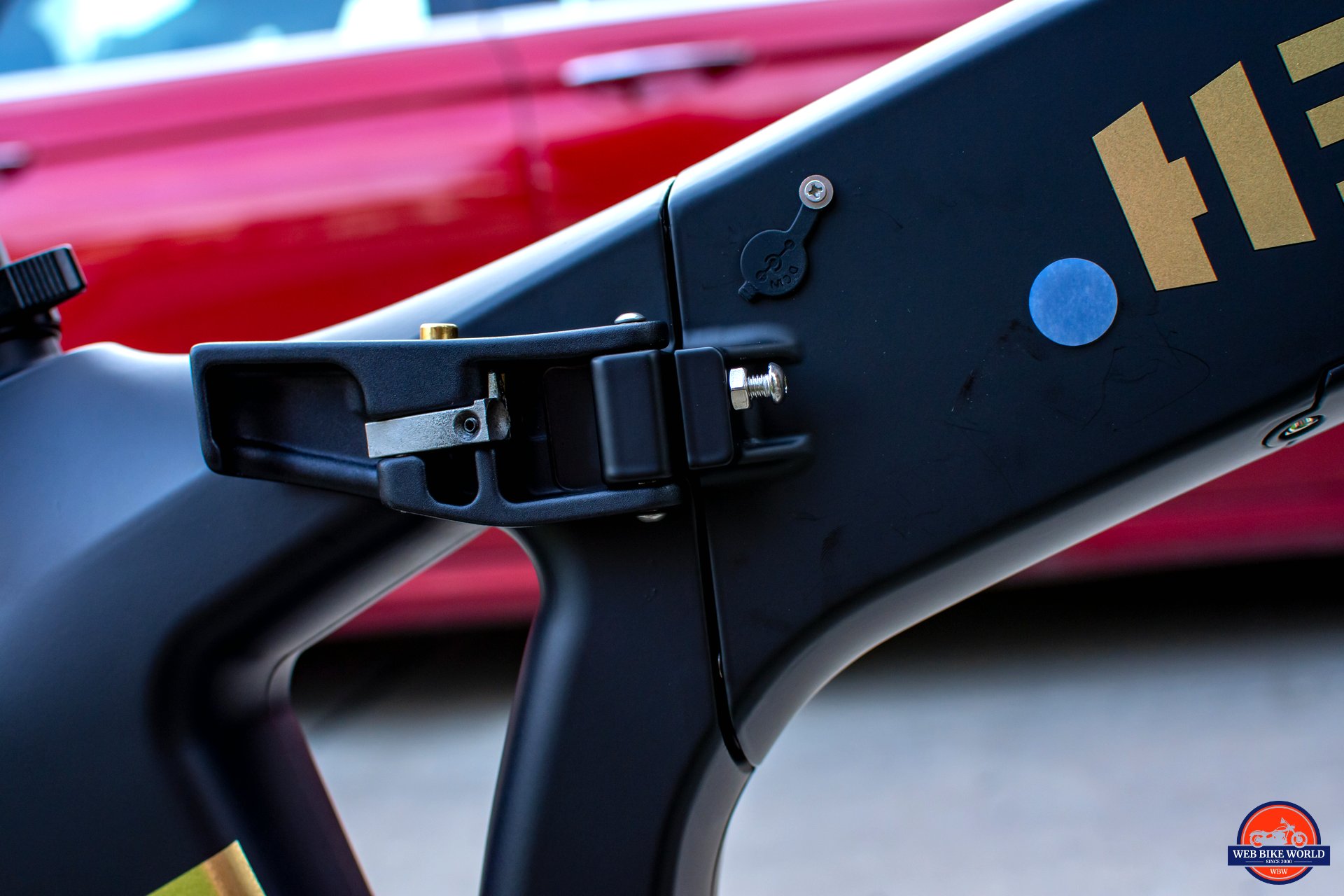 The latch on the center tube again feels robust enough, but I wouldn't call it beefy. You must press the brass pin before you can unlock and open the latch, and it all clicks into place once you secure it again. 
After several rides, I feel confident in it holding up, and I'm not worried about hitting high speeds on it. It certainly doesn't feel like it will open and move around independently. However, it also doesn't feel locked in place securely enough for me to take it on downhill trails or technical rides. There are better bikes suited for that, and I'd rather not test and learn the hard way that the Tyson can't handle it.
Folding the Tyson
There's no easy way to break this to you, so I'll be blunt: Even folded in half, the Tyson probably won't fit into your trunk.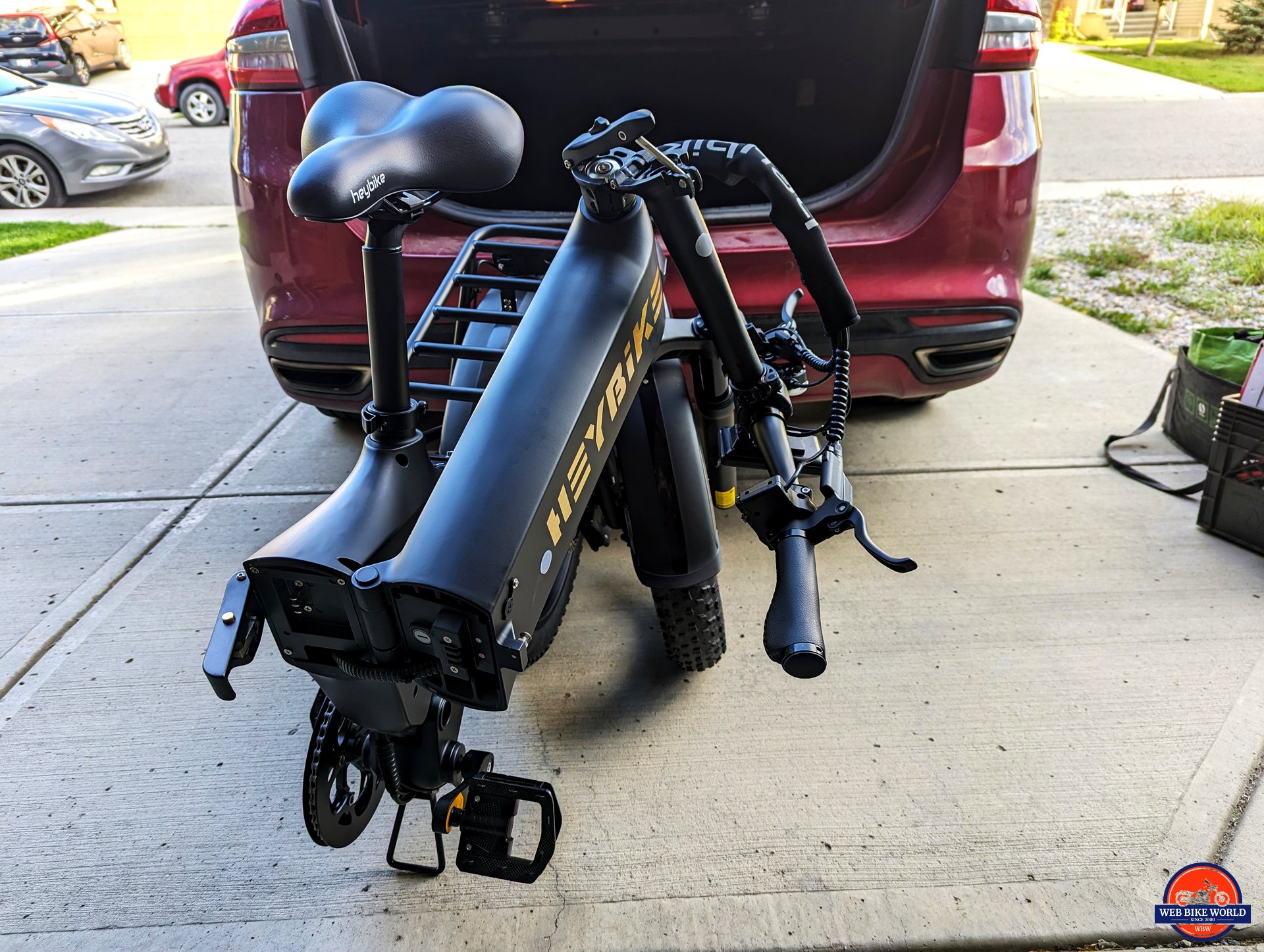 Folding/unfolding it is quite easy, however. Simply release the stem and top-tube latch, brace the back wheel, and push. The bike will sit on the triangular metal leg on the bottom of the bike (it looks awkward, but it'll sit there just fine).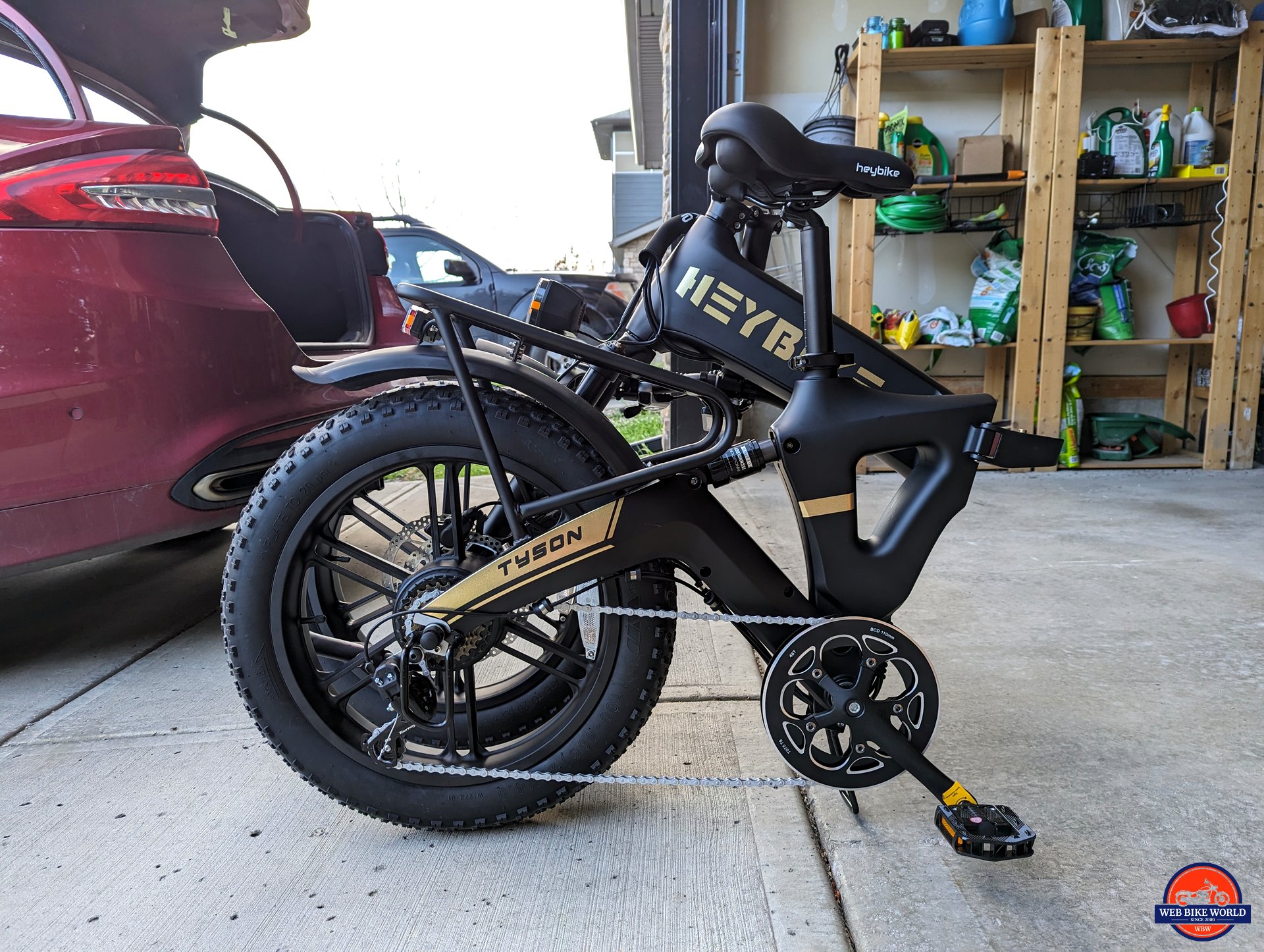 It's a relatively compact package once folded. Sadly, it isn't compact enough to fit into my trunk (I drive a 2017 Ford Fusion, for the record). Some other folders I've seen/ridden will, including the Surface 604 Twist, but I can't get the side profile of the Tyson thin enough to make it work.
Handlebars & Shifting
The narrow handlebars are pretty typical of a folding bike. On the left is where you have most of your control inputs.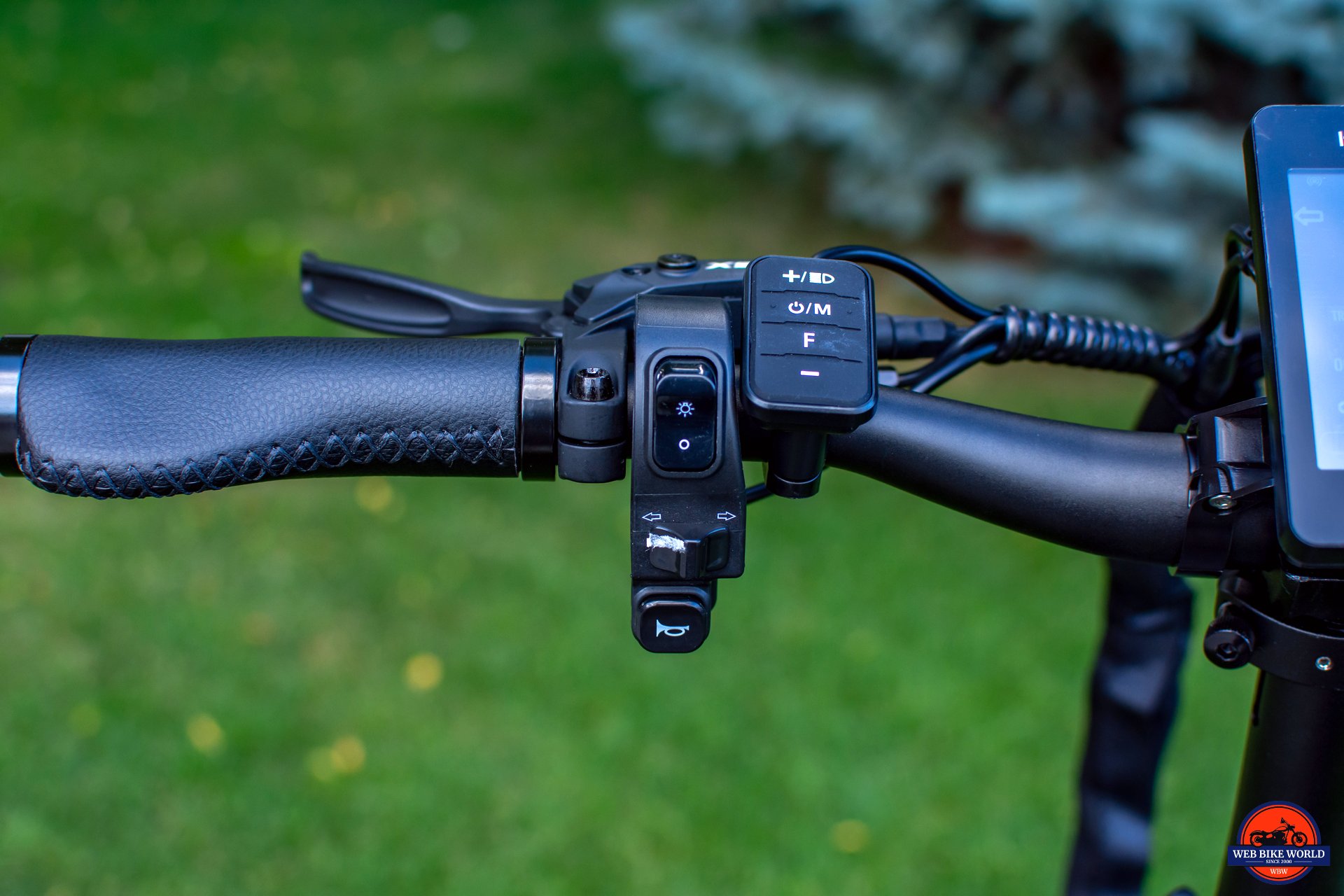 And yes, that is a horn you see underneath the turning signals and on/off switch for the lights. It makes a very mellow meeeep sound. I can't decide if this is more or less offensive than a traditional bell; what I do know is it makes me laugh every time I use it.
Alongside the horn is the control pad for the electronics, and small – but comfortable – cruiser-style grips.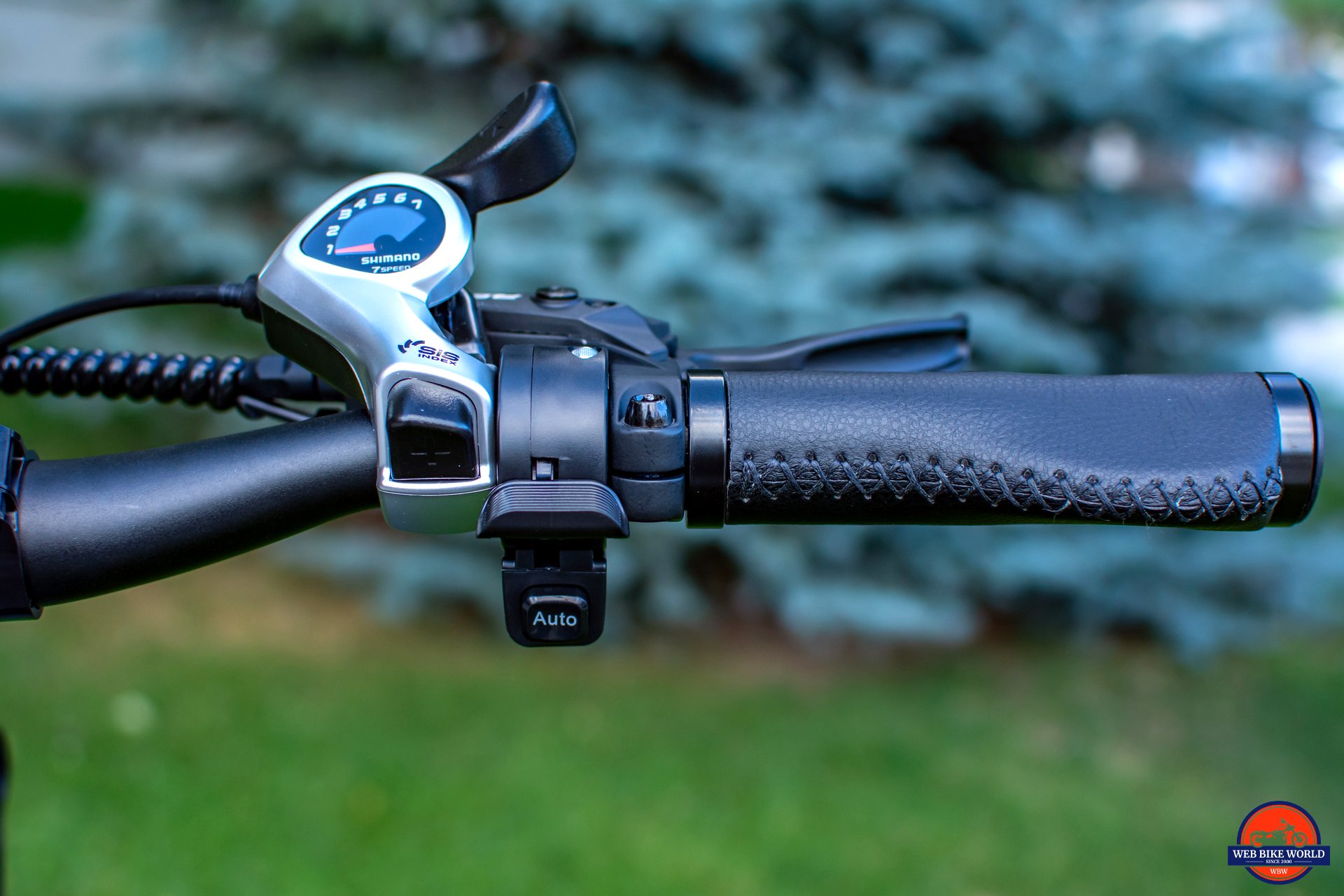 The right handlebar has the Shimano shifter and throttle. This is pretty standard stuff. The auto button, by the way, activates the lights automagically when it gets dark… and has nothing to do with the throttle. It's a great feature, but I question the button placement as it's not intuitive.
Brakes
The Tyson is fitted with RSX hydraulic 2-piston brake calipers and 180 mm rotors.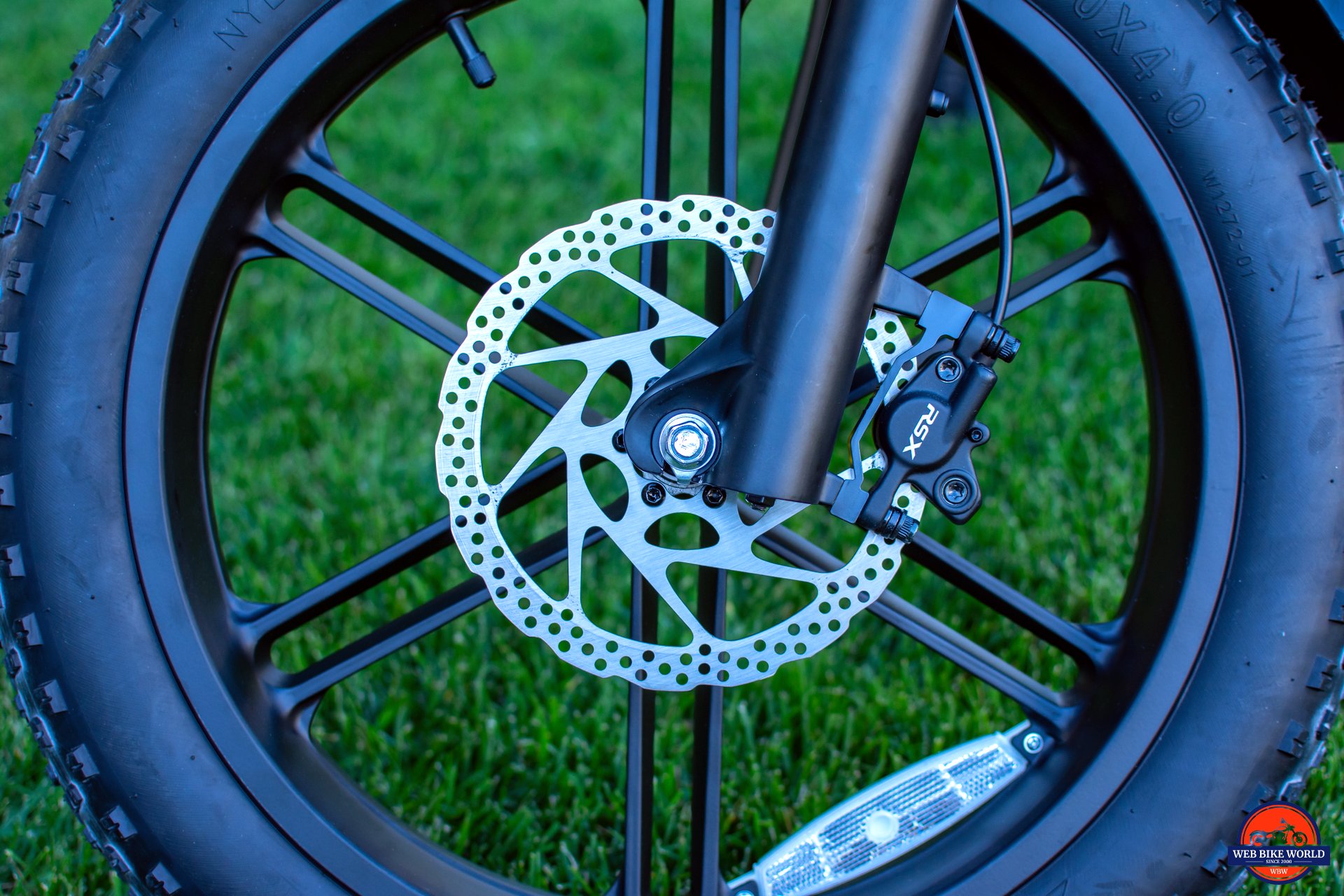 These generic brakes are fine for general use but likely won't hold up to aggressive riding, and they may not be ideal for people racking up thousands of miles every year.
However, they are serviceable, and replacement parts are easily found.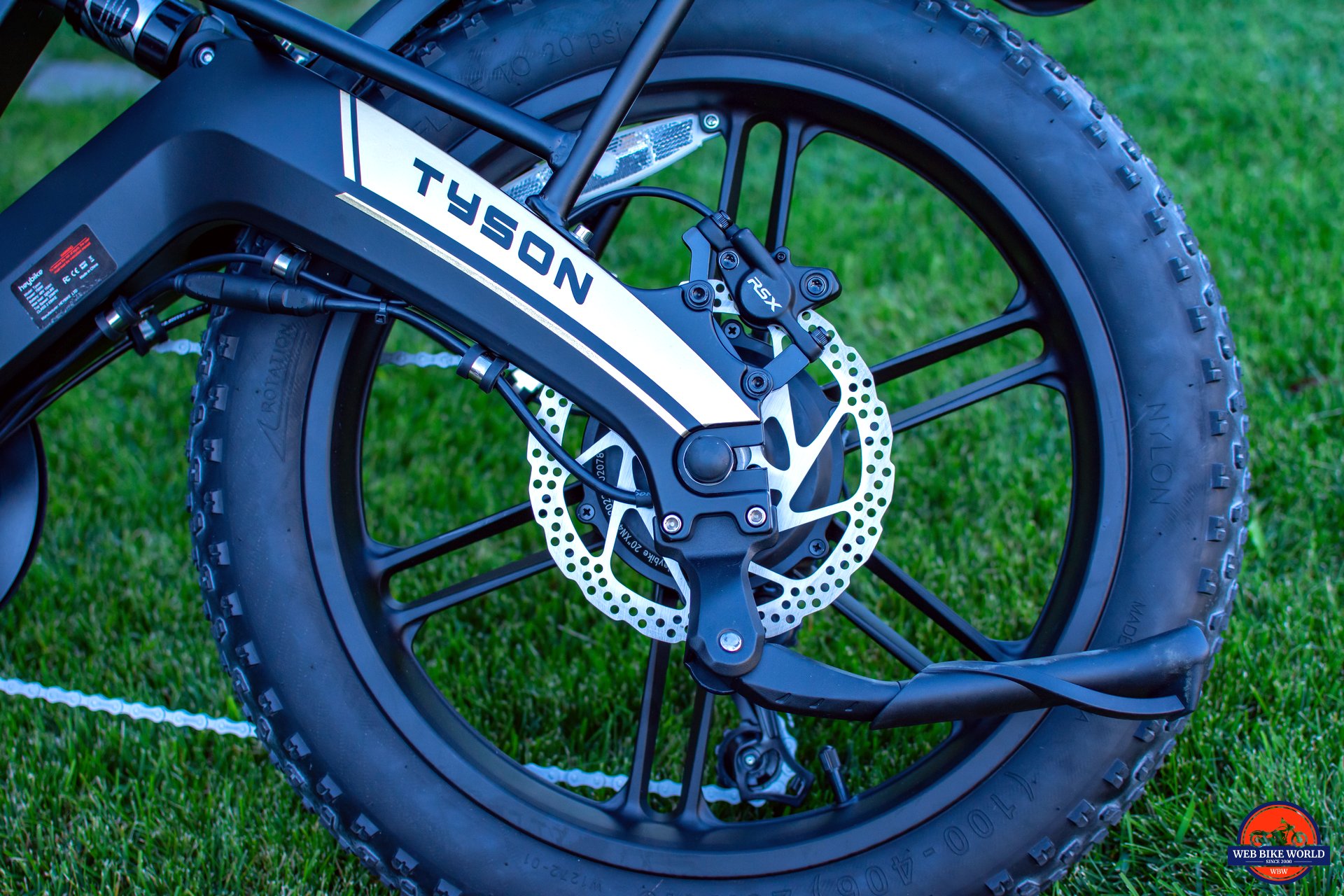 Finding out more about these specific brakes is tough due to their made-for-OEM manufacture. Unlike Shimano, SRAM, or Tektro, RSX is a wholesale-only manufacturer and lacks a significant consumer-facing retail presence. If the calipers or reservoirs start leaking fluid, you'll be looking at a replacement versus repair. 
If you need to replace the brake system, it's quite affordable – you should be able to snag a new setup for under $65 on AliExpress. Alternatively, you could upgrade to a name-brand setup (which is what I would recommend), which would run you closer to $150.
Regardless, hydraulic brakes on a 77 lb ebike are a must, and I'm happy to see them included here.
Tires
I cannot find any information on the 20×4" tiers, which is unsurprising since they are unbranded generic tires.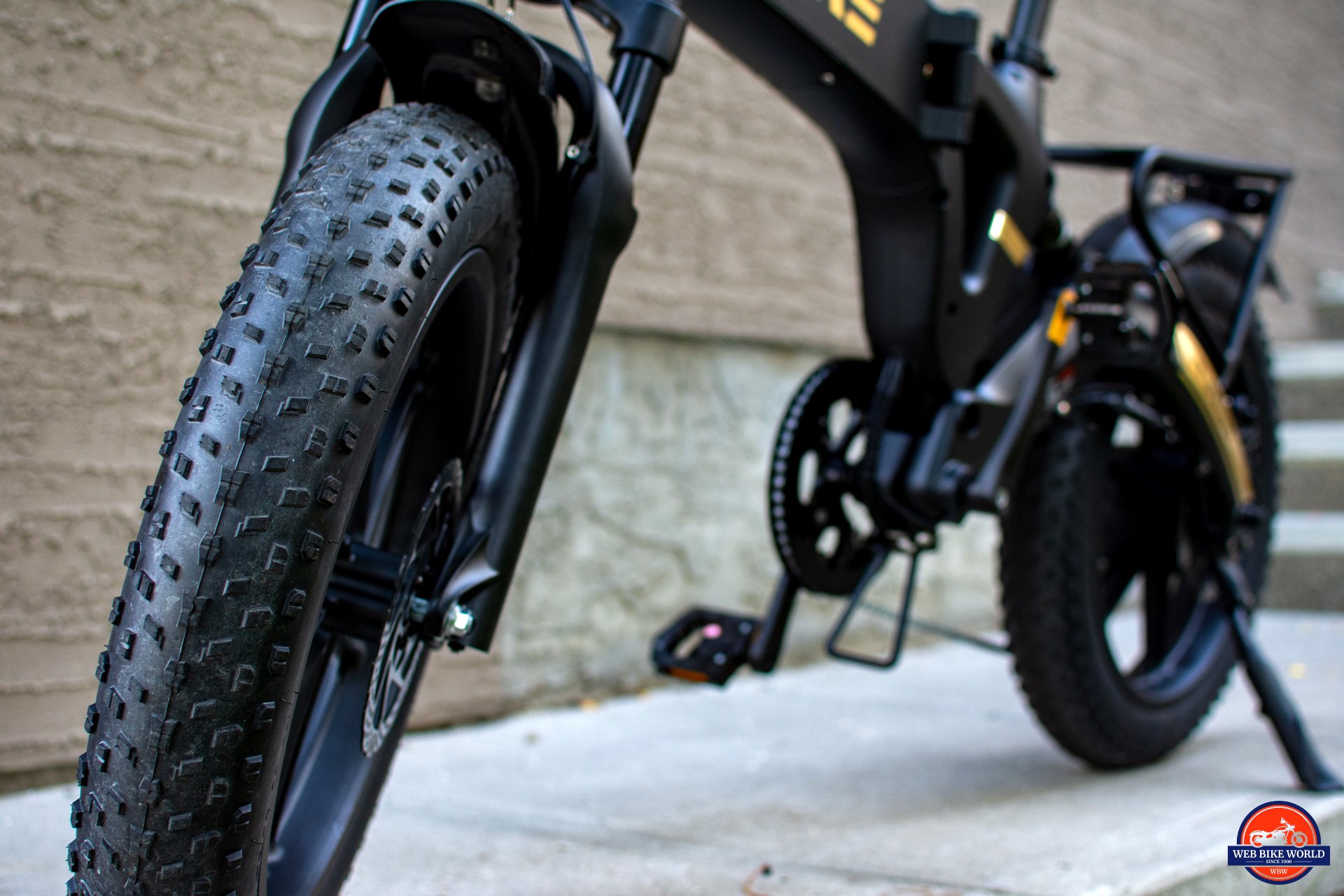 The tire specifies to inflate them to 20 psi, which is typical of a fat tire like this. The tread design is suitable for pavement, gravel, and dirt; the pattern is very similar to the common Kenda Krusade 20×4" tire. Replacing these tires should be easy given their common size.
I haven't tested them in cold weather or snow, but my gut tells me to skip the snow as I doubt the rubber compound does well when the temperatures dip.
Battery & Charging
The battery sits in the top/mid tube (or whatever you'd call it, since there's only one tube!) and cannot be easily removed. To get access to the battery, you need to fold the bike in half and use your key to remove the battery from the top tube.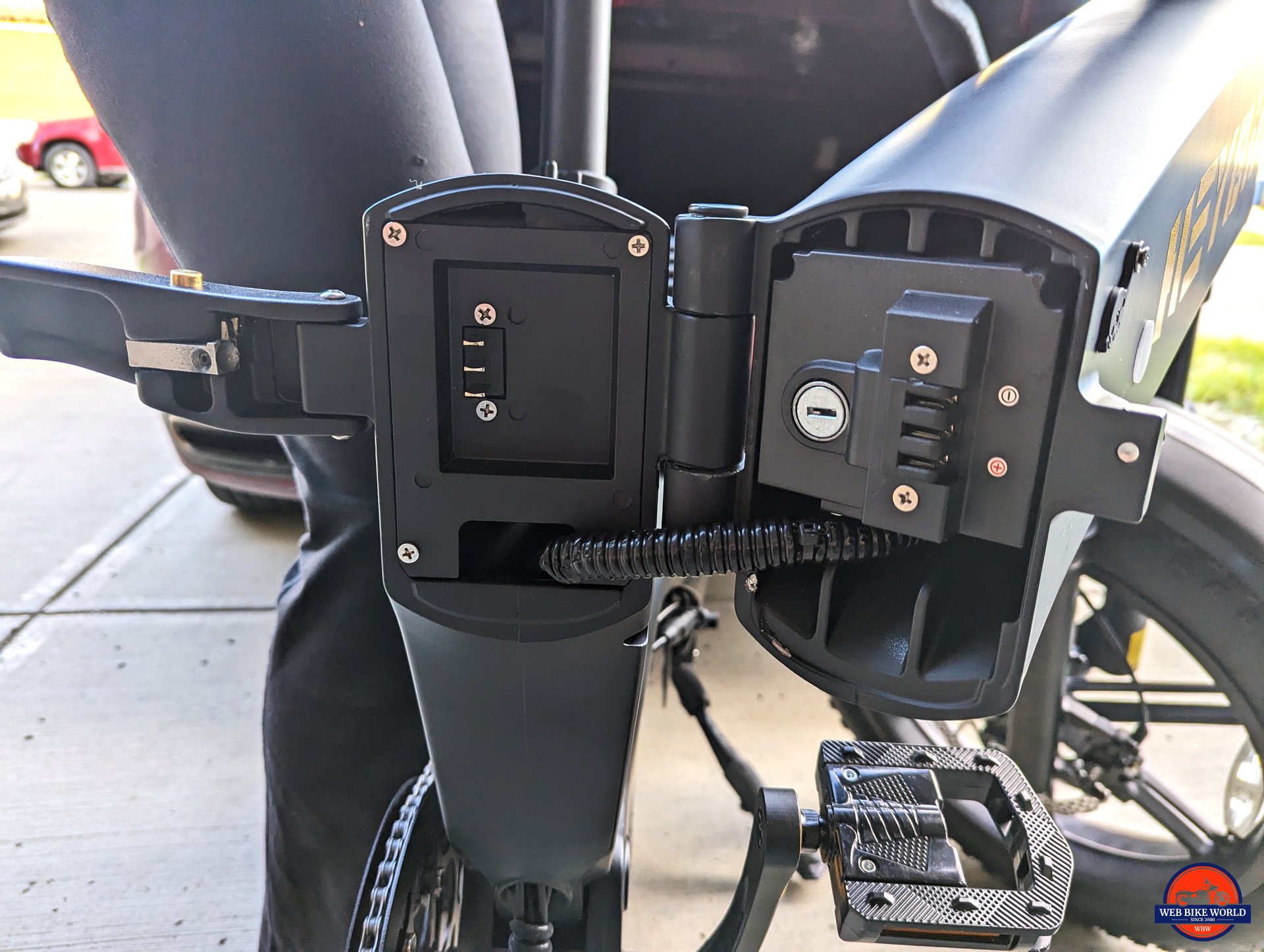 However, you can charge the battery while it is mounted on the bike, and I imagine this is how most people will charge it. Charging from 0 will take between 4 and 5 hours.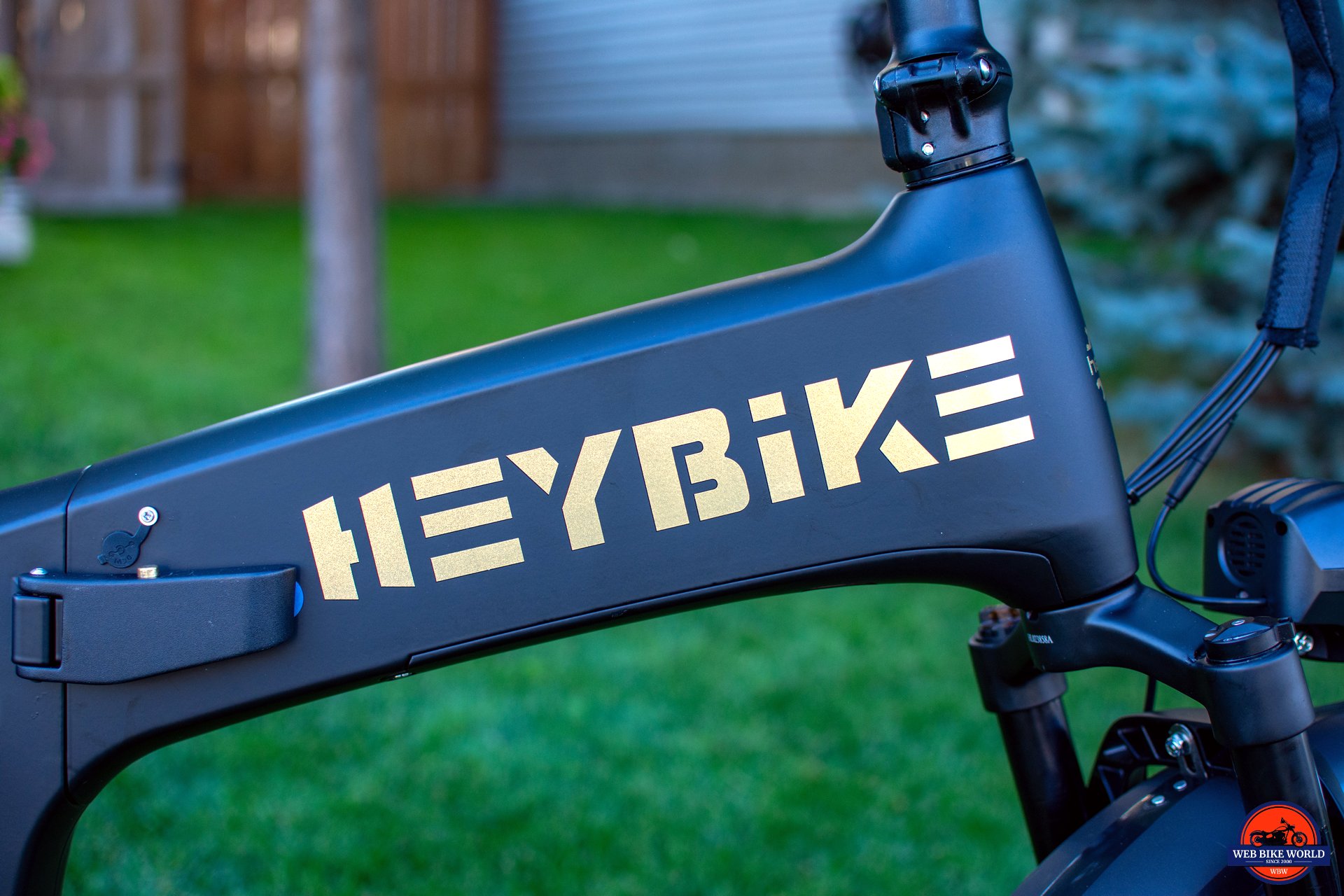 The charge port is directly above the latch on the right side of the frame. Simply remove the rubber guard and insert the charger.
I plug the charger into the bike first and then into the wall. I've read that this can preserve battery life and reduce the potential for sparks/shocks to the electronics. I don't know if these concerns are founded, but it's my little routine, and I follow it for all my bikes.
Display
HeyBike uses a relatively large full-color display that connects to your phone via the HeyBike app.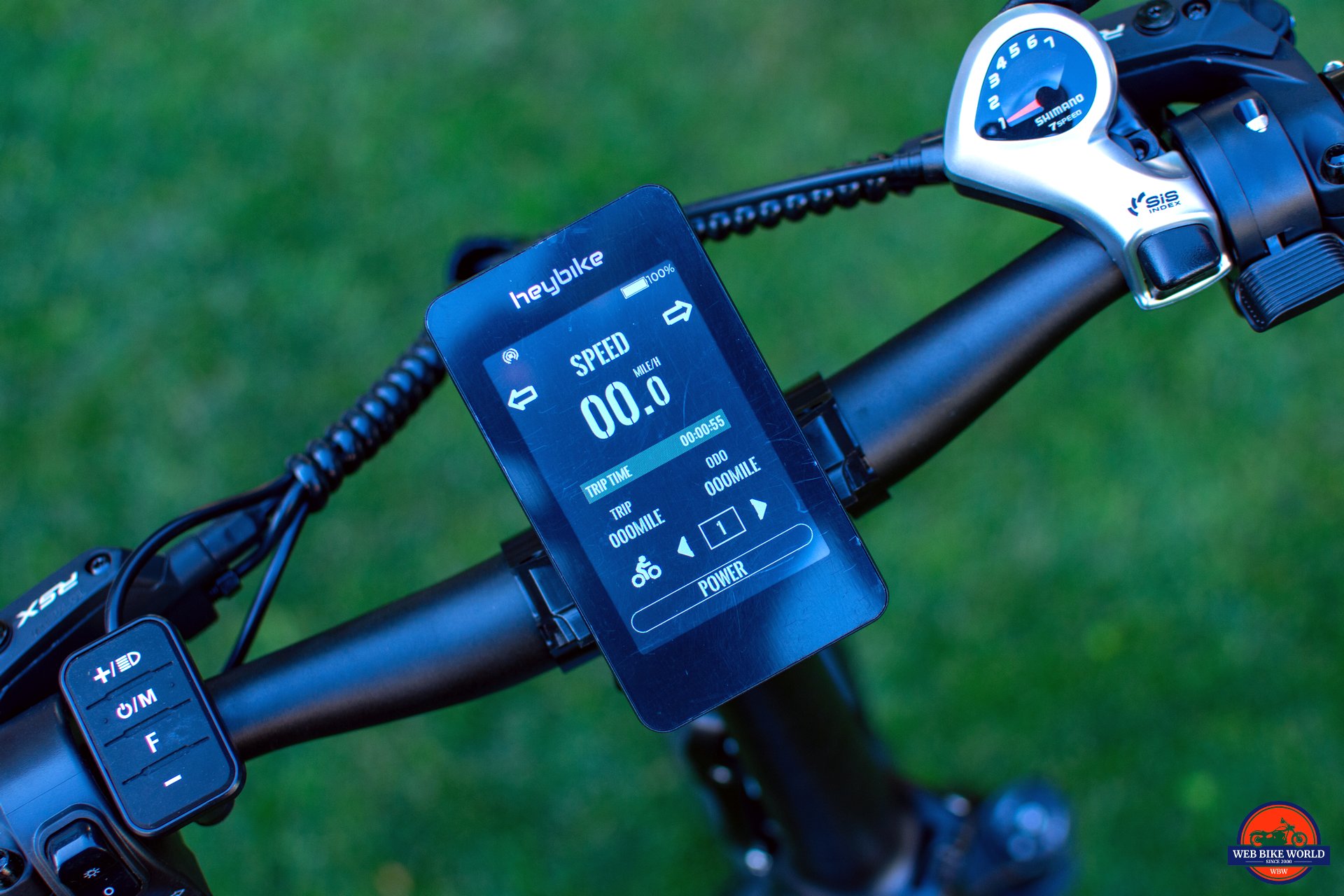 The app is where all the heavy lifting in terms of customization is done. The display itself is pretty simple:
The power button turns the bike on or off

The + / – symbols adjust the PAS levels

The F button changes between speed, average speed, max speed, etc.

You can reset the trip odometer via the app

The POWER display fills in left to right based on how much power the bike is providing
It has three backlight levels and is highly visible in most lighting conditions. Like all LCDs I've seen on ebikes so far, there is glare in direct sunlight. Otherwise, it is easy to read at a glance.
Suspension
Depending on your view, the inclusion of rear suspension is either a blessing or a blunder. Let me explain.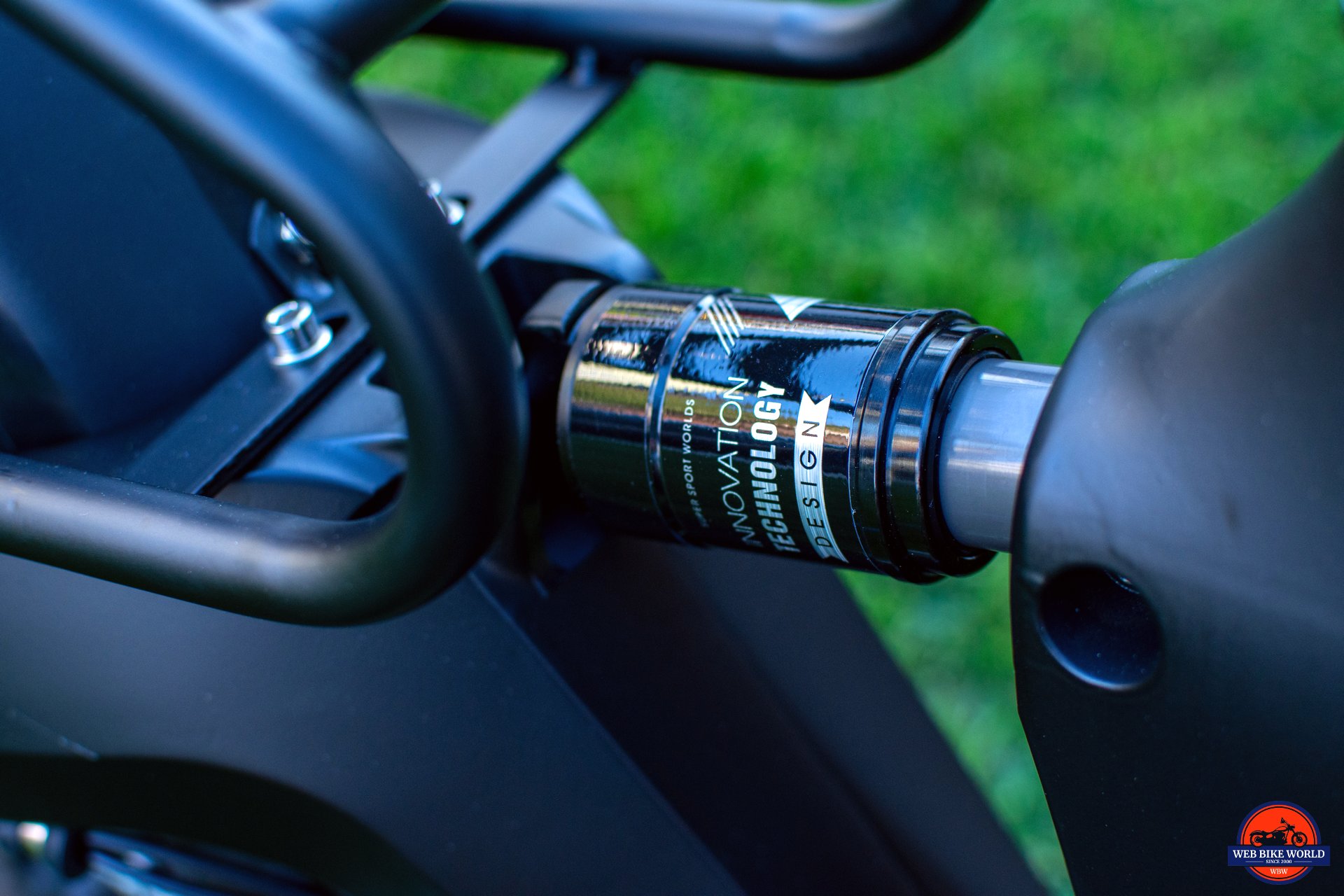 There is no information on this shock easily available, nor can you adjust its tension or lock it out. It's a simple spring shock and it indeed softens the ride, but it also has another unexpected and unwelcome byproduct: you're very obviously and visibly bouncing as you pedal along. This may be a small deal, or a big deal, depending on what you want from the Tyson.
Replacing this rear shock may be a pain in the butt in the future if it ever comes to it, as well. HeyBike does not disclose the part number (at least, anywhere I could find), so if this part fails, it may turn into a wild goose chase to get sorted (especially if HeyBike fails at some point in the future).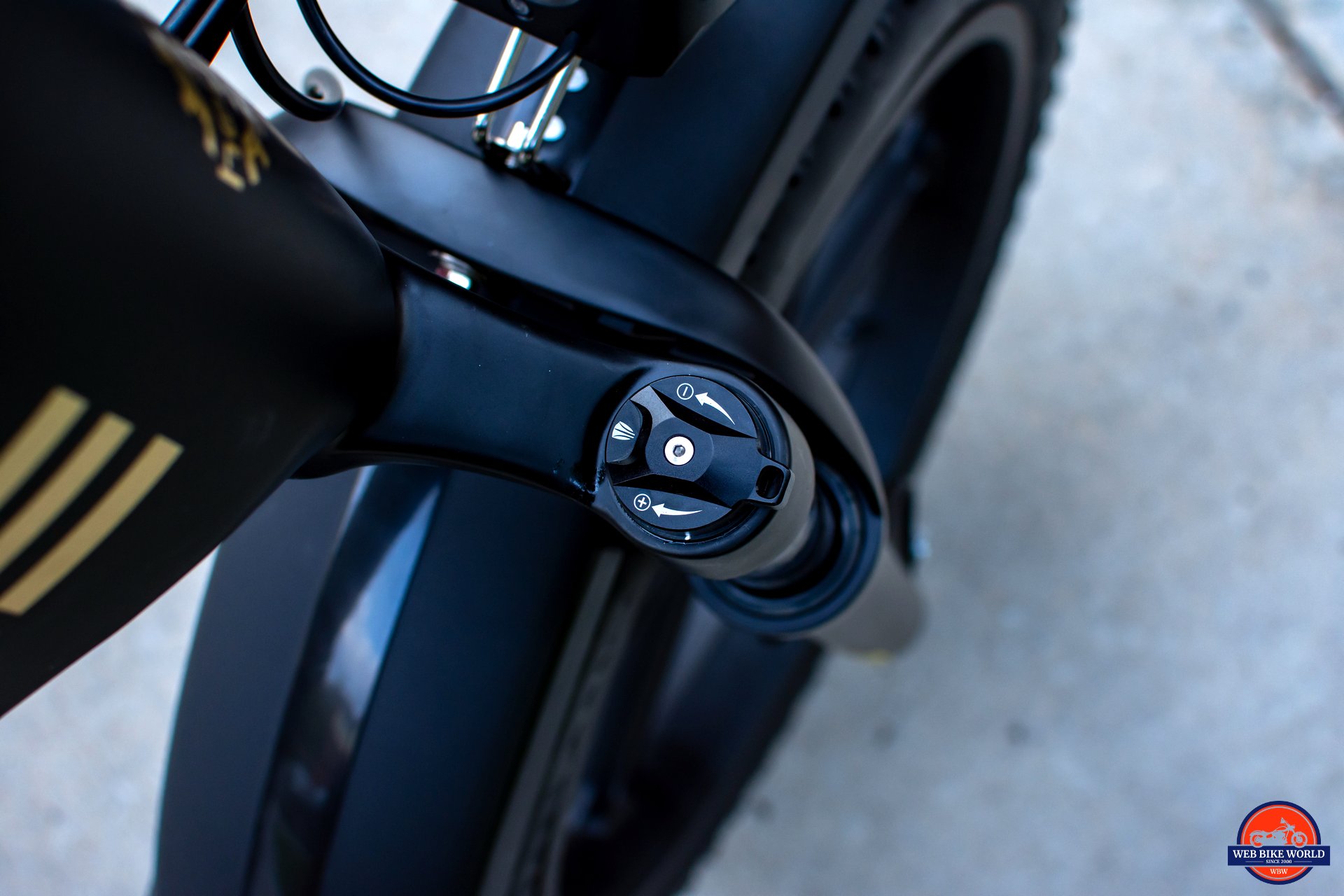 On the flip side, the front hydraulic suspension forks allow you to customize travel and even lock them out completely. Adjustments are quick and can easily be done while moving (be safe about it, though).
There is a surprising amount of travel in the front suspension, though I can't give specifics as HeyBike does not have the suspension travel (or model number) posted on their website.
The suspension feels like the typical inexpensive spring/hydraulic suspension found on ODM-spec ebikes, and were this a mountain bike that would bother me (I called this out during my Himiway Cobra Pro review, for example). Given the intended use case for this bike, I'm fine with it. Replacing these forks should be easy if it ever comes to it, and it's not like you'll ever need to level up to air suspension.
Rear Rack
The rack is fine and sturdy enough, though some of its welds could be better.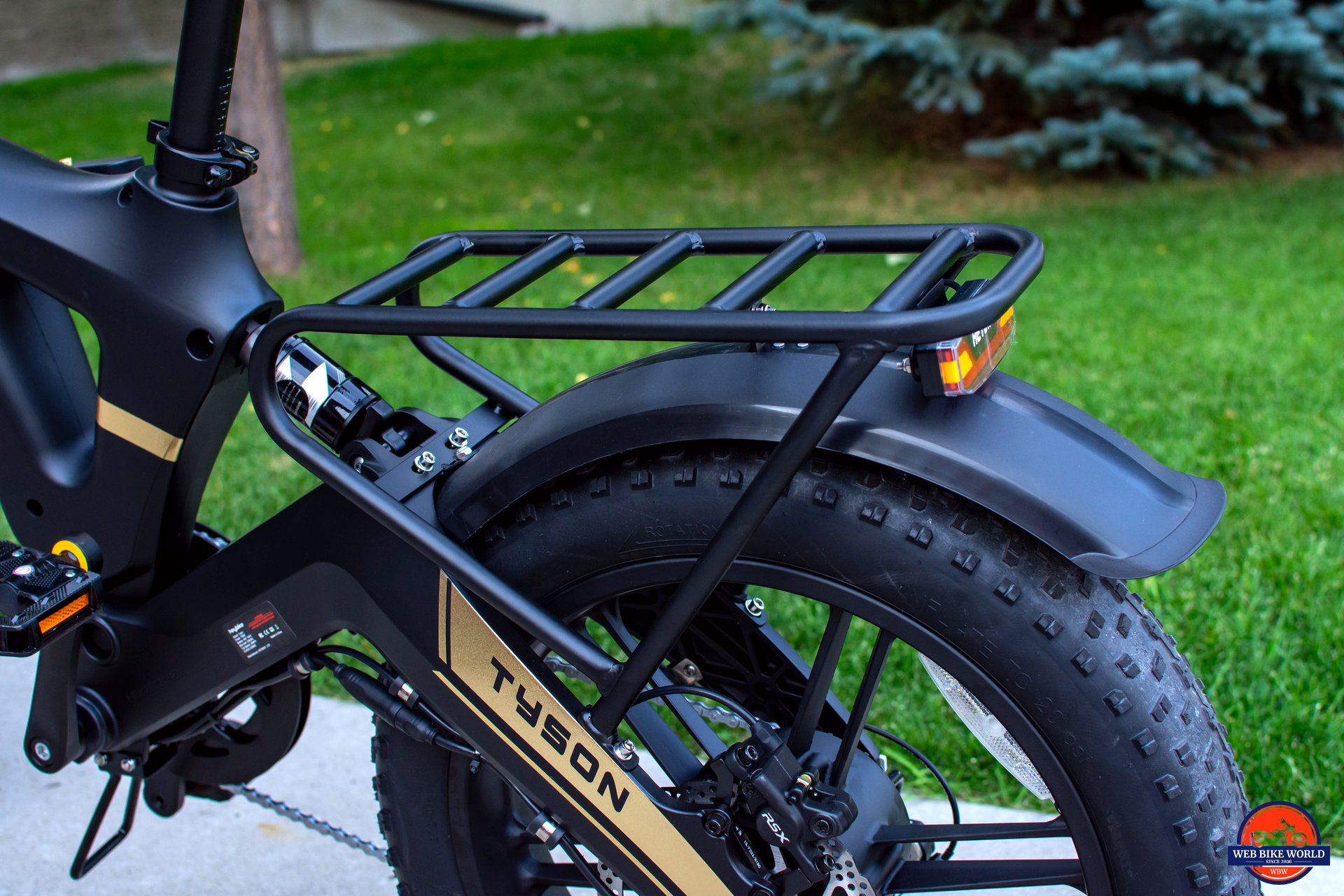 The issue with the welds isn't obvious until you get real close, though.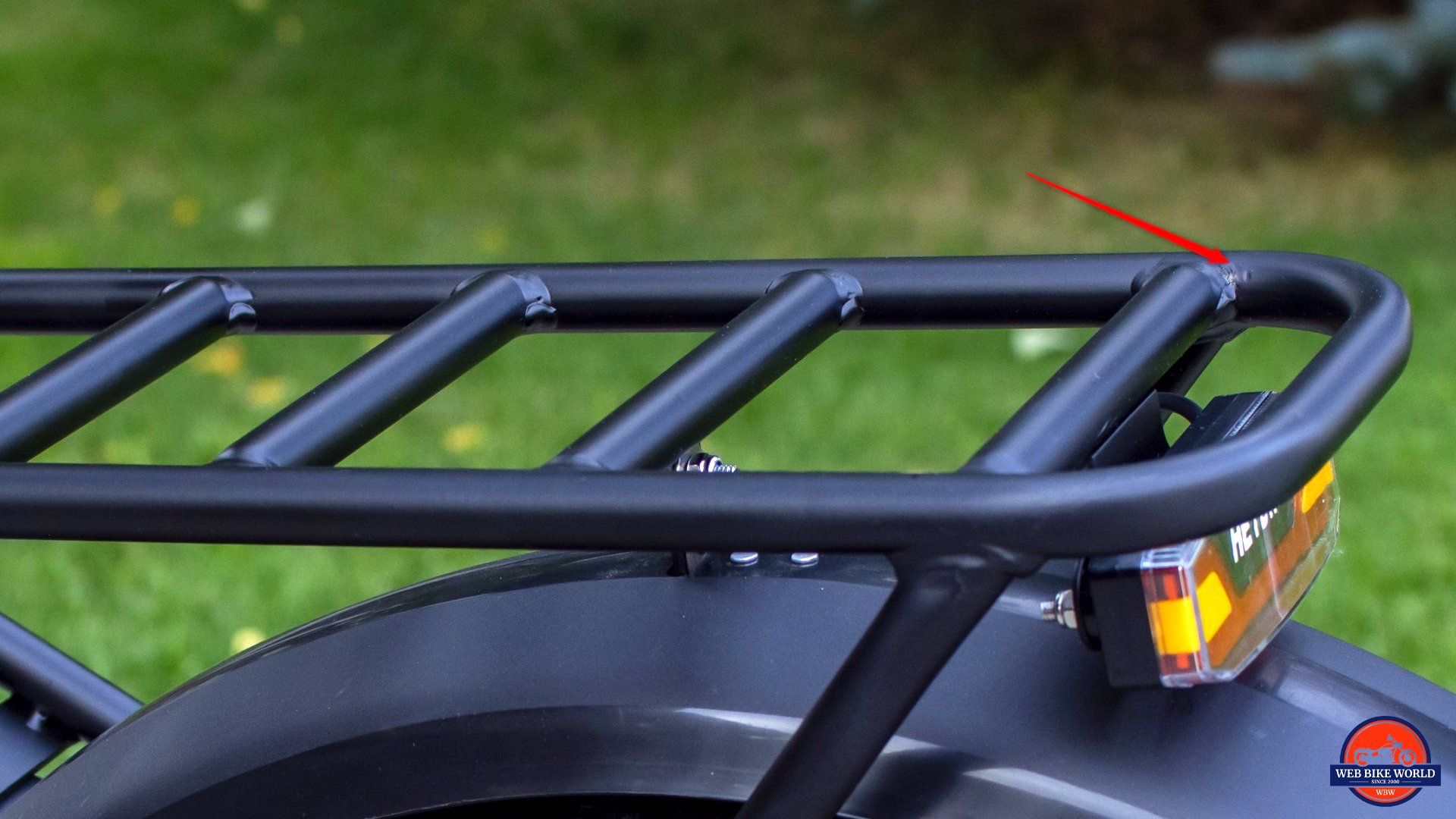 The welds passed the "push test," and the rack isn't wiggly by any means, but they aren't as clean as I've found on other bikes. Mind you, you need to be within 30 centimeters to see these imperfections.
Lighting
One thing I find funny about the Tyson: the word HeyBike appears within view at least three times from every sight angle.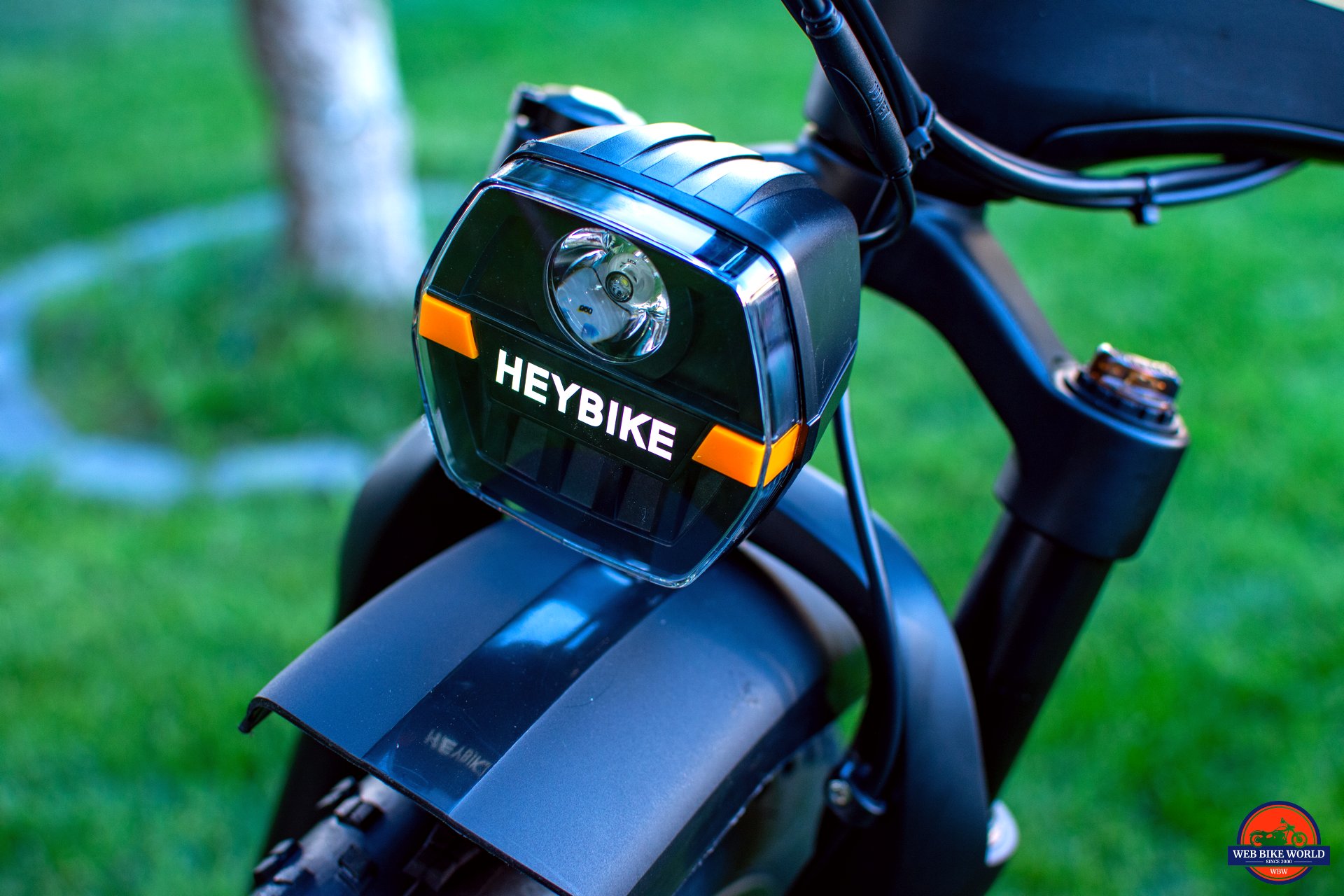 Hell, the front headlight has a HeyBike section that lights up! Even at night, nobody can miss that you're rocking a HeyBike. The same is also true from the rear, as shown in the photos under the rear rack section.
Both the headlight and taillight have LED turn signal indicators, and they work surprisingly well. You can easily see them 50 feet away in normal lighting conditions.
There is a light on/off switch on the left handlebar; be mindful that the lights are turned off when you're done with it so you don't accidentally drain the battery.
Odds & Ends
As far as folding ebikes go, the Tyson is one of the more attractive ones. It's almost rugged-looking, and more than one person has commented on it.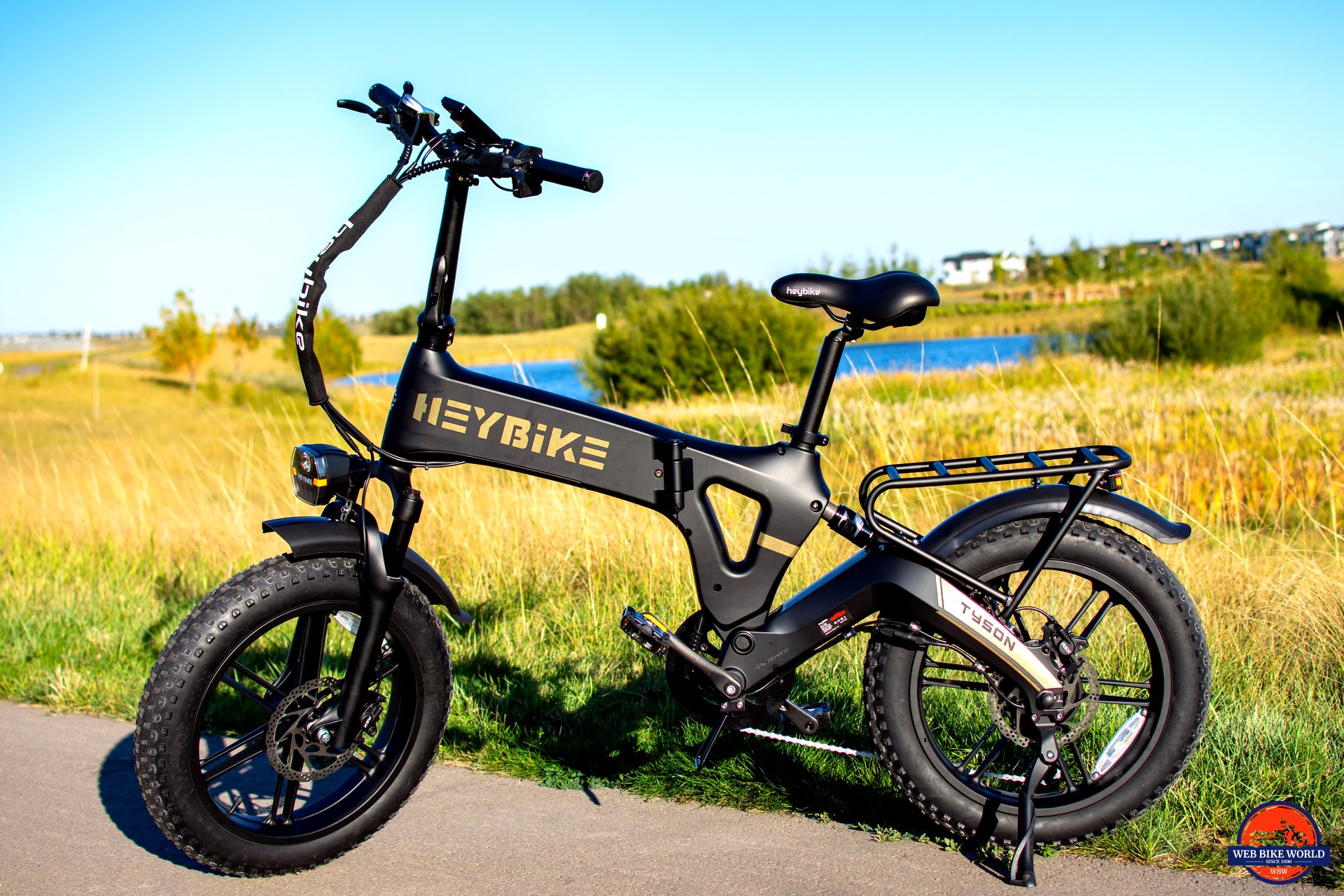 However, some small things caught my attention that are worth pointing out. The first is the inconsistency in messaging between the HeyBike website and the bike itself.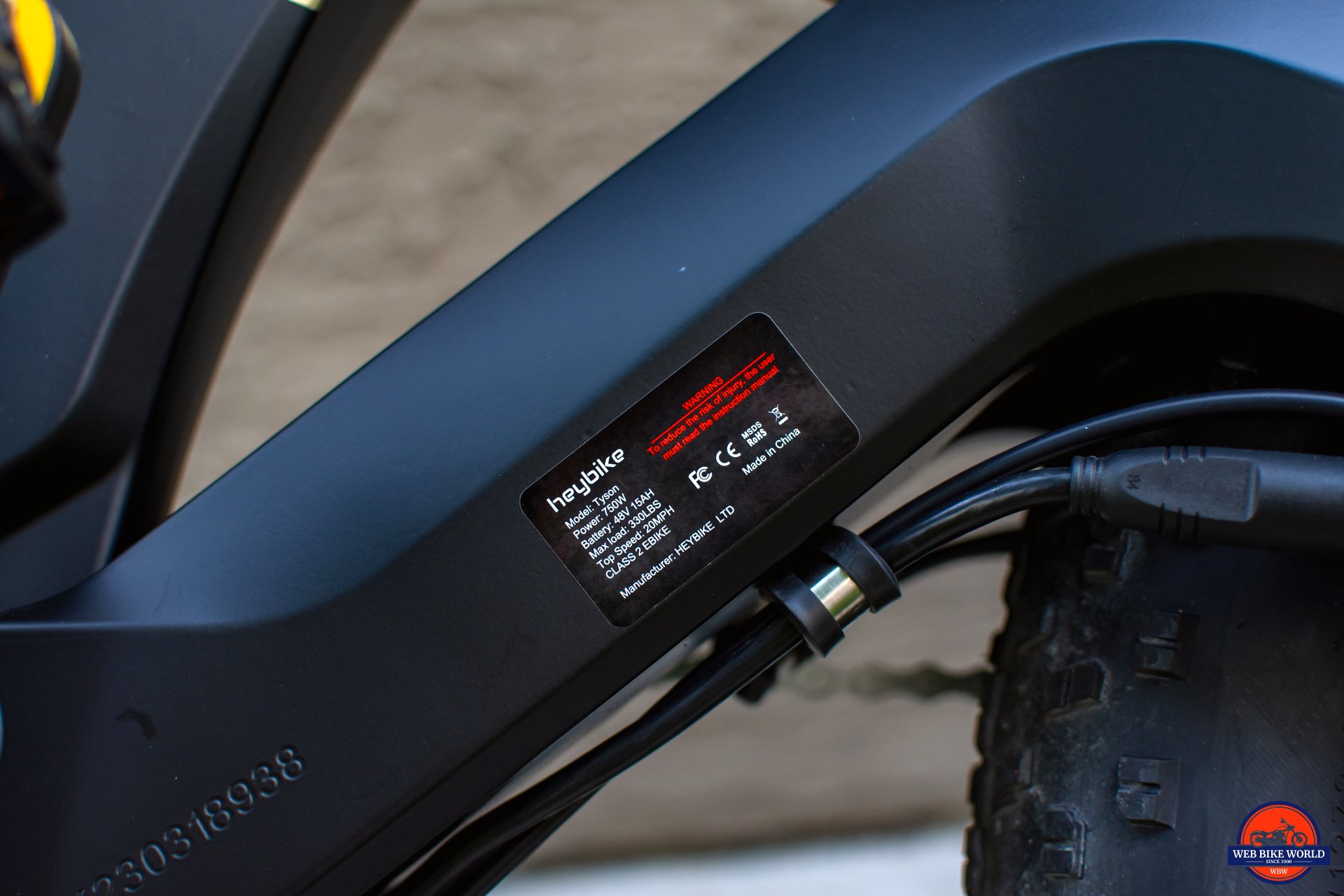 The bike has a sticker that says it can handle a max load of 330 lbs, with a top speed of 32 kph (20 mph) and a class 2 designation.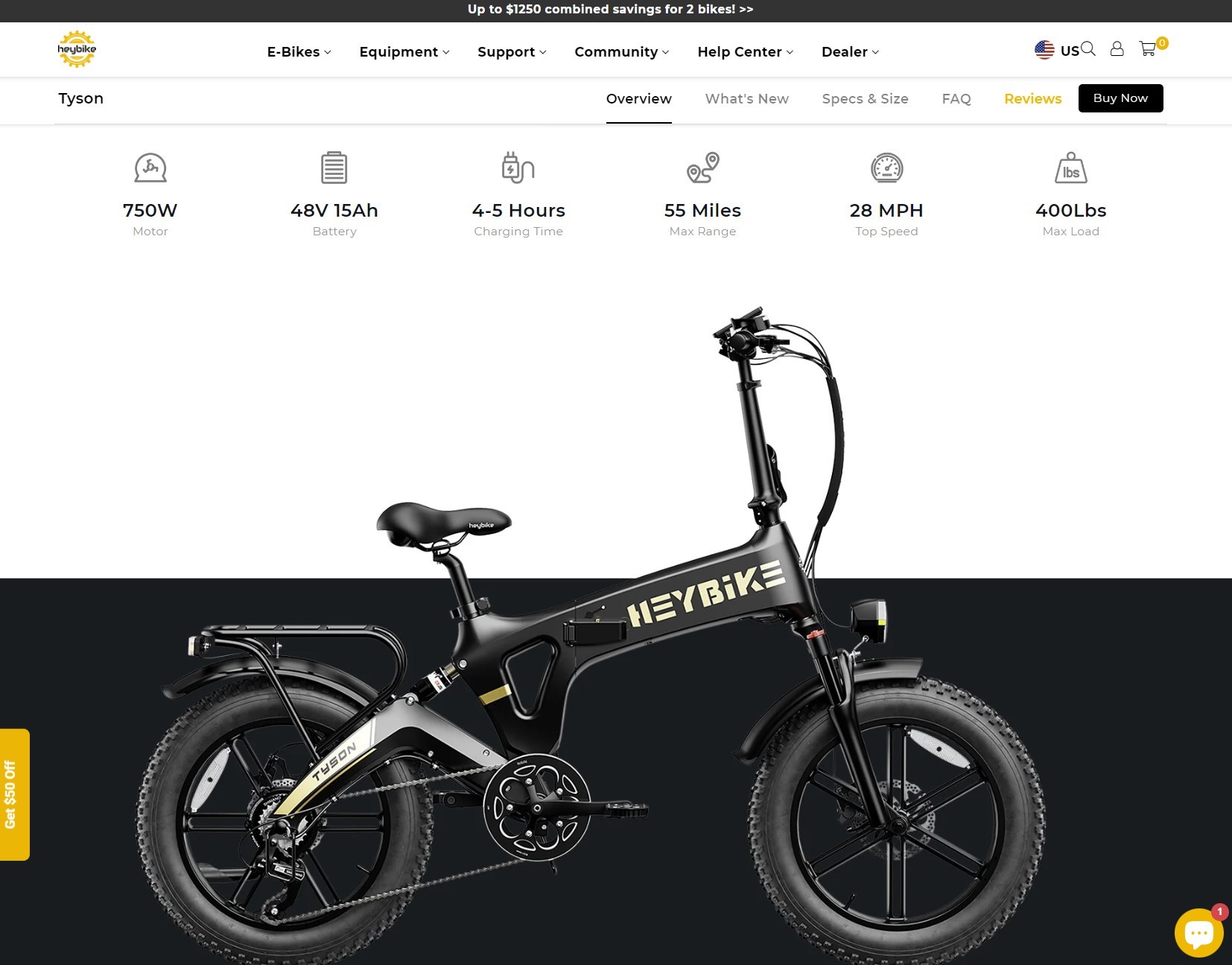 However, the HeyBike website says it is a class 3 ebike that can carry up to 400 lbs. So… which is it?
Next up: the HeyBike website is aesthetically pleasing, but the content – including terms, privacy policy, refund policy, etc. – is inconsistent and confusing. For example, section 18 of the terms of service ("Governing Law") says:

I'm not sure what that means, but similar missteps exist throughout their privacy policy and terms of service. 
Finally, the refund policy and warranty: HeyBike offers a 30-day return window, and a 1-year warranty on the bike. However, you'll be paying $200ish to ship the bike back to HeyBike for a return; for warranty claims, it looks like HeyBike covers all fees associated.
Frequently Asked Questions About the HeyBike Tyson
How fast does the HeyBike Tyson go?
You can adjust the speed limiter to hit 45 kph / 28 mph, though I never managed to get the bike moving that fast.
Who owns HeyBike?
This is a hard question to answer as HeyBike is deliberately vague about this on their website. On one page, Jason (no last name given) is described as the founder, and on another Jaison (sp?) and William are described as the founders… and there is zero specific information on their website about where the brand is located.
The address on the company's contact page is for a mailbox in California, and searching HeyBike on Google Maps takes you to a warehouse elsewhere in California.
My guess? HeyBike is an ODM brand that doesn't have a North American presence beyond the website and perhaps a warehouse. This isn't necessarily bad, but something to consider.
How long does the HeyBike Tyson's battery last?
Heybike claims a range of roughly 88 kilometers / 55 miles, though I doubt the Tyson would actually hit these numbers unless you kept the pedal assist low (or off) for most of the ride. I did about 15 kilometers in 22% battery life while bouncing between PAS 1 and PAS 2. I think you'd see 60 – 70 km of range from the 15 Ah battery, assuming you pedal a bit, and about half that using electric power only.
How do you change the display on the HeyBike Tyson from miles to kilometers?
You need to download the HeyBike app and connect it to the Tyson, where you can adjust this setting from there.
What is HeyBike's warranty and refund policy?
HeyBike offers a 30-day return window, and a 1-year warranty on the bike. However, you'll be paying $200ish to ship the bike back to HeyBike for a return; for warranty claims, it looks like HeyBike covers all associated fees.
In Conclusion: The Tyson is a Complete Package Made for Comfy Commutes, But Not for Difficult Ones
In some respects, the Tyson is a mixed bag, using generic components for its brakes, tires, and suspension. The plastic fenders, lights, and excessive HeyBike branding also give the impression that this bike isn't meant to be taken seriously by cyclists.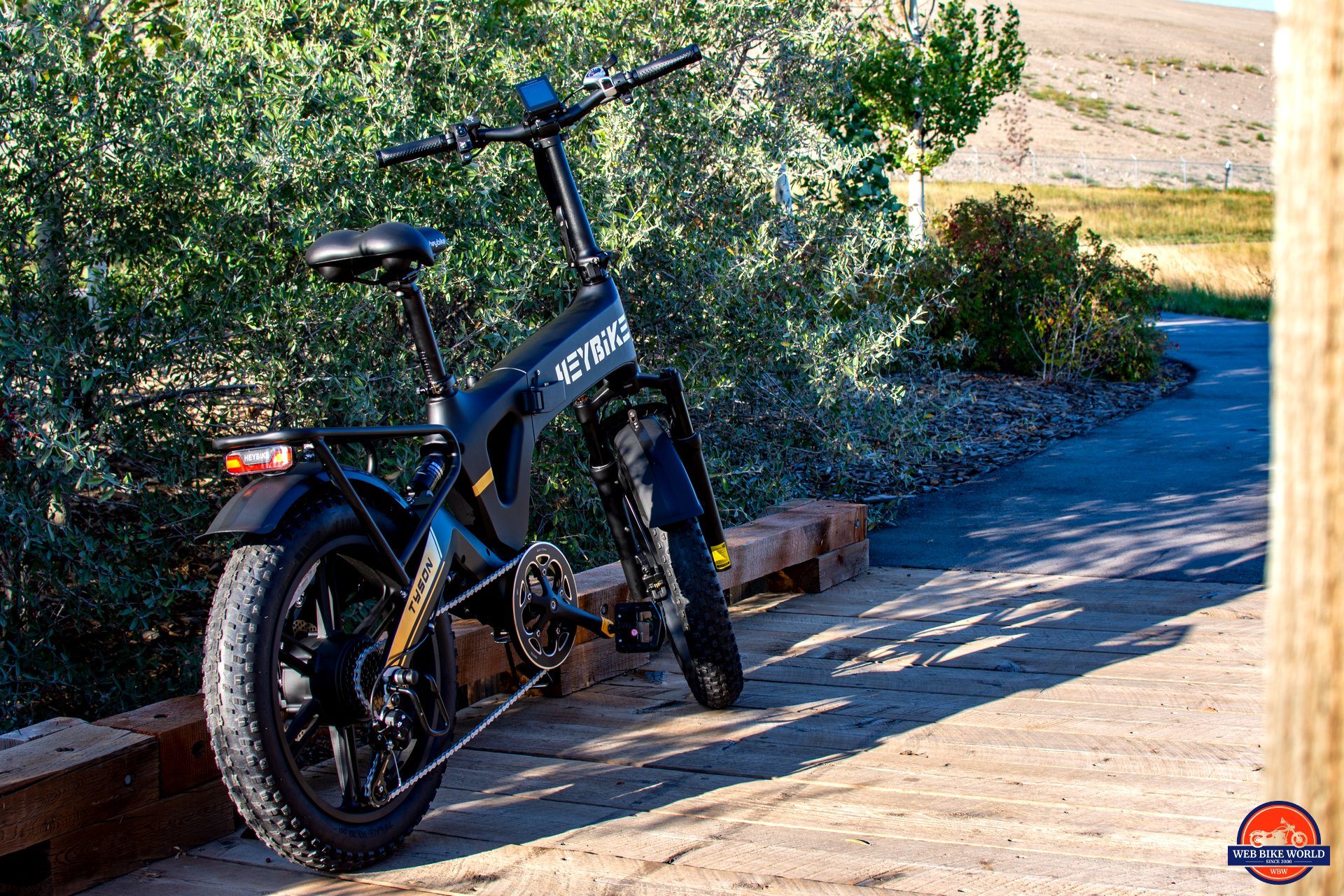 But this bike isn't meant to satisfy the lycra crowd; it's meant to be affordable and easy transportation for people who fight with transit, face congested sidewalks and pathways, and need something portable to use to get around. When viewed from that perspective, the Tyson is a great bike.
I love that the PAS settings are customizable from my phone, and that you can adjust the behavior of the throttle. You can turn this thing into the ultimate micro-commuter, or you can set it up to ride like a "normal" bike. The choice is yours.
It has plenty of range and a good combination of convenience and function built in. It's not perfect, and it has some compromises, but if I wanted an affordable PEV for the last-mile of my commute, the Tyson would be right up on my list.
2023 HeyBike Tyson Folding eBike Review
Review Summary
The HeyBike Tyson is a focused full-suspension folding ebike that has dialed in its commuter lifestyle. The 750-watt motor is great on pavement and trails, but struggles in dirt and grass from a dead stop. It's hydraulic brakes do the job, and its commuter/convenience features are second to none in this segment. Convenient, albeit somewhat heavy at 77 lbs. It has some flaws, but none are deal breakers.
Pros
Full-suspension + hydraulic brakes
Turn signals, rear brake light, bright headlight
Max load of 400 lbs
Cadence sensor is tuned well from factory and can be customized
Powerful and intuitive HeyBike app you'll actually want to use
Cons
No way to lock the rear shock
Gearing is ineffective for hills without assist
Generic brakes, tires, and suspension
Motor lacks initial grunt on grass and dirt