When it comes to no-frills traditional touring the first bike that comes to mind is the Harley-Davidson Road King.
That is partly because of the name: Road King by name, road king by nature.
Apart from auxiliary riding lights, lockable panniers, cruise control, a windscreen and some crash protection, the rest is simple and traditional motorcycling.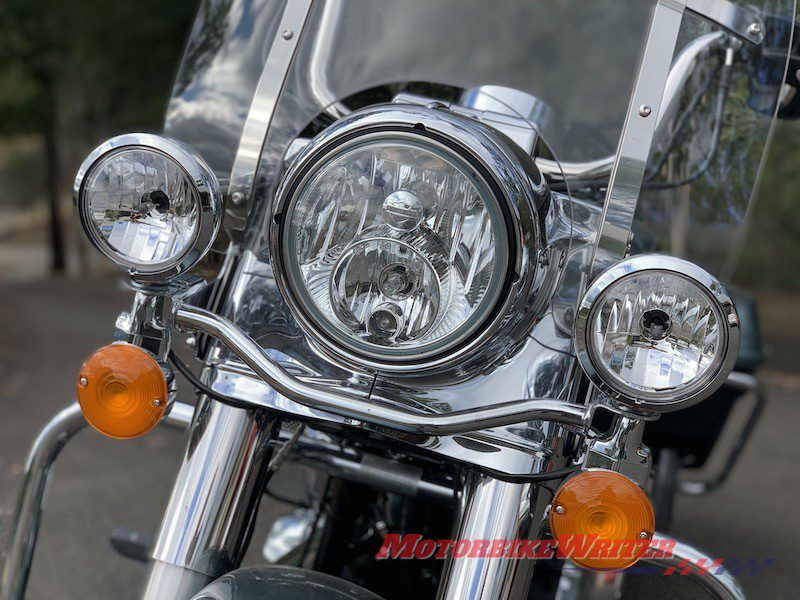 At its core is a hefty 107 cubic-inch (1745cc) Milwaukee Eight engine that is refined brute strength for hauling your ass and your luggage.
And it will ably haul two in more comfort now that the bike gets the fatter and wider pillion seat from the Heritage Softail.
The rider will also enjoy the slightly narrower seat so your legs are as splayed as before.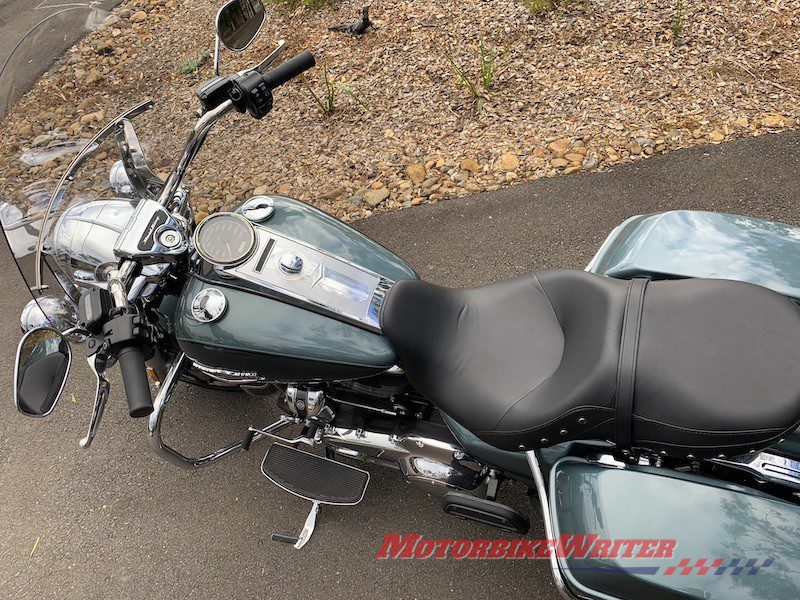 What I love about this bike is that it does everything in an understated manner. Nothing showy, just honest touring motorcycling.
Despite its simplicity, it is actually quite flexible and really a two-in-one bike when you consider you can easily remove the windscreen and panniers in less than a minute.
Road King power
Since 2017, the Touring models have the Milwaukee Eight engine which is not only more powerful, but also smoother, quieter and runs cooler!
The Milwaukee Eight is so called because they have gone from the Twin Cam to a quieter single chain-driven camshaft with four lighter valves per head. There's eight valves in all, hence "Milwaukee Eight".
The ignition thump is gone as is a much of the mechanical noise.
Finer internal tolerances and lighter components have made it mechanically quieter which means Harley's engineers have legally been able to ramp up the volume and bass in the exhaust.
While the transmission is much less "agricultural" in feel, neutral can still be a little difficult to find. It's easier if you try to obtain that green "N" light just before coming to a stop.
I'm a little disappointed to see that the convenient heel shifter is no longer standard. It would be my first accessory purchase.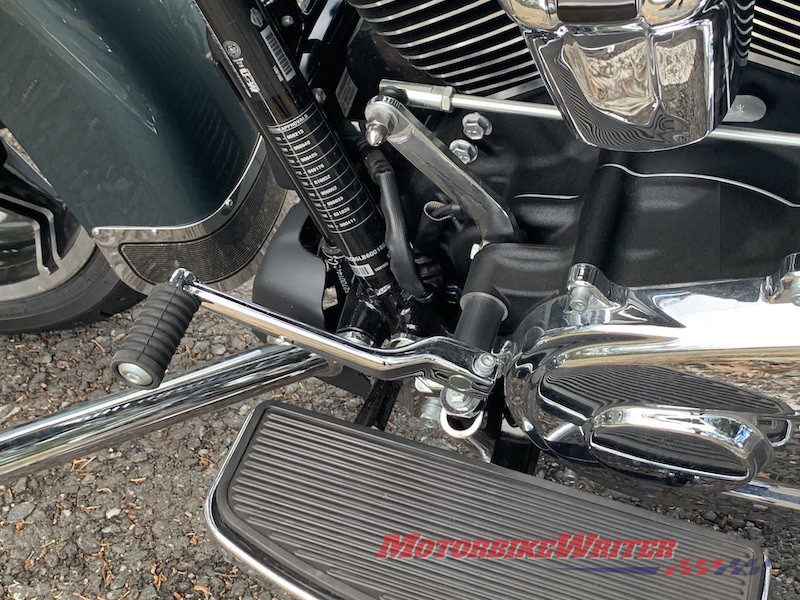 I have been riding the bike around for a couple of weeks in fairly cool and wet weather, so I haven't been able to asses its engine heat.
However, the ignition has been advanced to make it cooler, lowered the rear header down and moved the catalytic converter rearwards.
The last time I rode one a couple of years ago I found thermal comfort had improved, but there was still plenty of heat around the back of the leg. The pillion also complained about heat being directed at her right ankle.
However, you can remove the windscreen for better summer ventilation.
Ride and handling
The Road King is the best handling of the touring models with a light front end, the most clearance and a precise feel.
The taut chassis and good clearance allow it to be thrown around much more than you would expect of a 362+kg monster.
This is largely due to the Showa dual bending valve forks.
They have also removed some of the jackhammer effect in the grips, although the long mini-ape bars relay vibration and impact shudders to your hands.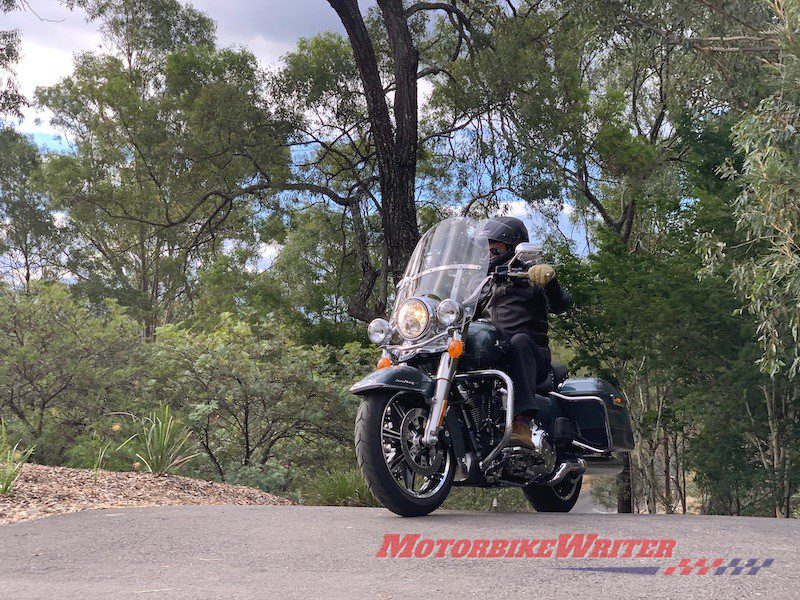 I found gloves with palm padding mitigates the effects.
The new emulsion-technology rear shock absorbers improves the ride, but it's still a little short over some of Queensland's bumpy B roads.
The twin springs can be easily adjusted with a single knob, but you have to remove a pannier first.
They also offer 15 to 30% more pre-load adjustment for heavier loads.
Creature comforts
Apart from better seats, the mini-apes are a good fit for me and the floorboards are generous for long-legged riders.
Instruments are simple and understated: a single round speedo with a small LCD screen showing a variety of information you can toggle through with the switch on the left bar.
There is also an analogue fuel gauge in the left "dummy" fuel cap.
The Road King has a minimum of chrome, but lush paintwork and don't you love that mint-green colour scheme. Once again, understated and stately.
Postscript
After writing this review, I took the Roadie for a four-day road trip with some mates on Beemers, a Yammie, a Suzie and a Trumpy.
I think they would all confirm they were very surprised and impressed at how well it handled everything thrown at it.
That included tight twisting tarmac, bumpy farm roads, heavy rain, gravel forestry roads, corrugations, dense fog (gotta love those auxiliary lights!), bum-numbing highways and even a bat-infested tunnel!
At the end of each day I felt fresh despite hours in the saddle.
The toughest challenge was fighting crosstown school pick-up time traffic!
Learn to ride one of these and they will reward the touring motorcyclist.
Harley-Davidson FLHR Road King
Price: FLHR Road King $34,495 

Warranty: 24 months, unlimited mileage

Service: 1600/8000km

Engine: Milwaukee Eight 107 (1745cc) twin

Power: N/A

Torque: 150Nm (111ft-lb) @ 3250rpm

Transmission: 6-Speed Cruise Drive

Brakes: 300mm discs, 4-piston calipers, ABS

Suspension: Showa dual bending valve forks (117mm travel), hand-adjustable rear suspension (76mm travel)

Length: 2450mm

Seat: 705mm

Fuel: 22.7 litres

Dry weight: 362kg

Tyres: 17″/D408F BW 130/80 B17 65H; 16″/D407 BW 180/65 B16 81H