I used to joke that the Harley-Davidson Sportster Iron 883 came with iron suspension, but a new rear shock softens the blows from urban obstacles such as manhole covers.
Like the rest of the Sportster fleet, the 2016 Iron gets the new cartridge dampening forks and emulsion technology rear shocks with 50mm travel, pre-load adjustability and an adjustment wrench under the new tuck-and-role seat.
Yet Harley-Davidson Australia has kept the price at an attractive $14,995 ride away, despite a 20% drop in the Australian dollar over the past 12 months.
The Iron is the successful result of Harley's Dark Custom range which was launched in 2008.
Bling is the thing for some people while others think black is not dark enough, so Harley introduced the darker models and the Sportster 883 Iron became an instant hit, bringing in a younger clientele of "hipsters".
Fast forward seven years – a whole new generation of riders! – and Harley is relaunching the Dark Custom range in a typhoon-hit Tokyo.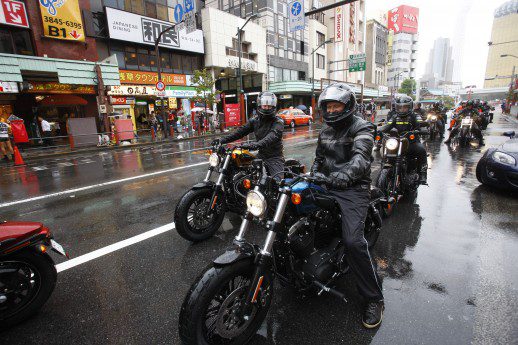 Greg Willis, director of marketing operations for Asia Pacific in Singapore, says they chose Tokyo for the launch because it is "one of the leading homes of customisation".
To emphasise his point, Harley took a contingent of Australian motorcycle media to the corner shop of young custom bike builder Kaichiroh Kurosu whose Cherry's Company "steampunk" bikes have won the prestigious Japanese MoonEyes custom bike show three years in a row.
The 2016 Dark Custom range consists of the Street model and the Sportster 883 Iron and Forty-Eight.
"We found that a lot of young, urban customers were getting into the dark stripped-back look, so we came up with this dark lifestyle," says Greg sporting a "Dark Custom Reborn in Tokyo" t-shirt.
"It's not just about the bike; it's the way people dress, ride and live."
Harley has tremendous credentials in customisation and personalisation with more than 10,000 parts and accessories available.
"The catalogue has gone from a thin booklet to a phone directory," says Greg.
"Some 89% of our riders customise their bikes. It's unusual to see two Harleys look the same."
The key to the 2016 Sportsters update is the premium suspension which provides a slightly plusher ride on the Iron, although it is still sprung fairly hard for aggressive riding.
The new seat adds to the improved comfortable level, making this a better proposition for longer trips than a quick dash to the coffee shop.
Iron also gets a cosmetic update from Tokyo-born senior Harley designer Dais Nagao.
It includes new pipes with a blacked-out bullet-hole head shield and mufflers, ribbed air filter and lighter nine-spoke wheels. It comes in Charcoal Denim, Black Denim, Olive Gold with an eagle-and-shield tank logo, or Hard Candy Custom gold flake with a flame detail paired with black fenders.
However, they haven't upgraded the ageing frame, engine or transmission which is still five-speed.
It works just fine and the gears feel positive thanks to the mid-mount controls with a short linkage. Neutral is easy to find and the gears don't clunk as much as they used to. Clutch pull is nice and light which is appealing for women.
The engine is a torque monster and has a friendly vibe in the chassis.
Brakes are strong enough with a single front disc for this relatively light cruiser.
Greg says Sportsters are for the urban rider and that 83% of owners are new to the brand.
He says 33% of sales are to young adult customers in the 18-34 age bracket.
"It's really important to us to bring new customers to motorcycling and the Harley brand," he says.
Harley-Davidson Sportster Iron 883 XL883N
Price: $14,250
Warranty: 2 years, unlimited km
Service: 1600/8000km
Engine: 883cc, Evolution V-twin
Power: N/A
Torque: 75Nm @ 3500rpm
Transmission: 5-speed belt drive
Frame: mild steel tubular
Suspension: 39mm telescopic forks; twin coil-over shocks, preload adjustable
Brakes: 292/260mm
Length: 2179mm
Width: 821mm
Height: 1107mm
Seat: 683mm
Clearance: 99mm
Wheelbase: 1519mm
Tyres: 100/90 B19; 150/80 B16
Fuel tank: 12.5 litres
Kerb weight: 255kg