The 2015 Moto Guzzi V7 II range gets modern two-channel ABS and traction control as well as a host of accessories kits to turn them into scramblers, cafe racers, gothic rat bikes and Italian Army replicas – please, no jokes about having six reverse gears!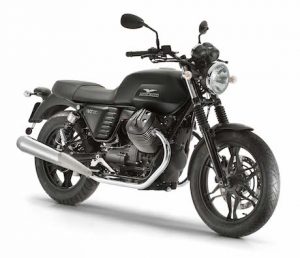 The Stone base model is available in Australia now at $14,000 ride away, with the Special arriving earlier than expected at $14,500. The Racer coming in limited quantities in the second half of the year at a price yet to be announced.
The second-generation V7 is still powered by the 750cc, 90-degree V-Twin engine, but it has been tilted forward 4 degrees for 3cm of extra leg room. it also comes with a close-ratio six-speed transmission, ABS, traction control and redesigned clutch.
While ABS will be a welcome safety addition, you have to wonder about the need for traction control on a lazy twin with just 37kW of power and 60Nm of torque. It hardly breaks a sweat, let alone traction.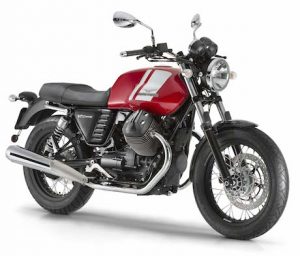 While the V7 doesn't get any extra power, it should feel livelier as well as more economical with a six-speed transmission up from five speeds.
The base-model V7 Stone comes with lightweight alloy wheels and single-colour matte paint in Nero Ruvido (rough black) and Rosso Impetuoso (impetuous red).
The V7 Special has a more classic look with wire wheels and historic two-tone colour schemes in black and red.
Moto Guzzi have also released a range of four accessory kits for personalisation: Dark Rider, Scrambler, Legend and Dapper. Customers can also buy the accessories individually, although they will be cheaper by the kit.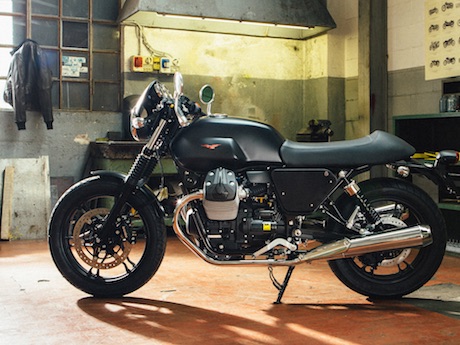 The Dark Rider Kit has a "Gothic" rat bike style with black aluminium top fairing, aluminium side fairings, aluminium mudguards, black fuel tank which features the traditional red Moto Guzzi eagle and black spoke wheels.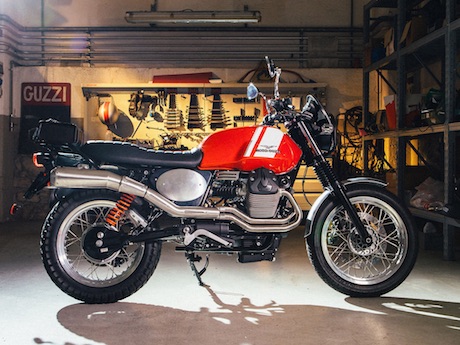 The Scrambler Kit allow the V7 to compete with the new Ducati Scrambler. It includes satin finish mudguards, number plates and guards, a high two-in-one exhaust along with cross brace handle bar, off-road foot pegs, leather side bags and a tool bag.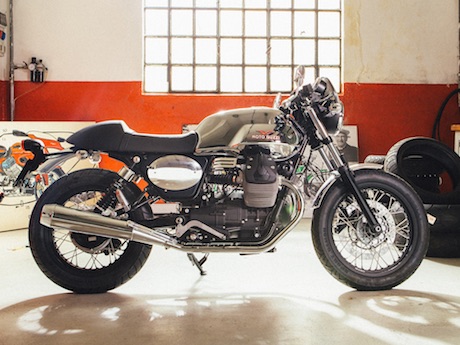 The Daper Kit (do they mean dapper?) creates a Café Racer with polished aluminium mudguards, injector covers, guards and number plates. It also gets lowered handlebars, a single seat and handlebar mirrors.
The Legend Kit turns it into a handsome and historic Italian Army tourer with an olive green fuel tank, side fairings and mudguard. it also has a dark satin finish high "two-in-one" silencer, cross brace handlebar, black luggage rack, larger seat and natural leather side bags.
Which kit do you think looks best?
Meanwhile, the 2015 Moto Guzzi Griso 8V SE is now available in "Red Trophy" colour scheme of black satin and contrasting red satin tank at $21,500 ride away.