The Harley-Davidson VRSCDX Night Rod Special is a rare treat with power and spirit that are addictive.
Test riders should be wary of being hooked at the very first ride as I was about a decade ago.
The V-Rod (or VRSC which stands for V-Twin Racing Street Custom) was introduced in 2001 as a radical departure to the Harley norm with a rubber-mounted, water-cooled, overhead-cam V-twin Revolution engine developed jointly with Porsche. In another break from traditional, the fuel tank is under the seat, allowing for a very sleek fake "tank".
There have been few styling changes over the years, but several major mechanical upgrades including an increase in engine capacity from 1130cc to 1247cc, a bigger rear tyre (from 180 to 240mm), larger fuel tank (from 14L to 18L), inverted forks, LED taillight, a slipper clutch and ABS.
Although you don't see many V-Rods out touring the countryside, they are actually the second-biggest-selling family in Australia after the Softails, despite there being only two models – the Night Rod and Muscle.
Differences in the two are mainly cosmetic with the Night Rod the meaner blacked-out model which we rode for this test.
Rods are often modified for drag racing and it's easy to see why. With 113Nm of stump-pulling torque, this is a traffic-light-derby winner every time.
There are only five gears, but the enormous torque allows you to select just about any gear any time and you'll be right.
Fifth gear is not as overdriven as the other Harleys, but it's just fine on the highway with a gentle buzzing through the bars, pegs and the seat of your trousers.
It's a higher revving unit than the 103cu (1690cc) engines found in most of Harley's other bikes, with a limit of 9000rpm instead of 6200rpm and a 100km/h cruise at 3500rpm in fifth which is 1000 revs higher than the loping cadence of the 103 in sixth gear.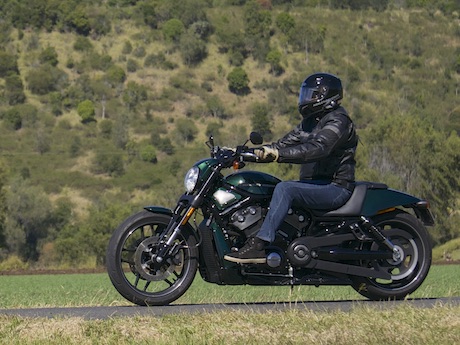 I took it out of its city comfort zone onto some B-grade country roads and was pleasantly surprised at how it rides and handles.
There may be only 74mm of travel in the rear preload adjustable shock and a low 40% ratio tyre, but it actually copes quite well with the bumps.
Up front is pretty good too as there is no uncomfortable jackhammer affect through the bars over high-frequency stutters.
Don't get me wrong; this is a stiff and taught machine with fairly unforgiving ride, but it's not the bone-jarring, teeth-chattering experience I had expected.
Over a long tank-draining 300km romp through the hills, I found I was still quite relaxed and comfortable in one of the plushest yet supportive seats on any cruiser.
However, it's not the most relaxed riding position as you have your feet and hands forward in that windsock pose with no wind protection, so you've got to hang on at highway speeds.
You can get small panniers for the V-Rod so moderate touring isn't out of the question, although a bigger back seat to lash a swag over would be nice.
That seat also rules it out for two-up, except for short trips to the local. The pillion perch is tiny, the pegs are in the wrong position and the strap handle is under where you sit and no comfort to a pillion on a bike that accelerates faster than a V8 Supercar.
Legal touring speeds will give you 300km range from the 18.9-litre tank and when you stop, be careful filling the underseat tank as a spill will not only smell nasty between your legs, but there are electrical components under there – including a power accessory connector – that you don't want to mix with fuel.
While most people wouldn't think to look under the seat for the fuel, security is an issue as the seat doesn't have a lock on it and there is no locking fuel cap, either.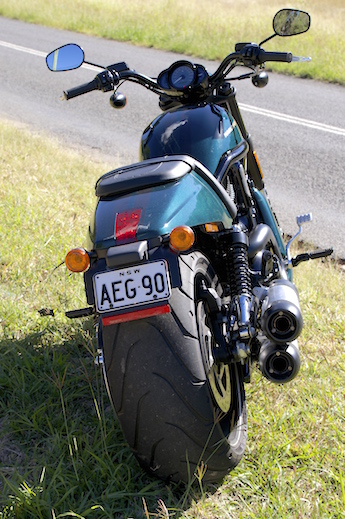 Going hard is no problem on the Night Rod, but equally pulling the 302kg bike to a stop is effortless.
The twin front 300mm Brembo discs with four-piston callipers are more than enough on their own with sportsbike-style initial bite and a good progressive feel. You can easily finesse the front brake lever, but if you grab too much in a ham-fisted panic, the ABS cuts in smoothly rather than alarmingly.
The rear brake doesn't have as much affect as on most cruisers, but has enough feel to prevent rear lock-ups and there is also a skipper clutch preventing nasty back-out surprises.
Pedal feel is sensitive enough to be able to trail brake which is a must for holding a lean angle and preventing that fat car-like tyre from standing the bike up.
Speaking of which, tyre pressures are paramount in getting the best handling out of the bike. Make sure they are pumped up to the maximum recommended levels or it really will feel quite dead in the rear end on cornering.
Surprisingly with a 34-degree rake, the bike turns quite positively into a corner. It doesn't drop in like a sportsbike, but it's nimble enough, probably thanks to the inverted forks and lighter wheels.
It's once you are into a corner that you have to inject a little effort to keep it on line.
Cruiser riders will be surprised at the 32-degree lean angles allowed by the bike despite the forward controls. You really have to be running that 240mm Scorcher on the absolute edge before the pegs start kissing the tarmac.
A few years ago the pegs were lifted and pulled a little closer to help clearance angles. Not so much that you would notice a major change in rider comfort but it's obvious when you have it cranked over in a corner.
And mid-corner bumps won't suddenly dig the pegs into the asphalt because of the stiff frame and suspension. No wallowing here, just a bump and a short squirm.
Our test bike came with standard pipes which together with the carbon-fibre belt dive make it a very quite ride. Most people will swap the mufflers out for something with a fruitier tone, but they will drown out an even sweeter soundtrack.
It's the "drdrdr" induction noise it makes when accelerating hard. It's somewhere between make a noise with your tongue on the roof of your mouth and a hammer drill. I love it and found myself becoming addicted to that awesome sucking music.
Despite its name, the Night Rod isn't particular good in the dark with a yellow glowing headlight that is a little patchy in its spread and short in distance.
Yet this is where you are likely to find it, prowling the city streets at night, looking for prey to devour at the next set of traffic lights.
It's a shame as the lustrous paintwork can only be appreciated in direct sun and the bike really does have the ability to ride far beyond the city limits.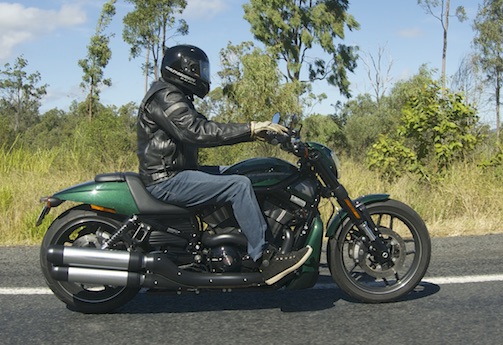 Harley-Davidson VRSCDX Night Rod Special
Price: $26,992

Warranty: 2yr, unlimited km, roadside assist

Service: 1600/8000km

Engine: Rubber-mounted, liquid-cooled 1250cc Revolution V-Twin engine with dual overhead camshafts, four-valve cylinder heads and Electronic Sequential Port Fuel Injection (ESPFI)

Bore x stroke: 105mm x 72 mm (4.13in x 2.835in)

Compression: 11.5:1

Power: 92kW (123hp) @ 8000rpm

Torque: 113Nm 83ft lb @ 6750rpm

Transmission: 5-speed, slipper clutch, carbon-fibre drive belt.

Suspension: 43mm inverted forks, preload-adjustable rear shock

Wheels: 5-Spoke cast aluminum 483mm x 76mm (19in x 3 in); 457mm x 203mm (18in x 8in)

Brakes: Brembo 300mm triple discs, 4-piston calipers, ABS

Fuel: 6.3L/100km, 18.9L tank

Dimensions: 2440mm (L), 890mm (W), 675mm (Seat), 115mm (Clearance), 1702mm (WB)

Tyres: 120/70 ZR19; 240/40 R18 Michelin Scorchers

Wet weight: 302kg