2009 TRIUMPH BONNEVILLE THRUXTON BACKGROUND
The 2009 Triumph Bonneville Thruxton has a rich heritage. The classic Triumph Bonneville 1959-1983 was easily Triumph's biggest name, then and now. After the death of the old Triumph (by this time the worker-owned Meriden Co-Op) in 1983, British developer-billionaire John Bloor bought the brand out of receivership with plans to reopen as a thoroughly modern premium motorcycle manufacturer. It took until 1990 to actually make it happen, but when 'the new Triumph' (now named Triumph Motorcycle Ltd, there wasn't a Bonneville in sight, or anything that even looked like a Bonneville. In fact, when the launched, Triumph had nothing but 3- and 4-cylinders. But what a fleet of bikes! Triumph really nailed it with tough, cool, fast sport bikes, touring bikes, and more. But it took until 2001 to actually launch a new Triumph Bonneville. And just like with the earlier bikes, they nailed it. While a totally modern bike, with DOHC, 4-valves-per-cylinder, oversquare bore-to-stroke ratio and gear drive, it had the look of the classic Bonnie. Painting tanks and adding on chrome goo-gah is the easy part. The key to making a worthy tribute to the classic Triumph Bonneville is the look of the engine, and that's not an easy thing to do at all, considering the obvious, huge differences between old and new. First off, the new Bonneville is air-cooled, with two vertical cylinders that are shaped similar to the originals. The cam towers are positioned and shaped to mimic the old engine's rocker boxes. On the right side, always the handsome side on a Triumph, the new engine apes the look of that iconic triangular timing cover and oval gearbox cover of the classic bike. On the left side, despite being a gear-driven primary, the primary cover looks very much like the classic, and also very iconic, Triumph primary cover. It's too bad they didn't use the little 'flying wing' shape the Meriden cast into the primary covers of old. But it looks authentic enough, and certainly enough to be instantly recognized as a modern-day Triumph Bonneville. While they are now styled in a variety of flavors and colors, the classic Bonneville theme is paid homage to here with the paint scheme, faux oil tank-side cover, and traditional silencers (mufflers). Cudos to Triumph for pulling it off so well. This 2009 Triumph Bonneville Thruxton is a fine example of just how good these bikes are.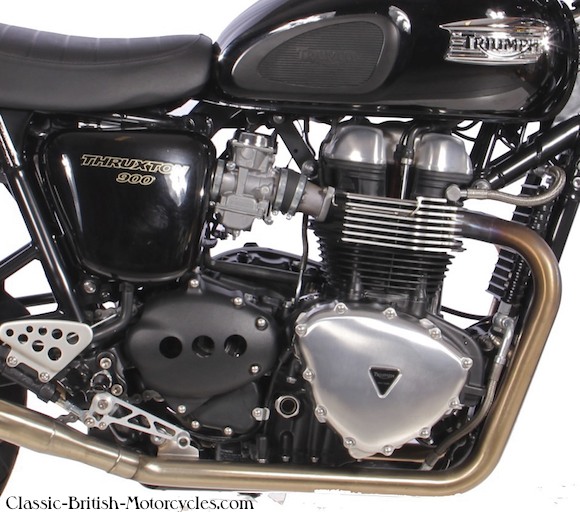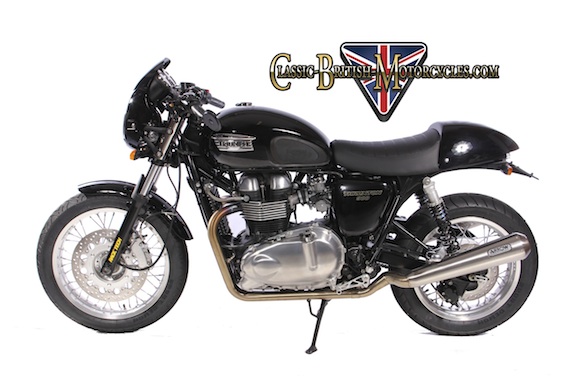 I RODE THIS BIKE!
I borrowed this drop-dead gorgeous 2009 Triumph Bonneville Thruxton from Mike Meissner, owner of CalMoto, a Triumph/BMW dealership (with 2 Bay Area locations), to ride it in the 2012 Morning After Ride. This awesome ride followed the Clubman Show as part of the Clubman's All-British Weekend, in San Jose. The show was always on the last Saturday in March, followed by a Sunday ride 'The Morning After'. We'd meet up in downtown Los Gatos, a gaggle of classic British bikes from every era, the fastest ones leaving first, with the slowest taking up the rear, and everything in between. From there, we'd meander through the gorgeous Santa Cruz Mountains, making our way to the Pacific Ocean, passing through pine forests, redwood groves, vineyard and horse country, hills and valleys and small villages along the way. A breathtaking day of riding with good people, sharing the road with a hundred or so other classic British bikes. No electric starters or heated riding suits here. Well…maybe a starter or two, but they were built by Lucas so they may not actually turn the bike over. Anyway, I digress. I took this lovely 2009 Triumph Bonneville Thruxton out for a day of riding with my friends and had a great time. Oh, I guess I had an electric starter, and these modern ones actually work. For the whole story on this epic ride check out the 2012 Morning After Ride.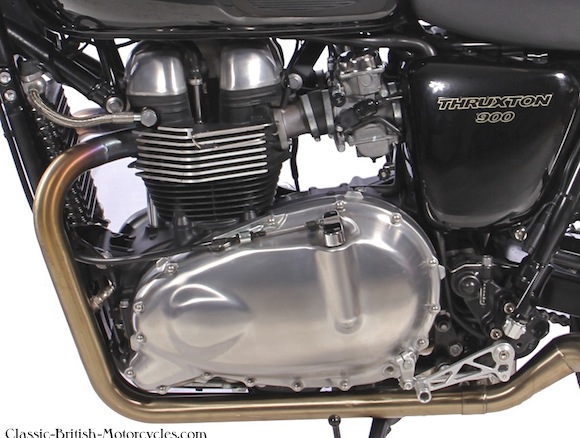 ---
2009 Triumph Bonneville Thruxton SPECIFICATIONS
Year/Make/Model
Engine type
Displacement
Bore & Stroke
Compression ratio
Fuel system
Gearbox
Final drive
Frame type
Steering head Rake / Trail
Wheelbase
Seat height
Suspension, front
Suspension, rear
Brake, front
Brake, rear
Tire, front
Tire, rear
Fuel Capacity
Dry weight
MSRP when new
2009 Triumph Bonneville Thruxton
Air cooled DOHC parallel twin
865cc / 52.8 ci
90mm X 68mm
9.2:1
Multiport sequential fuel injection
5-speed, left-foot shift
X-ring chain
Welded steel tube, double cradle
27 degrees / 106mm
57.2 in / 1,452 mm
30.5 in / 775 mm
41mm telescopic forks
Swing arm w/2 adjustable shocks
1X 310mm disk w/2-piston caliper
1X 255mm disk w/2-piston caliper
110/70-17
130/80-17
4.2 US gal / 15.9 L
440 lbs / 200 kg
$7,699.00 USD