ABOVE: 1979 Triumph Bonneville in T140D Bonneville Special guise, with Dark Blue & Silver paint scheme.
SPECIAL EDITIONS HELP SALES
Triumph motorcycles' new owners, the employees, known as the Meriden Co-operative, or the Co-op for short, had hit on a new idea almost by accident: a limited edition special. 1978 had been the 25th anniversary year of Queen Elizabeth II's reign as Queen of England & Triumph had released the 1978 Triumph Bonneville Silver Jubilee to commemorate it. Originally planned as a 1,000-unit run, it quickly ran to well over 2,000 bikes, bikes that sold for a premium price over a normal Triumph Bonneville. The Co-op liked this very much. They had sort of stumbled onto something & now decided to capitalize on it. Just about every year or so brought some new Limited Edition Special.
T140D BONNEVILLE SPECIAL
For 1979, that special was…well…The Special. Designated T140D, while the normal 1979 Triumph Bonneville was a T140E ("E" for Environmental, it got the smog treatment), the model year started with Engine #HX11001.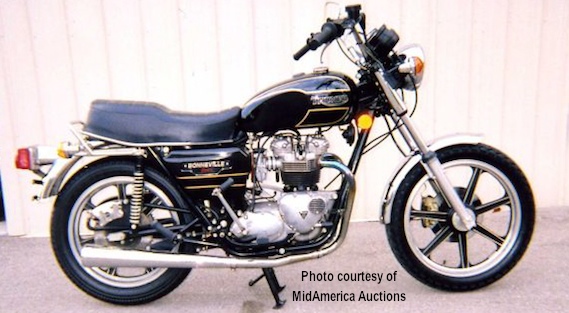 1979 TRIUMPH BONNEVILLE-TROUBLE IN PARADISE
Mechanical changes were few, Meriden was too strapped for cash to do more than was needed to meet ever more stringent legislation, particularly in the US. In fact, supplier problems had already started to surface as the Co-operative's money problems grew. In late 1978 for instance, they made a switch over to French-made Velgia gauges, when the traditional Smiths instruments were unavailable. One welcome improvement that came with mixed results was the new Lucas Rita electronic ignition system. Much-needed & long-overdue, being from Sir Lucas, "The Prince of Darkness", of course the new system had problems.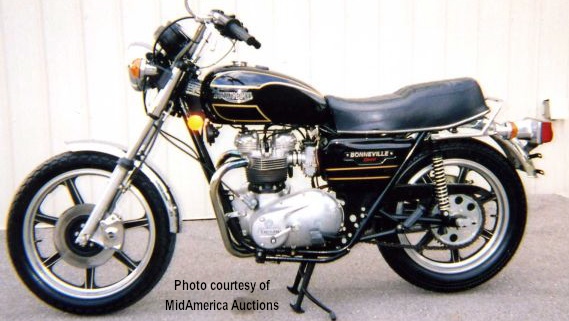 APPEARANCE PACKAGE
Mechanically, there was virtually no difference between the T140E & the new-for-'79 T140D Bonneville Special (other than the T140D's 2-int-1 exhaust), again it was mostly an appearance package. Both shared the same "E" engine, mandated by US Smog Regs. Other than Allen screws to replace Phillips on the outer covers, nothing really changed with the engines, with two notable exceptions. First, a new negative-ground electrical system was installed for the first time with a new 3-phase alternator. Then, the T140D got a slick new 2-in-1 header that was unique to the model & quite nice. Work was done to the shift mechanism to make neutral easier to find & to install a US-mandated Neutral Warning Lamp. Last year's Velgia gauges returned sporatically, with Meriden logos on their faces. Although some units got through with Smiths gauges, presumably when Meriden paid its bill.
T140D DETAILS
Few changes were made to the frame & running gear. Slight mods to the steering head allowed the fork lock to be moved to make room for a new console between the gauges that housed the ignition swithch & warning lights. A lock for the folding seat was installed for the first time. The T140D's swing arm was widened to make room for the uprated 4.25 X 18″ Dunlop TT100 rear tire. "D" models had higher footpegs by 2″ to clear the new exhaust system on the right. The T140D got special 7-spoke cast alloy wheels made by Lester (USA) finished in matte black with the rim & high spots polished. They were gorgeous! The front tire was now 4.10 X 19″, but the rear tire, which started out at 4.25 X 18″, had to be downsized to 4.10 X 18″ when it found they scraped when carrying a passenger. The Special moved the rear brake caliper to the top.
1979 TRIUMPH BONNEVILLE COLOR COMBOS
As you can see, another selling philosophy was apparently stolen from Burger King: "Have it your way!" There were 4 color combos for the US & 3 for the UK. But with the different models, different market-specific tanks & all the colors, there were more combinations that every before. Chrome fenders were back in all markets (US & UK) & the color schemes for 1979 were as follows: The US had 4 choices; Dark Blue over Silver; Black over Siliver, Candy Apple Red over Black; & exclusive to the T140D, Black with Gold pinstriping. The UK got 3 choices; Black & Red; Beige & Gold; and their T140D (with British-spec tank) was also Black with Gold pinstriping.
BELOW: US-spec 1979 Triumph Bonneville in Red and Black.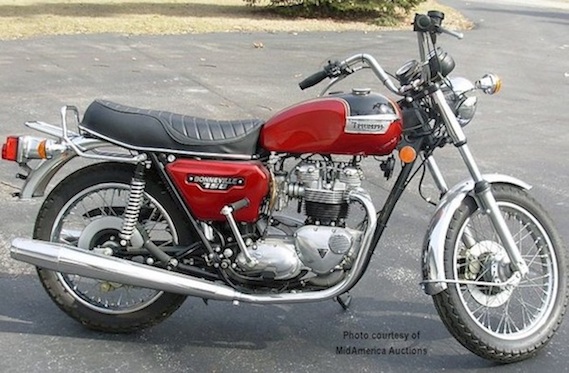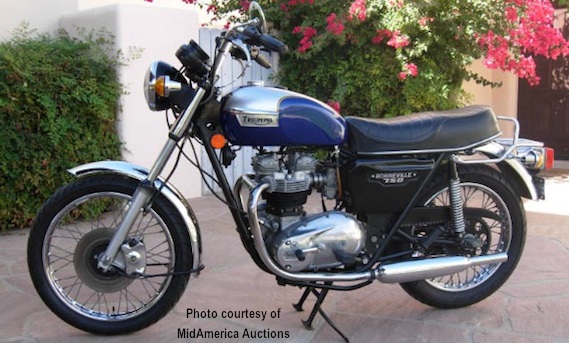 ABOVE: This US-spec '79 Bonneville is painted in Dark Blue over Silver. Note the US bikes had "teardrop"-style tanks that held a meager 3 Imperial gallons of fuel.
BELOW: The UK & Export bikes had a boxier tank that held 4 Imperial gallons. This one is dressed out in Red over Black paint.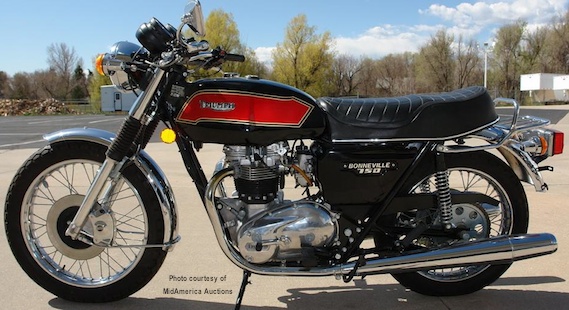 ---
1979 Triumph Bonneville SPECIFICATIONS
T140E Bonneville

T140D Bonneville

Engine type

Displacement

Bore & Stroke

Compression

Carburetors

Ignition

Engine output

Primary drive

Primary sprockets

Clutch

Gearbox

Ratios, overall:

1st, bottom

2nd

3rd

4th

5th, top

Final drive

Final drive sprockets

Frame type

Suspension, front

Suspension, rear

Brake, front

Brake, rear

Tire, front

Tire, rear

Fuel capacity

Wheelbase

Seat height

Ground clearance

Weight

5-speed 750 Roadster

5-speed 750 Bonneville Special

Air-cooled OHV vertical twin

744cc / 45.0 ci

76mm X 82mm / 2.99″ X 3.23″

7.9:1

2- Amal Concentrics MkII, 30mm

Battery & coil, Lucas

49 bhp @ 6200 rpm

3/8″ triplex X 84 links

Engine 29T X Clutch 58T

Multi-plate, wet

5-speed constant-mesh, left-foot shift

12.25:1

8.63:1

6.58:1

5.59:1

4.7:1

5/5″ X .400″ X 3/8″ chain X 106 links

Gearbox 19T X Rear 47T

All-welded, oil-bearing large-tube backbone

Telescopic fork, hydraulic damping 2-way

Swing arm, 2 Girling dampers

10″ disk, 2-piston hydraulic caliper

10″ disk, 2-piston hydraulic caliper

3.25″ X 19″ Dunlop, ribbed

4.00″ X 18″ Dunlop, universal

3 Imp gal (US) / 4 Imp gal (UK & export)

54.5″ / 140.3 cm

32.5″ / 77.5 cm

5″ / 12.7 cm

395 lbs/ 180 kg