1975 Triumph Trident T160
1975 TRIUMPH TRIDENT AIMS HIGH
It's amazing to think about how much of a leap the '75 T160 Trident was over the '74 T150, especially considering that the newly-formed, worker-owned Meriden Co-op was also woefully underfunded. In other words, they had almost no money for R&D. And yet they produced this stunning achievement on literally a shoestring budget. It's clear, by the ambition displayed here, that the scrappy Brits expected this new model to carry them into their next generation of what they hoped would be state-of-the-art Triumph motorcycles.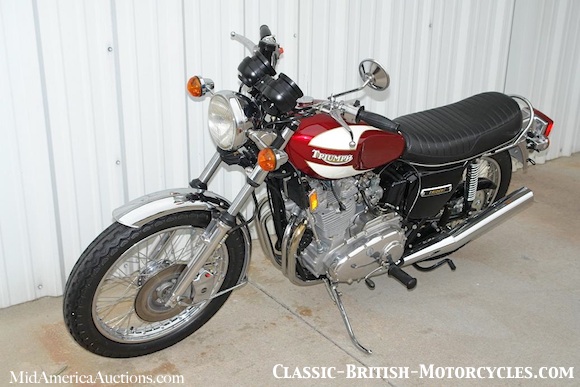 BIG IMPROVEMENTS ON THE 1975 TRIUMPH TRIDENT
The most obvious difference between the '75 T160 and all former T150 Tridents is the forward-canted cylinders, like those of the BSA Rocket 3. This was done to make room for the biggest improvement, the long-awaited electric starter. The new Trident was also converted over to left-foot-shift, to meet new US laws. Since the rear brake pedal now had to be switched over to the right side, they went ahead and converted over to a rear disk, eliminating the 7″ rear conical drum brake that it had used since 1971. The bike was also totally restyled, with a much more modern look. Gone were the 3-into-2 exhaust headers, and in their place an elegant 3-into-4 setup. It really turned out well, it was fast, handled well and it looked great. Unfortunately, it was expensive, and the cash-strapped Meriden Co-op was never able to produce enough of them to make any real difference in the marketplace. On top of all that, the electric starters gave endless trouble, and most just kick-started their bikes anyway. Can you say "Lucas, Prince of Darkness"? In modern times, modern batteries, new starters and components have largely eliminated this problem. With the proper setup, a 1975 Triumph Trident T160 can be a very reliable, rideable bike.
Check out our page on the BSAOC's Triples Ride.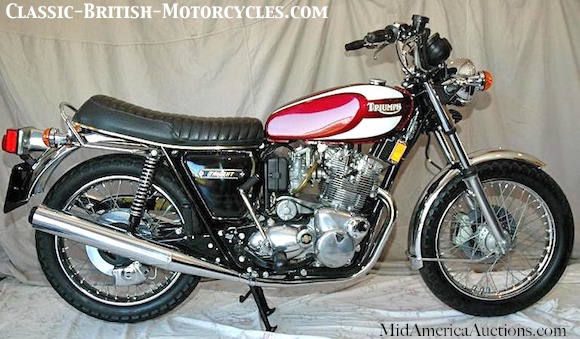 1975 TRIUMPH TRIDENT T160: WHAT'S IN A NAME?
Over the years, the standard Triumph apha-numeric nomenclature for their high-performance road bikes has always been to start with a "T" for Triumph, and follow it with a number that was supposed to represent the bikes claimed top speed. When Triumph took the plebeian 500cc 5T Speed Twin and hot-rodded it with a hotter cam and higher compression, they recreated the T100 Tiger, implying that it would do 100 mph. When they punched it out to a 650, it was known as the T110 Tiger, again implying a 110 mph top speed. When the twin-carb Bonneville arrived in 1959, it was only logical that Triumph's hottest machine advertise the highest top-speed, hence the T120. When the Bonneville grew to a 750 in 1973, it became the T140, and perhaps for the first time, no one took it seriously. Can you imagine going 140 mph on a stock 1973 Triumph Bonneville? But, there it was. Of course, by this time the Trident had launched in 1969 as the T150, in the vein hope of topping out at 150 mph. Of course, by the time 1975 rolled around and it was time to bump the name up, commensurate with significance of this model change, they stopped worrying about claiming it would go 160 mph, they just named it the T160. It was the next logical number in the sequence. And it sounded good. Too bad it only lasted one year. There were no '76 Tridents.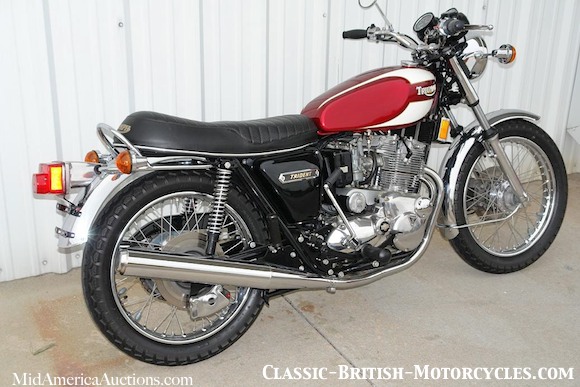 ---
1975 Triumph Trident SPECIFICATIONS
Engine type

Displacement

Bore & Stroke

Compression

Carburetors

Primary drive

Clutch

Final drive

Gearbox

Ratios, overall:

1st, Bottom

2nd

3rd

4th

5th, Top

Wheelbase

Ground clearance

Seat height

Suspension, front

Suspension, rear

Brake, front

Brake, rear

Wheel, front

Wheel, rear

Tire, front

Tire, rear

Weight

Air-cooled OHV inline 3-cylinder

741cc / 45ci

67mm X 70mm / 2.67″ X 2.751″

9.5:1

3- Amal Concentric

3/8″ Triplex chain X 82 links

Single plate, dry, diaphragm-type

5/8″ X 3/8″ chain X 104 links

5-speed constant-mesh, left foot shift

12.9:1

6.97:1

5.93:1

4.98:1

6.5″ / 16 cm

32.0″ / 81 cm

Telescopic fork, oil damped

Swing arm, 2 coil-over hydaulic dampers

8″ hydraulic disk brake

8″ hydraulic disk brake

WM 2-19 (19″)

WM 3-19 (19″)

3.25″ X 19″

4.10″ X 19″

460 lbs / 209 kg