ABOVE: This 1975 Triumph Bonneville is rarer than you might think. While it looks very similar to the 1973 & 74, very few were made due to the workers strike.
MERIDIAN CO-OP FORMS
The '75 Bonneville is practically non-existent. So few were produced that it hardly counts as a model year. The Meriden factory workers' revolt/shutdown of Triumph Motorcycle's Meriden plant in October 1973 lasted until early 1975. Virtually no development work had been done on the 1975 Triumph Bonneville for nearly a year-and-a-half. The solution to the shutdown was for the workers to form their own Meriden Co-operative & do an employee buy-out of the company, similar to what Harley-Davidson did in the 1980s. By the time work resumed, it was April 1975 & only two months were left of the model year before it was time to switch over to 1976 models (which would require some big changes to accomodate the requirement for left-hand shift). As the result, very few 1975 Triumph Bonneville s were built.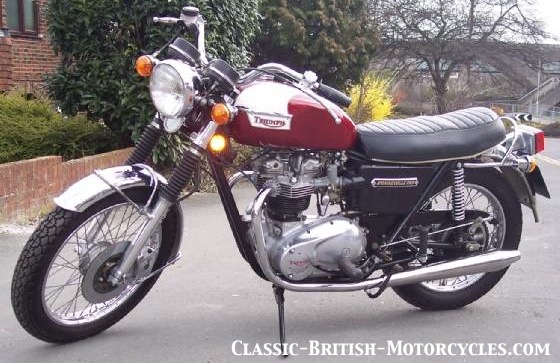 A FOCUS ON BONNEVILLES
Reflecting the limited means of the new Meriden Co-op, when production resumed at the Meriden plant, the main product by far was the 750cc 1975 Triumph Bonneville T140. While some single-carb TR7s continued to be produced in low volume for export markets, police work & the shortlived TR7 Trail, it was mostly T140 Bonnevilles that would remain in production, albeit in low numbers. The 500cc Triumph Daytona series was gone. And since the Triumph T160 Trident was being produced (in its final year) at BSA's Small Heath factory, it was relatively unaffected by the workers' strike at Meriden. Little good it did, the Trident died that same year.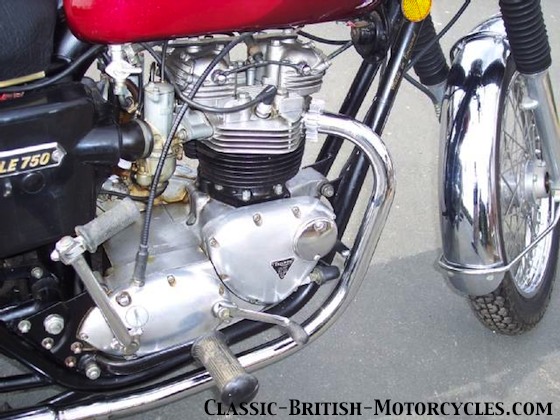 COLOR COMBOS
What few 1975 Triumph Bonneville s there are, are virtually identical to 1974 models, distinguished only by their engine numbers. So, color combos were Cherokee Red over Cold White for the T140; and Purple over Cold White for the T120.
---
1975 Triumph Bonneville SPECIFICATIONS
T120RV Bonneville

T140RV Bonneville

Engine type

Displacement

Bore & Stroke

Compression

Carburetors

Ignition

Engine output

Primary drive

Primary sprockets

Clutch

Gearbox

Ratios, overall:

1st, bottom

2nd

3rd

4th

5th, top

Final drive

Final drive sprockets

Frame type

Suspension, front

Suspension, rear

Brake, front

Brake, rear

Tire, front

Tire, rear

Fuel capacity

Wheelbase

Seat height

Ground clearance

Weight

5-speed 650 Roadster

5-speed 750 Roadster

Air-cooled OHV vertical twin

744cc / 45.0 ci

76mm X 82mm / 2.99″ X 3.23″

8.6:1

2- Amal Concentrics R930/9, 30mm

Battery & coil, Lucas

49 bhp @ 6200 rpm

3/8″ triplex X 84 links

Engine 29T X Clutch 58T

Multi-plate, wet

5-speed constant-mesh, right-foot shift

12.25:1

8.63:1

6.58:1

5.59:1

4.7:1

5/5″ X .400″ X 3/8″ chain X 106 links

Gearbox 19T X Rear 47T

All-welded, oil-bearing large-tube backbone

Telescopic fork, hydraulic damping 2-way

Swing arm, 2 Girling dampers

10″ disk, 2-piston hydraulic caliper

7″ SLS drum, conical hub

3.25″ X 19″ Dunlop, ribbed

4.00″ X 18″ Dunlop, universal

3 Imp gal (US) / 4 Imp gal (UK & export)

54.5″ / 140.3 cm

32.5″ / 77.5 cm

5″ / 12.7 cm

387 lbs/ 176 kg