1962 Norton Jubilee
250 twin
1962 NORTON JUBILEE – WHAT'S IN A NAME?
The name Norton Jubilee paid homage to the 60th anniversary of Norton Motorcycle production at the time of its launch in 1958 at the Earls Court Motorcycle Show in London. It was a clear break from Norton tradition, but was built specifically to accommodate a new market that had just opened up in the UK, thanks to new government legislation called "The Learner Law". It limited new riders to bikes with no more than 250cc of displacement. Suddenly every British marque was rushing its own 250 to market.
1962 NORTON JUBILEE ENGINE DESIGN
Bert Hopwood (who had just returned from a stint at BSA/Triumph) designed the small parallel twin with separate cylinder barrels, deeply spigoted into the crankcase with only 5 cooling fins showing. This was Norton's first, and only unit-construction twin. Otherwise it followed the typical British pattern: parallel twin with a 360-degree crankshaft set on just 2 large main bearings (from the Norton Dominator line no less, talk about overkill!), pushrod valve actuation, cam timing on the right, primary and clutch on the left. The crank was of an unusual design, with a huge 7-inch diameter center flyweel that was very thin and flat. It also had a very short stroke, just 44mm, unusual for a Brit bike at the time. The bore was 60mm, making it very 'oversquare' (big bore/short stroke), at a time when most motorcycles were 'undersquare' (small bore/long stroke). Good thing too, because the only way to access the little 250's 16 horsepower was to wind the stuffing out of it. Peak power can at nearly 8,000 rpm! Early Norton Jubilees suffered from oil leaks and reliability issues. Hopwood changed the crankshaft material from cast iron to nodular iron, improved the gearbox and massaged the entire package overall, until most of the issues had been addressed, reliability improved and so did sales.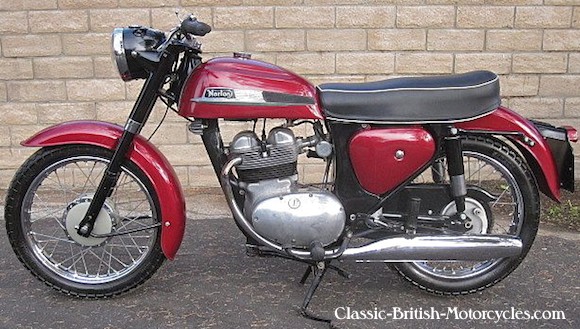 1962 NORTON JUBILEE RUNNING GEAR
Alas, Norton was part of the vast AMC empire (that included Matchless/AJS and Francis-Barnett, among others. So, the new engine was saddled with the same old gearboxes that served other lightweight AMC offerings. What's more, the forks, wheels and brakes were straight off the Francis-Barnett line. When first launched in 1958, the Norton Jubilee came in "Deluxe" form, which meant enclosed bodywork. It was heavy and made maintenance difficult, and was dropped in 1961. (You can see an example of the Deluxe bodywork on our page about the '62 Navigator Deluxe.)
NORTON JUBILEE PRODUCTION
Norton Jubilee production ran from 1958 to 1966, during which time some 5,000 Jubilees were built at Norton's Bracebridge Street factory before moving production to the AMC Woolwich factory in 1963. During this time, the Jubilee engine was bored and stroked out to 349cc creating the Norton Navigator 350 line, which looked identical to the Jubilee. When AMC (Associated Motor Cycles) collapsed in 1965, it took everything down with it, except Norton's big twins. The Jubilee and Navigator lines were dropped.
---
1962 Norton Jubilee SPECIFICATONS
Engine type
Displacement
Bore & Stroke
Horsepower @ RPM
Primary drive
Clutch
Gearbox
Final drive
Wheelbase
Front suspension
Rear suspension
Front brake
Curb weight
Air-cooled OHV parallel twin
249cc / 15.2 ci
60mm X 44mm
16 hp @ 7,750 rpm
Chain
Multi-plate, wet
4-speed, right-foot shift
Chain
53.5 in / 1,360mm
Roadholder hydraulic forks
Swing arm w/2 dampers
8-inch SLS drum
330 lbs / 150kg